Your changing table is one place where you need easy, quick access to all of your baby's essentials. This is especially true when your baby starts moving and crawling — they can be quick!
Check out my favorite changing table storage ideas from fellow busy moms who don't have a spare second to search for wipes.
And for MORE inspiration, be sure to read my post on beautiful baby and nursery organization ideas.
This post contains affiliate links. As an Amazon Associate, I receive a small commission on qualified purchases at absolutely no cost to you. Please see the Disclaimer for more information.
1. Declutter the Changing Table
The first step to organizing any space is to declutter. If your changing table is crowded with clothes, diapers, wipes, toys, bath products, framed photos and other items, take everything off. (And take everything out of the shelves or drawers, if you have them.) Start with a completely clean slate.
Next, REALLY consider what's necessary for an efficient changing station. The basic items you'll need are:
Diapers
Wipes
Changing pad (disposable liners are fine too)
Diaper cream (maybe, if your baby has sensitive skin)
Beyond that, you may want some clean onesies or jammies in case of leaks.
That's really all you NEED. If you have more space, you can add in things like a night light, toys or pacifiers. The key is only keeping what you need to get the job done, in the space you have.
2. Keep Diaper Cream and Baby Wipes Within Arm's Reach with Wall-Mounted Organizers
This is the cutest changing table organizer idea! When my neighbor had her baby, she mounted these ingenious baskets on the wall above her changing table:
I found the wall-mounted baskets below with chalkboard labels, so you can even label your bins for wipes, cream and diapers! You'll never lose track in the middle of a sleepless night with a system like this.
3. Make Diaper Changes Easy with a Touchless Trash Can
Use a touchless trash can as your diaper pail right next to your changing table. You'll never need to step away from your baby during a diaper change. Just wave your dirty disposable diapers (or cloth diapers could work, too) over the can and, voila! It'll open like magic.
You can use traditional kitchen garbage bags with this option. Store your extra trash bags in the bottom of the trash can, underneath the bag you're currently using. It's the best way to be efficient!
4. Store Onesies and Baby Clothes in a Top Drawer (or Storage Baskets)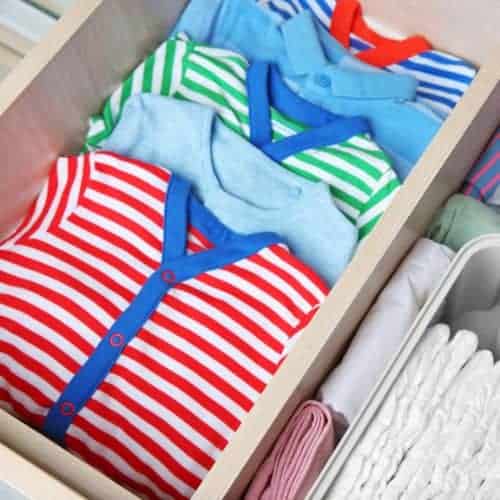 Accidents happen. A lot. And baby clothes get dirty. A lot.
When my son was a baby, we had a changing table with built-in dresser drawers. I always kept his onesies and extra jammies in a drawer organizer in the top drawer for a quick clothing change if he soiled his clothes.
If you have a dresser-style table, you can fold your baby's onesies into drawer organizers like this:
If you have a traditional changing table with shelves, you can use storage baskets like these:
5. Keep Disposable Changing Pad Covers on Your Table
I loved using disposable changing pad liners. They make cleanup so easy after a particularly messy diaper change. I kept a bin full of them on top of the table so I could quickly replace them.
You can put them right on top of your cushioned changing pad. I also threw some in my diaper bag before we left the house.
6. Store Pacifiers, Loveys and Small Toys on Top of the Dresser or Table
Babies can get restless during diaper changes. It's helpful to keep a small basket with pacifiers or soft toys as a distraction while you change your baby's diaper.
My son LOVED to hold a small stuffed animal near his face. Just make sure whatever you give your baby to hold is washable!
7. Hang a Diaper Caddy with Extra Diapers on the Side of the Changing Table
Instead of keeping a box of diapers on the shelf, save yourself the shelf space and pack a hanging diaper caddy full of extra diapers. Then hang it on the side of your changing table.
This offers the same easy access to diapers but leaves SO MUCH more space for other baby items.
I love the option below because it offers pockets and storage compartments for wipes, clothes and more.
8. Save Valuable Floor Space in Baby's Room With a Changing Table Dresser Combo
You don't have to have both. A great way to save precious space in small rooms is with multi-functional furniture. You can purchase a dresser with a built-in changing table:
Or you can just place a changing pad on top of a nursery dresser. In a small space, every little bit of room you can free up counts!
I recommend storing your daily/weekly use items in the top drawers/shelves. This makes it easier to restock. The bottom drawer or shelf can be for the next size up in diapers or onesies.
9. Store Burp Cloths in a Hanging Diaper Stacker
Spitups happen! Here's another great idea my neighbor had. She filled a diaper stacker with clean burp cloths and hung it next to her breastfeeding station.
You could do the same, hanging it from your changing table. Keep those burp cloths within arm's reach for nighttime feedings and random spitups.
P.S. Check out my post on how to set up the perfect breastfeeding station!
10. Install Open Shelving on the Wall Space Above Your Table
Whenever I'm short on space, I always try to look "up." (Up on the wall.) Wall shelves can help you free up extra space on top of your changing table. Install a few open shelves for diapering essentials and baby stuff like wipes, nail clippers, pacifiers, a thermometer, etc.
11. Add a Hanging Hamper to the Side of Your Changing Table or Crib
I like to be as efficient as possible, including during diaper changes. When the baby's clothes get soiled, it's really nice to have a dirty clothes hamper within arm's reach.
A hanging hamper allows you to store dirty clothes wherever you like, including the side of your changing table or the baby's crib. So convenient.
12. Save Space With a Compact Baby Light
It always helps to have soft lighting on your changing table for those 2 a.m. diaper changes. You need to see, but don't want the glare of bright overhead lights making it difficult to put your baby back to sleep!
Aim for a space-saving, compact night light like this one (it can even be hung if you lack table space):
Bonus: It's a white noise machine and USB rechargeable.
13. Use an Over-the-Door Organizer for Baby Products
You don't need an actual piece of furniture for diaper changes. You can perform diaper duty with a changing mat set right on the floor. And if you really lack space, try an over-the-door organizer for all of your changing supplies and baby essentials:
Even if you do have a changing table, the back of a door is a really nice but commonly overlooked storage space. You can use this organizer for storing extra wipes, diapers, clothing, shoes, etc.
14. Turn a Rolling Cart into a Living Room Changing Station
You won't be changing diapers in just the baby's nursery. Diaper changes happen everywhere, including during your favorite Netflix show. You can create a really organized changing table in your living room with a rolling cart.
15. Go Big With a Wall-Mounted Diaper Organizer
​Got twins or triplets? You'll be restocking your changing station a LOT…unless you opt for a day-care-sized wall-mounted diaper organizer. This baby will keep you stocked up and ready for multiple changes at the same time.
I hope these changing table storage ideas have inspired you to create a super-efficient diaper station in your home. Happy organizing! (And check out more of my baby & kid organizing articles below.)
Related Articles:
Beautiful Baby and Nursery Organization Ideas
How to Organize the Perfect Breastfeeding Station in 4 Steps
30 Ways to Teach Kids to Be Organized
Easy Toy Storage Tips to Organize and Declutter All the Toys