Ahh, nursery organization. What fun! Expecting a baby is such a special time. When I was pregnant with my son, I remember feeling excitement, nervousness, and love. Plus a VERY strong nesting instinct to organize the nursery. It just kind of took over.
When baby comes, you'll have a LOT going on. From feedings and bathings to diaper changes and tummy time, it's go, go, go!
As a mom who has been there, I highly recommend investing a little time and energy in nursery organization now. After the baby arrives, you won't have much extra time.
In this article, I've gathered some beautiful nursery organization ideas and tips to inspire and help you get ready for your bundle of joy. But first, PIN THIS IMAGE to save these tips for future reference:
This post contains affiliate links. I earn a commission from qualified purchases, at no cost to you. Please see the Disclaimer for more information.
In this article:
Try These 11 Beautiful Baby and Nursery Organization Tips:
1. Organize The Nursery Sooner Rather Than Later
The earlier, the better. Of course, when you actually begin to arrange the space depends on a few factors, like:
Morning sickness/energy levels in the first trimester

Length of time it will take for delivery of furniture and organizing solutions (some items take a LONG time!)

Whether you plan a gender-focused or gender-neutral decor theme
This article from Project Nursery provides a really helpful timeline for designing the nursery.
The bottom line is, you'll ideally be completely finished with organizing a month or so before your due date. Babies can decide to arrive early (like mine did!), so it's helpful to be ahead of the curve.
2. Create A Comfy Breastfeeding Station in the Nursery
Let's start with one space in the nursery you'll be spending a lot of time: the rocking chair.
Babies require feedings around the clock. Creating an organized breastfeeding station ahead of time will be SO helpful when you're in the middle of those middle-of-the-night nursing sessions!
To create a great nursing/feeding station, consider not just your baby's needs, but your own! You'll want comfort for both of you and all of your essentials close at hand. Here are the elements to focus on:
Get a Cozy Breastfeeding Glider or Rocker
The glider or rocking chair is definitely an essential for maximum comfort. An ottoman is a nice-to-have as well. I highly recommend a chair like this that comes with built-in side pockets. They're perfect for stashing extra burping cloths, bibs, nursing pads, pacifiers, books/magazines and snacks for mom.
Set up a Side Table for Breastfeeding Essentials
A small side table like this one is perfect for a softly glowing lamp, a diaper feeding journal, a book for mom, bottle warmer and an iPod for soft sounds or music. The rack beneath can store magazines, a nursing pillow, bottles of water or snacks, etc.
3. Smart Idea for Organizing Burping Cloths + Bibs
Next to the breastfeeding station, you'll want a place to store burping cloths and bibs so you're not searching for them in the dark. My neighbor Michelle cleverly re-purposed this cute diaper stacker as an organizer for burping cloths and bibs and hung it next to her glider:
Such a great idea! Babies burp and spit up constantly, so it's very nice to have a bunch of these on hand and within reach during a nursing/feeding session.
4. How to Organize the Changing Table
Next on the nursery organization list: organizing the changing table. You and your baby will also be spending a fair amount of time here. Might as well make it cute, fun and functional.
If you have room in your nursery (and budget), I highly recommend investing in a dresser/changing station combo. It's the best multitasking piece of furniture in the room.
To maximize your changing table area storage space, utilize wall baskets for baby wipes, diaper creams and diapers:
On top of the changing table, keep a storage basket or two for pacifiers, loveys, soft books or other items to keep baby occupied during diaper changes. And don't forget a Diaper Genie or trash can with lid nearby.
If you enjoy DIY projects, check out this tutorial from CraftsyHacks.com on how to make your own adorable rope basket from a cardboard box! Cute, functional and affordable (just think of all those Amazon boxes you can upcycle), they make great changing table organizers.
If your changing station has drawers and/or cabinets, use them to store extra changing table pads and covers, excess diapers and wipes, and clothes (especially pajamas and onesies, as you'll often need a clean set during a diaper change). You can also store extra sets of crib sheets here.
5. The Best Way to Organize Baby Clothes in the Closet
I think buying baby clothes (and receiving them as gifts) was THE most exciting part of expecting my son. BABY OUTFITS ARE SO CUTE.
If you're like me, you might have already amassed a small retail store's worth of baby hats and outfits and shoes. I'm definitely not judging if you did! The challenge, then, becomes "How do I organize all of these baby clothes in the closet?"
Not to worry — my fellow organizing experts have some gorgeous and clever ideas I'm excited to share with you!
Baby Closet Organization Ideas
Just look at this incredible example of reach in closet organization by Melissa of Polished Habitat! I'm in awe:
The key to perfect baby closet storage is maximizing space wherever you can. For example, utilizing the inside of the closet doors with hanging organizers for shoes, hats and books.
You might also like:
Easy Closet Organizing Tips For Beginners
You'll probably have clothes in sizes ranging from newborn to 12 or even 24 months when your baby is born. To keep them organized on hangers, try using some adorable closet dividers like these:
Since baby clothes are small, take advantage of any open shelf space below the closet rods with labeled storage baskets:
I must mention the importance of labels in your baby's closet. Not only are they essential in helping you keep everything organized, but they help OTHERS understand your storage system. Anyone kind enough to offer to do laundry or clean for you will know exactly where everything goes…IF you use labels.
You might also like:
16 Ways to Make Labels for Organizing Your Home
6. Great Ways to Organize Baby Clothes in a Dresser Drawer
Emily from Small Stuff Counts has one of the most organized nursery dressers I've ever seen! I love how she maximizes drawer space with DIY dividers and file-folded clothes (note the labels):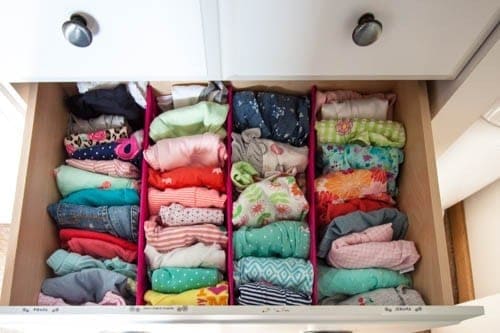 What Should I Put in a Baby Dresser Drawer?
Dresser drawers are great for storing pajamas and onesies (your baby will spend more time in these than formal clothes), socks, mittens and hats. They can also be utilized for extra bedding, changing table pads and covers, extra diapers, bath essentials and even books and toys.
Keeping everything organized with drawer dividers and labels is key.
7. Store Baby Books And Toys on the Wall or Under the Crib in the Nursery
If your nursery is small, create more storage space for books and toys by looking UP (on the walls)! I'm all about finding ways to use vertical space for storage, and these adorable bookshelves my neighbor installed in her baby's room are perfect for a nursery or even a big kid's room. Amazon has similar shelves and book ledges in varying sizes colors:
And as you can see, they work for small toys as well as books.
For larger baby toys, you can't go wrong with cute and functional storage bins in the nursery closet, or even under the crib if space is limited.
You might like:
Sensational Toy Storage! Organize and Declutter Stuffed Animals, LEGOs, Dolls and More
8. Ideas for Storing Baby Bath Essentials
Bath time items may or may not be part of your actual nursery organization strategy. If you have plenty of storage space in your bathroom for towels, hoodies, baby wash, etc., you can store them there.
You might like: Clever Bathroom Storage Ideas You'll Love
Wherever you choose to keep your baby's bath items, I recommend organizing toiletries in a handy bath caddy like this:
When it's bath time, just grab the baby in one arm and the bath caddy in the other, and you're off.
If you need something a little larger for towels and pajamas, why not try a cute dorm-style shower tote like this?
And don't forget hooks for those adorable hooded towels! Use the back of the nursery, closet or bathroom door.
Oh, and there's one more baby bath item I found and LOVE…and it's for you! This bath kneeler and elbow rest would have been AMAZING to have when my son was a baby. It even has pockets to store bath toys and baby wash.
9. How to Organize The Diaper Bag
I actually recommend having a few diaper bags in your life: one that's always packed and ready for the car, and one that's portable for moving from room to room with the baby.
I love the backpack diaper bag concept, and wish I had thought of this when I was a new mom! Check out this helpful video on ways to "hack your diaper bag" and stay super organized while on the go:
Inside the house, a simple diaper tote works great as a mobile diaper station. My neighbor Michelle accomplished this easily (and stylishly) here:
All it takes is a diaper caddy organizer, a waterproof changing mat, blanket(s), diapers, wipes and cream. And maybe a plastic grocery bag or two for trash. Done and done.
10. Baby Organization Around The House
Just like with the mobile diaper station, it's nice to have a smaller, secondary nursery setup in another area of the house.
If the nursery is upstairs, find a place downstairs where people congregate (like the family room). If the nursery is in the back of the house, have a little setup in the front of the house.
A good way to do this is with a portable pack 'n play/changing table combo.
This was a huge help for me as a new mom in a 2-story house. My son took naps and played in the pack n' play while I cooked dinner or threw in a load of laundry. And I didn't have to change diapers on the floor, saving my knees and back.
Hang your mobile diaper tote on the side and you're set!
11. Create a Family Command Center to Keep it All Together
With a new baby comes new schedules, appointments, and things to keep track of. Create a family command center (a centralized place for appointments, practice schedules, to-do and grocery lists, chore charts, weekly menus, important papers and more) to help you keep it all together. This will also help ensure family members know where to go for information (instead of just Mom).
Nursery Organization: Final Thoughts
Just like with any organizing project, baby and nursery organization is all about what works for YOU. It should make life easier and less stressful. Any system that works with your personality and lifestyle is the one you should utilize.
I hope you found these tips helpful! I wish you all the best in the days ahead with your new baby. If you've found other ways of organizing your nursery that you enjoy, please share them in the comments.
More Baby & Bedroom Organization Articles:
Organize a Perfect Breastfeeding Station in 4 Steps
Easy DIY Bedroom Organization Tips
FUNctional Ways to Organize a Teen's Bedroom
10 Delightful Tips to Organize a Messy Dresser Now
15 Effective Tips for Nightstand Organization
15 Bedroom and Bathroom Makeup Storage Tips You'll Love