Organizing is for more than closets and pantries and garages! Every room in the house can be arranged for optimal efficiency, simplicity and balance.
Especially the bedroom, a place that should always evoke a sense of peace and…ahhhhhh.
In fact, having a neat and organized bedroom can have a huge impact on your mental and emotional outlook. According to Lifehack, organizing your bedroom (and keeping it that way) can change your life!
To help you achieve this in your own place of slumber, I've compiled a list of easy DIY bedroom organization ideas you'll LOVE. Enjoy!
This post contains affiliate links. As an Amazon Associate, I earn a commission from qualifying purchases, which costs you nothing. Please read the Disclaimer for more information.
In this article:
Pin this image to save the article for future reference:
Tip One: Maximize Your Space
First things first: we need to talk storage. The best bedroom organization starts with proper storage.
Wide, low dressers are great for long walls. Shorter walls or small rooms benefit from tall wardrobes and armoires because they maximize vertical space. A nightstand (or two, if you have the space) is perfect for storing the things you need for a restful night's sleep.
These bedroom staples not only style a room; they help keep the bedroom clutter-free and peaceful.
And you don't have to spend a fortune to have cute, stylish and functional furniture. Walmart has a wide selection of really pretty dressers that are very affordable! Amazon has a nice selection, too.
In fact, my husband and I bought our entire set of bedroom furniture (minus the bed) at IKEA, and we've had it over 10 years! Made of pine, it's still in great shape.
What if you don't have adequate space for all of this furniture? Make the most of the space you do have. Use under-the-bed storage bins. Affix shelves, hooks or even baskets to the walls. Get creative!
Tip 2: Choose The Right Containers
The next step in organizing your bedroom is to arrange your clothes, books, bedding and anything else you plan to store in the most efficient way possible.
To do this, you'll need to choose the right containers. I have some ideas and tips to make it easy!
First, measure the width, height and depth of your dresser drawers, wardrobe shelves, nightstands, beneath the bed, and anywhere else you plan to store items.
Next, choose bins and dividers that will work within the space you have, maximizing space vertically and horizontally. Consider hanging shelves for wardrobes:
Drawer organizers or dividers REALLY save space:
Clear stackable bins totally changed my life. You'll see below how I used them to file-fold my husband's enormous collection of t-shirts.
You can also make bedroom storage part of your decor! Consider an ottoman or storage bench at the base of your bed like this one:
A large rope basket is perfect for storing extra pillows or blankets (or can be used as a hamper):
And don't forget a stylish valet tray that can store jewelry, watches and other daily items either on top of the dresser/nightstand or inside a drawer!
Tip 3: Arrange Your Stuff (Here's How)
How to File Fold Clothes
I firmly subscribe to the Marie Kondo school of thought when it comes to dresser drawers: file-folding clothes in bins is so much more efficient!
You can see everything in the drawer in a single glance, and removing an item doesn't cause a huge mess. Everything stays neat and tidy.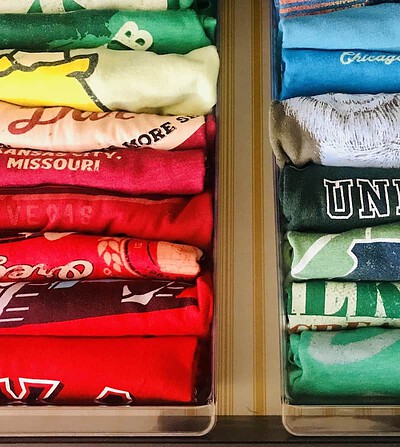 Looks amazing, right? File-folding items is pretty simple. Here's how I folded my husband's t-shirts:

1. Start by smoothing out the t-shirt as much as possible, graphics facing down.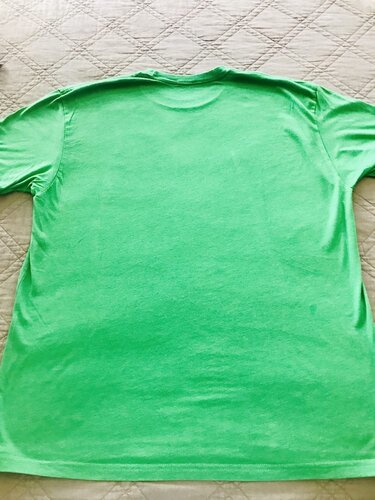 2. Fold longwise into thirds, smoothing as you go to prevent wrinkles.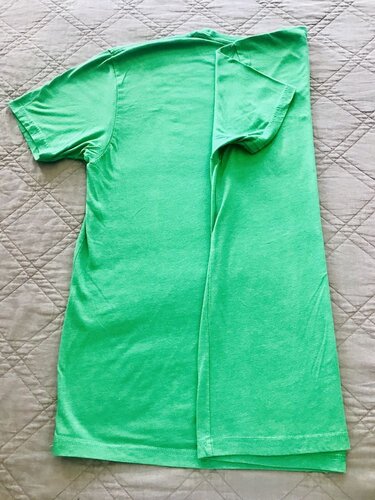 3. Take the bottom and fold it about 2/3 of the way up.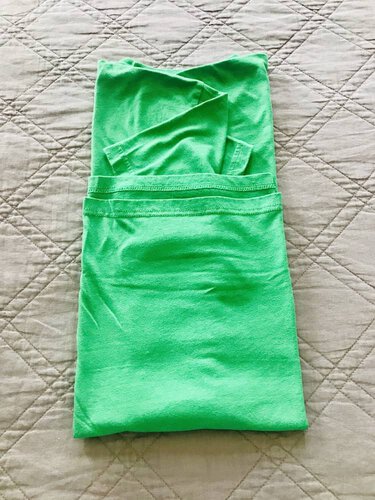 4. Fold the top down, then fold the t-shirt over itself one more time to create a nice rectangular packet. See how the graphic is facing out? This helps you identify the shirt after it's been filed in the bin.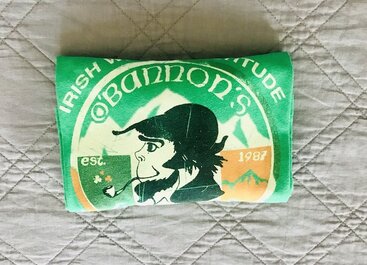 Slide newly folded shirt into the bin vertically. Beautiful!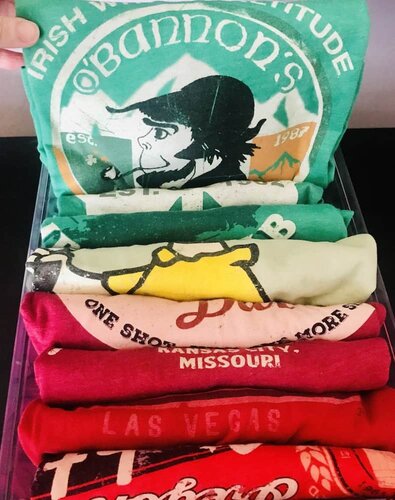 You can follow this same folding formula for shorts, boxers, yoga pants…you name it.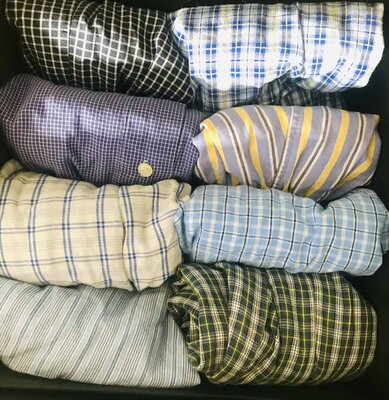 I like to organize clothes in the colors of the rainbow. This makes it much easier to find an item you're looking for, especially when you have hundreds of t-shirts like my husband!
For More Clothing Organization Tips, You Might Like:
Drawer Dividers and Organizers
For socks, I like to use drawer dividers to separate colors. My husband wears blue, black and brown dress socks to work, so I arranged them like this: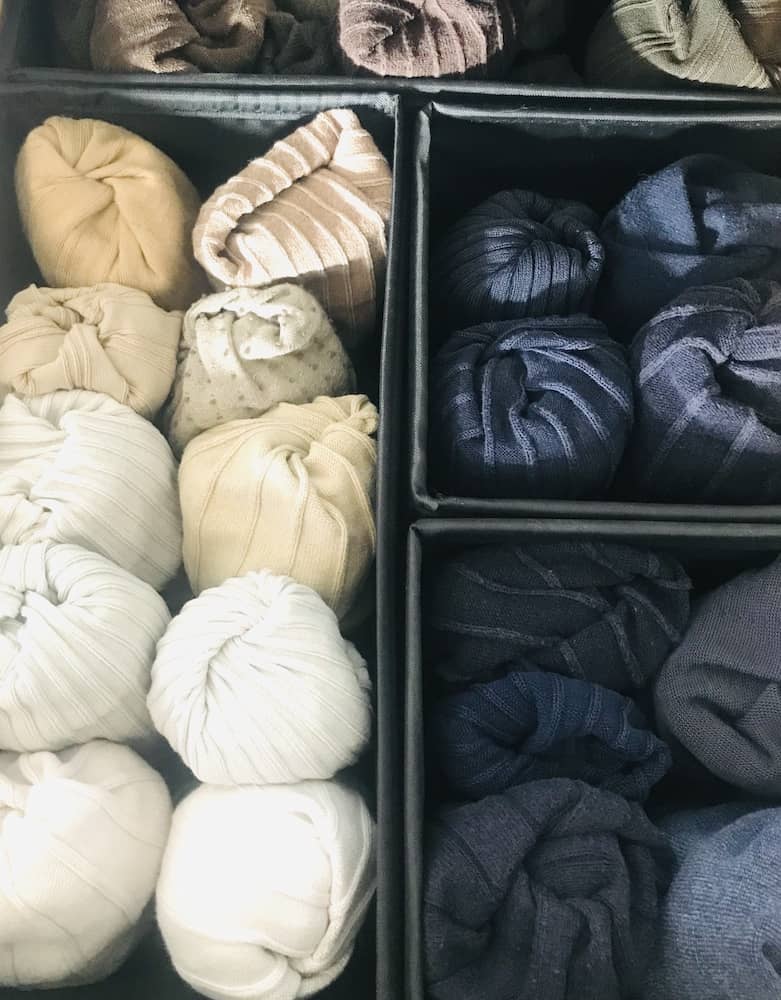 I keep my pajamas and nightgowns on the bottom shelf of my wardrobe. Since I have a lot of them, I used drawer dividers and file-folded my pajama sets.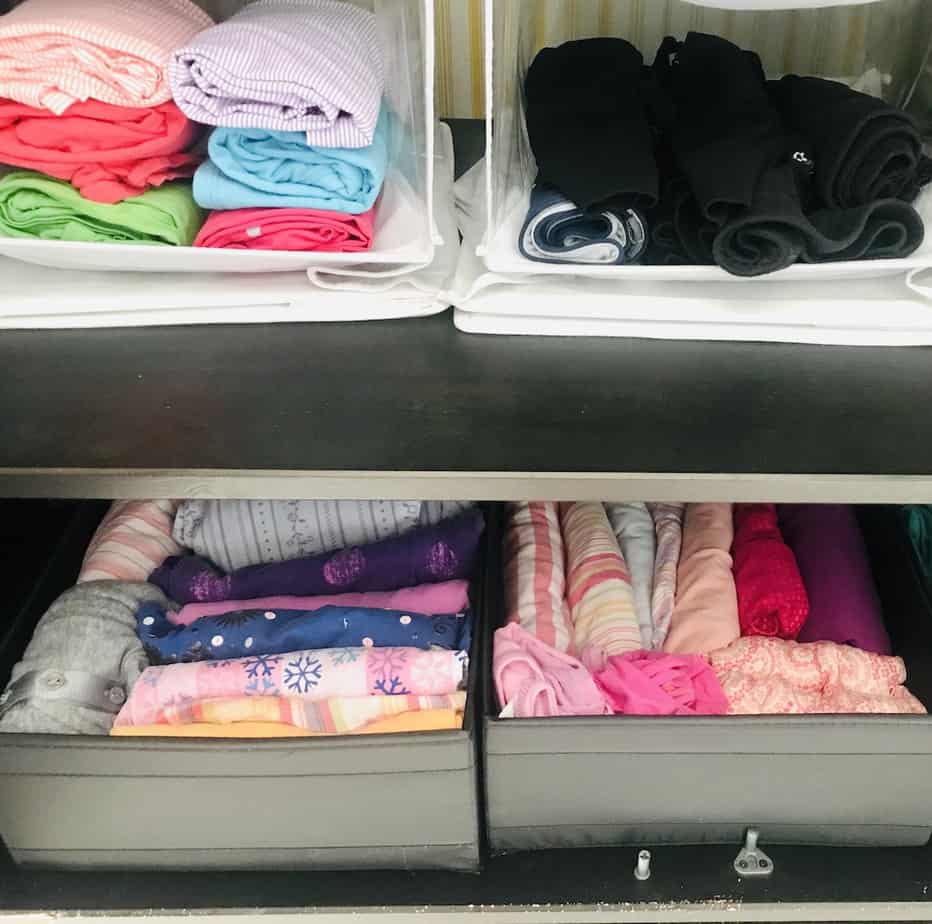 I rolled my nightgowns and organized them vertically so I could see everything at once: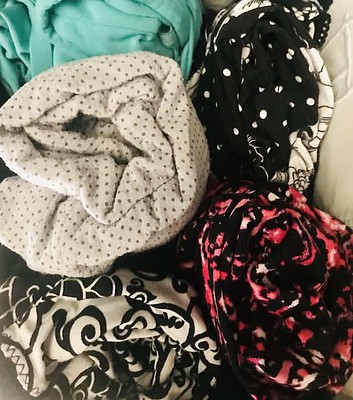 Hanging Shelves
My wardrobe came with a closet rod for to hang clothes on, but I have a large enough closet for my hanging items.
What I don't have enough of is shelf space (all of my closet shelf space is being used for my cute shoes, of course!). So, I installed hanging shelves in the wardrobe instead: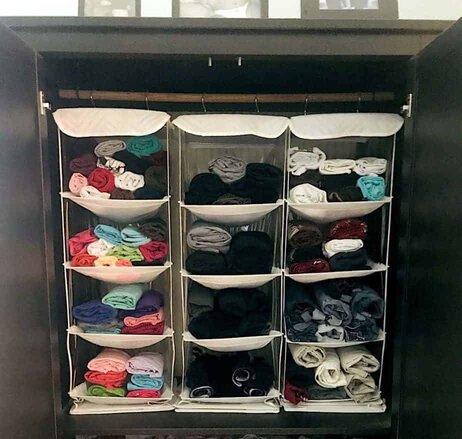 As you can see, these are fabulous for maximizing vertical space, and they provide nice compartments for different types of clothing.
Initially, I struggled with how to efficiently arrange my clothes within the shelves (read more here). I eventually figured it out and am loving this space! Months later, it's still nice and neat.
How to Organize a Nightstand
Nightstands require some consistent love and attention. Otherwise, they end up becoming repositories of all kinds of random stuff. Plus cups, plates, silverware, etc.
The best way to keep a nightstand organized is to store only the items you need for pre-bedtime self-care and a restful night's sleep.
The good news is, even if they're a total mess right now, they don't take much time to organize!
First, remove everything from the top and inside and wipe it all down.
Next, look at everything you've been keeping in there. Is it necessary for this space? I found all KINDS of random things inside my nightstand. I'm not sure how they ended up there (probably in a last-second cleaning frenzy before company came over), but they had to go.
Ideally, the nightstand should contain only books that you're currently reading or about to read. Any books you've finished should be lent to friends, donated to the library, sold to a used book store, or lovingly displayed as collectibles on a bookshelf in the living room.
Other items to potentially keep in or (neatly contained in a nice box or bin) on the nightstand:
A clamp-on reading light if your partner falls asleep before you
A small flashlight in case the power goes out
Tissues
A lamp and/or candle
Relaxing essential oils
A phone charger
A drink coaster if you keep a glass of water by the bed
If your nightstand has a built-in cabinet like mine, storing extra sheets and pillowcases inside is handy.
RELATED:
15 Effective Tips for Nightstand Organization
Under-Bed Storage
Under-bed storage is a fantastic way to use otherwise empty space to store items you don't have space for. For kids, under-bed bins can hold LEGO pieces, board games, books, art supplies…you name it.
For adults, the space beneath the bed is perfect for extra bedding and blankets and seasonal clothing or even shoes if closet space isn't adequate.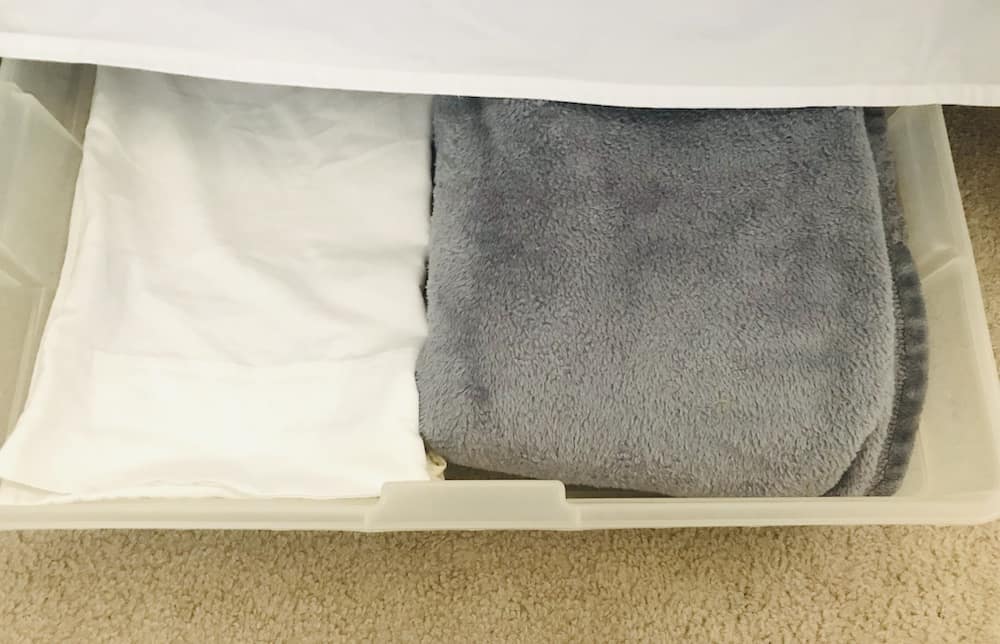 More Creative Organization Hacks
For even more creative bedroom organization ideas, check out Brittany Vasseur's creative video:
What Are Your Best DIY Bedroom Organization Tricks?
How have you created an efficient, peaceful bedroom? I'd love to hear! Leave me a comment below.