Struggling to tame the t-shirt monster in your house? I've been there, trust me. My husband is a t-shirt collector and it took me years (and lots of trial and error) to figure out the best system for keeping them tidy.
As a result, I have several great ideas to share that will help you organize t-shirts like a professional organizer…whether you store them in a dresser, in the closet or in an armoire. Think of it as my "ultimate guide to t-shirt organizing."
Find out which way is the best way for your household below!
And, if you would like to save these tips for later, just enter your email below and I'll happily send them to you!
Have all 7 tips sent to your inbox to save for later:
This post contains affiliate links. As an Amazon Associate, I earn a small commission on qualified purchases at absolutely no cost to you. Please see the Disclaimer for more information.
1. Organize Your T-Shirt Drawer (the "File Folders" Way)
Heard of the Konmari method of folding clothing items? It's a great way to organize t-shirts in dresser drawers. (Marie Kondo is a genius.) Here's how I used her file folding technique for drawer storage:
Lay your t-shirt face-down on a flat surface. Smooth out any wrinkles.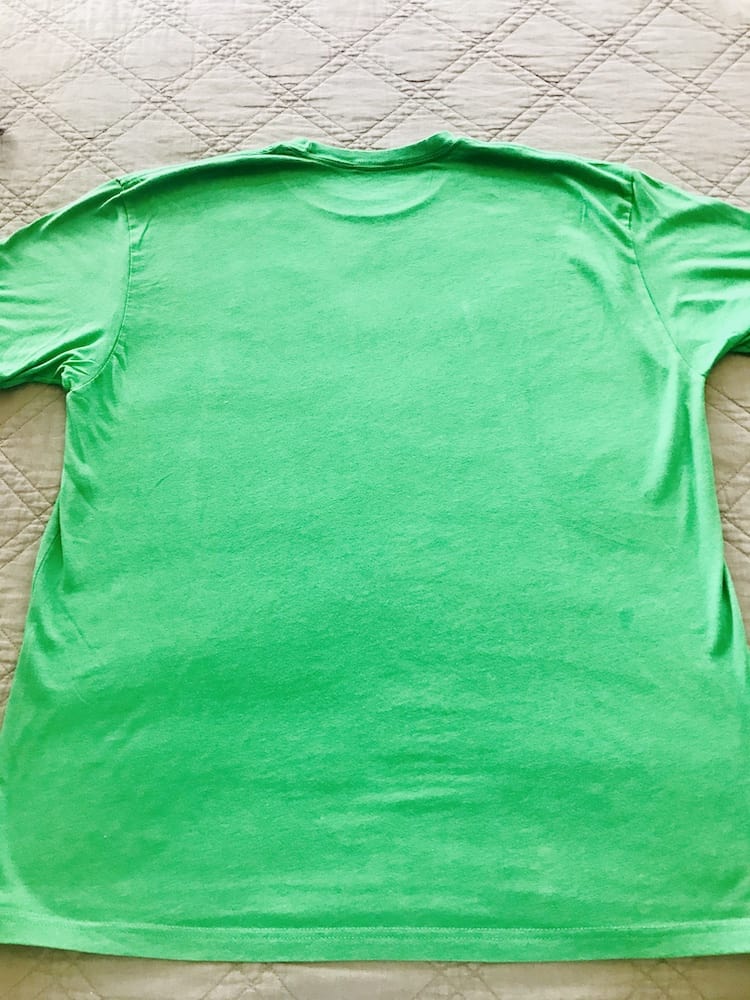 Fold one side of the shirt vertically into the middle. Turn the sleeve back.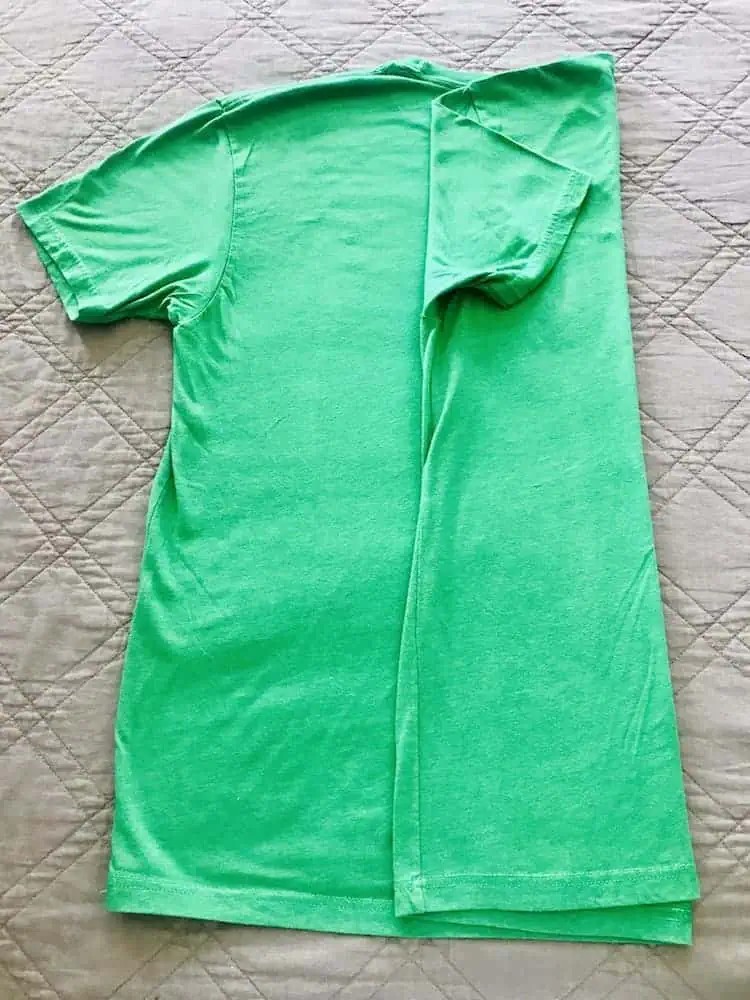 Fold the other side the same way, into the middle. Continue to smooth out wrinkles as you go.
Next, take the bottom and fold it about 2/3 of the way up.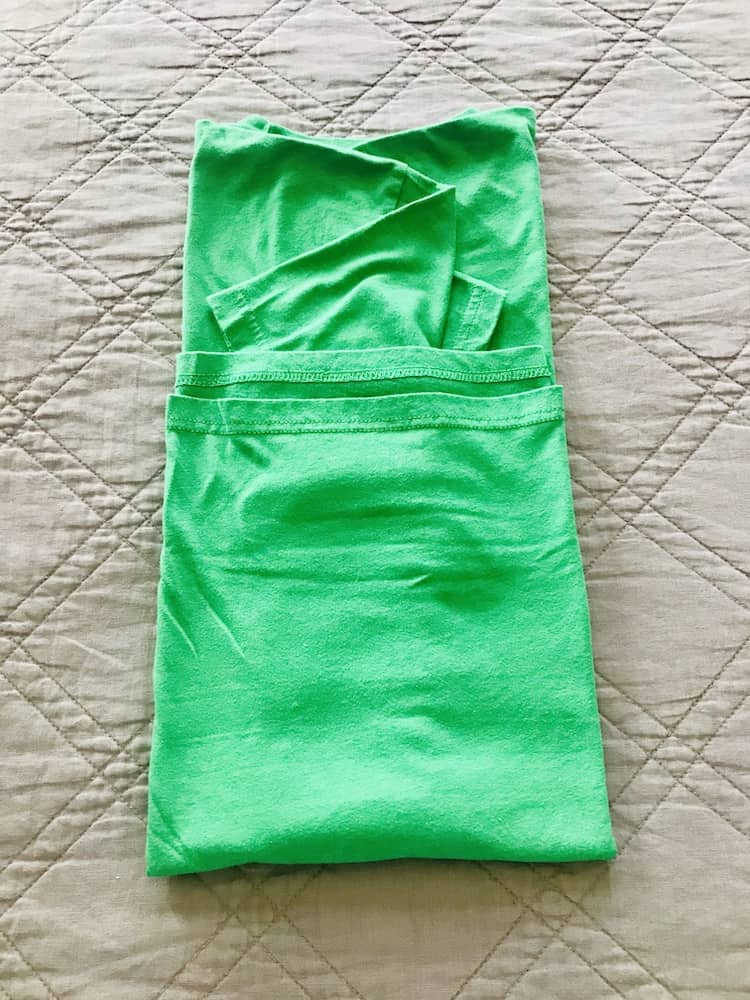 Fold the top down. Fold the t-shirt over itself one more time to create a nice rectangular shape.
Flip it right side up. See how the graphic is facing out? This helps you easily identify the shirt.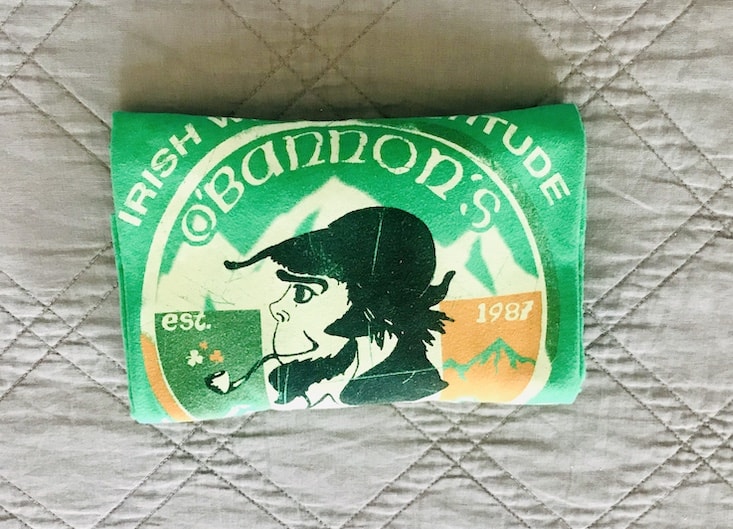 Place it in the bin, facing the front. Continue with the rest of your shirts.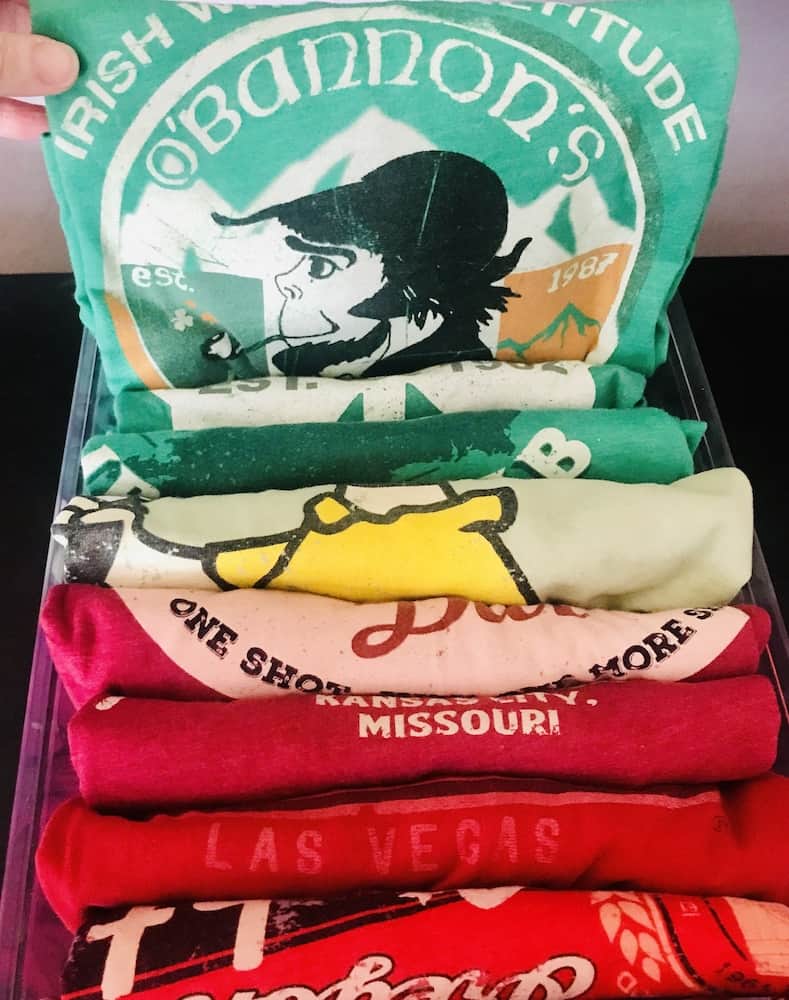 PRO TIP: Don't overstuff your bins with shirts, as this can cause deep or even permanent creases.
I like to use clear plastic bins to file fold because I can see the shirts from every angle. It makes it much easier to find a particular shirt I'm looking for in a hurry.
However, you can also use these pretty (and handy) grid-style t-shirt organizers made for file-folding:
Place your newly file-folded shirts in the dresser drawer. Voilà! You may need to assign multiple "shirt drawers" if you're working with a lot of t-shirts.
RELATED ARTICLE:
Check out my tips on how to organize messy drawers in your dresser!
2. File Fold T-Shirts to Store on Closet Shelves
My husband has too many t-shirts for our dresser, sadly. I believe I counted over a hundred at one point. Some are from his college days (which he hangs on to for sentimental reasons). Others he's just collected over the years.
The truth is, we just don't have enough drawer space. So, out of necessity, I came up with one of my best t-shirt storage ideas: storing file-folded shirts on our closet shelves.
Check it out: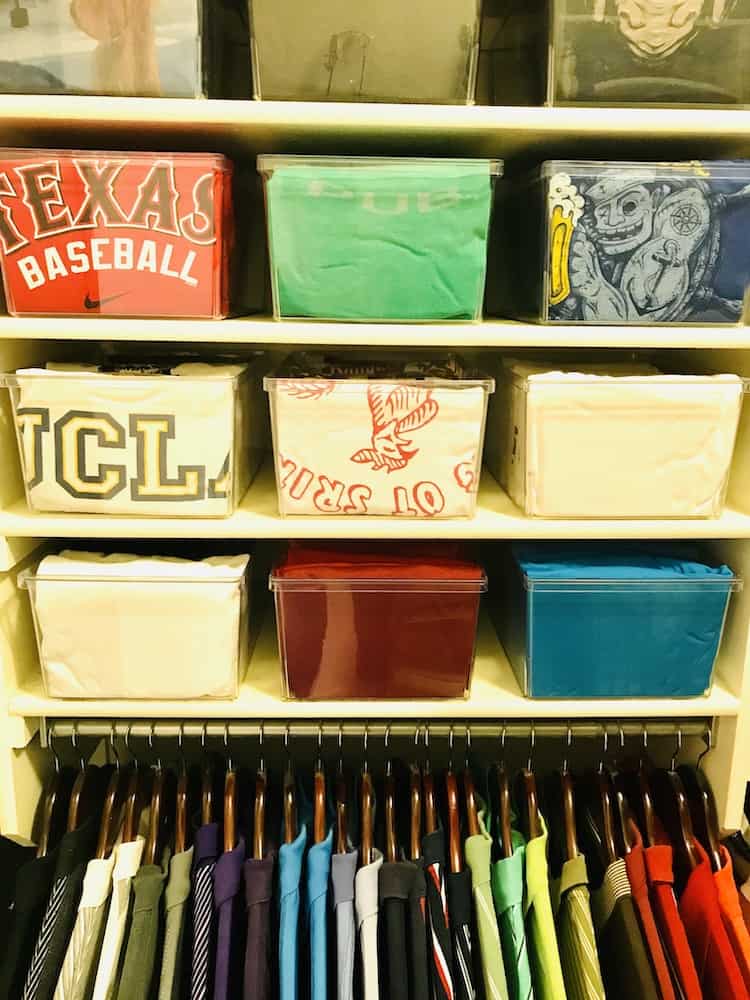 Beautiful, right? It's like a huge filing cabinet for shirts.
The first step was to measure the length, width and height of our built-in shelves. I made sure there was enough room to slide the bins in and out as needed.
Next, I used the file-folding technique from Tip 1. A lot of my husband's t-shirts have graphics on the front, so file-folding them keeps the graphics facing up. It's super easy to find his favorite college football t-shirt on game day.
NOTE: File-folded t-shirt bins can also fit nicely on the bottom of a bedroom armoire, beneath the hanging clothes.
RELATED ARTICLE:
Easy DIY Closet Organizing Ideas
3. Stack Folded T-Shirts in a Drawer or on a Closet Shelf
A simple solution that doesn't require file-folding is to stack your t-shirts just like you see in a clothing store.
Start with an easy folding technique that minimizes vertical space.
Lay the t-shirt face-down on a flat surface. Smooth out any wrinkles.
Fold one side in towards the middle. Lay the sleeve back.
Repeat on the other side.
Bring the bottom of the shirt up to meet the top. Smooth out wrinkles and flip it over.
This creates a nice, flat, folded shirt and will minimize wrinkling. Repeat with your other shirts and stack.
It allows you to lift the shirts without disturbing the folds. This keeps everything nice and neat even when you're retrieving a shirt from the bottom of the stack.
Easily adjust them to suit the width of your shirts. They prevent the stacks from sliding and keep other closet items separate.
4. Roll T-Shirts for Hanging Shelves in Armoire or Closet
No shelf space? No problem! Here's another way to organize t-shirts that keeps them wrinkle-free and easy to store on hanging shelves. Simply roll them.
I love this method for storing my workout shirts in my armoire: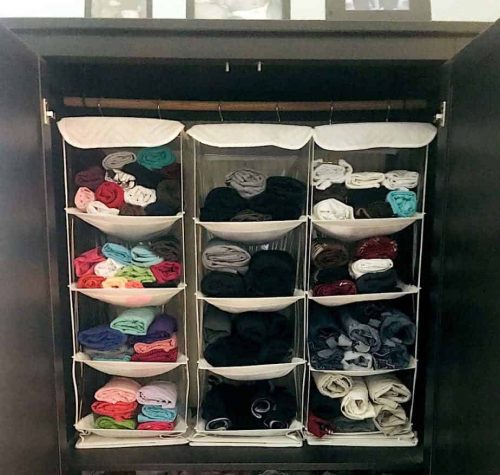 Here's how to roll t-shirts, step-by-step.
Lay the shirt on a flat surface. Smooth any wrinkles.
Fold a few inches of the bottom inside out.
Fold one half of the shirt vertically towards the middle.
Repeat with the other half.
Starting from the top, begin rolling the t-shirt towards the bottom. Smooth out all wrinkles as you go.
When you reach the bottom, fold the inside-out pocket you created in step 2 around the t-shirt. All set!
This is a fabulous way to pack t-shirts in a suitcase for a trip, too.
RELATED ARTICLE:
5 Amazing Ways to Organize a Bedroom Armoire
5. Hang T-Shirts (Without Damaging Them)
You can hang t-shirts in a closet, too. However, it's important to choose the right hangers to avoid bumps and stretching.
Avoid wide hangers. These tend to stretch the shoulders of your t-shirts and create those ugly bumps we all detest.
6. Organize T-Shirts by Type & Style
Whether you choose to organize your t-shirts in a drawer, on a shelf, or hang them on hangers, it's a really good idea to sort them by type and style.
For instance, you might sort by these types:
Plain cotton t-shirts (no graphics)
Cotton graphic t-shirts
Dri-fit workout shirts
Silk or other delicate t-shirts
There are a few reasons to do this. First, each type of shirt may have a different function. It's more efficient to sort them by function. No sense wasting time looking for a workout shirt in your delicate/dressy shirt area.
Second, different fabrics will fold or hang differently. It looks much tidier to have a stack of just cotton t-shirts and a stack of just dri-fit t-shirts.
You'll also want to consider sorting by style. Slim-fit "muscle" shirts will fold differently than regular-fit shirts. You may have V-necks or boatnecks that you want to keep separate from the crews.
And, of course, you'll likely want to separate long-sleeved, short-sleeved, and maybe even 3/4-sleeved shirts into separate groups.
7. Organize T-Shirts by Color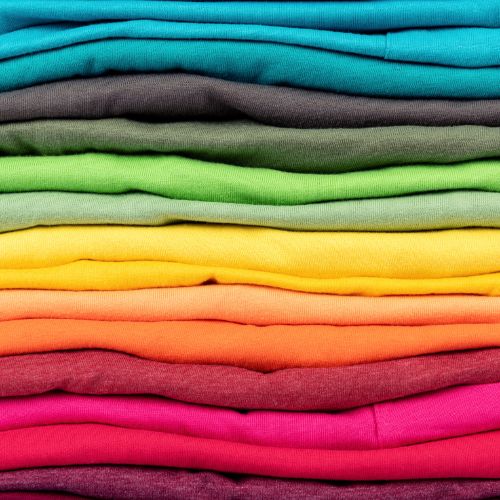 Finally, I recommend sorting t-shirts by color. I prefer a rainbow order (ROYGBV) plus white, gray and black. This works for hanging, stacking, and file-folding.
In some instances, I didn't have enough of one color to fold into a single bin, so I combined colors like orange and yellow. The important part is that I know where to find them.
It is SO much easier to find the purple soccer t-shirt when we're in a hurry because I know it's organized with the other purple t-shirts. Color coordination just makes life that much easier.
I hope you feel inspired to organize all of your t-shirts today, thanks to these tips. It's ok if it takes a few tries to find the right system that works for you. It took me more than one attempt, but now I'm thrilled with the results.
Happy organizing!
MORE BEDROOM AND CLOSET ORGANIZING ARTICLES
How to Organize Sweaters: The 5 Best Ways
How to Organize Jeans: 6 Best Ways
Spectacular Ways to Organize Shoes
The Best Way to Organize a Messy Room
How to Organize Clothes Without a Dresser
Brilliant Ways to Organize Jewelry and Accessories
Effective Tips for Nightstand Organization
Bedroom and Bathroom Makeup Storage Tips
Easy DIY Bedroom Organization Ideas
Last update on 2023-12-02 / Affiliate links / Images from Amazon Product Advertising API