Trying to organize clothes in a small bedroom doesn't have to be a big challenge. Even if you don't have enough room for a dresser, there are several space-saving ways to stay organized — you just need a little creativity!
I'm excited to share my favorite tips below — check 'em out for some inspiration.
And, if you'd like to save these tips for later, just enter your info below. I'll send them straight to your inbox!
Have tips sent to email to save for later:
This post contains affiliate links. As an Amazon Associate, I earn a small commission on qualified purchases at absolutely no cost to you. Please see the Disclaimer for more information.
1. Declutter First to Maximize a Small Space
Decluttering is ALWAYS the first step of any organizing project. It's also typically the toughest step. But, if the goal is to truly get organized, it's much easier to do with less stuff.
Here's my favorite way to declutter clothes:
Throw away any broken shoes or socks/underwear with holes. The same goes for bras with broken underwires or anything else you've been hanging on to for too long.
Donate any items that don't fit but are in good condition. Also donate any clothes that haven't been worn in a year or more. (I promise, you won't miss them.) Take them to your local thrift store, shelter, or friend or relative who will love them.
Be brutal in this step. The goal is to keep only the clothes that you love and wear right now, on a regular basis. Put the "donate" clothes in a bag and place it in your trunk before you get cold feet!
2. Install Drawers in a Walk-In Closet
No dresser drawers in your bedroom? Put some in your closet! There are a few ways to do this:
Add one or two small chests of drawers beneath a clothes rod. This is a great way to store small items like socks and undergarments. Here's a simple solution that would fit in a small walk-in closet:
Use hanging shelves with removable fabric drawers. This is a great option when you lack floor space in the closet. I like these fabric bins because I can pull them out, place them on my bed and load them up with file-folded clothes on laundry day before replacing them. Very easy and efficient.
Place stackable wire drawers on the floor or shelf. Going vertical is a great idea when you don't have much space. These wire drawers stack nicely on a shelf or the floor. They even make a built-in cubby hole easier to use.
3. Use an Inexpensive Rolling Clothes Rack
Dressers can be expensive and bulky. An affordable, space-saving alternative is a clothing rack on wheels. Think of it as a makeshift closet. It can be moved into a walk-in closet or corner of the room as needed, and it provides extra storage space for clothes. I like this double-hanging rod option with a bottom shelf:
4. Maximize Vertical Space With a Wall-Mounted Pipe Clothes Rack
When you need extra space to organize clothes in a small bedroom, look up…on the wall! I love these wall-mounted pipes for hanging clothes. They attach right to the wall or to the underside of a shelf. You only need a small amount (less than two feet) of empty space for this option.
PRO TIP: attach the rack to wall studs to ensure proper support.
5. Try an Over-the-Door Clothes Rack
Don't forget the back of your bedroom or bedroom closet door! This is a great place for an over-the-door rack to hang clothes, purses, belts, scarves or other accessories.
6. Use a Hanging Shoe Organizer for Smaller Items or Baby Clothes
Another good idea is to hang a shoe organizer over the door or on a closet rod. Store small items like socks, stockings and undergarments in the pockets. It would also be a good option for baby clothes.
P.S. I've got a very helpful post on ways to organize a baby nursery here.
7. Hang Jeans on Space-Saving Pants Hangers
Jeans are bulkier items that often get stored in dresser drawers. When you're trying to organize clothes without a dresser, it's important to make the most of limited space in the closet. These space-saving pants hangers allow you to hang four pairs of jeans vertically instead of one.
(Check out more great ways to organize jeans here!)
8. Store Bulky Sweaters in Under Bed Storage Containers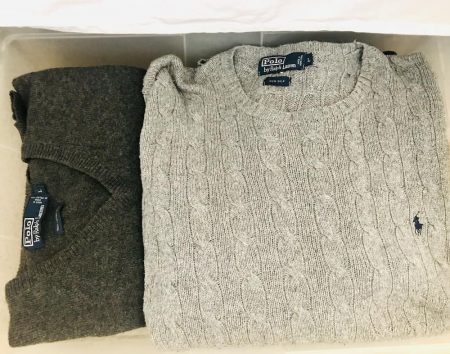 Big, bulky sweaters can take up a lot of space in a small closet. I love using under bed storage containers for sweaters and seasonal clothing.
PRO TIP: measure the vertical space from the floor to the bottom of the bed before purchasing a bin. Some are higher than others. Look for an option with wheels for easy accessibility and a cover to protect clothes from dust.
(Read this post for more ideas on how to organize sweaters.)
9. Use Decorative Storage Boxes to Store Seasonal Items
You don't need a traditional dresser to store your seasonal clothing. Hats, gloves, mittens, scarves, and outerwear can be stored in pretty decorative storage boxes at the foot of the bed or in a corner of the room.
Check out more DIY ways to organize your bedroom here.
10. Hang Tank Tops on a Space-Saving Hanger
In my closet, I created a DIY tank top hanger using spare curtain rings: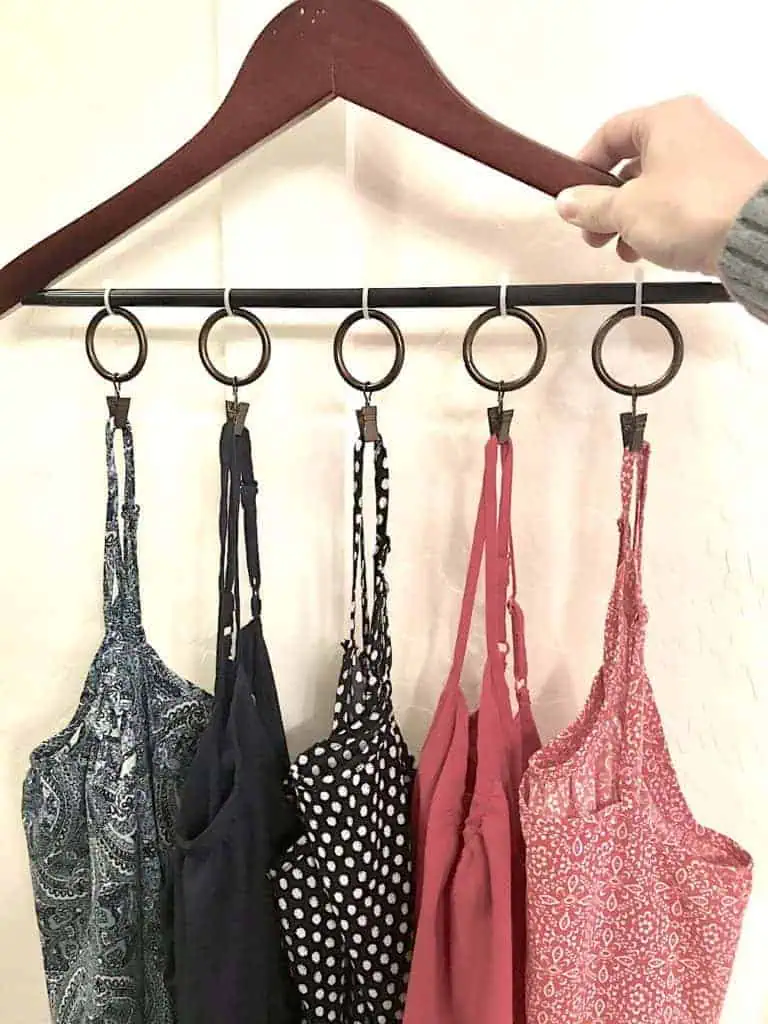 You can also use a space-saving large-capacity tank top hanger. This option stores up to 24 tanks or camisoles:
11. Use a Nightstand to Store Nightgowns, PJs, Lingerie
No dresser? Consider another piece of furniture. If you've got space in your bedroom for a nightstand, you can store clothes in it as well. A tall, narrow nightstand with drawers is a great place to store nightgowns, pajamas and other lingerie.
Check out my post on nightstand organization for more ways to use this multi-functional piece of furniture!
12. Maximize Closet Space with the Right Closet Organizers
When you don't have a dresser, closet organization becomes all the more important. You'll want to maximize every last inch of closet space. Here are some helpful tips:
Invest in a good closet system. A customizable closet system can change your life. If you have the money to invest, a custom closet from a professional organizer brand like The Container Store is a wonderful option. You can also DIY your closet system with an option like this, from ClosetMaid:
Choose the right closet organizers. Carefully examine the clothing you need to organize and the space you have in the closet. Look at ways you can maximize hanging space with space-saving hangers. Maximize vertical space on shelves with stackable bins or drawers. Use every inch, from the floor to the ceiling.
Use all of the empty space. Can you add hooks on the wall for hats, scarves, belts or jewelry? Is there space beneath clothes for stackable shoe bins? Find the space and use it.
RELATED BEDROOM ORGANIZATION ARTICLES:
9 Ways to Organize a Teen's Bedroom
5 Amazing Tips For Organizing a Bedroom Armoire
15 Bedroom and Bathroom Makeup Storage Tips You'll Love
The Best Way to Organize a Messy Room (Step By Step)
19 Spectacular Ways to Organize Shoes in Small Spaces
10 Delightful Tips to Organize a Messy Dresser Now