Does your current situation feel like "so many shoes, so little space…?" You're not alone; it's a common challenge (for me, too!). The good news: there are some truly spectacular ways to organize shoes in small closets, bedrooms, mudrooms and garages.
Even in a tiny house or small apartment without a lot of space.
I've rounded them up here to inspire you to achieve new levels of shoe storage. Read on!
And, if you'd like to save these tips for later, just enter your info below. I'll send them straight to your inbox.
Have tips sent to email to save for later:
This post contains affiliate links. As an Amazon affiliate, I earn a small commission from qualified purchases at absolutely no cost to you. Please see the Disclaimer for more information.
1. DIY Tiered Shelf Shoe Storage
Sometimes, we've gotta get creative with the space we're given. I have a small closet that I share with my husband. I really don't have space on the floor of my closet for shoes. I do have built-in shelves, but they are not adjustable.
The shelves by themselves allowed me to store four pairs of tall pumps in a row. I have several pairs of kitten-heeled shoes and sandals and knew I could fit at least one more pair of shoes if I could find a way to stack them.
So, I created my own shoe storage for pumps and dressy sandals using expandable tiered organizers I had lying around.
I effectively doubled the storage on the top shelf by creating a tier for the second row of shoes. I store flat sandals on the back tier.
2. Use a Shoe Riser to Double Your Space
A shoe riser is an easy way to effectively double the storage space on your shelf by maximizing vertical space. Instead of storing shoes side-by-side, you can store them stacked like this:
As you can see, this solution works for pumps as well as flats, greatly expanding shelf space for your shoe collection.
3. Store Flip Flops Upright in a Bin
Flip flops are like bunnies: they seem to multiply like magic overnight. And they never stay together in a pair, do they? One is always under the bed or wedged in the corner of the closet, impossible to find when you're in a hurry.
I felt like I was forever looking for an errant flip flop…until I came up with the best way, as pictured above. I chose to store all pairs together, upright in a fabric bin, like a filing cabinet. Now, I can see and access each pair and they stay nice and neat.
Wooden crates, wicker baskets or even wire baskets would work for flip flops, too.
Handy types: you can make your own fabric cubes to organize flip flops and shoes. This post from SUSTAIN My Craft Habit shows you how!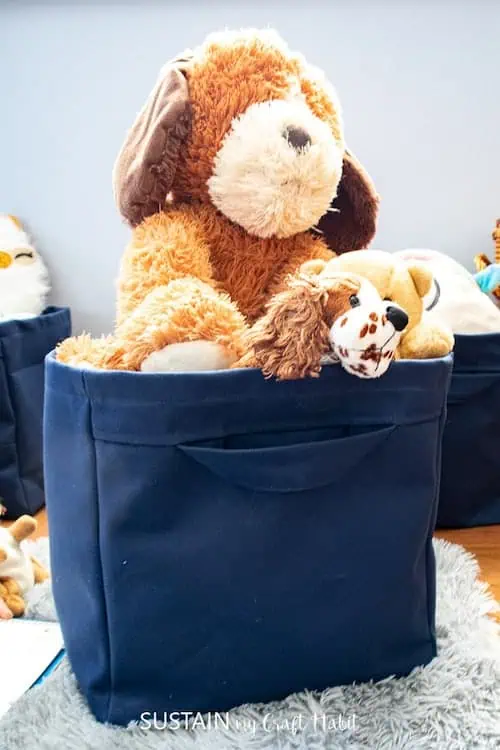 RELATED ARTICLE:
11 Easy DIY Closet Organizing Ideas Anyone Can Do
4. Hang A Shoe Storage Bag
How does one organize shoes when there's not enough space on the closet floor? Try a shoe storage bag that hangs from your closet rod. This is one of the best shoe storage ideas I've seen for hanging shoes!
The option below has clear pockets that protect shoes from dust while keeping everything easy to find:
(Got four-legged friends in your house? Hanging storage for shoes is a good idea to keep them safe from sharp teeth and claws.)
5. Make a Shoe Rack With PVC Pipes
I love this simple, freestanding DIY PVC shoe rack from The DIY Nuts. It's a nice way to maximize vertical space when you're working with limited space for shoes.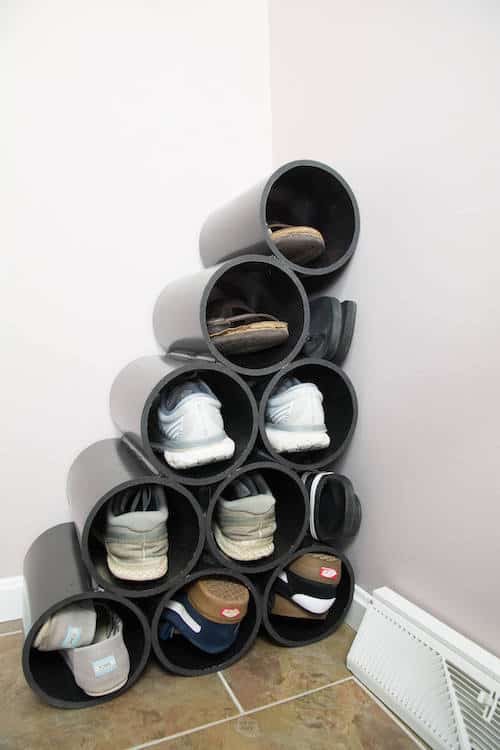 It would work great in a mudroom or garage, and it could be a cool addition to a kid/teen bedroom, too! Check out the article for a step-by-step.
RELATED ARTICLE:
How to Organize a Teen's Bedroom: 9 FUNctional Ideas
6. Hide Your Shoes in Plain Sight
Not everyone has room in a closet to store shoes. This small shoe rack cabinet is a beautiful solution that hides shoes in plain sight with flip drawers and a cabinet door. It adds style to an entryway or bedroom while providing functional storage and easy access to shoes::
7. Add Hardware-Free Wall Storage
Whenever floor space is tight, I say, "Look up!"
In this case, all you need is a tiny amount of empty wall space and you can install these handy shoe hangers. No walk-in closets are needed. You could even install them on the side of a dresser or armoire in the bedroom.
This is a simple, no-drill-required solution:
This set uses adhesive strips and stores six pairs of shoes in a very small space.
8. Add a Shoe Storage Bench to Your Entryway or Mudroom
One pet peeve of mine is seeing a jumbled mess of shoes when I walk in the door. A stylish storage bench in the entryway or mudroom takes care of the problem! This option offers flip-top storage, a padded cushion and a two-tier shoe rack:
Like DIY projects? Here's an amazing entryway storage bench from DIY Danielle that will transform your house: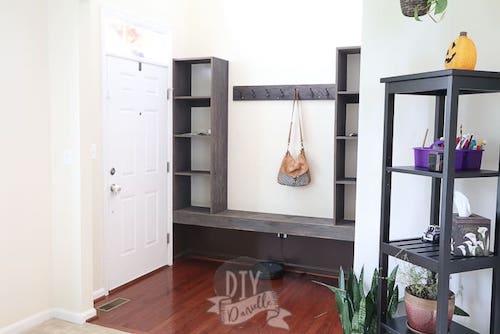 This bench takes storage a step further with shelving, which maximizes vertical space and makes the most of the area right off the front door. Lovely!
9. Stack Clear Drop-Front Shoe Bins
Shoes are an investment for many people, like jewelry and luxury purses. These stackable, drop-front clear shoe boxes both protect shoes from dust, dirt and furry friends AND enable you to stack your shoes in any configuration you need to accommodate a space with small square footage:
10. Use Scrap Wood to Build a Garage Shoe Rack
More great DIY shoe storage ideas! The garage is another place that tends to collect piles of shoes, especially cleats, boots and other outdoor wear. The DIY Nuts solved this problem in their garage with some scrap wood and a single afternoon of labor.
Check out their DIY wooden shoe organizer: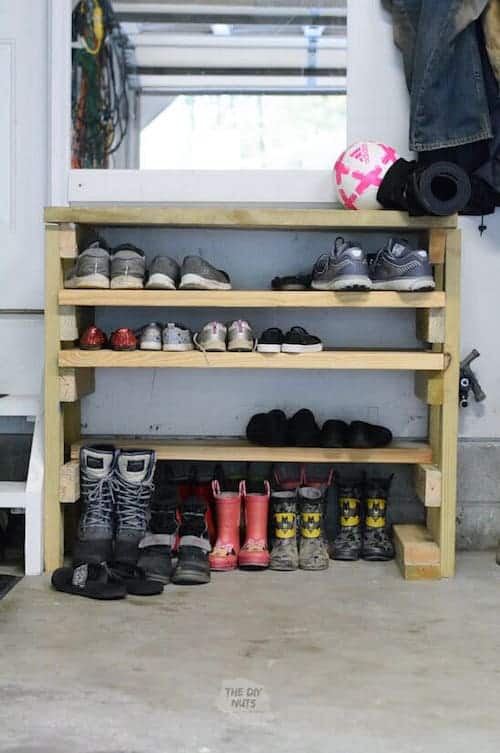 An added benefit to a DIY project like this: it can be customized to fit the space you have available and the number of shoes you need to organize.
11. Paste a Picture on Stacked Shoe Boxes
Here's a clever idea from Birdz of a Feather: purchase an inexpensive shelving unit, stack it with clear plastic boxes, and affix printed photos of the shoes on the front. Creative and thrifty! You can organize shoes by type and color and always know where your favorite flats can be found.
This solution also works well if you need to get organized for a move or store shoes in rental storage units.
12. Stow Shoes Under the Bed
Don't forget the space under your bed! This often-overlooked area is a goldmine in a small home when you need extra storage to organize shoes.
There are organizers devoted just for this purpose, like the set below with compartments that fits up to 32 pairs. It essentially enables you to add a shoe drawer (or two) under the bed.
RELATED ARTICLE:
Easy DIY Bedroom Organization Tips & Tricks You'll Love
13. Pack, Move and Store Shoes in a Wine Box(!)
Love this tip from Organized 31! You know those free, divided cardboard boxes you get when you buy a case of wine? Save them for shoe storage. They're sturdy, easy to pack for a move, and perfect for storing in a closet or on a shelf. Very smart.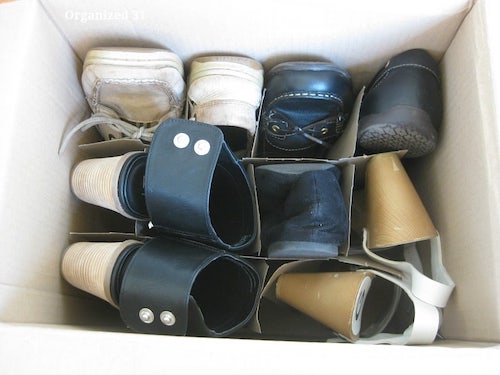 14. Build a DIY Shoe Cubby
This DIY Shoe Cubby from Love and Renovations is SO cute. I love the bottom shelf with baskets (perfect for flip-flops) and that it's stylish enough to put on display in the entryway. And it only took one afternoon to build!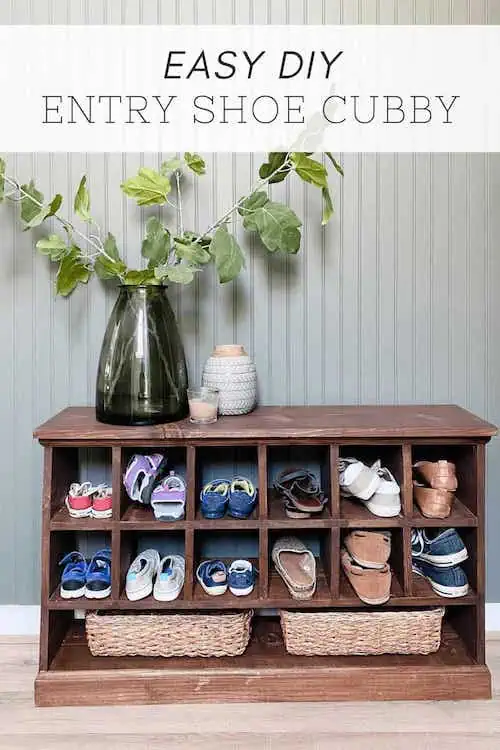 15. Mount a Shoe Rail in that Awkward Corner
We've all got a weird, awkward corner in the closet or garage that doesn't accommodate typical organizers very well. I found a solution to make this space usable! This handy rail storage mounts specifically in a corner, utilizing empty awkward space and keeping shoes off the floor:
You can achieve a similar effect in a narrow space with tension rods or curtain rods, too.
16. Organize Shoes With a Sturdy Over-the-Door Shoe Rack
I love using the back of the closet door for storage in small spaces. We've all seen the over-the-door shoe organizers with the clear pouches. They work for all kinds of storage (cups and bottles in the pantry, toy storage, jewelry and accessories, and more). But they actually aren't always great for shoes as you can usually only fit one small shoe in each pouch.
I found this sturdy solution that fits up to 16 pairs of shoes (even adult sizes):
17. Store Shoes in a Functional Piece of Furniture
In a small space, every inch counts. And one key to staying organized is functional furniture that serves more than one purpose.
For example, this ottoman opens up to reveal hidden shoe storage. Brilliant! Store it at the foot of the bed, in the entryway, or even in the family room. No one has to know what secrets are kept inside. I wish I'd had this in my first studio apartment!
18. Craft a DIY Bench With Rolling Shoe Storage
Here's one of my favorite DIY shoe organization ideas! This beautiful wood bench and shoe storage project from Making Manzanita is perfect for a small corner of the entryway. The rolling shoe storage bin makes for no-fuss organizing.
19. Store Special Shoes on a Collection Wall
This solution may not be practical for everyday shoes, but it works great for a collection. My son has several pairs of soccer cleats he keeps for sentimental purposes. We used a small wall in his room, mounted floating shelves, and voila!
20. Use Narrow Wall Shelves to Store Shoes
Two sets of narrow wall shelves from IKEA allow my friend's son to store his favorite shoes in a corner of his bedroom. This idea could work in a walk-in closet or a mudroom, too.
If you don't have an IKEA near you, Amazon has similar shelf units:
I hope I've inspired you to get creative and find new ways to organize shoes for your entire household. Happy organizing!
P.S. Check out my tips in this Redfin article on how to stay organized in a tiny home!
Related Articles:
10 Delightful Tips to Organize a Messy Dresser Now
How to Organize Clothes Without a Dresser
17 Ways to Beautifully Organize With Baskets
Small House Storage: 17 Super-Sneaky Solutions You'll Love
DIY Small Spaces Storage Ideas to Try
The Best Ways to Organize Sweaters
Terrific Tips to Organize T-Shirts