My living room's best feature is a huge, comfy couch. My whole family can lounge and watch movies together on this couch. It's the best, yet it started to collect an obscene number of throw blankets, and I'm all about minimalism.
So, I found myself searching for the best blanket storage ideas. I'll show you the one I chose for my house below, along with a BUNCH of other really clever ideas for storing extra blankets that I think you'll love! Read on!
If you'd like to save these ideas for later, simply enter your info below. I'll send them straight to your inbox.
Have tips sent to email to save for later:
This post contains affiliate links. As an Amazon Associate, I earn a small commission on qualified purchases at absolutely no cost to you. Please see the Disclaimer for more information.
1. Make a Cheap and Easy DIY Blanket Ladder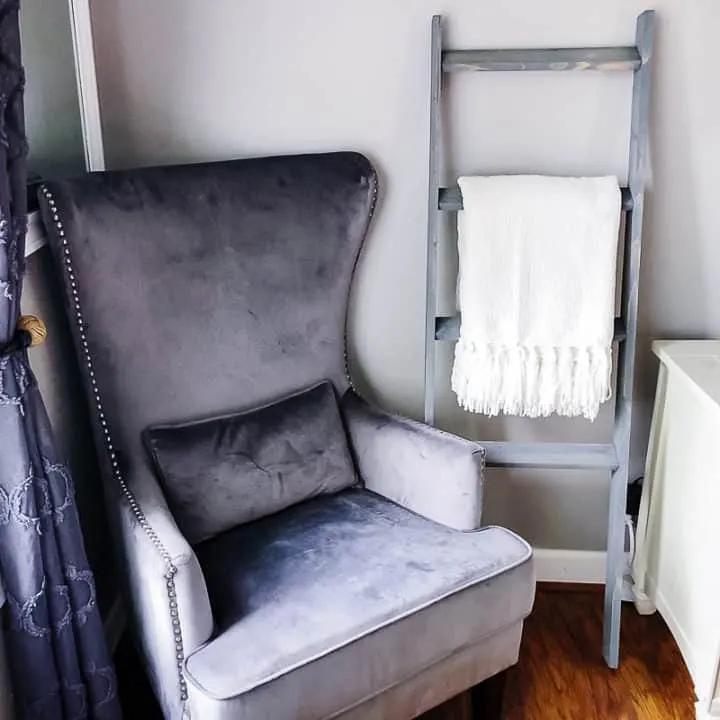 I know some pretty crafty, handy folks, so I asked for some ideas on making a ladder to store blankets. My friends didn't disappoint!
The photo above is a lovely, inexpensive DIY blanket ladder from The Handyman's Daughter. I just love the color! According to the article, the materials cost less than $10 and power tools aren't required.
2. Build a Simple DIY Blanket Ladder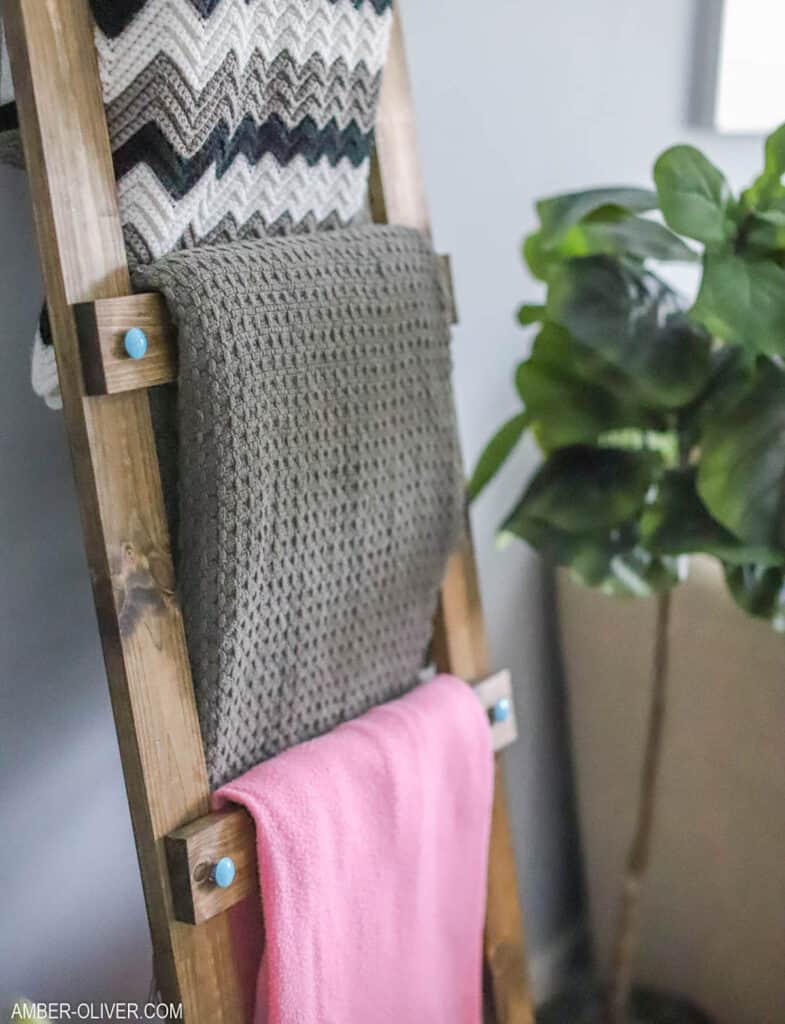 The photo above is another great option for a simple DIY blanket ladder from Amber Oliver. The color of the wood matches my furniture pretty closely, so it would definitely work in my living room.
What I love about a blanket ladder is it's a great way to display your favorite throws and it requires almost zero floor space. Because it maximizes vertical space, it's probably the best way to store your favorite blankets in small spaces.
3. Create a Rustic DIY Blanket Ladder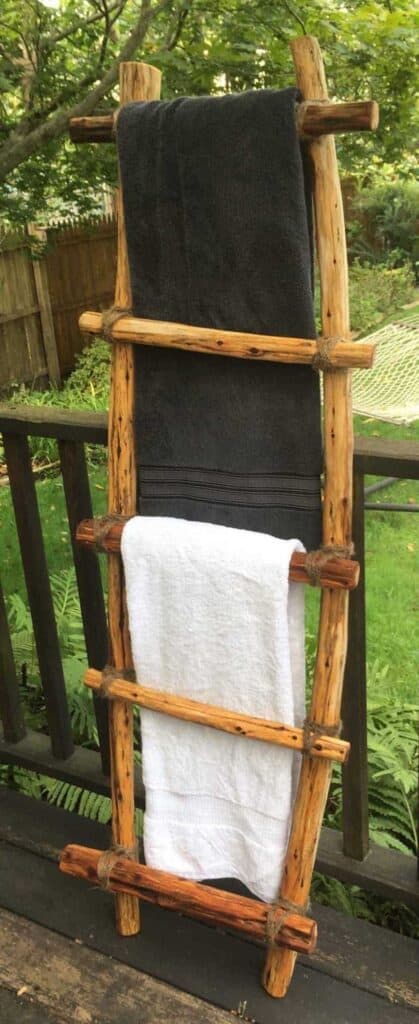 Isn't this rustic DIY blanket ladder from Maplewood Road just gorgeous? I can picture it in a cozy mountain cabin. When you add beautiful blankets, it becomes a decorative ladder that can dress up a bare corner or wall. Function and style!
Not a DIY'er? Not a problem! Check out some awesome blanket ladders on Amazon.
4. Consider Quilt Racks for Heavy Blankets
Quilt racks are a little larger than blanket ladders and are made to hold large blankets or large comforters — great for colder months. This option is a stylish way to offer warm blankets to houseguests staying in your guest room.
5. Build a Blanket Wall Rack
You can maximize empty wall space with a blanket wall rack. Wall racks are great blanket storage solutions because they help keep the floor space beneath them clear (and easy to clean!).
Houseful of Handmade has instructions to make the wall-mounted ladder for blankets in the photo above. As noted in the article, this project would be an easy way to store towels, too. And, it only requires two pieces of wood to build! I love that!
6. Add a Storage Ottoman for Blankets
Stash your extra cozy blankets in a storage ottoman for easy access! I love adding storage to family rooms this way. I have two ottomans stored under the entryway table in my house, just in case I need them for guest seating.
Ottomans are always handy for extra seating; why not use them for extra storage, too? They are the perfect place for not just blankets, but also board games, seasonal decor, throw pillows and more.
Sustain My Craft Habit has an easy DIY storage ottoman you can sew: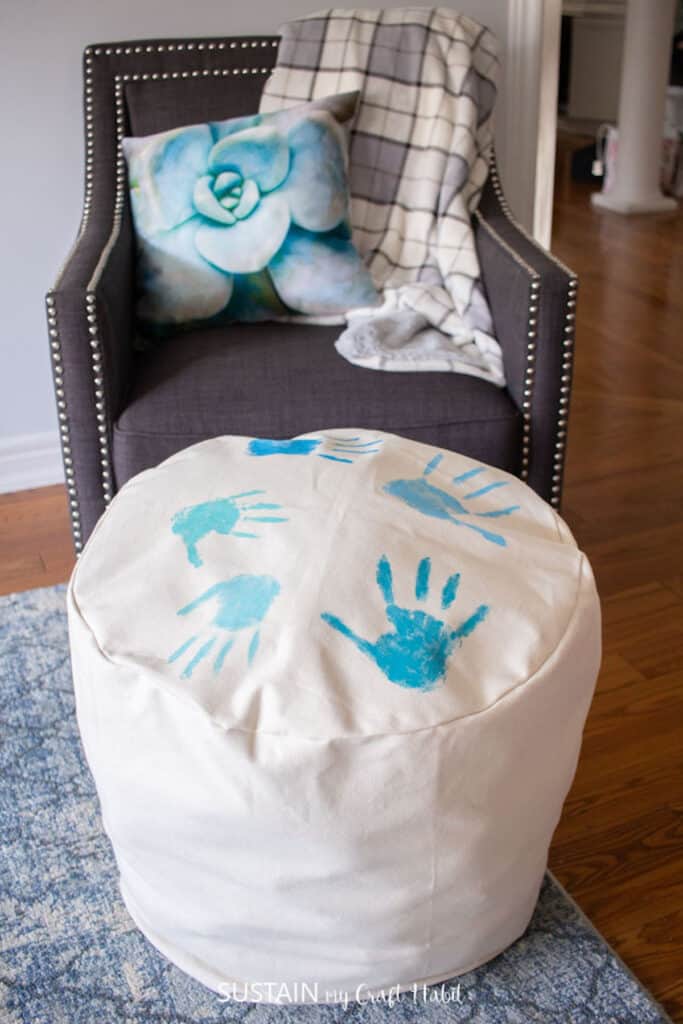 7. Try a Blanket Basket for Family Room or Bedroom
​The solution I chose for my family room was a blanket basket. It sits in a corner of the room, looking pretty while keeping our blankets within easy reach.
Baskets are my go-to storage solution for just about every room! If you're a basket fan too, check out my tips on organizing your entire home with baskets.
8. Use a Coffee Table for Blanket Storage
If you've read my organizing articles, you know I'm a huge fan of functional furniture with built-in storage.
Here's a great option: turn your living room coffee table into a blanket storage solution! I love my huge coffee table with the bottom shelf. It's perfect for a blanket or two.
Another option: a coffee table with hidden storage.
9. Try Linen Closet Baskets for Blanket Storage
Your linen closet is naturally a good place to store extra blankets for beds, especially in the summer months when only a sheet will do.
Fit your linen closet shelves with nice woven baskets (you can even label them if you like), and store blankets for each bedroom in a basket.
Discover linen closet baskets on Amazon.
10. Use Linen Closet Shelves for Blanket Storage
You don't NEED baskets in your linen closet. In fact, for large blankets, electric blankets, quilts or comforters it might be hard to fit them in a basket.
Instead, you can fold and stack them neatly on a linen closet shelf. Use a handy shelf divider to keep them tidy.
11. Put a Blanket Chest in a Bedroom
A chest at the foot of your bed is a perfect way to store linens, blankets and other items in your bedroom. I love chests for storing not only keepsakes but practical items, too. Seasonal throw pillows, seasonal clothing and shoes are other great options for chests.
Shop for blanket chests on Amazon.
12. Install Blanket Baskets on Bedroom Closet Shelves
For seasonal storage of blankets, consider the top of your bedroom closet. You can store blankets in large baskets on the top shelf during the summer months when extra blankets aren't necessary.
13. Use Decorative Storage Trunks for Blankets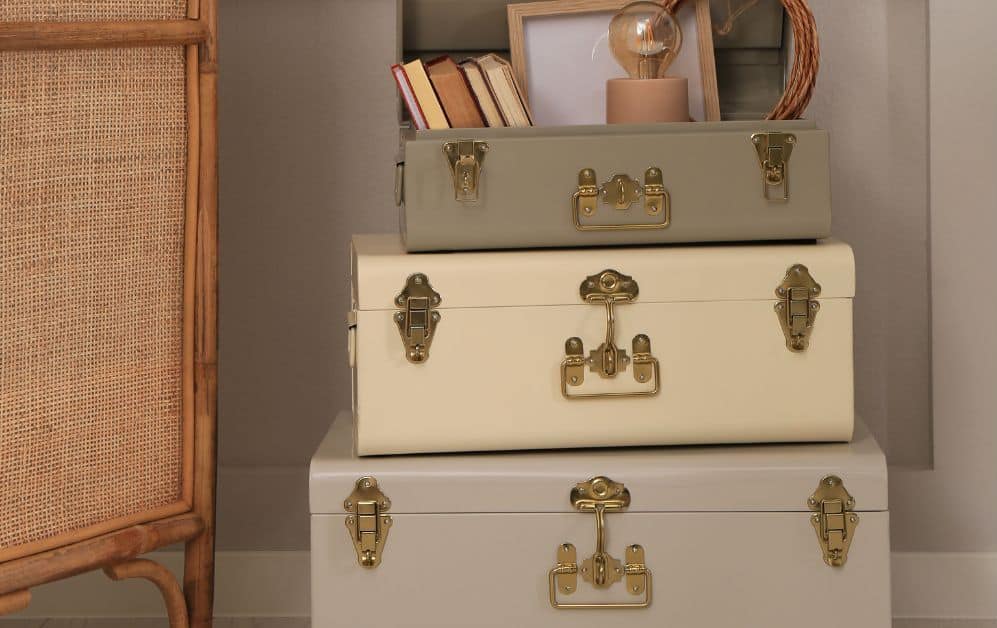 Decorative storage trunks are a nice way to "hide" items like blankets in plain sight. They look quite nice stacked in a corner, against a wall or next to a sofa.
In a family room, they also offer storage for books and magazines, DVDs, board games, video games and more.
Find decorative storage trunks on Amazon.
14. Try a Coat Rack with Built-In Blanket Storage
15. Install a Freestanding Towel Rack
16. Use Blanket Bags for Seasonal Storage
Blanket bags (large, zippered storage bags) are great storage options for seasonal blanket storage.
In the summer, when you don't need heavy wool blankets on your bed, you can neatly fold and store them in a blanket bag. Tuck the blanket bag under a bed, in a closet, in a bin in the garage…wherever you want.
The bags protect your blankets from dust.
17. Maximize Storage Space with Vacuum Bags
You may not have a ton of storage space for blankets, and that's perfectly fine! A vacuum bag offers the perfect solution. Flatten your extra blankets down, stack them in a bin and store them until you need them next.
18. Store Blankets in Under Bed Storage Bins
I'm all about using every available inch of space I have for storage.
A lot of people forget that there's some gorgeous storage space right under their bed, just waiting to be used. Why not use it for blankets?
19. Use Water Resistant Moving Bags for Attic or Basement Blanket Storage
Attics and basements can be damp places and not ideal for fabric storage. One solution is a water resistant moving bag.
These duffel-style bags can hold a LOT of blankets (as well as extra bedding or seasonal clothing) and will protect your items from the elements.
20. Try Over-the-Door Racks to Store Blankets
The back of a door is another goldmine for storage! A tiny bedroom may not have space for a blanket chest, but perhaps you can hang blankets on an over-the-door rack.
(You can also use these racks for towels or scarfs…get creative!
21. Consider Swing Arm Towel Bars for Lightweight Blankets
I hope I've inspired some clever and creative blanket storage for you in your home! Happy organizing!
Related Organizing Articles:
Beautifully Organize With Baskets
Sneaky Small House Storage Ideas
How to Organize a Messy Dresser
How to Organize Any Messy Room
Last update on 2023-12-02 / Affiliate links / Images from Amazon Product Advertising API