Storage space is always an issue when you live in a small house or apartment. (It's often still an issue in a large house, but that's for another post.) So, how do you tackle small space organization? A little discipline and some creativity go a long way. The key components are:
Decluttering consistently
Creating systems and zones that work in the space and with your lifestyle
Maximizing the space you have (the super-sneaky part)
Feel like it's easier said than done? You've got help! I've provided 25 tips, tricks and ideas below to guide you through organizing even the smallest space.
This article contains affiliate links. As an Amazon affiliate, I receive a small commission from qualified purchases at absolutely no cost to you. Please see the Disclaimer for more information.
1. Declutter Thoroughly
This first step can be a doozy! A lot of people think that all it takes to organize a small house is cute containers and labels. Unfortunately, that's not always the case. The honest, brutal truth:
It's NOT POSSIBLE to organize a home filled with more stuff than space.
If you truly want to keep your small house neat, tidy and organized, you'll probably have to let some things go first. Here's how to declutter thoroughly:
Toss/recycle all broken items. If you haven't fixed it or taken it in to be fixed by now, chances are you won't. REALLY don't want to part with it yet? Put it in a "repair" box and give yourself a two-week deadline. When the deadline passes, time for it to go.
Donate or sell anything in good condition that hasn't been worn or used in over a year. This includes clothes, toys, seasonal items, small appliances and gadgets…you name it. You can choose Goodwill and get a tax donation or a local shelter. Facebook Marketplace is great for selling gently used household items, as is ThredUp for clothing.
Eliminate duplicates. Chances are, as you declutter you'll find you have more than one of the same item. Donate or sell those extra bottle openers, tape measures and fondue pots. When my husband and I organized our garage, we realized we really had no need for four ladders. (I'm not sure how we ended up with four in the first place.)
Once you've completed your initial decluttering session, you'll (hopefully) be left with just the items you use on a regular basis (plus seasonal items you use at least yearly).
Next, you'll want to establish a consistent decluttering routine…see Solution #2!
2. Set Up Systems to Stay Organized in a Small House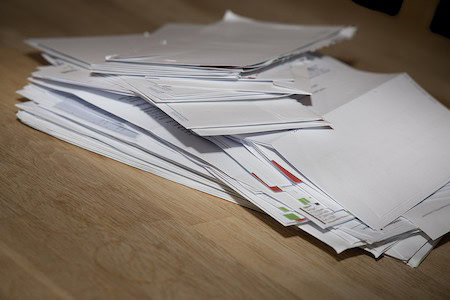 The clutter is gone. Well done! Next step: ensuring it doesn't come back.
Set up a decluttering system that works for YOU. Each person and household is different, so think about which spaces tend to get messy quickly.
Here are some helpful ideas:
Deal with the mail as soon as you get it. This means immediately opening it, throwing away the junk and setting up a filing system for bills and correspondence that needs a response. Check out my tips on how to organize mail and bills here.
Create a drop zone. Set up an area where shoes, backpacks, purses, keys, jackets, etc. can be neatly stored as soon as you and your family members walk in the house. Then make everyone use it! This will greatly curb the tendency to strew everything all over the house.
Spend 10 minutes a day decluttering. This can either be one space or a quick pick-up through the whole house. I love to challenge myself by setting a timer and trying to get as much done as possible in that 10 minutes.
Get the household involved. Unless you live alone, you shouldn't be in this organizing effort alone. Each member of the household can help keep things organized. Create a chore chart and give each person a space or area they're in charge of. Even young kids can put away toys, put clothes in the hamper and keep their schoolwork tidy.
3. Create Zones to Keep a Small House Tidy
Zone organizing is a great way to help a small house stay organized and tidy. A zone is an area designated for a category of items.
For instance, in the kitchen you might have a zone for baking tools, one for cups and glasses, one for Tupperware, etc. Your closet could have zones for long-sleeved shirts, jeans, dresses, hats and accessories. (You get the picture.)
For zone organizing to work, everyone needs to be on board. It's helpful to use containers with labels when possible.
I have an entire guide to organizing your home with zones here.
4. Hang Pots and Pans from a Ceiling Rack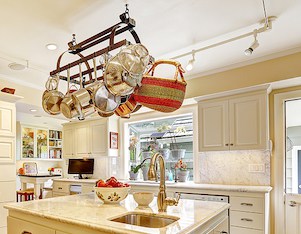 I always say, when you're low on space, look high!
A great way to free up precious cabinet space in a small house is by installing a ceiling pot rack. Hang your most frequently used pots, pans and cooking utensils near the stove for easy access.
You can either build your own pot rack (allowing you to perfectly fit the space you have) or purchase a ready-made version.
(Psst…here are a bunch of great ideas for organizing pots, pans and those pesky lids!)
5. Organize & Store Items on a Pegboard
A simple, inexpensive pegboard can do wonders when it comes to organizing small spaces! Just a few reasons why I love pegboards:
They're easy to fit in any space.
They free up space in cabinets and keep things off the floor.
They don't cost as much as shelving systems.
You can find your items quickly and easily.
They can be customized and rearranged on the fly.
Pegboards can be used to store items in every room in the house: tools in the garage, cooking utensils in the kitchen, jewelry and accessories in the bedroom, scarves and belts in the closet, craft supplies, office supplies, cleaning tools…even hard-to-store toys like Nerf guns.
You can find pegboards and accessories at a local hardware or home improvement store, or order them online at Amazon.
Look at how cute a pegboard system can be:
Check out 12 Popular Ways to Organize With Pegboards for more inspiration!
6. Use the Backs of Your Doors for Pantry Storage
One sneaky way to add more storage to a pantry is to utilize the back of the door. Some examples:
An over-the-door shoe holder can double as storage for all of those water bottles and tumblers we accumulate. This solution freed up an entire shelf in my pantry!
(Click this link for more ways to store bottles, glasses and cups.)
You can also store pantry staples like spices and boxed, canned or jarred goods with a handy adjustable rack like this one:
7. Add Stackable Storage Beneath the Sink
Maximize that awkward space beneath the sink with adjustable, stackable storage. It may take a little configuring around pipes, but with some creativity (and a good tape measure) you can find nearly double the space—or more. Here are some ways to do it:
In my bathroom, I used a narrow two-tier sliding drawer set that stretches the full length of the cabinet. Next to that, I placed a Lazy Susan on top of a folding shelf so I'd have room for another bin beneath.
By going vertical and working around the pipes, I was able to fit a LOT of bath items under the sink. Labels help me keep everything organized. (More bathroom storage ideas here.)
Under my kitchen sink, I used clear stackable bins with handles and stored items I need less often (like extra sponges and scrubbers) on the bottom. Learn step-by-step how I organized beneath the kitchen sink here.
8. Stack and Hang Items in Kitchen Cabinets
The average kitchen cabinet is just a box of empty space. The trick to getting the most out of this empty space is by stacking and hanging items to efficiently use up every inch. For example:
I installed cup hangers in this cabinet to take advantage of the extra space above my drinking glasses. This one trick doubled the storage space above that shelf! Check out more ways to store cups and glasses here.
If you store medicine, vitamins, and supplements in a kitchen cabinet as I do, here's a great way to organize them and maximize space. I sort blister packs by type (cold/flu, antacid, etc.) and then store them in labeled meal prep containers. They stack really well and I can instantly find what I need.
Get more ideas for organizing vitamins and medicine here.
Stack pans, tins and cutting boards more efficiently in your cabinets with handy solutions like this:
9. Invest in Furniture with Added Storage
If there's one thing I feel is worth the investment, it's furniture that provides extra storage…especially in a small house.
My house doesn't have a playroom or game room, so my family room used to be overrun with video games and consoles and accessories.
My solution was to buy a media cabinet with cubby holes that could neatly (and attractively) store everything: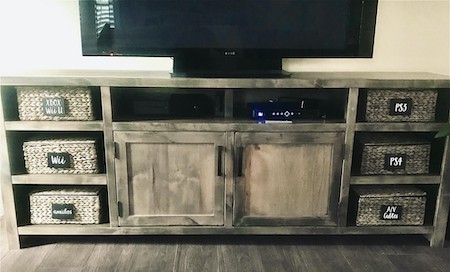 There are SO many options when it comes to furniture with built-in storage.
Think coffee tables with sneaky little lift tops (great for storing board games):
Ottomans that double as storage benches:
And platform beds with built-in drawers:
10. Utilize the Inside of Cabinet Doors
The inside of a cabinet door is a goldmine when it comes to storage! It's a great place to store items you use often, like sponges and scrubbers at the kitchen sink, hair tools in the bathroom, lids for pots and pans, cling-wrap…you name it.
I used magnetic office organizers on the inside of my medicine cabinet to store nail files, tweezers and other beauty tools:
Check out a wide variety of cabinet door organizers on Amazon for some inspiration.
11. Install Under-Sink Tip-Out Trays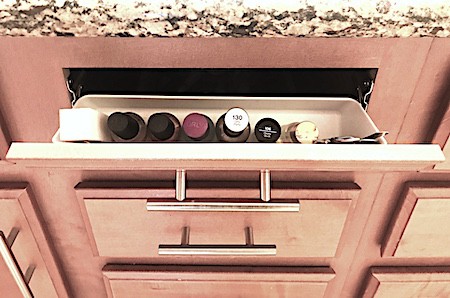 You know those false drawer fronts in your kitchen sink or bathroom vanity? There's a ton of valuable space behind them that's not being used!
I installed the under-sink tip-out trays pictured above in my small master bathroom and opened up a world of storage possibilities.
Think: cosmetics, nail care, glasses & contacts, oral care, hair accessories…and in the kitchen, sponges, scrubbers, etc.
Read my post about under-sink tip-out trays or visit Amazon to shop them.
12. Maximize Space Under the Bed
The space beneath your bed is for more than dust bunnies! The trick is knowing WHAT to store and HOW to store things in a way that's easily accessible.
Under-bed storage is great for:
seasonal clothing
extra blankets/bedding
seasonal decor
overstock of bathroom supplies
…essentially anything you need to access a few times a year but maybe not every day.
If you can, put your storage ON WHEELS. This will make it much easier to grab what you need (and your back will thank you, too). Just make sure there's enough vertical space beneath the bed first. Check out this option on Amazon:
PSST…this trick also works beneath a dresser – check out the post on messy dresser tips!
Read more bedroom organizing ideas here.
13. Trick-Out Your Nightstand
As I mentioned in tip #9, investing in furniture with built-in storage is a great way to keep a small house organized. Your nightstand is no exception.
Here's an example of a nightstand that was designed for small spaces (it comes with a flip drawer and charging station/USB ports):
It's not necessary to buy a new nightstand, however. Even if you just have a small table next to your bed, there are several sneaky ways to add storage.
Place a basket underneath a night table for extra linens or books and magazines.
Install a hidden slide-out drawer for your glasses, journal or other small items:
Use a caddy to store your TV remote or phone on the side of your nightstand (and free up space on top):
Discover more ways to organize your nightstand here.
14. Mount Bikes & Tools on the Garage Wall
A small house often means a small garage (in my case it does, anyway). I saved a ton of space by mounting my family's bikes on the wall:
To achieve this, I used a couple of bike hooks along with the ingenious Rubbermaid FastTrack system (right side of the photo) that has attachments for bikes, tools and other items like my folding chairs and table. I love that it's completely customizable to suit any sized space.
Find more easy and inexpensive ways to organize your garage here.
15. Tame Unruly Cords & Cables With a Drawer Organizer
If your household is like mine, you've got lots of devices being used…and lots of cords and cables to organize. One of the biggest game-changers in my house happened when I transformed my junk drawer of messy cords with a simple adjustable drawer organizer:
I labeled sections of the organizer for each cable type and portable and wall chargers. Now I know exactly where to look for that lightning cable when my son needs one! Read my step-by-step cable organizer post here.
16. Find & Use Hidden Storage Space
There's always more space than you think! Look at that dead space between your washer and dryer (or between an appliance and the wall). If you've got about 7 inches of clearance, you can squeeze a LOT of storage into the area using one of these handy rolling carts:
17. Invest in Space-Saving, Multi-Use Appliances and Tools
My last sneaky small house trick: instead of buying appliances or tools that do just one job, look for multi-use solutions!
For example: instead of cluttering up my kitchen countertop or packing my cabinets with a toaster oven and air fryer, I bought one appliance that does both (plus convection!):
This lovely Cuisinart AirFryer Toaster Oven With Grill is three appliances in one, and sits nicely under my corner cabinet in the kitchen. LOVE!
More ideas:
RELATED ARTICLES:
A Beginner's Guide to Organizing Your Homes
The Best Way to Organize a Messy Room
30 Ways to Organize a Small Kitchen
20 Easy Tips to Declutter Kitchen Counters
18 Spectacular Ways to Organize Shoes in Small Spaces
Happy organizing!