My latest project was finding a way to organize under the kitchen sink. (For the tenth time, I think.)
For some reason, the area beneath my sink has historically been my own personal Bermuda Triangle. No matter how hard I tried, I could never find the right path from chaos to calm. Until now. I've finally got it right!
My method to perfectly organize under the kitchen sink takes just three simple steps:
Clear & clean the space
Remove anything that doesn't belong in the kitchen
Group and arrange items for quick and easy access
I promise, it's that easy! I'll share exactly how I did it…plus:
Organizing products that work for me and other organizing pros
Tips on what you shouldn't store under the sink
How to safely dispose of cleaners and chemicals you don't need
First, PIN THIS IMAGE to save the article for future reference: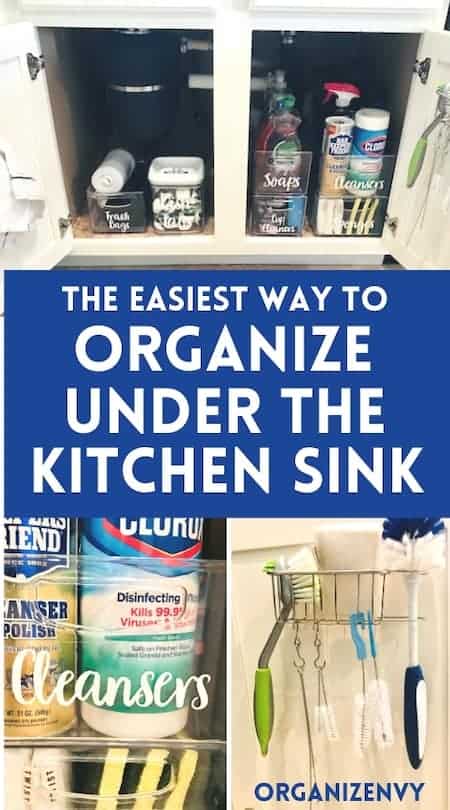 This article contains affiliate links. As an Amazon affiliate, I earn a commission from qualified purchases at absolutely no cost to you. Please see the Disclaimer for more information.
Step 1: Clear and Clean the Space
The first step to organize under the kitchen sink is to clear it all out. Yes, all of it. Don't skip this step! I really feel that it's important to clear EVERYTHING out of the space (it's not THAT big of a space, after all) first.
Not only will this allow you to do a deep cleaning of the entire cabinet, but it will also make it easier to complete steps 2 and 3.
After scrubbing it clean, you might consider an under-sink mat to protect against leaks or spills.
Just measure the cabinet first to make sure you purchase the right size.
After discovering a leak under our sink years ago, my husband and I used peel and stick vinyl tiles to cover the bottom of the cabinet and protect it.
Step 2: Remove Anything That Doesn't Belong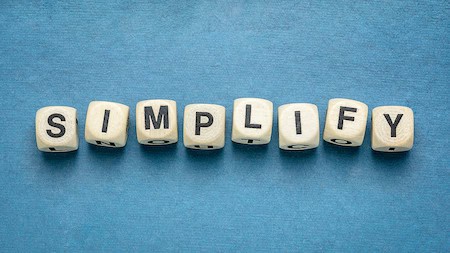 I can't stress this enough: we must declutter before we organize a space.
Take a look at everything you removed from the cabinet in Step 1. Are there items that don't belong (or can be combined)?
I found a car chamois, two cans of bathroom cleaner, three Christmas tree preservative packets and two half-filled bottles of Windex in my stash. I combined the Windex into one bottle and put the other stuff where it belonged.
If your under-sink area has been a catch-all for random household items, this is the time to fix it!
My rule of thumb is that if an item doesn't pertain to the kitchen area, it should be moved to its rightful place. This might be a pantry, laundry/utility room, garage or bathroom.
Step 3: Group and Arrange Items for Quick, Easy Access
This is the fun part (for me, anyway)!
The number one goal when we organize under the kitchen sink is to make it really easy to access the items we use the most.
I want to be able to quickly grab my kitchen cleaners, dish soaps, scrubbers and trash bags. But I also have extra sponges and less-used items like cup and coffee pot cleaners that I need to store.
My solution: clear, stackable, handled bins with my everyday items in front and on top.
Did you notice my cute labels? I used my trusty Cricut to create them with white permanent vinyl.
If you love to make labels too, check out my post 16 Sensational Ways to Make Labels for Organizing.
As a final touch, I attached a sponge holder and clip for my dish cloth to the inside of the cabinet doors (with removable Command strips). BOOM!
It's a SUPER simple system! No complicated installation or permanent hardware required. (P.S. This is a perfect solution if you rent your home!)
My bins are easy to move if I want to rearrange things or wipe out the cabinet. In my opinion, this is truly the EASIEST way to keep the cabinet clean and tidy.
The Best Containers to Organize Under the Kitchen Sink
Here's the list of everything I used in this project:
Large Refrigerator Bin
Small Refrigerator Bin
These bins come in various lengths and widths, so be sure to measure your space before you buy them.
I bought two large (16″ long) and three small (10″ long) bins to accommodate the pipes and garbage disposal under my sink. You might need a different configuration of shapes and sizes.
Airtight Food Storage Container
I already had a set of these airtight containers for my pantry, so I used an empty one for my dishwasher tabs. Any clear container will do (I prefer clear so that I can quickly see when I'm running low).
Adhesive Sponge Holder
I love this sponge holder! No screws needed; just a removable adhesive backing that sticks to the inside of my cabinet door. I also used some hooks I had lying around to hang my smaller bottle brushes and straw cleaners:
As I mentioned before, I did a lot of research on various ways to organize under the kitchen sink before completing my project. Although I opted for quick and easy bins, here are more solutions used by other organizers that might inspire you:
Two-Tier Sliding Shelf
A lot of people rave about this sliding shelf because it allows for taller items on the bottom and makes it easy to access whatever you need, and installation is reportedly simple. It comes in multiple sizes, so definitely measure before you buy!
Plastic Grocery Bag Holder
These can be super handy to keep beneath the sink. This version comes with screws AND double-sided adhesive, so you can mount it inside the cabinet or on the door:
Lazy Susan With Adjustable Compartments
I'm a huge fan of organizing with a Lazy Susan, and I use one under the sink in my bathroom. This one is really great because it comes with adjustable dividers, allowing for separate compartments for sponges, brushes, soaps, spray bottles, etc.
Expandable Under Sink Organizer
This flexible organizing solution literally wraps itself around the pipes and disposal beneath the sink. I love that it helps maximize vertical space…this is a must when you have a lot of items to store in a small area.
What Doesn't Belong Under the Kitchen Sink
To help keep things simple and uncluttered (and safe) under the sink, here's a list of things that should NOT be stored there:
Anything Flammable
According to global safety science leader UL, the most common flammable household liquids are:
Nail polish remover (acetone)
Rubbing alcohol
Gasoline
Paint thinner and turpentine
Aerosol cans
Linseed oil
These liquids should NOT be stored near a heat source (like your oven) or with lighters, matches or anything that could ignite a spark. Instead, store them in tightly sealed containers in a closet or garage (but away from the water heater).
Harsh or Dangerous Chemicals
This is especially true if you have children or pets at home. Chemicals like bleach and ammonia can be dangerous (or at the very least cause skin and lung irritation). Even dishwasher tabs can be dangerous if accidentally ingested by a young child.
The best option is to store those chemicals high up and out of reach. Second best: install child-proof locks for your kitchen cabinet doors.
Everything You Just Bought At Costco
Try not to clutter up your cabinet with six extra boxes of dishwashing detergent! Keep your surplus in a pantry or the garage.
Only keep what you're currently using under the sink, or buy a large container or bin that can hold multiple boxes' worth at a time (like I did with my dish tabs container).
Any Paper Products
You might be tempted, but take it from someone who has dealt with the aftermath of a kitchen sink leak! DO NOT store paper towels, napkins, paper bags or anything else under the sink that doesn't like water. You will thank me later!
How to Properly Dispose of Household Chemicals
Let's say that while decluttering under the sink, you came across some old cleaning products you'd like to toss. BEFORE you toss them in the trash can, make sure they're not considered hazardous first!
Common cleaners, aerosol cans, Drano and similar products often contain chemicals that are categorized as hazardous waste. Everydayhealth.com has a list of hazardous household chemicals you can check for further reference.
Read the labels for instructions on proper disposal, and contact your local solid waste agency for information on local pickup or disposal services for hazardous materials.
You can also refer to this handy list of products that have been deemed safer to use by the EPA, and begin to replace hazardous or harsher chemicals.
Final Thoughts
I hope you've been inspired by these ideas and tips! Remember, the best organizing system is the one that works for YOU. It may take some trial and error before you find the perfect solution for you and your household. It'll be worth it in the end. Happy organizing!
More Kitchen Organizing Articles
15 Ways to Organize Pots and Pans in the Kitchen
Gorgeous Ways to Organize Glassware, Cups and Water Bottles
12 Cozy Ways to Organize a Coffee Station
9 Smart Spice Storage Ideas for a Small Kitchen
Simple Ways to Organize Your Kitchen Drawers for Maximum Efficiency
Fantastic Fridges! 5 Steps to Organize a Side-by-Side Refrigerator