Bathroom organizing can feel overwhelming in even the most spacious of spaces. When you have a small space to work with, it can seem downright impossible.
I promise, it can be done! I've rounded up 25 of the best small bathroom organizing hacks I've seen (and tried) to inspire you to tidy up your tiny space once and for all. Check 'em out below.
If you'd like to save these tips for later, simply enter your info below. I'll send them straight to your inbox!
Have tips sent to email to save for later:
This post contains affiliate links. As an Amazon Affiliate, I receive a commission from qualifying purchases, which costs you nothing. Please see the Disclaimer for more information.
1. Declutter (Be Brutal)
I can't stress this enough: small bathroom organizing is IMPOSSIBLE if you have more stuff than space. It just can't be done.
The first step to getting that bathroom ship-shape? Declutter. And be brutal about it. Here's what needs to go:
Anything expired or broken
Old makeup (read this post to learn when it's "old")
Anything you don't use (bye bye, free perfume samples)
Anything that doesn't belong in the space
Decluttering done? Great job! Now we can get down to business.
2. Corral Items on the Bathroom Counter in a Tray
Let's discuss the bathroom counter. While it's a great place to store bathroom supplies, it EASILY looks cluttered if you're not careful. (This was my problem.) I found an easy bathroom storage solution that is perfect for any vanity:
Adorable, right? The key is to keep only those daily-use items like soap, lotion, swabs, etc. on the counter if possible. Tiered trays can be found in a wide variety of styles to fit any size countertop and any style. Some options:
3. Decant Bathroom Counter Items
Decanting is a great way to store items on the counter while keeping everything stylish and attractive. Apothecary jars, mason jars and steel canisters are nice, clean choices when it comes to decanting.
What bathroom items can you decant? Here are some options:
Cotton swabs
Cotton balls or rounds
Makeup sponges
Liquid soaps and lotions
Hair ties, bobby pins
I chose apothecary jars for my bathroom counter. These classic decor pieces never go out of style and are found in a wide variety on Amazon.
If you're crafty, you can decorate mason jars to make unique countertop canisters that match your bathroom decor: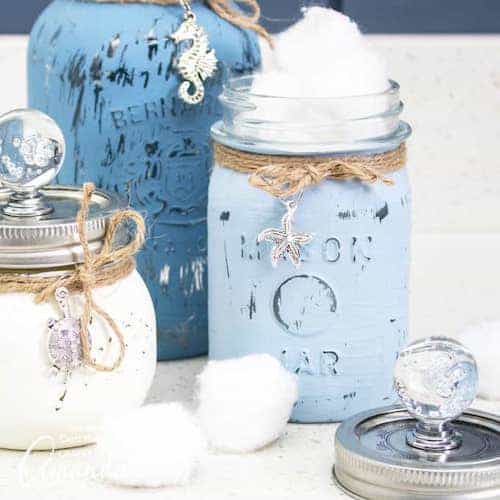 Check out the step-by-step instructions for this project at Crafts By Amanda.
Liquid soap can look cute on the counter, too. I decanted my hand soap from a Costco-sized tub I keep in backstock into a mason jar dispenser I found on Amazon.
Bonus tip: one money-saving hack I learned is to dilute liquid hand soap with water. Play around with the ratios until you get a consistency you like. (On a budget? See my list of organizing hacks that save money here.)
Here's a jar similar to the one I used:
Add some organic hand soaps, simple cotton wash cloths or even some sweet little farmhouse signage to complete the vignette, and your countertop tray is complete.
4. Maximize Drawer Storage with Organizers
Drawers provide another perfect place for clever bathroom organizing. My favorite way to keep them tidy and attractive is with clear organizers. You can use a set of different-sized trays like this:
Or, you can choose an adjustable organizer like this one:
The trick is to group like items together so you know exactly where to find them later on. Bonus tip: if you drawer organizers are smaller than the drawer, install grip shelf liner in the bottom of the drawer to prevent items from sliding around when you open and close it.
Clear organizers can be found on Amazon here, and the grip liner is here. Just be sure to measure your drawers before ordering to ensure you purchase the best size for your space.
Check out more top tips to organize bathroom drawers.
My favorite tip for bathroom vanity storage is to make use of the empty space behind the top false drawers with these brilliant tip-out trays.
Here's how they work: you remove the false drawer front from the vanity and attach the hinges to the drawer front and inside of the vanity. The trays are attached to the back of the drawer front with screws. This little DIY project does require some tools and careful measurements, so prepare ahead of time. I provide more in-depth instructions in this post.
I recommend the soft-close trays, which I did not purchase for my bathroom. The hinges I have will slam shut if I'm not careful. I will likely replace them in the future. Be sure to measure your drawer space before you order!
6. Add Sliding Drawer Organizers Beneath the Sink
The cabinet space beneath the bathroom sink is awkward and can be a real challenge to organize. I recommend a long, narrow set of sliding drawers like these on the left:
This has been a handy tool for organizing my skin care products and hair tools, and I love the slide-out drawers for easy access to items. Find the drawers on Amazon here.
7. Lazy Susan Under the Sink
I love my Lazy Susan in the bathroom. It holds a lot of those tall items like hairspray and lotion that are easily knocked over or hard to access under the sink. I recommend one that has a wall around the edge to keep things from falling off. Find a Lazy Susan on Amazon.
Related Article:
12 Life-Changing Ways to Organize With a Lazy Susan
8. Maximize Vertical Space in the Cabinet with Shelf Organizers
In the picture of my bathroom cabinet above, I placed my Lazy Susan on a folding shelf organizer. This allowed me to use all of the vertical space available to me, and left room for another clear bin for less-used items.
9. Store Like Items in Clear Bins
I love being able to see all of my items in clear bins. The key is to group like items in each bin (skin care, makeup, bath oils, etc.) so they stay organized. I stored my travel-sized skin care and beauty products beneath the Lazy Susan in my cabinet so that I can easily see what I have on hand before a trip. Shop for clear bins here.
Watch me assemble the entire cabinet under my bathroom sink in this web story.
10. Add a Cabinet to the Counter
Small bathrooms are often lacking in cabinet space. I am in LOVE with this gorgeous countertop storage solution by The Lived In Look. They took unfinished stock cabinets, added trim, crown molding and hardware, and painted to match their bathroom decor.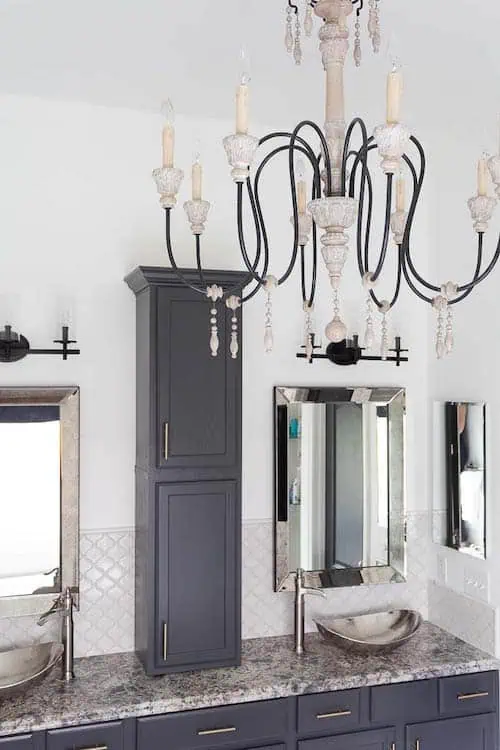 What looks like a very expensive cabinet was accomplished very affordably with some creativity and elbow grease. And now they have ample storage for bathroom essentials. Bravo!
11. Use the Side of the Vanity for Storage
There's valuable space you may not be thinking of in your small bathroom organizing efforts: the side of the vanity. Here are a couple of ways you can add storage:
The slim bathroom cart above fits nicely into a small corner next to the vanity and is available in both black and white. With four tiers, it provides ample storage space for items that won't fit on or in the vanity itself.
Another idea: attach an organizer to the side of the vanity cabinet to store bath and beauty items. I like the one below because it uses Command strips that won't damage wood.
Or, you can use simple Command hooks to hang hair tools, like Practical Whimsy Designs: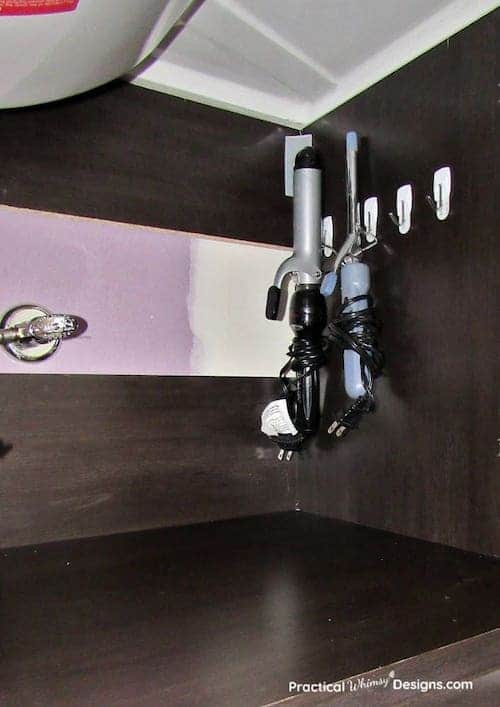 12. Keep Hair Tools in a Sectioned Basket Under the Sink
Another easy way to store and access items like hair tools beneath the sink: in a sectioned basket like this example from Organized Island:
13. Store Bathroom Items in Inexpensive Stacking Drawers
Prefer to keep bathroom items out of sight? These Sterilite drawers are both stylish and affordable…and they stack! They worked nicely on a shelf in this photo from Intelligent Domestications, and could also fit inside a bathroom cabinet.
14. Use Drawer Organizers in the Medicine Cabinet
Here's a little trick to keep the medicine cabinet neat and organized: group small like items in small drawer organizers (with labels!). This helped me corral all of those little bottles and jars that tend to get jumbled:
Watch the step-by-step story on how I organized my bathroom medicine cabinet here. You'll want to measure the length and depth of your medicine cabinet shelves first, then shop for drawer organizers.
15. Add Magnetic Organizers to the Inside of the Medicine Cabinet Door
The inside of the medicine cabinet door is prime real estate for bathroom essentials like toothbrushes and paste, makeup brushes or nail care (like I've used it for below). I love these Officemate magnetic office organizers because they are easy to rearrange and won't damage the door. Perfection!
16. Add Floating Shelves Over the Toilet
The empty wall space above the toilet is also extremely valuable when it comes to small bathroom organizing. In my guest bathroom, I installed floating shelves to store essentials and a basket for toilet paper:
17. Install a DIY Pipe Shelf Above the Toilet
If you're handy, you might consider this cute and rustic DIY shelf project by The DIY Nuts for over-the-toilet storage: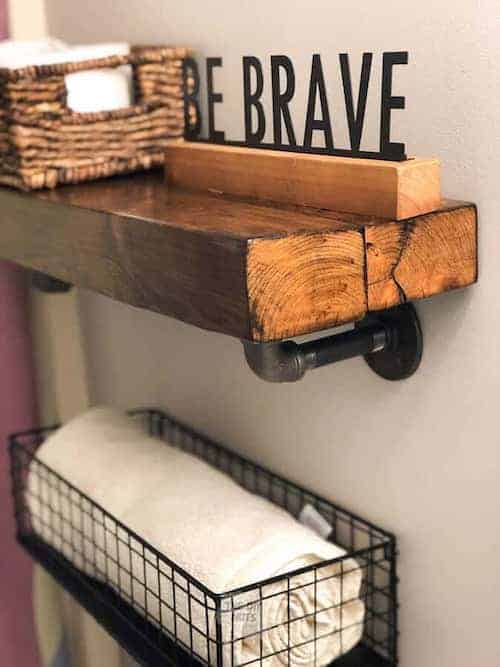 18. Add a Shelf Above the Door
This is an idea I love: adding storage to the bathroom by installing a shelf above the door. Genius!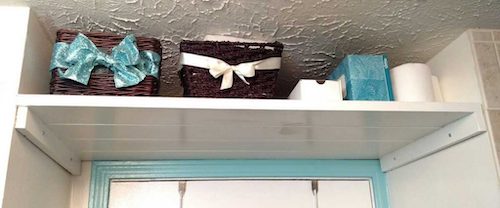 Just think of all the bathroom backstock items you could store in those cute baskets. Check out the full project at B4andAfters.com.
19. Add a DIY Storage Rack to the Wall
This adorable DIY rustic mason jar organizer from Crafts By Amanda is perfect for toothbrushes and paste (as shown) and could also store makeup brushes, cotton balls or swabs, combs and hairbrushes, etc. It's a great way to keep bathroom essentials off the counter.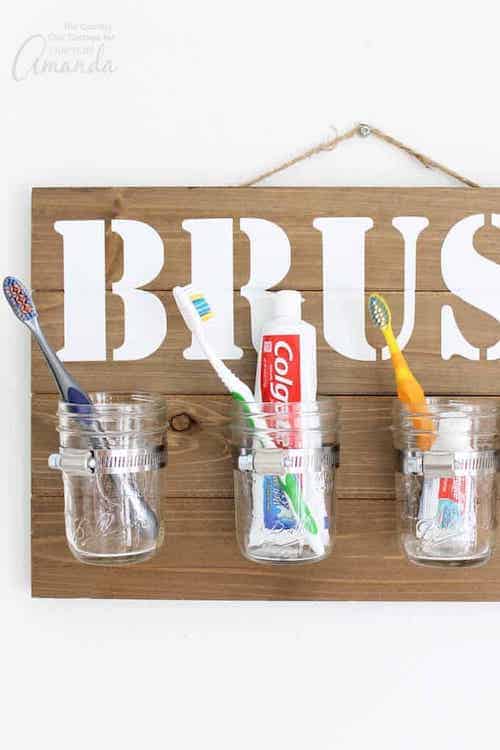 Another variation on this DIY theme is a vertical rack made from a wood pallet and jam jars. Check out the full project at Upcycle This DIY That.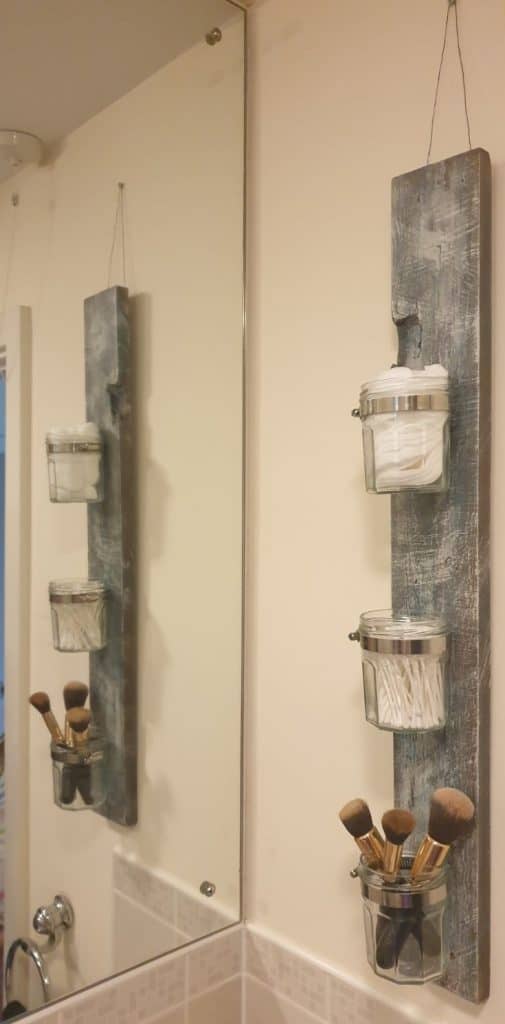 20. Add Whimsical Bathroom Storage From The Dollar Store
Here's a cute and affordable idea for a small kids' bathroom: use Dollar Store toys to hold items like toilet paper and hair ties. Find more ideas like these from The Typical Mom.
21. DIY Rustic Brush Holder
Organized Mom drilled holes in a cut tree branch to make this sweet rustic brush holder. A simple DIY project that requires only a drill and a block of wood:
22. Repurpose Containers From Other Parts of the House
It's not required to go out and buy a bunch of new bins when you being a bathroom organizing project. You can "shop your own store" and find unused containers lurking in other parts of the house that work perfectly! Take this cute wooden bowl setup from Love Our Real Life: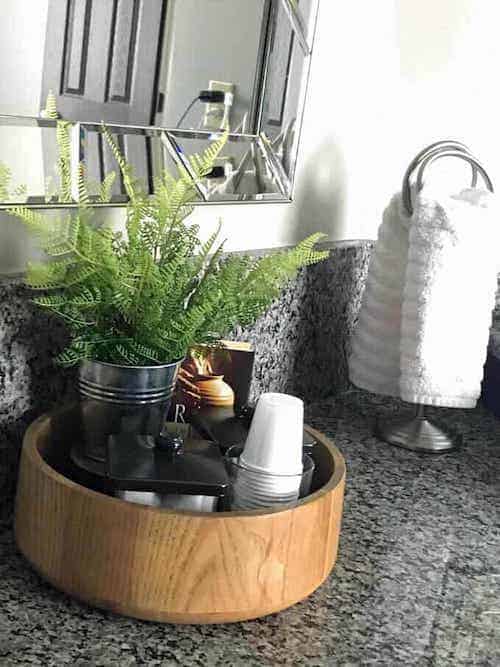 23. Upcycle a Curio Cabinet for Wall Storage
Another great idea for maximizing wall space for storage in a small bathroom: this upcycled curio cabinet from Joyfully Treasured. I love the idea of taking an inexpensive Facebook Marketplace find and dressing it up for a chic bathroom update: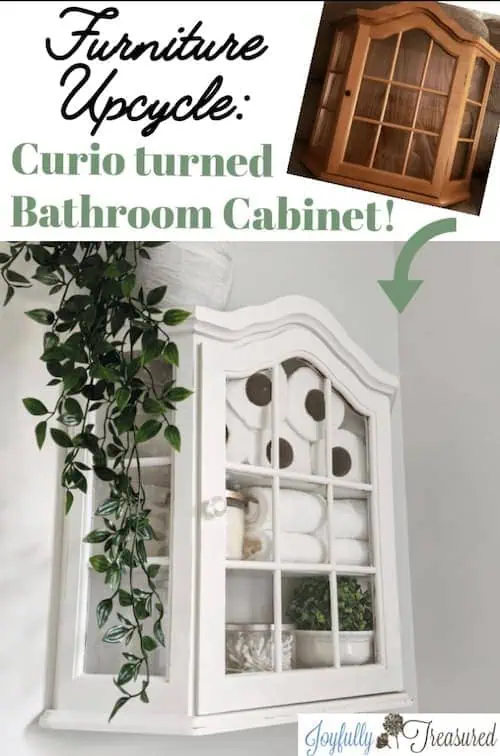 24. Stylish Shower & Bathtub Storage
Let's not forget the shower — it's important to keep that space as clutter-free as possible. If you've got bottles and soaps and loofahs all over the place, consider adding some storage. If you don't like the traditional caddies that hang from the shower head, check out these adhesive corner caddies as an alternative:
I used a similar caddy to store items on the corner of my bathtub:
25. Don't Forget The Labels
Label, label, label! Every bin, container and organizer that can be labeled should be labeled. This will help you and members of your household remember where to put items when they're not in use.
Your labels can be as simple as writing with a dry-erase marker or as elaborate as a Cricut design. I have LOADS of DIY organizing label ideas here for some inspiration!
Final Thoughts on Small Bathroom Organizing
Before you jump into reorganizing the bathroom, remember the basics! Prepare the space, budget appropriately, sort and purge, and arrange (and re-arrange) with a focus on like items. I offer step-by-step instructions for any organizing project here.
RELATED ARTICLES:
Outstanding Ways to Organize Bathroom Drawers
15 Bedroom and Bathroom Makeup Storage Ideas
10 Ways to Use Under Sink Tip-Out Trays
10 Ways to Organize a Tiny Laundry Room
Space-Saving Ways to Organize a Small Kitchen
17 Super-Sneaky Small House Storage Ideas
29 DIY Storage Ideas for Small Spaces