Not everyone is blessed with a spacious laundry room (myself included). And it may feel like there's just no way to keep this area neat and tidy and efficient. I'm here to change that!
Those of us with less space CAN, in fact, streamline and organize a tiny laundry room with some creativity…and help from fellow organizing experts.
Check out my top 10 BIG ways to organize even the smallest of laundry spaces below. There's some great inspiration in here!
If you'd like to save these tips for later, simply enter your info below. I'll send them straight to your inbox!
Have tips sent to email to save for later:
This post may contain affiliate links. As an Amazon Affiliate, I earn a commission on qualified purchases, at absolutely no cost to you. Please see the Disclaimer for more details.
1. Declutter First
Step one of ANY organizing project is ALWAYS to declutter. Decluttering means:
Toss/recycle anything broken or expired
Donate unused items (in good condition)
Remove items that don't belong in the space
When organizing a small space, it's really important to set clear boundaries on what the space will be used for. This will help ensure the space works for you and your organizing efforts save time and effort long-term.
For my teensy laundry room, this meant storing only laundry and ironing supplies (detergent, softener, bleach/stain, starch), brooms/mops and cleaning supplies for carpet/pet/upholstery.
I moved everything else (like daily household cleaners, sponges & brushes, etc.) to the kitchen or bathroom.
Everything is decluttered… however, (as you can see in the photo) it still needs to be organized. On to the next step!
2. Group Like Items Into Labeled Bins
Step two is to group the remaining items by category. I stored my supplies in large woven bins above my washer and dryer with category labels:
Amazon offers a set of the seagrass bins in my laundry room here.
I made the labels with balsa wood, chalkboard paint and my Cricut (see more DIY label ideas here). Another really cute option would be these basket label clips that come with an erasable chalk marker:
If you're the crafty type, here's a super-cute project idea from Craftsy Hacks: make a storage box from an old sweater! (How apropros for a laundry room.)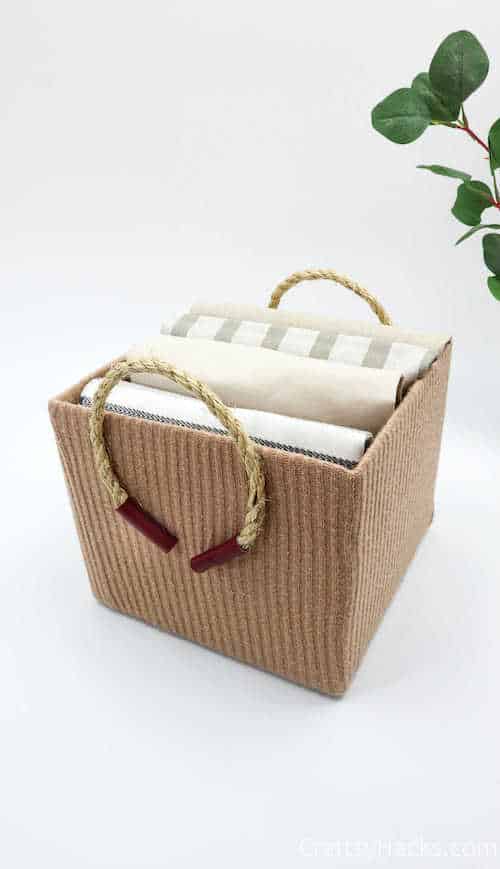 3. Use the Wall for Storage
To organize a tiny laundry room, we need to maximize every inch of usable space. This means using that valuable wall space! I didn't like how my brooms and mop leaned in the corner, so I mounted brackets and hung them and my ironing board instead: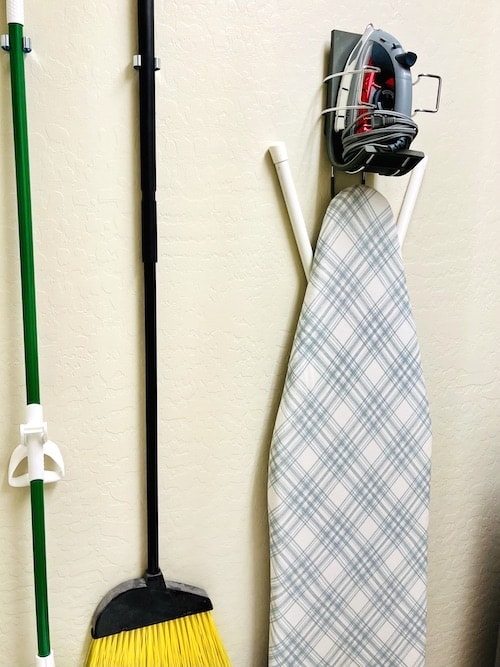 Amazon has a wide variety of wall brackets to hang brooms, mops and other cleaning tools here. Here's a similar ironing board wall mount:
4. Add Shelving or Cabinets
My laundry room thankfully came with a built-in shelf. If yours didn't, consider installing a shelf or two or even some pre-built cabinets…if you're the handy type! A few examples that you can purchase for a DIY project:
Wire Shelving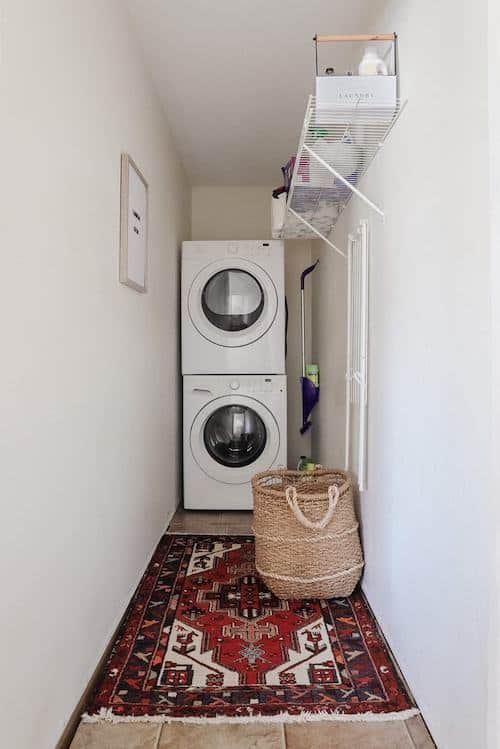 Stephanie from Cottage Living added storage to her narrow laundry room by installing a simple wire shelf high along one wall. This is a smart, affordable solution that can be accomplished without a lot of DIY experience.
Wire shelf kits like this one can be found at your local home improvement store or on Amazon:
Paint & Mount Unfinished Cabinets
Erin and Eric from The DIY Nuts bought unfinished stock cabinets, painted and mounted them above the washer and dryer. Beautiful and budget-friendly way to add storage!
Unfinished cabinets are usually easy to find at a home improvement store. If you'd prefer not to paint them yourself, Amazon has a wide selection of wall-mounted cabinets to choose from.
Customized IKEA Cabinets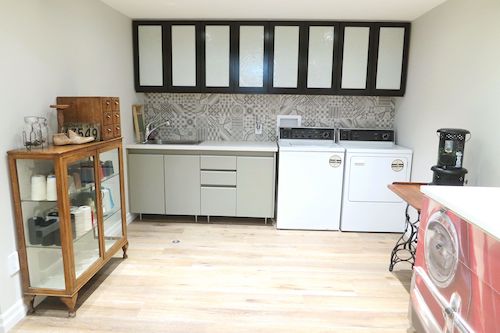 IKEA is another fab source for inexpensive cabinets, and many DIYers have found lovely ways to customize them. The duo at Birdz of a Feather bought the frames and rail system for these beautiful upper cabinets and then custom-built the fronts.
5. Install a Rod to Hang Clothes
Give those air-dry clothes a place to hang! I have very little spare wall space, so I'm eyeing this collapsible over-the-door version:
You can also install a simple tension rod or curtain rod on the wall or beneath a shelf, like The Typical Mom: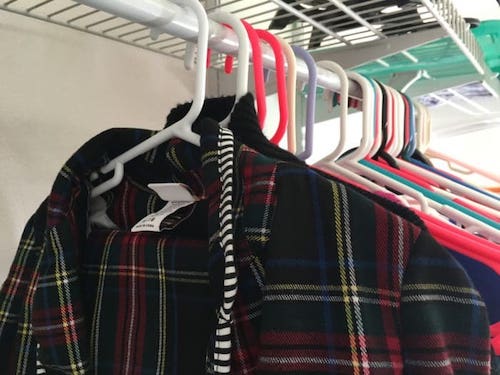 6. Assign Laundry Baskets to Each Family Member
I don't have space for laundry to pile up, so each family member gets their own basket for clothes to be loaded into after drying to be put away. I like to keep them stacked neatly on the dryer until laundry day.
Cook Clean Then Repeat does the same thing, with color-coded baskets:
7. Use ALL the Tight Spaces
Don't forget: you can maximize that small, awkward space between your washer and dryer (or appliance and wall) with a smart, narrow utility cart! I love the look of this steel cart by mDesign. Just measure first to ensure proper clearance.
8. Prevent Clothes From Falling Behind the Washer/Dryer
It's beyond annoying to try to retrieve a sock that's fallen behind the dryer. A fabulous solution to this universal problem: a magnetic laundry guard! It snaps right on to your washer and/or dryer. (Front-loading washers only.) How awesome is this?
9. Keep Daily Items Accessible
I love my woven baskets because they keep everything looking tidy. However, when you organize a tiny laundry room, you also need to keep the items you use most easily accessible.
So, rather than pull down a large basket every time I need detergent, I stored my pods in a large glass jar in the middle of my shelf.
You can store not only detergent, but dryer balls or sheets too. Another option for storing detergent is a clear plastic canister with a scoop, like in this image from Jar of Lemons:
The benefit of using clear containers is you'll know when you're running low and need to add detergent to the grocery list.
10. Make It Pretty AND Functional
I'm all for styling a laundry room! When it's a small space, I recommend combining style with function so you keep things streamlined and usable. Here are some great examples:
Cute Pail & Jar for Laundry Needs
How adorable is this little setup from Home Made Lovely? A pretty pail for lint (why didn't I think of that?) and a jar for dryer sheets on a tray on top of the dryer. Love!
Single Socks Bin
We all need somewhere to house those single socks until we find their mates…how about a cute bin?
Magnetic Bins for Lint & "Pocket Treasures"
No wall space or mounting hardware needed…just stick these sweet little bins right to the side of your dryer for lint and those little found items.
Related Articles
30 Ways to Organize a Small Kitchen
16 Clever Ways to Organize Your Garage
Beautifully Organize Home Office Supplies
Organize a Walk-In Pantry in a Weekend
17 Super-Sneaky Small House Storage Ideas
29 DIY Storage Ideas for Small Spaces