It's exciting to create a perfectly organized space! Dare I say…thrilling, even? (It is for me, anyway.) And when it comes to finding ways to organize a small kitchen, I get especially enthusiastic.
Why? Because for most of us, the kitchen is the heart of the home. It's where meals are made and consumed together, where nightly homework gets done, where deep conversations happen over a morning cup of coffee. And it's so much more enjoyable when it's tidy and organized.
I don't have a huge kitchen, so I've put a lot of time and effort into making the small space I have as tidy and efficient as possible. Here are my 30 favorite ideas…hope they help you, too!
If you'd like to save these tips for later, just enter your info below. I'll send them right to your inbox!
Have these kitchen organization ideas sent to email to save for later:
This post contains affiliate links. I may earn a small commission from qualified purchases at absolutely no cost to you. Please see the Disclaimer for more information.
1. Create Zones or Stations to Maximize Kitchen Space
Start your kitchen organization with stations! Using zones or stations to organize a small or tiny kitchen is key. Zones save time and prevent you from taking extra steps to accomplish tasks. They also enable multiple people to prepare food at the same time without stepping on each other's toes.
Using this kitchen to illustrate, here is how an efficient small kitchen zone system might work:
What Kitchen Zones Do I Need?
This will depend on how you use the kitchen, but generally speaking, you might create a zone or station for:
Dishes & glassware
Cutlery
Baking & Cooking (bakeware, baking tools, mixers, spatulas & utensils, etc.)
Meal Prep (cutting boards, knives, peelers, presses, slicers, etc.)
Pots & Pans
Spices
Food storage containers, wraps & foil
Small appliances (steamer, toaster, slow cooker, waffle maker, blender, etc.)
Serving pieces (serving bowls & platters, pitchers)
Coffee & tea
Cleaning
Food Storage
By starting with zones, you'll automatically group and store like items together. This makes things easier to find and use when you need them! For more ideas on how kitchen zones can work for you, check out this article from The Kitchn.
RELATED ARTICLE:
Why Zones are the Best Way to Organize Your Home
2. Stack and Hang Glasses and Cups in Kitchen Cabinets
Maximize space in small upper cabinets by using stackable glasses and cups and hangers for mugs:
3. Store Reusable Water Bottles on Their Sides
Those pesky water bottles seem to multiply overnight, don't they? I struggled with keeping them tidy on the cabinet shelf, especially when my son had to have his lucky bottle for soccer…and it was buried in the back.
A really handy solution is a set (or two) of stackable holders that store bottles on their sides. It's so much easier to find and grab the exact bottle you need from the cabinet!
RELATED ARTICLE:
Gorgeous Ways to Organize Glassware, Cups and Bottles
4. Stack and Nest Bakeware in Small Lower Cabinets
I've had the same set of CorningWare French White bakeware since I was first married almost 20 years ago. I love this set! It's made of really durable stoneware and has survived multiple moves and heavy usage for nearly two decades without a single chip.
The pieces stack and nest together really well, saving space in my tiny lower cabinet:
5. Use Shelf Organizers For Deep Cabinets
I have deep cabinets that didn't come with handy pull-out drawers. So, I made the most of the space with shelf organizers that made use of vertical space and made my bakeware in the back more accessible.
You'll see that once again I stacked and nested bakeware together: round pie plates and tins in one stack, square plates in another, bread pans in a third and so on. When space is small: stack, stack, stack!
6. Store Less-Used Serving Pieces in Deep Corner Cabinets
Have a deep corner cabinet that you find challenging to organize? Those dark recesses are great places to store larger serving plates, platters, bowls, gravy boats and other "entertaining" pieces. They're still accessible, but not taking up prime real estate front and center. I have tucked my larger bowls and party glassware in the back of my corner cabinet:
PRO TIP: To avoid accidents and injuries, place smaller, lighter items on the top cabinet shelves.
7. Store Seasonal Appliances and Kitchenware in the Extra Space Above the Fridge
People are always asking what to store in the tiny cabinets above the refrigerator. It's "bonus" extra space, but it's not easily accessible, so let's use it wisely.
My solution: seasonal appliances and kitchenware! If it only gets used a few times a year, it's not as big of a deal to grab the step stool to retrieve it. I store my ice cream maker (which typically only comes out in the summer) and my holiday serving pieces above my fridge.
8. Keep Baking Pans, Cookie Sheets and Cutting Boards in the Little Cabinet Above the Stove
That awkward little cabinet above the stove (and microwave) that's so hard to organize? It's a great place for baking pans, muffin tins and a cutting board or two. Keep them organized with a bakeware rack:
9. Separate Everyday Silverware from Utensils to Maximize Drawer Space
It's really easy to throw silverware and cooking utensils in one big drawer and hope for the best. But it rarely works out well. If you can, separate them into two groups. Here's my everyday silverware drawer:
I keep cooking utensils I use every day (spatulas and spoons and whisks) in a large crock next to the stove. The other tools and utensils (peelers, measuring cups, slicers, tongs) go in a separate drawer, organized by type:
RELATED ARTICLE:
Simple Ways to Organize Kitchen Drawers for Maximum Efficiency
10. Use a Stacking Pan Rack
When it comes to organizing pans, this pan rack is my favorite solution! It maximizes vertical space and prevents pans from scratching each other. It can also be used horizontally (which works well for lids too).
11. Hang Pots From the Ceiling
Sometimes, there just isn't cabinet space for pots and pans. This is when I look "up" (in this case straight up to the ceiling) for a storage solution. A hanging pot rack can solve your small kitchen storage challenges:
12. Store Pan Lids on the Inside of Your Cabinet Doors (or on a Wall)
Keeping pan lids organized can be a big challenge in a small kitchen. A vertical lid rack installed on the inside of the cabinet door or the inside wall of a cabinet keeps them neat, tidy and accessible when you need them.
RELATED ARTICLE:
15 Helpful Ways to Organize Pots and Pans
13. Use Pull-Out Racks for Spice Cabinets
I have a very small upper cabinet next to the microwave that I use for my spices. It was a cluttered mess, and being an upper cabinet made it difficult to find things until I installed these great pull-out racks:
They slide very smoothly and allow me to instantly find what I need. I store my most-used spices in the front, but you could also store them alphabetically.
14. Store Everyday Spices on the Cabinet Door
Another space-saving tip to organize a small kitchen: use the inside of the cabinet door to store as much as you can!
In my tiny spice cabinet, I used these adhesive spice holders to store my everyday spices (salt, seasoned salt, pepper and garlic powder):
15. Store Spices in a Drawer
If I had a spare drawer near my stove, I'd definitely be using this tip. I love to see neatly organized spices in a kitchen drawer!
RELATED ARTICLE:
9 Smart Spice Storage Ideas for a Small Kitchen
16. Use Multi-Purpose Tools and Appliances to Save Countertop Space
When you're working to organize a small kitchen, I recommend ditching single-purpose appliances and investing in multi-purposes workhorses.
For instance: instead of a toaster and an air fryer taking up space on your kitchen counter or in your cabinets, opt for a toaster oven air fryer!
My husband and I bought this Cuisinart model and absolutely love it. We use it every morning for toast and bagels, and several times a week to air fry chicken wings or bake personal pizzas. It fits neatly under our corner cabinet next to the stove, taking up far less space than two appliances:
Other great multi-purpose, space-saving kitchen tools and appliances:
17. Store Small Appliances on Lazy Susans
A lot of people struggle to organize their corner Lazy Susan cabinet. For me, it is the perfect place to store my small kitchen appliances and tools that I don't want cluttering my countertops, but want easily accessible. I keep my blender, hand mixer, colanders, large measuring cups, grater and electric chopper in mine: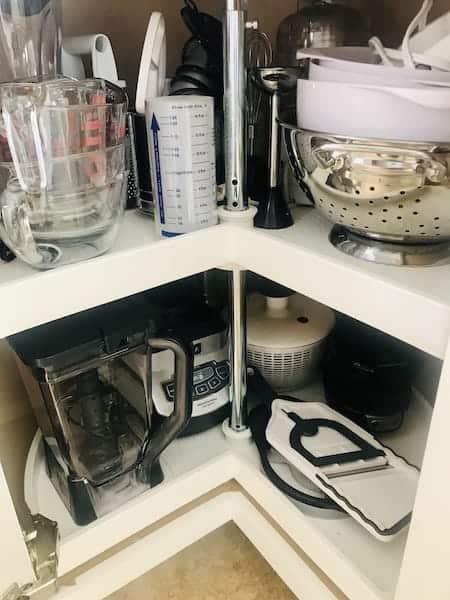 RELATED ARTICLE:
12 Life-Changing Ways to Organize With a Lazy Susan
18. Hang Knives and Utensils on a Magnetic Knife Bar
Ditch the bulky knife block! Keep spatulas, spoons and knives off the counter (and away from little ones' hands) with a magnetic strip on the kitchen backsplash or wall:
19. Use a Pegboard to Hang Kitchen Tools and Utensils
A pegboard plus empty wall space in the kitchen = storage galore! Small kitchens that lack counter, cabinet and shelf space can really benefit from a solution like this:
RELATED ARTICLE:
12 Popular Ways to Organize With Pegboards
20. Store Coffee and Tea in a Drawer Organizer
Even a small kitchen can have a cozy little tea and coffee station with some creative organizing. The first step is getting rid of those bulky boxes of coffee and tea. If you have a spare drawer, an expandable bamboo drawer organizer is the perfect way to store coffee pods and wrapped tea bags.
An alternative to a cabinet drawer is this slide-out tray organizer that sits beneath your coffee maker on the countertop:
RELATED ARTICLE:
12 Cozy Ways to Organize Your Kitchen Coffee Station
21. Use Wall Baskets for Fruit, Vegetables and Other Food Items
Keep your produce close at hand, but free up precious counter space, with cute farmhouse wall baskets:
22. Use Clear Stackable Bins in the Fridge
For me, the key to keeping an organized refrigerator has been clear, stackable bins. They are really easy to move or stack when I need room for leftovers or a tray of appetizers. I labeled them using my Cricut to help everyone in the house remember to put things back in their correct place.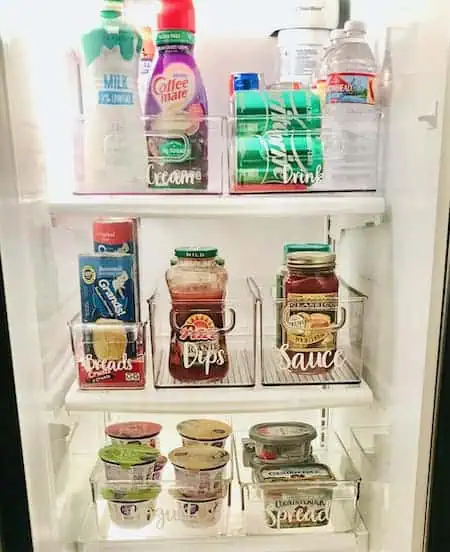 23. Save Space in the Fridge With Can & Bottle Stackers
Maximize vertical space in your refrigerator by stacking soda and beer cans, wine and water bottles.
RELATED ARTICLE:
Organize a Side-by-Side Refrigerator in 5 Steps
24. Repackage Bulk Frozen Foods Into Single Portions
Save space (and reduce food waste) in the freezer by packaging bulk items like chicken breasts, ground beef and cuts of meat into single-portion or single-meal sizes. I recommend a vacuum sealer to make nice, stackable packages that you can easily label and date: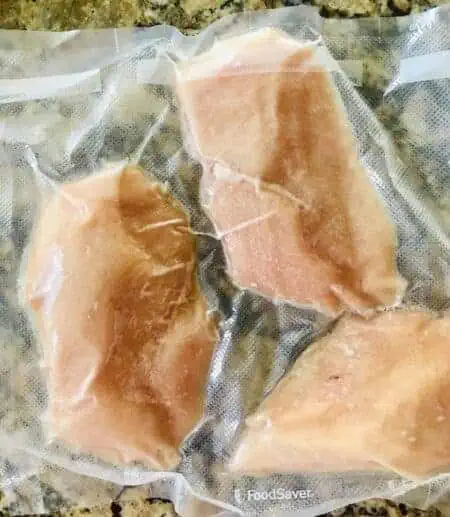 RELATED ARTICLE:
Organize Your Stand-Up Freezer Like a Boss
25. Store Wraps and Foil on the Cabinet Door
Utilize the inside of a cabinet door to hold plastic wrap, foil, parchment paper and plastic bags with an over-the-door or adhesive organizer:
26. Keep Tupperware and Lids Neatly Stored
Ahhh, Tupperware…the bane of many a homeowner's existence. Well, Tupperware and LEGOs left on the carpet to be stepped on by bare feet. (But that's another article.)
I keep my Tupperware in a couple of bins on my pantry shelf. But if you only have a small amount of cabinet space, the best solution I've found for storing both containers and lids is an adjustable rack like this:
27. Organize the Kitchen Junk Drawer with an Expandable Tray
I tamed my incredibly tangled charging cable/ear bud/spare key junk drawer with (you guessed it) an expandable bamboo drawer organizer. All it took were some cable ties, my Brother label maker and about 30 minutes.
RELATED ARTICLE:
Organize Chargers & Cables in a Cutlery Tray
28. Store Plastic Grocery Bags in a Wall Mount Dispenser
Another great way to utilize space inside the cabinet door or on an interior cabinet wall: an adhesive grocery bag dispenser. Keep it near the plastic wraps or under the kitchen sink for easy access.
29. Add Storage Between the Fridge and Cabinet
A smart storage solution for a small kitchen: a slim rolling cart that fits in the gap between the fridge and cabinet. Use it for canned goods, spices, pet supplies, or kitchen cleaning products.
30. Use Clear Stackable Bins Beneath the Kitchen Sink
I organized the cabinet beneath the kitchen sink quickly and efficiently with clear, stackable bins. I used my Cricut to label them, and this space has remained tidy and organized ever since!
RELATED ARTICLES:
The EASIEST Way to Organize Under the Kitchen Sink
10 Big Ways to Organize a Tiny Laundry Room
25 Small Bathroom Organizing Hacks
17 Super-Sneaky Small House Storage Ideas
29 DIY Storage Ideas for Small Spaces
20 Easy Ideas to Declutter Kitchen Counters Now
Outstanding Ways to Organize Baking Pans & Supplies
Perfect Ways to Organize Baking Supplies in a Pantry