I recently created a coffee station in my newly remodeled kitchen. We had an unused built-in desk that we transformed to a wine and coffee bar, and I'm in love! It's a much better use for this space and will be perfect for entertaining, too.
Naturally, I wanted this area to feel comfy-cozy and well-organized to save time in the morning. I realized there are some important things to keep in mind when organizing a coffee station. I'll share them below, along with some inspiring photos of other amazing coffee bars you can copy in your home!
This post contains affiliate links. As an Amazon affiliate, I may earn a small commission on qualified purchases at no cost to you. Please see the Disclaimer for more information.
1. The Best Place for Your Coffee Station
First, consider the best space in your kitchen for a tea or coffee bar setup. You want it to be convenient and efficient, especially on busy mornings. It's really nice to have the items you use daily close at hand so you're not running to and from the pantry all the time.
Some things to keep in mind:
Proximity to a water source is important if you drink coffee daily (or multiple times a day)
Keep it close to an electrical outlet to avoid needing an extension cord
Do you have adequate counter space for a coffee maker, coffee/tea, creams, sugars and cups?
Can you utilize nearby cabinets or drawers to store tea bags, coffee pods, hang mugs, etc.?
If you lack counter or drawer space, do you have wall space to add shelves or a cart to create your coffee bar?
As you can see, I have lots of counter space in this part of my kitchen. It works well for a combination wine and coffee bar.
However, a cozy coffee station can be set up in a much smaller space with a little creativity and organization.
Once you've identified the space, it's time to get organized!
2. Store Coffee Pods and Tea Bags in a Drawer Organizer
My coffee station is on a long counter with cupboards and drawers. However, the cabinet above it is being used to store household and office supplies (since the counter was once a kitchen desk).
So, I used the drawer beneath the counter to store my Keurig coffee pods in this expandable bamboo drawer organizer:
I really prefer this to storing the pods in their original boxes. I find it's much quicker and easier to grab the exact pod I want from the drawer. And, I always know at a glance how much I have left. There's nothing worse than waking up to an empty box of coffee pods sitting on the pantry shelf!
Individually packaged tea bags also fit nicely like this in a drawer. Again, I recommend an expandable drawer organizer to keep them neatly organized.
Related Drawer Organizing Posts:
3. Keep Tea Bags, Loose Tea and Coffee in Canisters
I have several teas that come without individual packaging, so I store them in airtight stainless steel canisters on the counter. This keeps them clean and fresh for when I need them.
Loose tea, ground coffee or beans, and sugar can also be stored in airtight canisters with scoops. These stainless steel tins are cute enough for a countertop or open shelf:
And don't forget to label your canisters! Check out 17 Sensational Ways to Make Labels for Organizing for some inspiration.
4. Make a Decorative Box for Teas
A really cute DIY project idea from Tonya Staab: this decorative tea box made from a thrift store box, scrapbook paper, a little spray paint and some Mod Podge. I love how she uses balsa wood to make her own dividers for the tea bags.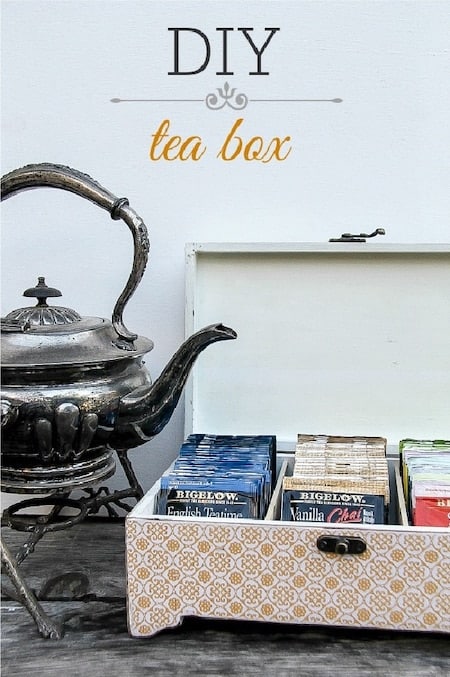 You could also store coffee pods, sugar and sweetener packets and stirrers in a box like this.
It's ok if you're not crafty. Amazon has a wide selection of pretty tea boxes you can display on the countertop.
5. Corral Your Coffee Items on a Cute Tray
One simple thing that turns a cluttered counter into a cute coffee station is the use of a decorative tray. There's something visually appealing about items placed within the boundaries of a tray rather than scattered on the countertop.
A tiered tray is perfect for a corner or when you lack a lot of counter space. It makes really nice use of vertical space:
Your coffee bar tray doesn't have to be huge; this wooden option holds just three jars, but adds charm to the kitchen:
You can also repurpose items in your kitchen, like The Boondocks Blog did with this sweet homemade coffee station: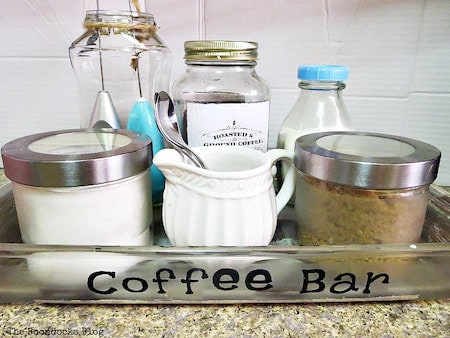 6. Countertop Cup Stand
As I mentioned before, I don't have free cabinet space above my coffee station for mugs or cups. Because I had enough counter space, I chose a set of white stackable mugs on a stand:
I know a lot of people have beautiful teapots and cups. If you have a tea set you'd like to display, you can hang your teacups and store your pot, saucers and bowls all in one holder:
7. Cup Shelves
My friend Niki is a DIY WHIZ. When she made her coffee station, she designed and built amazing shelves from reclaimed barn wood and industrial piping to display her cute coffee mugs.
The great thing about custom shelves like these is that they can be made to fit any space. However, not everyone is as handy as Niki (including myself!). For a similar feel without the need for a table saw, consider a pre-made floating shelf:
8. Cup Hooks
If you have space beneath your kitchen cabinet, cup hooks are a simple and effective way to display your coffee mugs while keeping them off the counter. This enables you to create a complete coffee station in a small space, as B4 and Afters did here: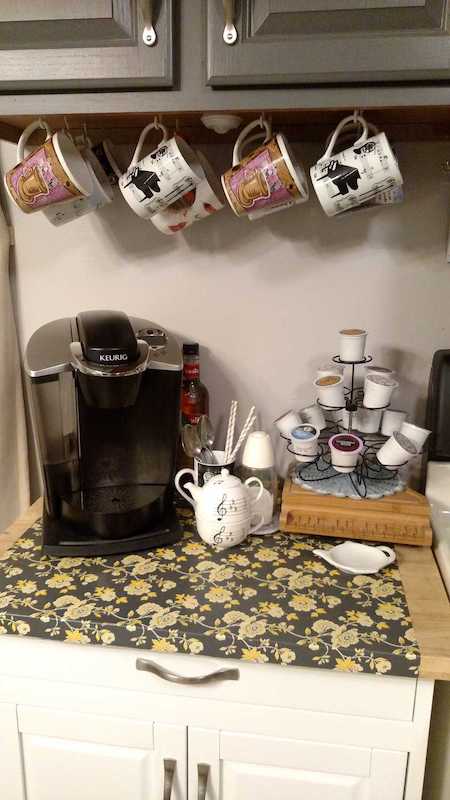 Of course, if you have space IN the cabinet above your coffee bar, you can always keep your cups there:
RELATED ARTICLE:
Gorgeous Ways to Organize Glassware, Cups and Bottles
9. Build Your Own Coffee Station (Literally!)
Remember my handy friend Niki? She cleverly built her own coffee station and wine bar into a corner nook right off her kitchen. Built-ins like this are the ultimate way to maximize unused space:
One of the coolest features of this bar is the DIY resin countertop she made…with epoxy and COFFEE BEANS!
If you'd like to try this DIY countertop project yourself, here's a helpful tutorial from Stone Coat Countertops, who built a coffee bean coffee table for Dutch Brothers Coffee.
10. Repurpose Furniture to Make a Coffee Station
Here's another cute DIY coffee bar idea from Son Shine Kitchen using a repurposed dresser and a simple custom-built boxed shelf.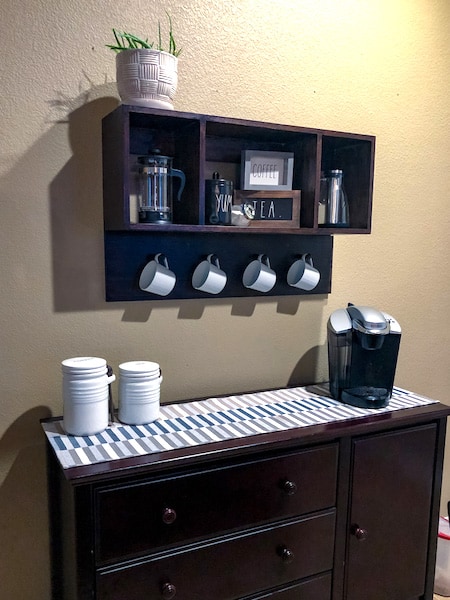 I love finding ways to repurpose items in the house! It gives new life to old stuff and is much easier on the budget. One of my favorite organizing projects was converting an inexpensive wooden mail sorter into a family charging station for iPhones and iPads.
11. Coffee Station Cart
No counter space? No problem! A coffee cart is a simple and effective solution that takes up minimal space. All it takes is a kitchen cart that fits into an unused corner or on an empty wall. It can even be placed at the end of a kitchen island. For example:
Here's another great repurposed furniture project: turn an old vanity into a cute coffee cart, as demonstrated by Dear Creatives.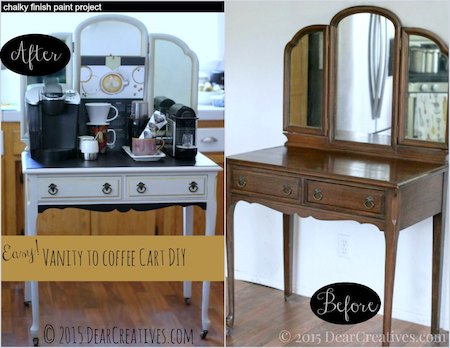 12. Cozy Coffee Station Decor
Add a little sweetness your tea or coffee bar with cute decor. I love those bistro chalkboard signs, so I made my own with a countertop chalkboard stand and my Cricut:
There are countless ways to decorate your coffee station. I get a lot of ideas from walking the aisles of HomeGoods or Hobby Lobby! Here are some of my favorites to help inspire you:
Coffee Station FAQs
How do you set up a coffee station?
For maximum efficiency, your station should have a coffee maker, coffee (pods, ground or beans) cups and extras like cream, sugar, and stirrers.

Where do you put a coffee station?
Coffee stations don't need to take up a ton of space. You can create an efficient coffee bar in a small corner of the kitchen countertop, in an empty nook or at the end of a kitchen island using a cart, or you can repurpose a bookshelf, dresser or vanity table and set up your station on an empty wall.

How do I organize my coffee mugs?
You can maximize space in your coffee station area by hanging mugs on hooks beneath a cabinet, using stackable mugs on the counter, installing a shelf on a nearby wall, using a countertop cup stand, or arranging them in a cabinet.

How do you organize tea and coffee?
I recommend taking tea bags and coffee pods out of their boxes. It's much more efficient to store teas and pods in a drawer organizer where you can see everything. Ground coffee, coffee beans and tea bags that are not individually wrapped can be stored in airtight canisters on the countertop or a cabinet shelf.

More Kitchen Organization Articles