Baking delicious treats is so much fun!
Keeping all of those baking pans, cookie sheets and muffin tins neat and organized? That's more of a challenge than fun for most of us. And the more we have, the bigger of a challenge it becomes.
Sometimes, a little out-of-the-box thinking is necessary to maximize space and efficiency in the kitchen. This goes for baking supplies, too.
Just in time for the holiday baking season, I've collected oodles of outstanding ways to organize all of those baking pans and rolling pins and cookie cutters. (Flours, sugars and chocolate chips, too!)
Get ready to spend more time whipping up decadent recipes and less time trying to find your favorite baking sheet!
This post contains affiliate links. As an Amazon Associate, I earn a small commission on qualified purchases at absolutely no cost to you. Please see the Disclaimer for more information.
1. Store Baking Pans in an Adjustable Rack With Vertical Dividers
An adjustable rack that allows you to store your baking pans vertically makes great use of space in a kitchen cabinet or on a pantry shelf.
The option below includes seven adjustable dividers that work like file organizers to separate sheet pans, muffin tins, pizza pans, etc.
I love vertical organizers because they offer easy access to your baking dishes. No need to lift three of them out of the back of the cabinet to reach the one you want. And, the dividers are coated so they won't scratch your bakeware.
NOTE: Be sure to measure the dimensions of your cabinet before ordering. This product measures 7.25″D x 11.5″W x 6.38″H.
2. Organize Cookie Sheets and Muffin Tins on the Inside of a Cabinet Door
It's easy to forget the inside of your cupboard doors when you're organizing. This space is a goldmine! One of my favorite storage ideas (especially in a small kitchen) is to use an over-the-door bakeware organizer like this:
It's a great way to hold all of your baking sheets, tins or cutting boards in one place. I recommend this product for the lower kitchen cabinets only. Since it hangs at the top of the cupboard, it might be difficult to reach your pans if it's placed on the upper cabinets.
BONUS: If you prefer to mount it to the inside of the door, hardware is included.
3. Maximize Shelf Space For Baking Pans With Under Shelf Baskets
Another of my favorite storage solutions in cabinets and pantries: the under-shelf basket. As you can see, they work great on an upper shelf in a baking cabinet where it might be harder to see all of your smaller pans and muffin tins.
They allow you to separate pans by type, too: small cupcake pans, bundt pans, pie tins, etc.
4. Use a Lid Organizer in a Kitchen Cabinet
Some baking dishes and pans come with lids, which makes stacking them pretty much impossible. In my pots and pans cabinet, I use a lid organizer on one side and a pan organizer on the other. In my opinion, it is the best way to fit all of my pans in one space.
I store my lids with the smallest in the front and the largest in the back, in a rack like this:
NOTE: This type of rack also works for sheets and tins. I would place it front-to-back for lids since they're small and easy to retrieve from the back of the cabinet. Side-to-side would work better for sheets and tins.
5. Try Command Hooks to Store Large Lids on Cabinet Walls
Some lids are too large for a lid rack. In my cabinet, there's not enough room between the bottom of the cabinet and the shelf. So, I chose to use hooks on the inside wall of the cabinet, and it worked! The wall is a good location for hanging large, thin lids because they don't get in the way of other items in the cabinet.
6. Use Pan Organizers To Store Pans Next to Your Lids
It only makes sense to keep the pans next to the lids they belong to! I stack pans and bakeware vertically on one side of the cabinet like with this shelf pot rack:
It's heavy-duty enough for cast iron or casserole dishes and can also be used horizontally, with pans upright on their sides.
7. Install a Toe Kick Drawer at the Bottom of the Cabinet
The boards that run between the bottom of your cabinets and the kitchen floor are called toe kick boards. Behind them typically lies an empty space that could be perfect for a drawer to store baking sheets.
Nicole from tikkido.com completed a fabulous DIY project where she installed hidden drawers behind those boards using inexpensive IKEA drawer kits. Check out the step-by-step in her article.
8. Add Pull-Out Drawers to Cabinets For Baking Pans and Sheets
When you have a deep cabinet or want to store your pans and sheets in a lower cabinet, a pull-out drawer is one of the best options. It provides easier access to all of your pans…no kneeling or tweaking your back are required!
This does require installation on your part, but it comes with a simple alignment guide so you don't have to measure. It's only 10 inches wide, making it a great option for a narrow cabinet.
9. Store Pans in a Lazy Susan Cabinet
If you have a corner Lazy Susan cabinet, you can store baking pans there, too. A short lid organizer works on a round Lazy Susan: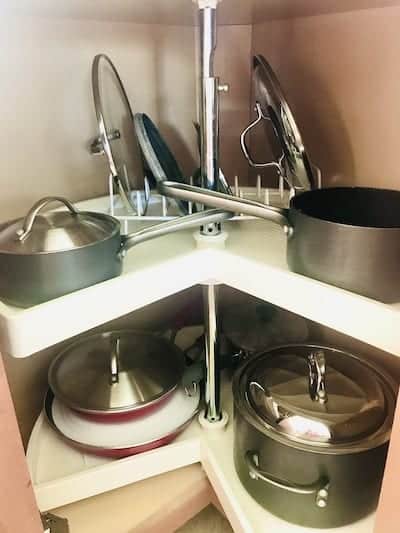 You can also stack pans to save space. I recommend using pot and pan protectors between your pans or baking dishes so they don't get scratched:
If you're a handy type, you can also install a set of Lazy Susan cabinet trays that swing out (rather than in a circle) and offer a lot more space for pans…or even a small appliance or two.
As always, make sure to measure your cabinet before making a purchase.
10. Add a Shelf to Empty Wall Space
Not everyone has cabinet space for baking pans. I always say when kitchen space is at a minimum, look UP…in this case, on the wall. If you have empty wall space, you can add a sturdy steel shelf to store baking supplies:
11. Try a Space-Saving Nested Baking Set
This is a great idea for people who are in the market for new bakeware: a nested set of 8 pans and sheets for cakes, cookies, muffins and more. The set fits together and is designed to save space in a cabinet, drawer or on a pantry shelf.
12. Use a Rolling Kitchen Cart
Another organization hack for small kitchens: use a rolling cart to create a "baking zone" and store all of your baking supplies on/in it. When not in use, you can roll it into a corner or next to an empty wall.
13. Try Drawer Dividers to Store Baking Pans in Deep Kitchen Drawers
Make the most of a deep kitchen drawer with bamboo dividers that create specific space for baking pans, tins and dishes. Using spring-loaded dividers like these keep your items from shifting and sliding into one another when you open and close the drawers:
This set comes with simple labels so that everyone in the house will know exactly what goes in each section.
BONUS: Drawer dividers also work well to corral rolling pins, cookie cutters, and other smaller items you use for baking.
14. Store Cookie Cutters in Labeled, Handled Bins
Cookies are a big part of baking, especially during the holidays. I like to store mine on a pantry shelf in clear, labeled bins with handles. If you have cookie cutters for different holidays, you can sort each holiday or theme into its own bin.
15. Use a Bamboo Drawer Organizer & Cutter for Wraps, Foil and Wax Paper
This is a great solution for those pesky wraps, foils and papers! I always felt that plastic wrap boxes looked so beat up and were such a pain to use. I am in love with my wrap organizer and cutter.
16. Store Baking Essentials in Airtight Canisters
Don't forget storage for your baking essentials! Chocolate chips, sprinkles, sugars and flour can all be stored in this set of clear, airtight canisters.
The brown sugar saver is designed to keep your brown sugar soft all baking season long. The set also comes with two 1/2-cup scoops.
Check out my collection of kitchen organization articles below. Happy organizing!
Perfect Ways to Organize Baking Supplies in the Pantry
Easy Ideas to Declutter Kitchen Counters
Simple Ways to Organize Kitchen Drawers
Space-Saving Ways to Organize a Small Kitchen
Spice Storage For Small Kitchens
Cozy Ways to Organize Your Kitchen Coffee Station
Space-Saving Ways to Organize Pots, Pans and Lids