The kitchen is the heart of the home for many of us. It's where we cook, eat, congregate, do homework, share heartfelt conversations over coffee…and so much more.
It's also often the most cluttered of spaces, simply because it's the most used. That counter can become a dumping ground for mail, empty cereal boxes, school permission slips and car keys (not to mention dirty dishes, small appliances and cooking utensils.)
And let's be honest: those cluttered counters probably aren't getting cleaned as often (or as thoroughly) as they should. Am I right?
If your kitchen countertops are looking a bit chaotic, this post is for you. It's time to take back control and declutter those kitchen counters now. I promise it can be done! I've rounded up my favorite simple tips and organization ideas to whip that space back into shape and keep them that way.
This post contains affiliate links. As an Amazon affiliate, I earn a small commission from qualified purchases at absolutely no cost to you. Please see the Disclaimer for more information.
1. Remove What Doesn't Belong in the Kitchen
The first idea should be the easiest!
Decide what will live in your kitchen counter space and what belongs in another area of the house. Laundry, dog leashes, mail and bills probably don't belong. Take them off the counters and put them in their proper place.
Psst…if paper, junk mail and bills are an issue in your household, check out my tips to organize mail and bills here.
In addition, remove anything from the counters that is broken. If you're planning to repair a small appliance or gadget, put it in your garage, on your workbench, or in the trunk of your car and set a reminder to get it fixed. Let's say 30 days.
If you haven't repaired it in the chosen timeframe, it's time to trash it!
2. Keep Only What You Use on a Daily Basis on Kitchen Counters
One of the best ways to declutter and organize kitchen counters is to pare down what gets stored on them.
A smart rule for small kitchens is to keep only daily-use items on the counter:
Coffee maker and canisters for coffee and tea
Toaster
Crock for cooking utensils
Cutting board
Knife block
Paper towel holder
Hand soap and lotion next to the faucet
Place items you use on weekends (like that waffle maker) in a nearby, easy-to-access cabinet. Store items you use seasonally or just for special occasions in the back of your cabinets, above the refrigerator, at the top of the pantry, etc.
RELATED ARTICLE:
Cozy Ways to Organize Your Coffee Station
3. Donate Duplicates & Unload Unused Items
The next step is to declutter duplicate or unused items.
First, sort all of your kitchen counter items by type.
Do you see duplicate items? I went through this exercise in my kitchen recently and discovered I had four ladles and about a dozen spatulas. I have no idea why.
Aim to pare down and donate, sell or give away the extras. Store duplicates that are part of a seasonal set (or used on special occasions) in a cabinet or pantry.
Look at the items that remain. How many haven't been used in a while? Be honest. Anything that hasn't been touched in at least a year has overstayed its welcome. Time to sell or donate.
4. Create Zones For Easy Access to Kitchen Items
Counters look cluttered when they lack organization. A great way to organize is to create zones (areas where specific items are stored) to keep the space efficient and orderly. In fact, creating zones is one of my favorite organization tips.
Here are some common kitchen zones:
Cutting boards and knife block for food prep
Spices
Utensils for the stovetop
Baking tools
Coffee/tea station
Plan your zones for maximum efficiency. For instance, keep the food prep items near the refrigerator and stove. Put the coffee station underneath the cabinet that stores mugs. (And so on.)
RELATED ARTICLE:
Why Zones Are the Best Way to Organize Your Home
5. Maximize Countertop Space With Multi-Purpose Kitchen Appliances
Fewer "things" on the kitchen counters make the space feel peaceful and decluttered. Consider investing in multi-use appliances that take up less space than their individual counterparts.
For example, the photo above shows my beloved Cuisinart Convection Air Fryer Toaster Oven. It comes with settings for air frying, toasting, convection baking, and traditional baking. It gets used every day and fits perfectly under my corner cabinet. A lovely way to declutter kitchen counters and maximize countertop space.
I also love this retro compact breakfast station with built-in toaster oven, griddle and coffee maker. It's great for small countertops:
RELATED ARTICLE:
17 Super-Sneaky Small House Storage Tips
6. Clean As You Cook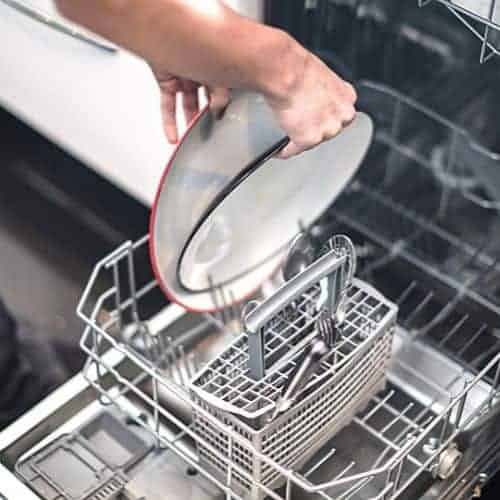 This clean kitchen tip came from my sweet great-grandmother, Verna, who passed it to my mother, who passed it to me. In fact, I can hear my mom say it in my head as I'm preparing dinner or baking brownies:
Clean as you cook.
It's so simple. Put ingredients away as soon as they are used. Start loading the dishwasher while dinner's on the stove. When you do this consistently, there will be less clutter to clean every night.
7. Organize Spices in a Rack
People who cook a lot tend to use spices. And when space is lacking, spice jars and bottles end up cluttering the counters. One way to combat this is with an attractive countertop spice rack:
I like this option because it's compact and the spice jars are all uniform in size. And I'm a huge fan of the Lazy Susan-style spin function. With two tiers it offers plenty of space to store all of your commonly-used spices and herbs.
8. Store Everyday Spices on the Inside of a Cabinet Door
It's ok to keep everyday spices like salt, pepper, and garlic powder on the counter. However, if you want to get them off the countertop but keep them within easy reach, I have a handy tip for you.
I bought these stick-on spice holders for the cabinet next to my stove, and they work like a charm. (They also free up precious cabinet space.)
9. Use Magnetic Spice Holders on the Refrigerator
Is your refrigerator situated near your stove? If so, you're in luck. That side of your fridge is the perfect place to keep spices – and help achieve your goal: declutter kitchen counters.
I love these magnetic spice tins! They are stylishly stainless steel and have clear tops so you can see the contents. They also come with pre-printed labels for just about every spice and herb you can imagine.
RELATED ARTICLE:
Spice Storage Ideas for Small Kitchens
10. Store Knives On a Magnetic Knife Strip on the Fridge
Speaking of fridge magnets…you can also store your knives on a magnetic strip on the side of the fridge. This keeps them off the counter and away from small, curious hands, too.
11. Solutions to Fit More Items in Kitchen Drawers
Sometimes, our kitchen counters are cluttered because we aren't optimizing our kitchen drawer space. I've found some really nice solutions that help fit more in the drawer!
Drawer Spice Organizer
This highly-rated spice tray fits 28 spice jars (jars included!) and comes with nearly 400 labels and a chalk marker to ensure you know exactly what's in each jar. Just measure your drawer to be sure it'll fit.
Spring-Loaded Kitchen Drawer Dividers
Drawer organizers are great, but occasionally the pre-formed compartments won't fit our larger kitchen tools and gadgets. As a result, those tools and gadgets end up on the counter.
Instead of trying to make your tools fit the drawer, make the drawer fit the tools– with these super-handy spring-loaded dividers. They allow you to completely customize your kitchen drawers so you can fit more in them!
Stacked Silverware Organizer
This clever contraption stacks silverware in a compact tray, creating space to store more kitchen tools in the drawer:
RELATED ARTICLES:
13 Ways to Organize Kitchen Drawers For Maximum Efficiency
18 Excellent Ways to Organize Essential Oils
12. Put the Dish Drying Rack in the Sink
A stack of drying dishes can take up a ton of counter space. Consider a drying rack that sits IN the sink instead of next to it. This option is expandable to fit a range of sink sizes:
13. Ditch the Fruit Bowl and Install a Hanging Fruit Basket
Take that fruit basket off the counter, and free up precious space. Try a tiered hanging fruit basket instead. Bonus points if you can find a spot that everyone will see, so the fruit gets eaten before it's overripe!
14. Mount Paper Towels Under the Cabinet
Every item that comes off the counter helps keep it clutter-free. This includes the paper towel roll. Try an under-cabinet mount like this:
15. Install a Hanging Shelf
A well-placed set of floating shelves adds storage and style to an empty wall. And it'll help you declutter the counters, too. This option includes a bar for paper towels or a kitchen towel:
16. Use Cup-Hangers
The right cabinet storage frees up tons of space on the kitchen counters!
Use cup hangers to keep coffee mugs and teacups off the countertop. They can be installed inside a cabinet or underneath, and they can slide over a shelf or be drilled into the wood.
RELATED ARTICLE:
Gorgeous Ways to Organize Glassware, Cups and Water Bottles
17. Maximize Vertical Space in Cabinets
Open your cabinet. Do you see empty space above items stored there? You're missing out on valuable storage! A few strategic expandable shelves in the cabinet can literally double your storage space and get those pesky items off the kitchen counter.
18. Clear Off Those Cookbooks
I rarely use cookbooks these days. I have a handful of recipes I like for the holidays or large gatherings, but I use those only occasionally. Instead, I find myself often using my iPad to look up and cook from recipes.
Be honest: do you need all of those cookbooks on your kitchen counters? Can they be stored in a cabinet or pantry (or donated to the library) instead? Try taking a picture of your favorite recipe, or see if it lives somewhere online. You can refer to it from your phone or tablet instead.
One solution my sister-in-law came up with was to install these rustic magazine holders on the wall next to her pantry. She keeps copies of her favorite recipes, magazines and cookbooks in them.
19. Hang Utensils From the Backsplash
You don't have to store cooking utensils on the countertop. Consider hanging them from the backsplash instead. There are a few ways to do this. You can install a wall-mounted hanger if you don't mind drilling:
Or you can try adhesive or suction-mounted hooks on a smooth tile backsplash.
20. Store Dish Soap & Sponges in the Kitchen Cabinets Under the Sink
Another way to keep counters from looking cluttered is to free them from bottles of dish soap, sponges and scrubbers around the sink. Instead, use organizers to store them under the sink (but within easy reach):
Check out my post on the easiest way to organize beneath the kitchen sink for ideas and links to products!
21. Create a Daily Habit: 5 Minutes to Declutter Kitchen Counters
I like to gamify my cleaning and organizing, especially when I'm tired or feeling unmotivated. Give this a try: set a timer for 5 minutes of straight kitchen countertop organization. During that time, see how much you can declutter and clean from your counters. You might be surprised how quickly they start to look better!
Repeat this process throughout the course of a day or two until your counters are clear and chaos-free. Once you've got them where you want them, simply repeat that 5-minute declutter once a day.
Happy organizing!
MORE KITCHEN ORGANIZATION ARTICLES
Thrilling Ways to Organize a Small Kitchen
Outstanding Ways to Organize Baking Pans & Supplies
Space-Saving Ways to Organize Pots, Pans and Lids
Perfect Ways to Organize Baking Supplies in a Pantry