When it comes to organizing my home, I'm a huge fan of zone organizing, which means organizing items by group or category. And one of the easiest (and prettiest) methods to create and maintain zones is to organize with baskets.
Baskets are such versatile storage solutions! Because they are visually appealing, they can be used to organize your entire home.
Baskets are great for storing groups of "like" items that would look cluttered sitting out on a shelf or counter. And as you'll see, they come in various sizes, shapes and materials. They work beautifully in large or small spaces.
Read on for some beautiful basket organizing inspiration!
This post contains affiliate links. As an Amazon affiliate, I earn a small commission from qualified purchases at absolutely no cost to you. Please see the Disclaimer for more information.
1. Baskets for Pantry Floor Organization
Let's start with tips to organize with baskets in the pantry. If you're dreaming of an Instagram-worthy pantry, baskets are a great way to go. Keep in mind, a picture-perfect pantry may not be practical in your household, and THAT'S OK.
What matters most is finding a system that works with and for you, with a proper place for your items.
When I organized my walk-in pantry, I used a variety of baskets, storage bins and containers.
I used durable, square woven baskets to line the floor of my pantry for items like bottled water, juice and snacks.
I highly recommend using baskets for any items stored on the pantry floor. When it's time to sweep or mop, all you have to do is slide the baskets out to clean behind them.
Check out more pantry organization ideas here.
2. Baskets for Pantry Shelf Organization
I tend to use clear bins and containers in my pantry because I like to see how much food I have at a glance.
However, I did use baskets for certain pantry zones like straws and plastic cutlery, food storage containers and lids:
I chose tall woven baskets with handles that would maximize the vertical space on my shelves and store a large number of items.
PRO TIP: Measure your shelves (length, depth and height) before you buy baskets! If you are planning to organize with baskets along an entire shelf, you'll want to space them an inch or two apart.
There is a wide variety of baskets to choose from, in all shapes and sizes. You aren't limited to the natural woven style; I personally love the look of wire baskets as well:
3. Baskets for Throw Blankets
There's nothing I love more than a cozy blanket on the couch for movie night! But I don't necessarily want them all out all the time. My solution is a large basket in the corner of the family room or living room. It's both pretty and practical.
This is also a great idea for storing extra blankets and pillows in the bedroom.
For blanket storage, I recommend large woven or rope-style baskets:
4. Organize With Laundry Room Baskets
When I organized my laundry room, I used large seagrass baskets to create zones for the items I store:
Detergent & Softener
Bleach & Stain Removers
Carpet & Pet Cleaners
Cleaning Products & Tools
You can also use a compartmentalized laundry basket to sort dirty clothes:
And to store socks missing a mate:
RELATED POST:
10 Big Ways to Organize a Tiny Laundry Room
5. Linen Closet Baskets
The linen closet is another great place to organize with baskets. I keep a set of towels for each family member in a basket, plus one for guests. You can do the same with sheets as well.
I recommend fabric/canvas or cloth-lined wicker baskets for linens. This keeps your linens and towels from snagging or collecting particles of wicker or seagrass. Some of my favorite baskets for linens (always measure your shelves before buying baskets) are:
6. Baskets for Kitchen Counters
Kitchen counters can EASILY become cluttered with bottles, jars, food, utensils, towels and appliances. This is especially true in small kitchens.
Baskets are an efficient and stylish way to corral groups of items on the counter while keeping everything in plain sight. They also make it easier to clean the countertop…just slide them out and wipe! (And use an additional basket for the dish towels, too!)
Some kitchen basket ideas:
Spice jars stored on the kitchen counter can quickly clutter the space. Try a rack of baskets like this:
How cute is this set of wire farmhouse baskets for kitchen cutlery and utensils?
7. Organize With Baskets on Bathroom Shelves
The bathroom is one of my favorite places to use baskets. They both dress up the space and keep everything neat and tidy.
(Just remember that small items like skincare, cosmetics or travel items are best stored in small baskets.)
I installed floating wall shelves during a recent bathroom update. A seagrass basket was a must for storing extra toilet paper:
8. Use Decorative Storage Baskets on the Bathroom Vanity
Baskets are a beautiful way to corral vanity items like soaps, lotions, toothbrushes and paste, and washcloths for perfect bathroom organization. They are a clever way to store everyday items (and they make your bathroom look like you hired a professional organizer):
9. Baskets For Bathtub Essentials
Use a wire basket on or near the tub to create a spa experience with your favorite bath essentials:
A large woven basket near the shower or tub can store clean towels:
RELATED ARTICLE:
25 Small Bathroom Organizing Hacks You'll Love
10. Baskets for Makeup Storage
Baskets are a convenient way to store makeup brushes and sponges, cosmetics, skin care and nail care essentials. They can be stored neatly on the vanity, on a shelf or in a cabinet or drawer.
RELATED ARTICLE:
15 Bedroom and Bathroom Makeup Storage Tips You'll Love
11. Baskets for Closet Shelves
Baskets can be used on closet shelves to store accessories, winter wear like gloves and hats, jewelry, socks…you name it.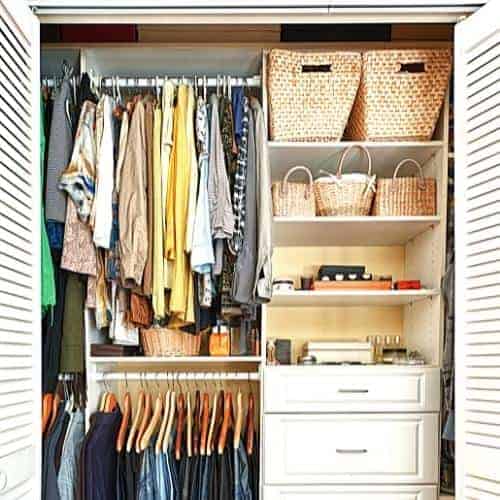 Use a rectangular fabric basket to organize folded clothes. This style of basket works especially well for file-folding shirts, sweaters and jeans:
12. Baskets for Shoe Storage
Consider baskets for shoes, too! I store my flip-flops upright in a simple fabric basket. It makes them much easier to find.
Check out this super handy compartmentalized fabric basket – it protects shoes from dust, scuffs and scratches (and it's very useful if you have puppies in the house!). It fits 16 pairs of shoes and features a clear lid so you can easily see every pair at a glance.
13. Baskets for Video Game Storage
We play a lot of video games in our house. When my son was little, our family game night often included Wii Fit competitions. Now that he's a teenager, we've amassed quite a collection of Xbox, Playstation and Wii games.
Storing all of these games was always a challenge. When we updated our family room, we found a TV console with built-in cubbies. I knew immediately that with the right baskets, I could finally organize all of our video games AND keep the family room looking nice.
Here's what I came up with: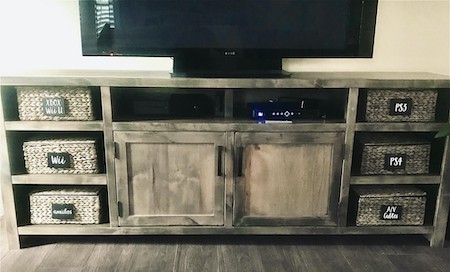 I used hyacinth baskets with lids that fit the cubbies and neatly stored two stacks of video games:
RELATED ARTICLE:
12 Ways to Organize Video Games, Controllers & Accessories
14. Baskets for Toy Storage
I've never been a huge fan of the traditional wooden toy chest. I always worried about pinched fingers or toddlers climbing in and getting stuck.
Instead, I prefer large baskets to store bulky items like stuffed animals (this is how I used to store my kid's toys when he was little)::
RELATED ARTICLE:
15. Baskets for Coffee Tables
Use baskets to stylishly store coffee table items like books, magazines, TV remotes, reading glasses, etc. You can choose a wire basket like the one pictured above, or a compartment-style basket like this:
16. Baskets for Baby Items
Baskets make great organizers for items in the nursery: diapers, changing pads, onesies, creams & lotions, etc.
I also love the idea of this mobile changing station basket…easy to grab and move from room to room (or take in the car):
RELATED ARTICLES:
Beautiful Baby & Nursery Organization Ideas
How to Organize a Breastfeeding Station
17. Baskets for Tea and Coffee
Transform your tea or coffee station with beautifully functional baskets to store coffee pods, tea bags, creamers, and sugar packets.
RELATED ARTICLE:
12 Cozy Ways to Organize a Coffee Station
18. Use Baskets to Store and Display Indoor Plants
A basket is one of my favorite ways to display a potted plant! I simply place the pot inside the basket. No muss, no fuss.
When I need to water, it's easy to lift the plant out.
19. Hide Your Home Office Router and Modem in a Basket
This organization hack works great with open shelving in a home office, where it's hard to hide those unsightly tech components. A large lidded storage bin is the perfect container to keep them hidden but accessible!
Simply cut a hole in the back to run cords and cables through.
Check out more home office organization ideas here.
20. Keep Craft Supplies in Cabinet Pull-Out Baskets
I don't have a craft room in my own home; I have a craft cabinet. I needed a way to create easy access to my supplies, so I installed pull-out baskets. They transformed this storage space!
Hope you're feeling inspired to transform your home and organize with baskets. Which space will you tackle first? Happy organizing!
MORE HOME ORGANIZATION ARTICLES:
The Best Way to Organize a Messy Room