I'm always looking for new and better makeup storage tips, how about you?
There's nothing worse than when I'm in a rush to get ready…and I can't find my favorite lipstick ANYWHERE. I'm sure you know the feeling.
Finding an efficient way to store cosmetics and beauty products is a big deal for many of us!
I've rounded up some of the best bedroom and bathroom makeup storage tips from fellow organizing experts, and I'm excited to share them with you. I think you'll love them, too!
If you'd like to save these tips for later, simply enter your info below and I'll send them straight to your inbox.
Have tips sent to email to save for later:
This post contains affiliate links. As an Amazon affiliate, I earn a commission from qualified purchases, at absolutely no cost to you. Please see the Disclaimer for more information.
Try These Bedroom and Bathroom Makeup Storage Tips:
1. Declutter Old and Expired Makeup, Brushes and Applicators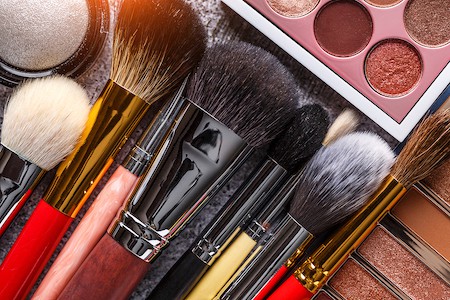 How Long Does Makeup Last?
According to WebMD, decluttering old makeup is important for your health, not just your storage space! The rule of thumb expiration dates for OPEN makeup (that's properly stored away from heat and humidity) are:
3-4 months for mascara and liquid eyeliner
6 months for lip gloss
12 months for liquid foundation and lipstick
18-24 months for powder
According to Healthline, unopened makeup that's sealed and properly stored can last between 2-3 years.
Expired, Dried Up, Discolored? Toss It!
So, the very first thing you should do is toss any makeup you have that is older than the recommended dates, or appears dried up or discolored.
Next, take a look at your makeup brushes, sponges and applicators. Have they lost their softness or absorbency? Do they seem to be brittle or falling apart? If so, toss those too.
2. Sort Makeup By Type and Usage
I always find it helpful to sort the items I want to organize by type first. So, in this case, I would group together my lipsticks and glosses, foundations, powders, eye shadows, eyeliners, mascaras, etc.
Next, consider what you wear most often. Many of us have an "everyday" set of makeup we use regularly, plus maybe some more dramatic colors for date night or black tie events. (I do, anyway.) Group all of the everyday products together for easy access.
If you have makeup that only gets used a few times a month (or year), you might consider keeping it in its own container or bag, separate from the everyday items. This makes it easier to find your most common products during the crazy morning rush!
PRO TIP:
If you work in an office or are on the road a lot, keep a second set of everyday makeup (at least the essentials) in a travel bag in your purse. This is a huge time-saver for me!
3. Store Makeup in Pretty Acrylic on the Bathroom Counter
Some people love to see all of their products at a glance. A beautiful acrylic organizer like the one above allows you to view it all while keeping it contained on the counter.
I love this one because it maximizes vertical space, taking up less space on the bathroom counter. Even better, it rotates 360 degrees for instant access to any product.
Related Article:
12 Life-Changing Ways to Organize With a Lazy Susan
4. Keep Cosmetics in a Farmhouse Vanity Box
How cute is this farmhouse-style vanity organizer? It comes in several rustic colors and easily fits makeup, hair accessories, skin care products and jewelry. It's stylish enough for the bathroom counter or a bedroom vanity or dresser.
5. Make a DIY Mason Jar Makeup Holder
Here's an easy DIY project with BIG impact. SUSTAIN My Craft Habit created these adorable beachy painted mason jars (tutorial on the website) that can beautifully store makeup, brushes, sponges and applicators in a bathroom or bedroom.
Here's another fun DIY mason jar organizer from The Country Chic Cottage. A little rice and some super-cute vinyl cutouts is all it takes to keep lip glosses, eye makeup and brushes neat and tidy.
These could be really fun projects for a teen's room, too!
Related Article:
How to Organize a Teen's Bedroom: 9 FUNctional Ideas
6. Try Mounted Shelves to Store Makeup
When you're short on space, I always say LOOK UP! Maximize vertical space in your bathroom by installing some chic shelves on the wall. I love the look of these rustic floating shelves.
They'll hold makeup and toiletries as well as a hand towel or two, and they come in several colors.
7. Make an Upcycled Denim Makeup Bag
I just love upcycled projects! I reuse and repurpose whenever I can in my house. Check out the tutorial for this adorable upcycled denim storage bin from Happiest Camper.
As you can see in the picture, it has room to store a large number of brushes and cosmetics. This would be a great teen project or DIY gift, too.
Related Article:
DIY Charming Multi-Device Charging Station
8. Hang Makeup & Brushes Inside the Medicine Cabinet Door
One easily forgotten area to store small items is the inside of the medicine cabinet door! Add storage space with handy, adhesive holders like this one:
In addition to brushes, you could hang long, thin tubes of mascara, lip gloss, lip liner, and eyeliner.
9. Try an Under Sink Tip-Out Tray
I installed two tip-out trays in my bathroom, and I LOVE THEM!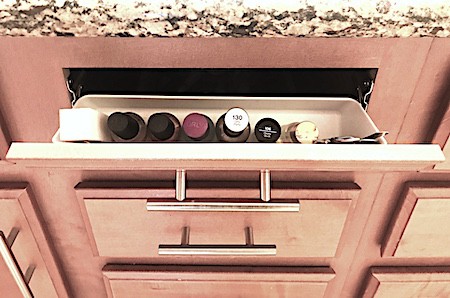 I used the Rev-A-Shelf tip out tray and installed both of them myself in about 30 minutes. Read the full tutorial here.
They work great for nail polish, cosmetics, small skin care tubes, toothpaste, contact lenses and eyeglasses…anything small that you use on a regular basis.
10. Use Drawer Organizers to Store Makeup
If you're lucky enough to have a vanity drawer for makeup, by all means use it! I do recommend adding drawer dividers like the ones above.
I always order sets that have varying sizes so that I can arrange them to fit my drawers and my items:
Also, I recommend using a grip drawer liner beneath the dividers so they won't slide when you open and shut the drawer.
Related Articles:
Outstanding Ways to Organize Bathroom Drawers
11. Keep Cosmetics in a Caddy Under the Sink
Got space under the sink? Store all of your cosmetics in a handy little handled caddy like this one. When you're ready to apply your makeup, just grab the handle and go.
I really like the clear lid that keeps dust and dirt out. Measuring less than 7″ deep but 12″ high, this organizer maximizes vertical space in the cabinet.
12. Store Beauty Products in a DIY Rope Basket
Another super-cute DIY project! These rope baskets from Craftsy Hacks add a natural vibe to your bathroom or bedroom vanity. (They're perfect desk organizers, too.)
Related Article:
How to Beautifully Organize Home Office Supplies
13. Try a Rolling Cart for Beauty Supplies
When counter and cabinet space are limited, a wheeled makeup cart may be a perfect solution for the bathroom or bedroom. This version has adjustable shelves and will accommodate makeup, bath and body products, washcloths and more.
14. Store Your Beauty Products in a Bedroom Vanity Table
A vanity table in the bedroom can be a great place to store makeup, perfume, skin care products, jewelry and accessories when you lack bathroom and closet space.
The option above comes in three colors, features a flip top adjustable mirror and removable dividers to allow for multiple configurations and organization.
If you're a handy DIY type, check out this upcycled makeup vanity project from Unique Creations By Anita:
What an amazing way to take an old desk and completely transform it into a beautiful vanity table for the bedroom.
Easy DIY Bedroom Organizing Ideas
15. Hang a Beauty Armoire On a Wall or Back of the Door
Boy, I wish these had existed when I was a teenager! This lovely invention hangs on the back of a door or mounts to the wall and offers a full-length mirror on the outside, plus storage for makeup AND a lighted mirror and pull-down shelf on the inside.
Related Article:
5 Amazing Tips to Organize a Bedroom Armoire
Bedroom and Bathroom Makeup Storage Tips: Final Thoughts
Remember, the "best" way to organize is the way that works best for YOU. Don't be afraid to try out a new system…sometimes it takes a little trial and error to find that perfect solution.
I hope you found some inspiration for organizing your makeup! And if you did, please do share the article with friends by clicking one of the share buttons below. Happy organizing!
Related Articles:
25 Small Bathroom Organizing Hacks
15 Effective Tips for Nightstand Organization
10 Delightful Ways to Organize a Messy Dresser Now
10 Big Ways to Organize a Tiny Laundry Room