Oh, that bedroom dresser…the bane of a would-be organizer's existence! For so many of us, the dresser is like a black hole of disorganized despair. It doesn't have to be. In fact, once you find a system that works, your dresser can be delightful!
The truth is, there is no one right way to keep a dresser tidy. It's more of a trial and error thing. What works for you and your household is what's right for you.
To help you discover bedroom dresser bliss, I've compiled an expert list of tips and tricks that have helped me and others organize ours. Try one or try them all until you're delighted!
This article contains affiliate links. As an Amazon affiliate, I receive a small commission from qualified purchases at absolutely no cost to you. Please see the Disclaimer for more information.
1. Declutter That Dresser First!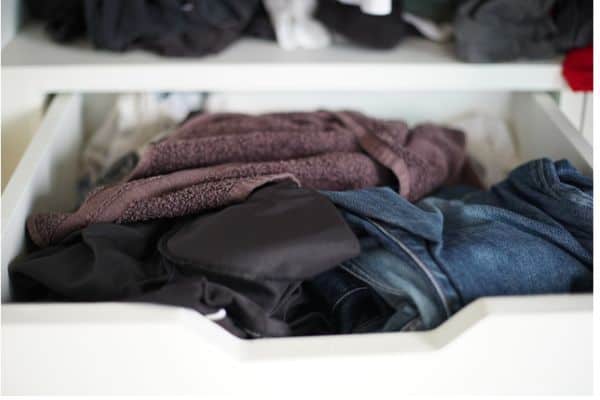 One of the biggest reasons any space is disorganized is CLUTTER. It's impossible to organize when we have more stuff than space.
So, the first tip for organizing is ALWAYS to declutter. When it comes to decluttering a dresser, here are the steps I recommend:
Step 1: Take everything off the top and out of the drawers. Wipe down all surfaces so you can start with a (literal) clean slate.
Step 2: Examine each item and article of clothing. Create a "Keep," "Donate" and "Toss" pile. Donate items that are in good condition but haven't been worn or used in over a year. Toss items that are broken, ripped, frayed, stained, socks missing mates, etc.
Step 3: Remove any items that don't belong in the dresser and return them to their proper location. (I'm talking to you, broken crayons and old magazines.)
Now, let's organize the items that remain!
2. How to Organize the Top of the Dresser
Before we even get to the drawers, let's discuss organizing the top of the dresser. This is a great space to store accessories, jewelry, cosmetics and other commonly used items. The trick is to combine function with style so it looks attractive.
First, group like items together. For example: keep hair accessories in one group, jewelry in another, cosmetics or perfume in a third.
Next, find containers for each group. Think boxes and baskets, trays, valets…you can even make or decorate your own!
Some ideas to inspire you:
Top of Dresser Organizers
Elegant Jewelry Box (comes in several colors)
Toiletry Tray
Rustic Hat Boxes
Valet Tray
RELATED ARTICLES:
15 Bedroom and Bathroom Makeup Storage Tips You'll Love
15 Beautiful Ways to Organize Jewelry and Accessories
3. What to Store in Dresser Drawers
Now we tackle the drawers. A key to organizing a messy dresser is knowing what items to store in it, so you can make the most of the space.
The best types of clothing to store in dresser drawers are easy to fold, wrinkle-resistant, and non-bulky:
Bras and underwear
Hosiery and shapewear
Socks
Pajamas
T-shirts and tank tops
Shorts
If you have limited shelf space in your closet, you can also store jeans, sweaters and sweats in a dresser drawer. Just keep in mind you won't be able to fit as many of these bulkier items.
4. Organize Dresser Drawers in Zones
Once you've determined what you'll store in your dresser, the next step is to determine what goes where.
I'm a big fan of zone organizing. In my husband's dresser, we assigned zones (drawers) for his everyday foldable clothing: dress and athletic socks, underwear, athletic shorts and t-shirts, and sweats.
RELATED ARTICLE:
Why Zones Are the Best Way to Organize Your Home
A good system for organizing dresser drawers in zones is to place everyday items in the top drawers and less-used items in the lower drawers. For maximum efficiency, you can order them left to right, in the same order you dress every morning.
For example:
Start with bras, underwear, and socks. Depending on how many you own, they can be stored in individual drawers or together in one large drawer.
You could create a zone for hosiery, shapewear and slips; another for pajamas and nightgowns; one for t-shirts and tank tops; one for shorts.
Once you've got your zones down, it's time to decide how you'll fold and fit the items in the drawer. This is the fun part, read on!
5. How to Organize Bras and Underwear in a Dresser
Drawer organizers are a MUST if you want a pretty underwear drawer. Not only do they keep everything neat, but they also make it MUCH easier to find that perfect nude strapless bra that seems to be forever lost in a mound of lingerie.
My favorite bra organizer has individual compartments for each article. This prevents hooks from snagging and straps from tangling with other bras.
There are a few ways to organize underwear. It can be rolled and placed in a honeycomb drawer organizer like this:
Underwear can also be folded and stored neatly in compartmentalized organizers like these:
I used a large square drawer organizer for boxer shorts and file-folded them: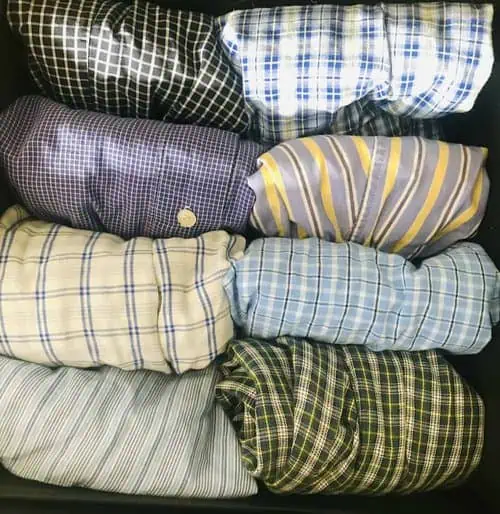 6. How to Organize Socks in a Dresser Drawer
Sort and organize socks by type (dress vs. athletic) and color. In my house, black dress socks are kept in a separate drawer from blue dress socks. Black athletic socks are in a separate drawer from white. We have a lot of socks. Separate drawer organizers for each type in one drawer work fine too.
Socks can be rolled and stored in honeycomb organizers or folded into individual drawer organizer compartments like this:
The benefit to organizing socks this way is it's MUCH easier to find the type/color you need.
7. How to Organize T-Shirts in a Dresser
I'm a big fan of the file-folding system when it comes to t-shirts. I feel there's nothing worse than having to dig through (and mess up) a pile of nicely folded shirts to get to the one you want. It bothers me in clothing stores and it bothers me at home.
My husband has a LOT of t-shirts. My organizing solution was to use clear storage bins and sort by color:
For step-by-step instructions on file-folding t-shirts, check out this post on bedroom organizing tips. The clear bin solution also works very well on a closet shelf; see how I did that in my article on closet organization.
If you try this tip, measure the length, width and height of your drawers before you buy the bins.
An alternative to the clear bin is a compartment-style organizer that makes file-folding and storing t-shirts in a dresser easy:
It's a nice idea to sort and store t-shirts not only by color but also by type. For example, dri-fit for workouts and cotton for casual dress. You can also sort by graphic tees and dressier tees. It's really up to you!
RELATED ARTICLE:
Terrific Tips to Organize T-Shirts
8. How to Organize Tank Tops in a Dresser
You can sort tank tops by type (athletic, casual wear, etc.) and color. I like to arrange mine in rainbow color order. They can be rolled or file-folded and stored in compartment-style organizers (see tip #7 above) or fabric drawer organizers like this:
My trick to keeping tank tops wrinkle-free is to smooth them out and fold them like a t-shirt: face down, fold the sides toward the middle and bring the bottom half up to meet the top.
9. How to Organize Shorts, Jeans, Sweaters and Bulky Items in a Dresser
Bulky items of clothing like shorts, jeans, sweats and sweaters can be stored in dresser drawers, too. Sort by type and color and store in larger compartment organizers. Since these tend to be seasonal pieces, they should be stored in the lower drawers of the dresser. If they're all kept in drawer organizers, it's easy to move them up or down depending on the season.
RELATED ARTICLES:
The Best Ways to Organize Sweaters
How to Organize Jeans: 6 Best Ways
10. Use the Space Beneath the Dresser, Too!
When you're short on storage space, make use of every inch. This includes space beneath your dresser. A few cute lidded baskets are perfect for storing extra sheets/blankets, shoes or seasonal clothing until it's needed again.
Now you're ready to tackle that messy dresser. (P.S. Here are some tips to organize clothes without a dresser.)
Happy organizing!