Anyone who has had to untangle a necklace or hunt for a misplaced earring (always when you're already late for work or a dinner date) knows: it's important to store and organize jewelry efficiently.
If you feel this pain all too often, I'm here for you. To ensure you stay perfectly accessorized at all times, I've rounded up some truly super-smart, creative ideas to keep your jewelry neat, tidy and accessible – even while traveling!
This post contains affiliate links. As an Amazon Affiliate, I earn a small commission from qualified purchases at absolutely no cost to you. Please see the Disclaimer for more information.
1. Use a Wall-Mounted Organizer to See All of Your Jewelry
Some people (including myself) like to see ALL of their jewelry and accessories in one convenient place. It makes it quite easy to choose a set to wear for each occasion. If you're this type of organizer, then a wall-mounted system could be a perfect solution for you. Here are a few options:
Rustic Jewelry Organizer
For small to medium-sized collections, this organizer works like a charm. It comes in several colors to match your decor and features a bracelet bar at the top, wire mesh to hang earrings, a narrow tray for rings and watches and hooks for necklaces.
This could also be used to organize hair bows and clips. Easily mounts on a bedroom, closet or bathroom wall.
Jewelry Armoire With Mirror
Large jewelry collections require larger solutions. This folding wall-mounted armoire comes in three colors and features a mirror and LED lights with ample space for all of your pretty things.
2. Make a DIY Rustic Jewelry Holder
One of the things I love about DIY projects is they can be completely customized to suit your personal needs and design preferences.
This super-cute set of DIY rustic glam jewelry holders from Albion Gould is a perfect example. You can make a set to organize jewelry for yourself, or you can make one to give as a gift. Change out the colors or even the shapes to accommodate your collection.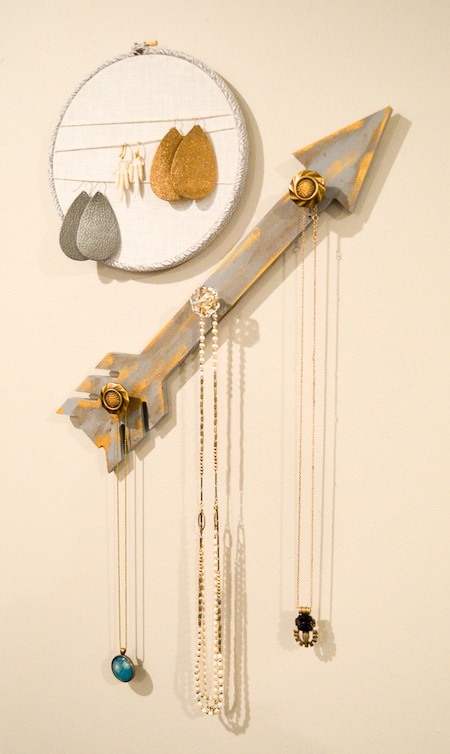 3. Try a Table-Top Jewelry Stand
This option is perfect for a bedroom dresser or bathroom vanity. It comes in four colors and features hanging rods for watches, bracelets, earrings and necklaces plus a tray for rings and studs.
4. Build a DIY Bracelet Stand
Here's another really cute, customizable DIY jewelry organizer for bracelets (or hair bows and scrunchies) from Titus 2 Homemaker: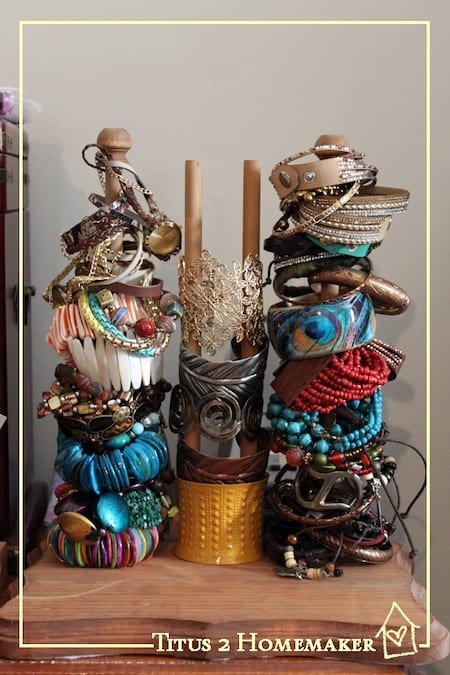 You can easily change the size of the wooden base, add additional dowels and/or paint to match your decor.
5. Use an Elegant Jewelry Box
Traditional jewelry boxes don't have to look like they're from the 1800s, unless you want them to. There are some really elegant, modern box options to organize jewelry and accessories.
A few examples:
Jewelry Box With Glass Lid
This pretty option comes in four colors and looks beautiful on a dresser or even a nightstand.
Wooden Stackable Jewelry Box Trays
Check out this sleek and modern jewelry box! It's a stunning piece of decor all on its own.
6. Upcycle a Farmhouse Frame Into a Jewelry Organizer
I'm a HUGE fan of upcycling, so I was really excited to see this farmhouse frame jewelry organizer project from A Country Girl's Life: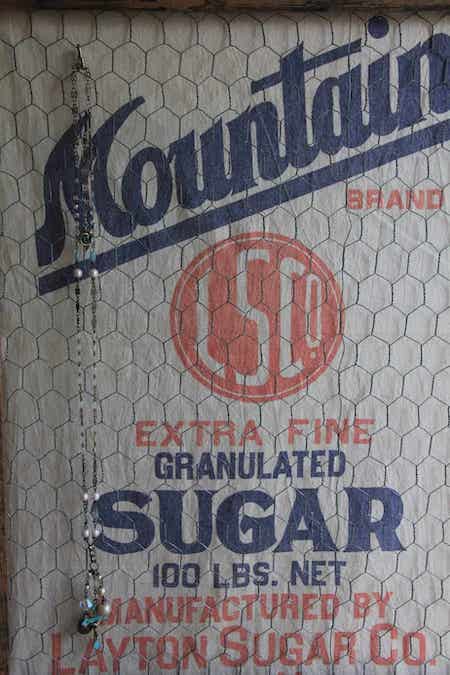 All it requires is a wooden frame, some chicken wire and grain sack towels. Click the link above for a step-by-step tutorial. So cute!
7. Hang Your Jewelry and Accessories
Who says jewelry and accessories have to be stored in a box? This solution can be hung on a closet rod or the back of a door. Simple and effective and comes in five colors.
8. DIY Shabby-Chic Necklace Organizer
This sweet little necklace organizer from Bellewood Cottage is SO cute! I love the look of the different pulls and knobs on the wooden board. Easy to make in a variety of colors/finishes, and it would be a lovely gift, too.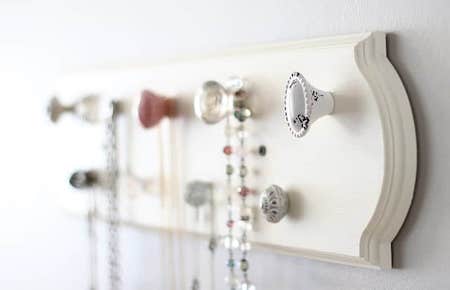 9. DIY Jewelry Tray
Sometimes we need a simple solution to store a few key pieces of jewelry (like rings) that we wear daily. This DIY jewelry tray from Mixed Kreations is perfect for such a situation!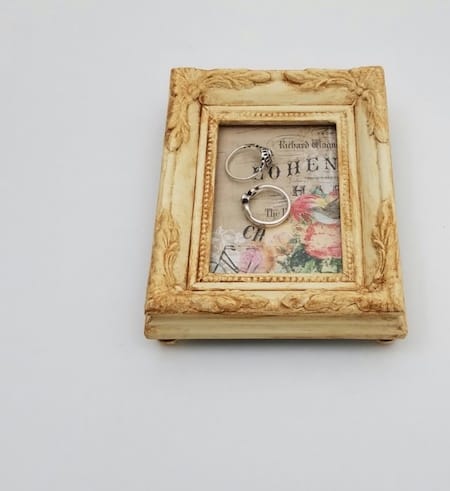 All this project takes is a wooden frame, scrapbook paper and some paint/stain and it's ready for prominent placement on your dresser or nightstand.
10. Store Purses With Tissue Paper Stuffing to Retain Shape
Let's not forget purses when we're organizing accessories! Love this little gem of wisdom on purse storage from Luci's Morsels: stuff structured bags with tissue paper to help them retain their shape when you store them. Great idea!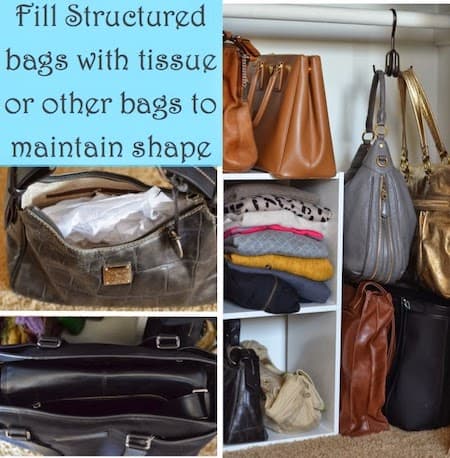 11. Hanging Purse Organizers
Speaking of purses, I am in love with this solution that efficiently stores purses in the closet and helps keep them dust-free:
Not enough closet space? No worries! There's an over-the-door option too:
12. Travel Organizers for Jewelry
Traveling with jewelry requires additional storage solutions. You want to keep your jewelry secure and free from tangles and knots, and ideally an organizer that can fit in a purse or carry-on luggage.
This foldable travel jewelry case features zones for rings, earrings, necklaces and bracelets/watches. It is highly rated on Amazon and comes in eight colors:
Cupcakes and Cutlery writes about a neat solution for traveling with jewelry that keeps necklaces from tangling: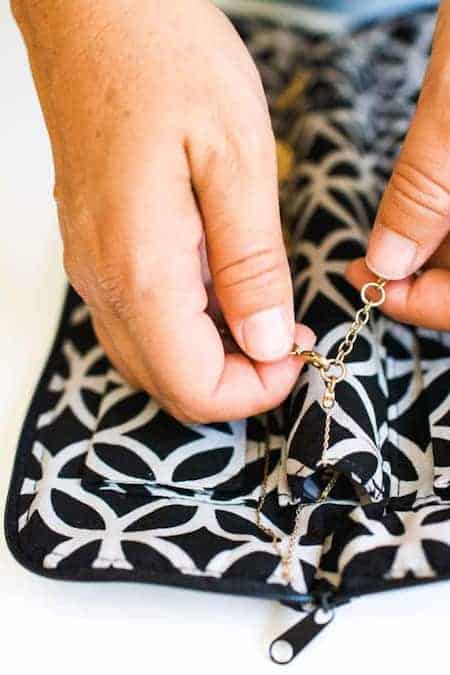 13. Upcycled Thrift Store Necklace Organizer
Craftivity Designs found a fab way to turn a thrift store spoon rack into a lovely necklace organizer. All it took was the right shade of paint, and voila!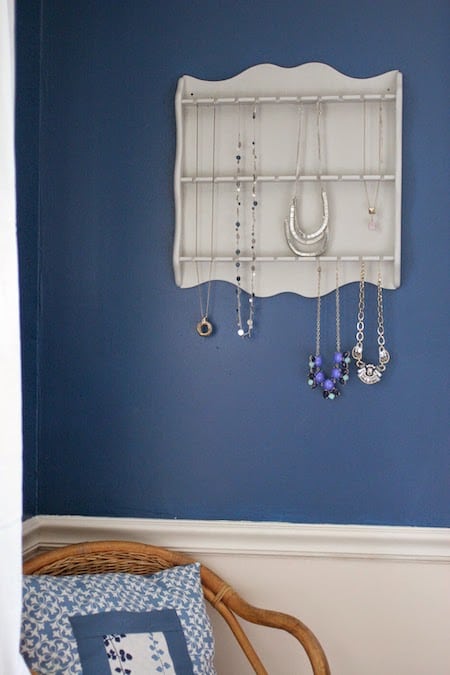 14. DIY Repurposed Utensil Jewelry Tree
This has to be one of the most creative upcycling projects I've seen to organize jewelry! Reuse Grow Enjoy took old, bent forks and spoons, some twine and hot glue and made this utensil jewelry tree: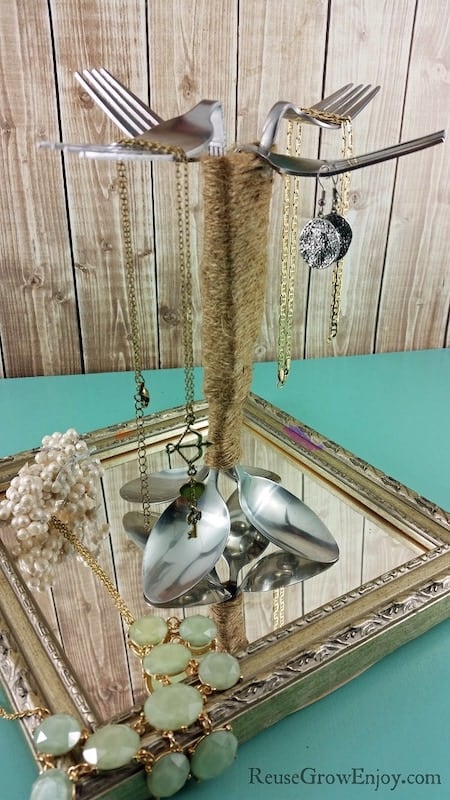 15. DIY Burlap Sack Jewelry Frame Organizer
An old frame and some burlap make a super simple DIY project for organizing jewelry – and a cute one at that! Check out this project from Songbird Blog: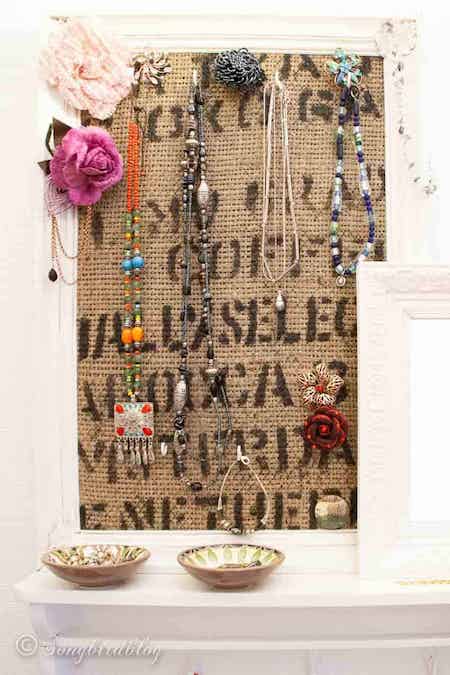 16. Use Stackable Trays to Organize Jewelry in a Drawer
Jewelry can be stored in drawers, too. These stackable trays for necklaces, watches, bracelets, rings and earrings are a great way to keep your jewelry secure, easy to find and tangle-free:
Hope I've provided some inspiration for you to tackle your jewelry and accessories. Happy organizing!
RELATED ARTICLES:
10 Tips to Organize a Messy Dresser Now
15 Effective Tips for Nightstand Organization
15 Bedroom and Bathroom Makeup Storage Tips
5 Tips for Organizing a Bedroom Armoire
Easy DIY Bedroom Organizing Tips