Organizing a bedroom armoire is a GREAT way to save tons of space in your bedroom, especially if you have a small (or no) closet.
I'm a work-from-home mom, so I have a lot of clothes that can be folded (loungewear, yoga pants, t-shirts, pajamas, jeans…you get the picture). However, mastering the armoire took some creative organizing (and a few failed tries).
My favorite tips for a perfectly organized armoire are:
Declutter first!
Add storage solutions that maximize space
Create zones for clothing type
File fold clothes
Arrange by color
I'll explain the "why" and "how" for each tip below, and I've included a list of the best armoire organizers (in my opinion) at the bottom. Let's get started!
This article contains affiliate links. As an Amazon affiliate, I earn a commission on qualified purchases at absolutely no cost to you. Please see the Disclaimer for more information.
Tip 1: Declutter First!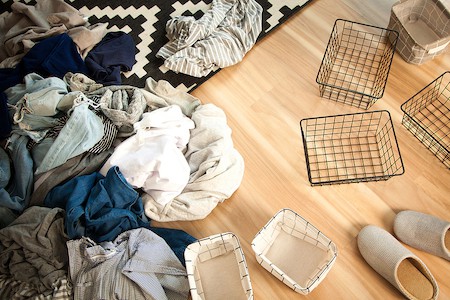 That's right, time to purge! Decluttering is the first (and often most important) step in any organizing project. Why?
Because it's impossible to organize any space if there's more "stuff" than "space." Trust me! I want you to feel successful, happy and balanced when this project is over. So let's declutter.
How to Declutter Clothes
Take everything out of the armoire and separate into piles. Sweaters go in a pile, jeans in another, then t-shirts, underwear, etc.
Next, go through each item and place anything that's ripped, broken or permanently stained in a bag for trash. If you think it's salvageable, keep it in a box or bag for one month. If you haven't fixed it after 30 days, you're probably not going to, so toss it.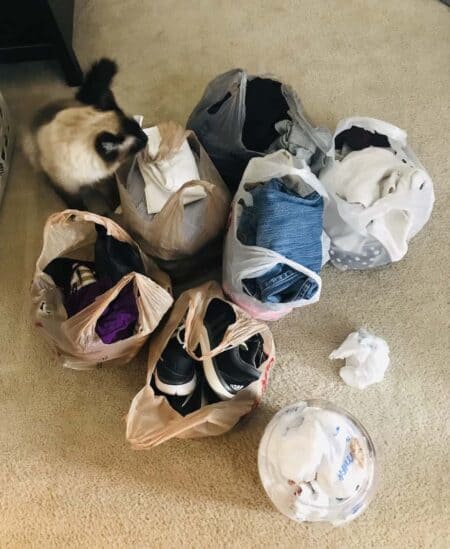 Finally, pull out anything in good condition that doesn't fit or hasn't been worn in over two years. These items can be donated to a charity like Goodwill, given to a shelter, or even sold online through companies like ThredUP and Facebook Marketplace.
There! Doesn't that feel good?! Now we're ready for the next step.
Tip 2: Add Storage Solutions That Maximize Space
The next important part of organizing a bedroom armoire is choosing storage solutions that both house your items efficiently and maximize your space.
Your storage solutions will depend on what you plan to store in the armoire. Your goal is to use every inch of space you can.
If you need to hang clothes, I recommend choosing thin, velvet hangers or space-saving cascading hangers. I did not need to hang my clothes, so I opted for all hanging shelves instead: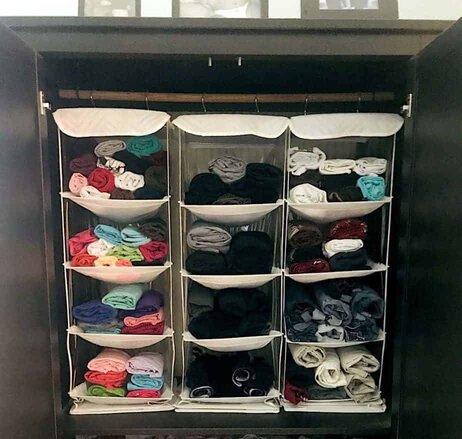 As you can see, I've managed to fit a LOT of clothes in here! Tank tops, t-shirts, shorts, yoga pants and athletic wear are all neatly stored, freeing up a ton of closet space.
You can also set up a freestanding closet drawer kit (be sure to measure first) if you prefer drawers to shelves.
Speaking of drawers, I highly recommend organizers for your armoire drawers! They will help keep the contents neatly accessible and enable you to store more.
PRO TIP: Use the inside of the armoire doors to mount hooks for scarves, hats, jewelry, belts…this is highly usable, but often forgotten space!
Tip 3: Create Zones For Clothing Type
Don't you hate it when you can't find that one t-shirt or your favorite pair of yoga pants? It's usually because they're buried in a pile of random clothes you have to dig through (and then re-fold later).
I recommend creating zones within your armoire for your different types of clothes. Here's an example of what your zones could look like:
You might also have a zone for athletic wear, pajamas, etc. Now you'll be able to find things much more quickly.
RELATED ARTICLE:
Why Zones are the Best Way to Organize Your Home
Tip 4: File Fold Clothes in Bins & Drawers
I love the Marie Kondo method of file-folding clothes. Talk about a game changer! By folding clothes into small rectangles and "filing" them into bins and drawers, I was able to fit more clothes into my armoire…AND I could see them all at once!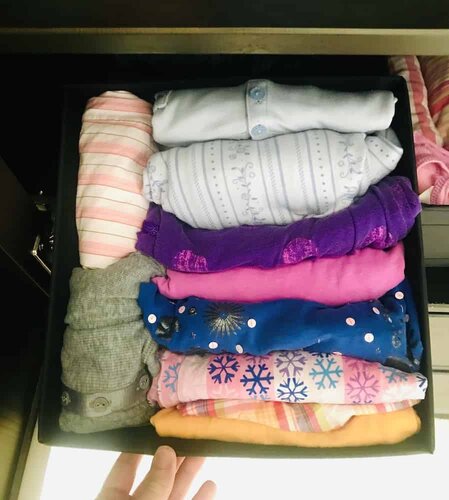 Plus, I no longer mess up my "stacks" of clothes when I want to retrieve something.
LEARN HOW: Click here for step-by-step instructions on file-folding clothes.
File-folding works great for pajamas (like mine), t-shirts, jeans, sweaters, yoga pants, boxer shorts…basically any type of clothing you would normally fold vs. hang.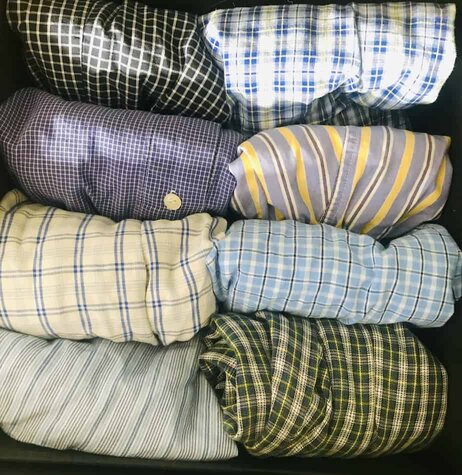 If you have shelves in your armoire like I do, you can also roll and stack clothes to keep them from sliding off. I found this to be a very efficient way to store my athletic wear.
Tip 5: Arrange Clothes By Color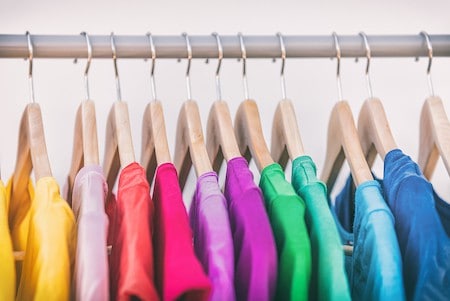 When you have a lot of clothes, arranging them by color really helps! A lot of organizers recommend the rainbow method, others like to go from light to dark. Whatever method you prefer will work.
My husband has a TON of t-shirts. And they used to be a nightmare to deal with, folded in tall stacks that fell off shelves every time he'd try to take one out of the middle.
To save both his sanity and mine, I reorganized and file-folded them into bins, arranged by color like this:
Now, he can find the EXACT t-shirt he wants with a quick glance at the bins. Since they're file-folded, removing one doesn't cause an avalanche anymore. Win, win!
RELATED ARTICLE:
Terrific Tips to Organize T-Shirts
The Best Armoire Organizers
Organizing a bedroom armoire requires the proper tools! Here's a list of organizing solutions that work great in armoires to store a variety of clothes, shoes and accessories. NOTE: always be sure to measure your space before purchasing.
Drawer Basket Kit
I love this drawer kit because it's free-standing and will fit nicely inside my armoire, while allowing enough room to hang clothes on one side if I wish. And, it's more affordable than other similar closet drawer kits I researched.
Stackable Clear Shoe Storage
If you plan to store shoes in your armoire, this may be the perfect solution for you! These clear, plastic bins are stackable and enable you to configure your shoe storage in any shape you need. Shoes are completely enclosed and protected from dust, pets and odors. Each box opens in the front for easy retrieval and storage.
Hanging Shelves
These work great in my armoire! Three sets filled up the entire top section and allow for me to store my large collection of athletic wear, t-shirts and shorts.
Drawer Organizer Set
This set holds six scarves/ties, eight pairs of underwear, seven bras and 24 pairs of socks. The tidy compartments make it really easy to see and access your clothes.
Metal Wire Organizing Basket
How cute are these for storing pants, shirts, sweaters, etc.? I love that they come with slots to add labels. They would be great in the linen closet, too!
Space-Saving Hanger Set
Fit more clothes on the closet rod with a space-saving solution like this one:
Slim Velvet Hangers
I use these velvet hangers in my own closet. They are super-slim and non-slip. I love them!
Adhesive Wall-Mount Jewelry Organizer
Use the often-forgotten inside of your armoire doors for a jewelry organizer! This option has a strong but removable adhesive backing…no hardware or drilling needed.
Adhesive Hooks For Scarves, Hats, Belts
You can also use adhesive hooks on the inside of your armoire doors or cabinet to hang scarves, hats and belts!
Organizing a Bedroom Armoire: More Tips
For even more tips, check out this video from OrgaNatic:
Related Articles:
Easy DIY Bedroom Organization Tips & Tricks
The Best Ways to Organize Sweaters
How to Organize Jeans: 6 Best Ways
15 Effective Tips for Nightstand Organization
10 Delightful Ways to Organize a Messy Dresser Now
11 Easy DIY Closet Organizing Ideas Anyone Can Do
Beautiful Baby And Nursery Organization Ideas
How To Organize A Teen's Bedroom: 9 FUNctional Ideas