Yes, it IS possible to organize a teen's bedroom! In fact, helping your teenager learn the principles of organization will help them when they're adults. So this is more than just a simple project…it's a life lesson.
In my experience, kids get much more excited about organizing (and staying organized) when it's both FUN and functional. To help with that part, I've complied a list of 9 tips and ideas that will help create a space your teen loves to live in.
This post contains affiliate links. As an Amazon Associate, I earn from qualifying purchases (at no cost to you). Please see the Disclaimer for more information.
In this article:
2. Teen Closet Storage & Organization
3. Jewelry, Hats & Accessories Storage
4. Teen Dresser Organizing Tips
5. Athletic Uniform & Equipment Ideas
9. FUNctional Bonus Bedroom Ideas
Be sure to PIN THIS IMAGE to save the post for future reference:
Try These 9 FUNctional Ways to Organize a Teen's Bedroom
1: How to Declutter Your Teen's Room
Decluttering is the first step in organizing a teen's room, but it's not always the easiest one. Although most teens are eager to create a more sophisticated bedroom that reflects their growing maturity, they still cling to certain aspects of childhood. (And so do their parents.)
To make things a little easier, I recommend starting by creating three decluttering categories: Trash/Recycle, Donate, and Sell. Then begin sorting and purging.
Items to Throw Away or Recycle
Anything that's broken or missing parts goes in the trash/recycle category. Try to avoid saving things to "fix one day." Despite your best intensions, it probably won't happen. If you really plan to repair or upcycle an item, place it in a box or bag in another space like the garage, and set a deadline of 30 days. Hasn't been fixed (or touched) by then? Toss it!
Items your teen no longer uses but aren't suitable for a charitable donation or resale? Recycling is another option. A surprising number of unneeded household items can be recycled (surprising to me, anyway), including old running shoes, bras and crayons! Check out this list from Goodnet.org for more info on what and how everyday items can be recycled.
Items to Sell
After you've completed the trash/recycle category, go through what's left and determine what might be in good enough condition to sell. Consider clothing and accessories, collectibles (those old Pokemon cards can be worth a lot), electronics, video games, etc. In fact, your teen might get excited about decluttering if it means a little extra cash in his/her pocket! (An example of the FUN in Functional.)
You can either hold a weekend garage sale or sell items online. This article from Clark.com lists the best sites and apps to sell stuff online.
Items to Donate
Everything else your teen has outgrown can be donated to friends, family members or charities like Goodwill. My family uses Goodwill quite a lot. It's easy to drop off a trunk-load of stuff down the street and we get a tax receipt each time.
When Decluttering is Really Hard…
As I mentioned, decluttering can be the hardest step in getting organized, especially when it's your child's stuff. Sentimental items are hard for me to part with, too. It's ok to give yourself a little grace in this department. However, it's important to remember that creating a truly organized space is impossible if there are too many things in it.
If you're struggling with purging, you might find this piece on how to get rid of sentimental clutter by The Spruce to be helpful like I did.
2: Teen Closet Organization & Storage
When it comes to closet organization for your teen's bedroom, the "right" solution is the one that works for him or her. For instance, I live in Phoenix, Arizona, and my son wears shorts and t-shirts pretty much year-round, plus hooded sweatshirts in the winter. So, we don't have many clothes to hang on closet rods. Instead, we use his closet space to store his multitude of sports equipment, collectibles and mementos.
Here are some ideas for closet storage and organization that work for teens and their specific needs:
Custom Closet Organizing Solutions
My friend Laura has two boys and a girl (a mix of teen and tweens), and she learned they had very different needs for their closets as they got older. In the photo above, she opted for a customized closet solution for her son that made drawer and shelf storage the front-and-center solution because he had less need for hanging rods.
If you're thinking of going the customized route, I personally love the look of The Container Store's Elfa line. It's fully adjustable to suit your teen's needs:
DIY Closet Storage Ideas
DIY Closet Kit
DIYers can roll up their sleeves and install your own adjustable closet kit like this one from Closet Maid (for less than the cost of The Container Store), available on Amazon:
Re-Purposed Storage
Laura's daughter needed more space to hang clothes than her son did, but she also needed drawer space in the closet. In the photo below, you can see the simple-yet-effective DIY solution using an item she already had: a dresser placed inside the closet. This provides drawer storage, a flat space for bins, AND leaves the top half of the closet available to hang clothes. Win-win!
(See the cute artwork on the wall? The closet can be a great place to showcase art and mementos from years past that your teen wants to keep but not have on display in their main room.)
RELATED ARTICLE:
Sensational Toy Storage! Organize and Declutter Stuffed Animals, LEGOs, Dolls and More
The Best Closet Storage Bins for Teens
Bins are a must for DIY closet storage. Amazon has a huge selection of closet bins that you can match to your teen's decor or personality. Some of my favorites:
Hanging Storage Solutions
A great way to easily add storage to your teen's closet is with hanging shelves. They maximize the vertical space in the closet without taking up too much hanger space:
We used hanging shelves in my son's room to store blankets, sheets and winter wear that we couldn't fit in his dresser. As you can see, there's plenty of space to hang jackets and athletic bags. The bins above store his soccer medals and trophies and other mementos.
You can purchase open shelves like my son's, or upgrade to a system with drawers:
Read more about the best ways to organize clothes on hanging shelves in my article on DIY closet organizing.
Another hanging storage solution for teens with lots of jeans or pants (or even scarves) is a tiered hanger:
A similar option for shirts…this one can hold 10 pieces horizontally or 5 pieces vertically:
RELATED ARTICLES:
Beautiful Baby and Nursery Organization Ideas
Organize the Perfect Breastfeeding Station in 4 Steps
The Best Ways to Organize Sweaters
3: Teen Jewelry, Hats & Accessories Storage
Does your teen have a baseball cap collection? Make her own jewelry? Love scrunchies? These items need organizing, too. Here are some fun ways to store and display them:
Girls' Jewelry Storage Ideas
DIY Rustic Glam Jewelry Organizer
This adorable DIY rustic glam jewelry organizer from Sustain My Craft Habit not only organizes necklaces, bracelets and earrings…it puts them prominently on display in a beautiful way. This is a fun project for you and your teen to try together.
Jewelry Tree Stand
A pretty, rustic jewelry tree stand looks really cute on top of a dresser, desk or shelf. This one comes with two rows of drawers and ample room for necklaces, bracelets and earrings.
Hanging Double-Sided Jewelry Organizer
When there isn't enough space on top of the dresser or desk for jewelry, move the collection to the closet. This double-sided hanging organizer has small pockets for earrings and loops to hang necklaces and bracelets. It even rolls up into a nice suitcase-sized bundle for travel!
Wall or Door-Mounted Mirrored Jewelry Cabinet
For the teen with a lot of jewelry, accessories or makeup, how about a mirrored wall or door-mounted cabinet? A full-length mirror is always nice for that final look-over before dashing out the door to school or an event.
Teen Hat Storage Ideas
Got hats? There are several fun ways to display them! The easiest is using existing shelf space, like my friend Laura did in her son's closet:
Hanging Hat Organizers
When you have more hats than shelf space, a hanging hat organizer in the closet is another option. Here are two versions:
Wall-Mounted Hat Organizer
You can also make your teen's hat collection part of the bedroom decor by using a wall-mounted organizer. I LOVE the rustic look of this barnwood gray solution:
Accessory Storage Ideas
Bows, scrunchies, headbands and other accessories can be neatly stored in containers that add to the decor of the room. Here are some ideas:
Modern Retro Painted Hat Boxes
These lovely painted hat boxes from Sustain My Craft Habit provide the perfect dresser or desktop storage for accessories, postcards, pictures and more. Visit the link above for a list of instructions and materials.
Stackable Clear Plastic Holders
Simple and elegant, these clear storage solutions hold scrunchies, hair ties, headbands and brushes. I love how the headbands wrap around! Perfect for the bathroom counter, too.
Wooden Keepsake Box
Another beautiful storage idea for accessories or small treasures: a wooden keepsake box like this one:
RELATED ARTICLE:
15 Bedroom and Bathroom Makeup Storage Tips You'll Love
4: Teen Dresser Organization Solutions
The next way to organize a teen's bedroom: focus on the dresser (or any drawers where you store clothes). This tends to be a messy and inefficient space where clothing is thrown or shoved haphazardly into random drawers.
My favorite way to tidy a dresser is with drawer organizers. It's important to use the right size for not only the drawer but the clothing that will be stored there as well.
In the photo above, I bought a set of black drawer organizers and file-folded my son's t-shirts and shorts (see photo above). This way, he can see and access every piece of clothing he owns without disrupting the rest of the items. No messy piles of clothes, and lots of time saved when he has to get ready for school!
For instructions on how to file-fold t-shirts and other clothing, check out this section in my post:
Easy DIY Bedroom Organizing Ideas
You can do the same thing with socks, arranged by color like this:
Use narrower drawer organizers to neatly stack underwear and bras, and you're done!
RELATED ARTICLE:
10 Delightful Tips to Organize a Messy Dresser Now
5: Athletic Uniform & Equipment Storage Ideas
Teens who participate in sports have unique needs when it comes to organizing their uniforms and equipment. My son has played soccer for 11 years, so balls and cleats and uniforms are just a part of life in our household.
Ball Storage
One solution that works well for us: hanging shelves in the closet. Since my son doesn't need much space to hang clothes, we can use the hanging shelves to store soccer balls and cleats, as you can see in the photo above.
Another great, stylish idea for ball storage is this set of rustic sports ball holders that mounts to the wall (they work for basketball, soccer and footballs):
And finally, a ball organizer that stands on the floor:
Athletic Uniform Organization Tips
Athletes have uniforms. Lots of them. Jerseys, shorts, socks, warmup gear…typically in both "home" and "away" colors, plus practice pieces. In the hustle and bustle of practices and games, there's nothing worse than trying to get out the door and being unable to find that ONE sock.
If you've been there too, you know it's a special kind of frustration. (One that typically requires a four-letter word or two.)
Anyway, this particular tip is my husband's brilliant idea! We take a whole uniform or practice "kit" (shorts, shirt, socks, shin guards, etc.) and place it together in a gallon-sized plastic bag:
Then, we stack the bags in a dresser drawer devoted to his soccer uniforms. When it's time to get ready for practice or a game, our son just pulls out the correct bag and he's off!
6: Teen Desk Organization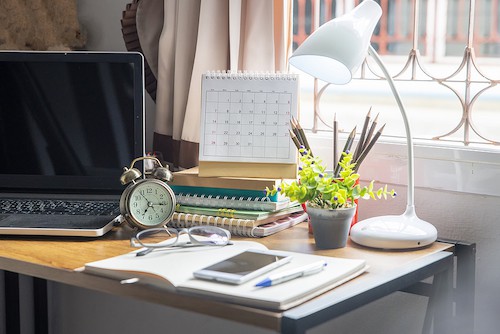 If your teen studies in his or her room, organizing the study area is a must. At a minimum, there needs to be space for a laptop or tablet (or any device the student uses to access online learning sites), adequate task lighting, and room to write in a notebook or study from a textbook.
This can be accomplished with a desk, small table, or even a portable laptop desk (we have one of these):
One way to maximize space on the desktop is with an adjustable storage rack like this one:
Don't forget pen and pencil storage! Check out this adorable elephant organizer (it holds a phone, too) that comes in several different color variations:
If your teen's desk has drawers, help him/her keep them organized with drawer trays.
Last but not least: for the teen who loves to stay on schedule, check out this awesome, HUGE calendar for the wall above (or near) the desk:
Shannon from Home Made Lovely installed the calendar in her daughter's bedroom, and it looks fantastic! Check out her post for more bedroom makeover ideas.
RELATED ARTICLES:
The Ultimate College Packing List
7. Bed Storage Tricks
Whenever you organize a space, look for ways to maximize vertical space anywhere you can. Our son wanted a "hangout" vibe in his room, so we purchased this twin-sized loft bed frame from Amazon and used the added space below it for a faux leather futon from Walmart. He loves it!
Since he doesn't have a nightstand, we bought him a bedside caddy with straps to attach to the side of his loft:
No place to attach straps? No problem! Love this BedShelfie for holding phones and chargers, TV remotes, ear buds, cups, books and anything else that might get lost in the covers:
Finally, if your teen's bed is on the ground, definitely use the space beneath for extra storage! Check out these underbed storage bins on Amazon for ideas.
8. Teen Tech: Video Game, Cable and Cord Storage
Does your teen use tech of any kind in his or her room? I've got some helpful ideas for keeping it tidy.
RELATED ARTICLES:
9. FUNctional Bonus Bedroom Ideas For Teens
Some fun (and functional) bonus ideas that add a little extra touch to a teen's bedroom:
Storage Cabinet
In the picture above, we purchased a black TV cabinet from IKEA. (Similar models are available on Amazon here.) I used the same dresser drawer organizers to create labeled spaces for my son to store his collectibles, video games and more:
Shoe Collection Shelves
My son holds on to "sentimental" soccer cleats that had special meaning for him. We installed floating shelves on the wall for him to keep them on display:
Use floating shelves for other collections like trophies and awards, photos, dolls and toys, etc.
RELATED ARTICLE:
18 Spectacular Ways to Organize Shoes in Small Spaces
Mini Refrigerator
My son wanted a mini refrigerator in his room so much that he bought one with his birthday money. I have to admit, it comes in handy when he has friends over and they have their own supply of water, Gatorade and La Croix.
Mood Lights
So this has nothing to do with storage or organization, but definitely adds FUN to the room! We created a lounge "mood" in our son's room with a few different lighting options:
We used Wireless LED Puck Lights with color-changing remote and set them behind the cleats. We also placed a few behind his TV for a nice backglow.
The lights beneath the loft are remote-controlled color change fairy lights. As you can see, my son prefers to keep them blue, but they can also be set to fade from one color to the next. It's a pretty cool feature!
Organizing a Teen's Bedroom: Final Thoughts
I hope you found some helpful tips and inspiration for your own teen's bedroom. As with any organization project, the best solution is the one that works for you (or in this case, your teen). Get them involved in the process in a fun way, and help them feel pride in having a neat and tidy room. Happy organizing!