Yearning for a more organized Christmas and less stressful holiday season? I am, too! To help us both, I've done a bit of research (and asked some holiday organizing experts) on the best ways to plan, prepare, and stay calm. I'm feeling more relaxed already!
In this article:
This post contains affiliate links. As an Amazon Associate, I earn from qualifying purchases (at no cost to you). Please see the Disclaimer for more information.
First, PIN THIS IMAGE to save the article for future reference. There's a lot in here!
Holiday Planning and Planners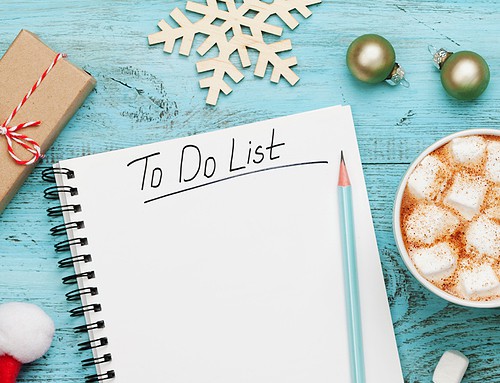 When Should I Start Planning For Christmas?
When to begin holiday planning depends on the "size" of your holiday. If you're going to be buying gifts for family, friends and co-workers, it's a nice idea to start budgeting and even buying gifts early. Like January. (Seriously.)
Likewise, if you're hosting a large holiday party or Christmas dinner for the extended family, begin to jot down thoughts and plans at least a few months ahead of time. If you wait until after Thanksgiving, you're going to stress yourself out.
Plan any home renovations or updates WELL in advance, as contractors get busy in the fall. As I'm writing this, it's the beginning of September. My husband and I are having some work done around the house, and every contractor we've talked to is about 4-6 weeks out, so our updates will be done by Halloween.
Decorating, gift wrapping, groceries and cleaning can all wait until after Thanksgiving. However, to keep stress levels low, I recommend creating a detailed timeline with weekly and daily tasks. Insider.com has a great holiday timeline you can follow.
Holiday Planners
Whenever you choose to start your holiday planning, get (and stay) organized with a Christmas planner. Amazon offers a wide variety of off-the-shelf holiday planners like this one:
You can also make your own customized planner to suit your particular needs. I've rounded up several fab ideas from fellow bloggers:
Create A Planner Step-By-Step
Lisa from Stress Free Christmas provides step-by-step instructions on how to create your own planner with a 3-ring binder and printable planning pages.
Free Christmas Planner Printables & Resource Library
Michelle from Practical Perfection has 7 pages of helpful Christmas planner printables. They are in her resource library (along with a bunch of other free printables) — just head to her site and sign up.
Printable Christmas Planner With Movie Checklist
Sara from The Holy Mess offers a printable Christmas planner that includes some nice extras like December Acts of Kindness and a Christmas movie checklist.
Free Christmas Planner With Recipe Cards
Maple Planners has a 22-page Christmas planner that can be downloaded free (no sign-up required). It even includes recipe cards and recipe unit conversions.
Free Planner With Christmas Day Scheduler
Stacie at Simply Stacie has a free planner available on her website that includes a neat page for scheduling slots of time. Great for all those fun Christmas Day activities and traditions.
Free Christmas Planner w/ Black Friday & Cyber Monday Trackers
Ottawa Mommy Club has a free 23-page holiday planner available for download (no sign-up needed). It includes shopping lists for Black Friday and Cyber Monday to track all of your deals.
Advent Activity Planning
If your family celebrates Advent, I have two great resources for Advent calendar events and planning from fellow bloggers.
Gina at Money Savvy Living has compiled a list of over 45+ Advent activities you can add to your event list, and Lacy at Catholic Icing offers a 110-page Advent Christmas Planner ebook for purchase from her site.
4 Ways to Simplify the Holidays
Part of the stress of the holiday season comes from how much we try to pack into it.
I feel that one of the keys to a more organized Christmas lies in a simpler Christmas. If that seems easier said than done, read on for some inspiration!
1. Simplify Gift-Giving
That long gift list can feel overwhelming. Beyond budget concerns, trying to find the perfect gift for your uncle…or mother in-law…or cousin you haven't seen in 3 years…adds to the stress of the season.
Jenn from Healthy Happy Impactful recommends finding ways to lighten the load by drawing names for gift giving, having a White Elephant exchange, or even sharing holiday experiences instead of gifts.
2. Cook/Bake Ahead and Freeze
Holly from Simplify Create and Inspire spreads out her baking and cooking workload by making as many items as possible days or weeks ahead and freezing them.
The day of, simply defrost and re-heat. Easy, peasy. Cookies, casseroles, meatballs, enchiladas, pastas…there are so many ways to plan ahead! Check out this cookbook for ideas:
3. Repeat Past Party Success
Jodie from One Detailed Mama reduces her holiday party hosting stress by keeping notes from past years' parties and "hitting repeat" on successful ideas and menu items. Why reinvent the wheel (and raise your stress level) trying something new every year? Take what worked before and re-execute!
4. Declutter the Calendar
Kate from The Dear Green Place reminds us we don't have to do it all (especially in December)! We can say no to some of those holiday commitments. We can plan a January New Year's open house instead of a Christmas party. (You get the idea.)
By decluttering our holiday calendars, we open our schedules for more quality time with family and close friends. And that's what the holiday season is about.
Stress-Free Christmas Cards
As with everything else holiday-related, early planning and preparation are the key to stress-free Christmas cards. Here are some helpful tips to keep this tradition manageable and fun:
Save address labels from every Christmas card you receive in a planner
Take photos for personalized cards by September or early October
Create & order personalized cards online before the end of October
Order holiday stamps online (no need to go to the post office!)
Buy a box of non-personalized holiday cards ("just in case")
Order personalized Christmas return labels for an extra touch
To make Christmas letters easier to write, jot down memories throughout the year and keep them in a notebook
Beginning in early November, address and stamp some of your cards each week so you're not facing crunch time in December
Mail cards out the first week of December
Need some help organizing mail, bills or paperwork?
Check out How to Beautifully Organize Home Office Supplies
A "Cutie" Idea For Old Christmas Cards
Holly from Pink Fortitude came up with this adorable DIY project to recycle old Christmas cards from years past with a Cutie (or clementine) crate! Visit her site for step-by-step instructions.
Christmas Gift Lists and Budgeting Ideas
A big part of having a more organized Christmas is the gift-giving category. Like I mentioned, if you've got a long list of people to buy gifts for, START EARLY. As early as January, make a list of everyone you'll be giving a gift to.

In addition to family and close friends, consider teachers, tutors, coaches, your hairstylist…anyone you'd like to thank.
Next, make a list of people you'll be gifting with cash or gift cards and those for whom you'll be purchasing more personalized gifts.
For help keeping it all organized, download this free Christmas gift list printable from Sew Simple Home.
Finally, set a reasonable budget — and stick to it. With any kind of gift-giving, it's the thought that counts. Check out Dave Ramsey's article on how to set up a Christmas budget to help ensure you don't overspend.
For some gift-buying inspiration, check out these ideas for everyone on your list: gifts for her, gifts for him, gifts for teens, gifts for kids, gifts for pets.
Speaking of pets…if you're planning to add a puppy or kitten to your family for Christmas, check out my kitten supply list and puppy supply list for everything you'll need!
Gift Wrap Organization Ideas
When it comes to gift wrap organization, my fellow bloggers are true experts! Check out these fantastic ideas:
Gift Wrapping Station
Clutter Keeper has this incredible gift wrapping station available on Amazon. It hangs in a closet or on a hook, and has ample room for rolls or wrapping paper, bows, gift bags, tape, tags and more.
DIY Closet Gift Wrapping Station
Kristen from Gen Y Mama got creative and affixed a selection of Container Store organizers to the inside of a closet to store her gift wrap essentials. Check out her post for step-by-step instructions.
Gift Wrap Organizer Cart
Christine from Where The Smiles Have Been took a gift wrap organizer cart from nice to NICE! with her own colorful DIY labels to make gift wrap storage a breeze. Check out her post for the step-by-step instructions.
Free Printable Santa Tag
Holly from SimplifyCreateInspire.com offers this super-cute Santa gift tag printable free on her site. Head over there for printing and download instructions.
Christmas Gift Storage Ideas
Getting organized for Christmas by buying gifts throughout the year is so helpful! It reduces a lot of stress in November and December.
The trick is that you need to remember in December where you stored the gifts…and who each gift is for.
Believe it or not, I have forgotten about gifts and stocking stuffers until after Christmas because I wasn't organized about gift storage.
Here are some helpful tips to ensure you don't make the same mistake I did!
As soon as you buy a gift, put a sticky note with the intended recipient's name or initials on it.
Save Amazon shipping boxes to store gifts, and assign a box (or two) to each person you buy for. To make it fun, use "Don't Open Til Christmas" tape on the boxes so curious eyes don't spy their gifts early!
Assign one or two "hiding places" for gifts (and use these every year) so you don't forget where you put them. I store mine in the guest bedroom dresser and closet; other good places: high shelves, unused attic or basement space, the garage or a garden shed for items like bicycles and scooters.
Keep track of gift recipients and hiding locations in a holiday planner.
Holiday Party Planning Tips
Hosting a holiday party or Christmas dinner with extended family and friends? Don't stress! Planning ahead and staying organized will help you pull it off without a hitch, and enable you to enjoy yourself along with your guests. Here's how:
Start Initial Planning Early – September/October
For larger holiday parties, early preparation is key. Starting in September or early October, you'll want to determine:
Party dates that work with everyone's schedule (or at least your closest friends and family)
Budget. Decide on how much you want (and can afford) to spend, and stick to it. You can keep costs down by making it a potluck or asking guests to bring beer, wine, appetizers or desserts.
A theme, while not necessary, can make things fun: ugly sweater, white elephant, black tie, luau, etc.
Food. Will you be doing all of the cooking, or will it be a potluck? Will you have it catered? (Book a caterer EARLY if you're choosing this option.)
Rentals. Will you need to rent tables, chairs, plates, glasses, a tent, coat rack, etc.? (Again, book EARLY.)
Late November/Early December To-Do List
Send out invites at least two weeks before the party.
Decorate the house. I like to decorate inside and out the weekend after Thanksgiving, but you can spread it out over several days or a few weekends.
Plan the menu.
Ensure you have enough holiday party platters and serving bowls.
For some fabulous menu ideas, check out Betty Crocker's Christmas Cookbook:
You can find a variety of holiday cookbooks on Amazon for entertaining, baking, crockpots, you name it.
NOTE: If you ask guests to bring dishes or beer/wine (or you've hired a caterer), you'll have less to plan and cook.
One Week Before…
Buy non-perishable party items like paper plates and napkins, wine glass charms, garbage bags, and paper guest towels for the bathroom.
Make or update your party playlist. Music is what makes a party a PARTY!
Determine which foods you will prepare a day or two (or longer) ahead of time to freeze, refrigerate or store until the party.
Consider making food tent cards if you're serving foods buffet-style. Include any allergens (nuts, wheat, dairy) to help guests with allergies.
Declutter the house. File those piles of paperwork, take loads of clothes and toys to Goodwill, etc. This will make it much easier to deep clean before the party!
For tips on decluttering, visit
Organizing Your Home: A Beginner's Guide and
The Biggest Organizing Mistakes People Make and How to Fix Them
A Few Days Before…
Buy party food, drinks, mixers, coffee, etc.
Clean your glasses, plates, silverware, etc.
Deep clean the house (you can always spot-clean the morning of the party).
Make any menu items that can be prepared ahead of time.
Create your party schedule (when to put items in the oven, when to do the white elephant gift exchange, when to have main dishes ready, when to bring out dessert, coffee, champagne, etc.).
Download and print some cute pot luck labels from Ottawa Mommy Club's holiday planner for guests to fill out and stick to their dishes.
If you waited until the last minute to host a holiday get-together, Chelsea from Sew Simple Home has you covered! Head over to her site for quick tips and to download a free last-minute party planner.
The Morning Of Your Party
Set up the buffet table with tablecloth, plates, napkins, serving platters, glasses, etc.
Set up any extra tables and chairs in easy seating arrangements.
Put out dishes with nuts and candy in various areas of the house.
Defrost any pre-cooked dishes you put in the freezer.
Set up a coffee bar with coffee, creamers, sugar, stirrers, napkins and cups.
Set up a drink bar with glasses, mixers, stirrers, wine charms, napkins and a bottle opener.
Spot-clean bathrooms and kitchen and set out guest towels.
Buy ice for drinks.
Right Before Start Time
Fill ice buckets and chill cold drinks/champagne.
Set out appetizers.
Turn on the holiday music.
Put hot items in the oven if needed (refer to your party schedule for timeline)
Dim the lights, light the candles, simmer the potpourri, etc.
You've done it! Follow your party schedule and enjoy your event with friends and family!
Holiday Travel Tips
Planning some holiday travel this year? Here are tips to get (and stay) organized and travel safely and sanely.
Ship gifts ahead of time (unless you can easily travel with them).
Avoid air and road travel on peak days if at all possible. If you can leave a day earlier (or later), it'll make a huge difference. My family saved time and money by flying to my parents' house early Thanksgiving morning instead of the day before.
Leave earlier than usual for the airport or when starting a road trip. This will REALLY reduce stress levels, because you're going to be dealing with crowds, lines, traffic, etc. If you're not in a hurry, you'll be able to relax more.
Have a parking plan. If you're planning to fly, make sure you either reserve parking at a park & ride lot or check to see how full the airport lots are before you head out.
Pack light. Try to fit everything you need into a carry-on and a backpack if possible. The less you have to lug around, the better! Maximize space in your carry-on or suitcase with some travel packing cubes.
Get a pre-trip winter car inspection. Make sure your car and tires can handle the distance and any extreme weather conditions before your trip.
Check out my Ultimate Guide to Road Trip Organization and 45 Ways to Organize Your Car for tips on packing the car and checking travel advisories.
For more holiday air travel tips (from an actual flight attendant), check out this video by Jetting Julia:
Cleaning & Organizing After Christmas
When the holidays end, we're left with some wonderful memories…and a lot of post-holiday cleaning and organizing. If it's done right, we'll save ourselves time now AND next year when the holidays roll around again!
Read on for simple, effective ways to organize and store your Christmas essentials.
Reduce, Reuse and Recycle Christmas Wrappings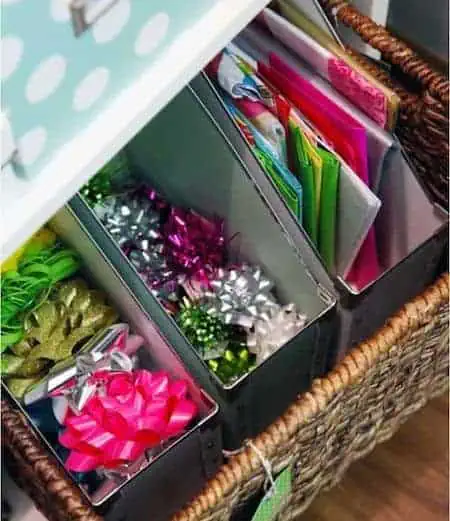 Kristen from Upcycle My Stuff reminds us that we can reduce waste on Christmas morning and save money on gift wrap by keeping gift bags, bows, tissue paper and even wrapping paper to reuse (or upcycle into crafts) the following year. She organizes them neatly in storage bins and boxes. Check out her post for ideas!
How to Organize and Store Christmas Ornaments and Decorations
Amy from OrganizationBoutique.com stores her Christmas ornaments in padded storage bags and boxes:
I also like these square, 3-layer ornament boxes. They come with labels and can be stored in larger plastic waterproof totes in the attic, basement or garage:
Speaking of totes, Ann from AnnsEntitledLife.com recommends storing ornaments and decorations in latching bins, color-coded for each holiday (green for Christmas, orange for Halloween, etc.):
Amy at TheGiftedGabber.com created these cute, super-handy printables you can use for holiday decoration storage bins:
The latching bins in the photos above are great for preventing the boxes from popping open and spilling their contents. They come in solid colors or clear:
If you typically pack your strings of lights into a jumbled, tangled box every year, Angie from The Country Chic Cottage has an effective organizing solution on her site that enables you to wind the strings and pack them in cute storage containers:
I use wind-up light & cord organizers that I pack in my plastic latched bins:
For great ideas on how to pack Christmas decorations for free using repurposed items you have around the house, visit Organized31.com. Susan is super resourceful:
SingleGirlsDIY.com recommends storing Christmas decorations together in "zones." For instance, all of the fireplace mantel decor goes in one box, entryway decor in another box and so on. That way, you don't have to dig through three boxes to find all of the stockings next year.
Wreath Storage
Wreaths require a little extra care to ensure they last year after year. Sarah from LifeShouldCostLess.com came up with an ingenious idea for her wreaths (instructions provided on her site):
Other options for wreath storage include storage bags:
Wreath boxes:
Sturdy hooks for garage, attic or basement walls (wrap in plastic dry cleaner bags to keep dust out):
Christmas Tree Storage Ideas
We buy a live Christmas tree every year from a sustainable tree farm, and our trees get recycled into wood chips by the city we live in for use in public parks and spaces.
However, I know many people have artificial trees, and they require proper storage for long-term use. Here are some helpful tips and ideas.
Tree storage bag on wheels (fits up to 6′ trees):
Upright canvas storage bag (fits up to 7.5′ trees):
Wheeled storage bag for really TALL trees (up to 12′):
Organized Christmas: Final Thoughts
I hope you found these tips and ideas helpful for your Christmas organizing and planning. I wish you a very happy holiday season! Oh, and if you're looking to organize around the house in preparation for the holidays, check out Organize Your Home for more ideas!