Does the term "road trip" leave you breathless with excitement…or paralyzed with panic? Traveling by car (especially with family) can feel stressful, but it doesn't have to.
To ensure the most comfortable, enjoyable road trip possible, you'll just need to get organized and plan ahead. I've researched the best road trip organization tips and resources to help!
This post contains affiliate links. As an Amazon affiliate, I earn a small commission from qualified purchases at absolutely no cost to you. Please see the Disclaimer for more information.
1. Check Ahead for Road Closures & Weather Forecasts
The first tip for getting organized for a road trip is to plan ahead. It's always a great idea to check your route for any road closures due to construction and weather forecasts.
One place to look is the National Traffic and Road Closure Information page of the Federal Highway Administration website. It links to each state's Department of Transportation site as well as the National Weather Service and other resources.
If you use a navigation app, Google Maps and Waze can alert you of accidents, construction and road closures and can divert you ahead of time.
2. Get a Pre-Trip Car Inspection
A pre-trip car inspection is extremely important, particularly if you're embarking on a long road trip.
It's even more important than having enough snacks for the kids!
Long trips cause stress and wear on a car, and there's nothing worse than breaking down on a long stretch of highway. (Been there, done that. Not fun.)
Before embarking on any car travel, be sure to do the following:
Check the oil (and change, if necessary)
Check and top off other fluids, including brake fluid, windshield cleaner, and coolant
Inspect the air filter (if dirty, replace)
Check the battery (consider replacing if it's a few years old)
Check the air pressure in your tires and inflate to the recommended PSI (don't forget the spare, too!)
Inspect the tread on your tires (replace if they're below 2/32″)
Make sure all lights and signals are working
Check the wiper blades (replace if worn)
Wash the car to ensure maximum visibility
Give the car a test ride to check for any unusual noises or vibrations
If you don't want to do all of this yourself (or you're not sure you know how), you can make an appointment with your mechanic to give the car a complete look-over and tune-up.
I've chosen this option before when I was driving an older model car and wanted to be extra sure it was safe for a long trip.
3. Make a Road Trip Essentials Packing List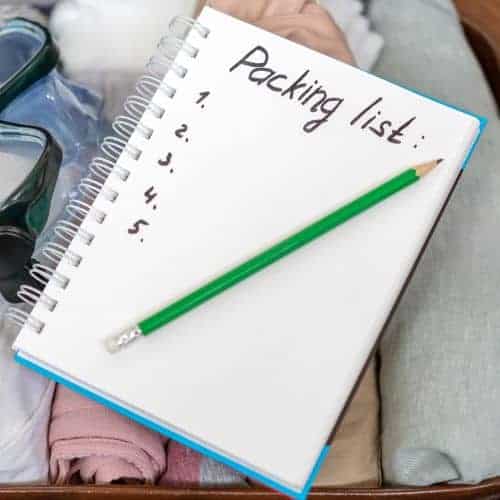 A packing list is a huge help in staying organized on a road trip. Think about every situation that may arise during the trip, and purchase and pack accordingly!
As you make your list, consider:
Clothing and toiletries for each passenger
Entertainment for kids
Electronic devices and chargers
Food and snacks
Drinks, especially water
Pet needs if applicable
Comfort items like pillows
4. Have an Emergency Travel Kit
Stay prepared for any curve in the road with an emergency travel kit. If you have one you've used before, check that it's fully stocked before you hit the road. At a minimum, your kit should include the following:
Jumper cables
Flashlight
Emergency warning triangle(s)
Air compressor/tire inflator
Air pressure gauge
First aid essentials
Amazon sells a 76-piece kit from the American Automobile Association's exclusive licensee. This kit meets AAA's minimum standards for quality and safety. It contains just about anything you might need if you find yourself with a dead battery, low tire pressure or other roadside emergency.
5. Give Each Passenger a Travel Pillow
Maintaining a proper comfort level for your passengers helps ensure everyone arrives at the destination in a good mood. A nice travel pillow goes a long way in the comfort department.
The example below features a memory foam core with a washable micro-fiber cover for comfy softness. Add a travel blanket or two, and everyone will arrive at the destination feeling well-rested and ready for adventure.
6. Install a Car Cooler with Snack Tray
Let your passengers satisfy their need to nibble and sip with a handy car cooler/snack tray/travel organizer. It conveniently keeps drinks cold, snacks plentiful, and has pockets for books and other travel necessities. The flip-top lid serves as a snack tray and play surface for travel games, too.
7. Assign a Colored, Reusable Water Bottle to Each Passenger
It's easy to get dehydrated while traveling. Give each passenger their own color-coded insulated water bottle to use in the car and while hiking or adventuring.
Stainless steel, reusable water bottles are a great way to keep drinking water cold longer. Plus, they're durable and environmentally friendly. And they don't have to cost a fortune! Check out these affordable options:
8. Install Dual-Port USB Phone/Device Chargers
Traveling with friends or family members in the car? Be sure to have enough USB charging ports or you'll have a mutiny on your hands. This Amazon Basics dual-port USB charger works for both Apple and Android devices. Just plug it into the car's DC adapter and you're set. (Charging cables not included.)
9. Avoid Bathroom Accidents With a Travel Potty
Road trips with young kids require LOTS of potty stops. But what if the next rest stop is miles away (or worse, closed)? I highly recommend a travel potty! We used one all the time when my son was potty-training (and for a year or so after, on long road trips).
This model is collapsible, so it travels nice and light in the trunk or backseat. It cleans easily and comes with a storage bag.
BONUS TIP: For up-to-date information on rest stop closures, here's a handy list of Department of Transportation links and phone numbers for every state.
10. Stock Up on Travel Toilet Paper
Along with the travel potty, travel toilet tissue is VERY nice to have on a long road trip. Grab a 6-pack or two on and stash them in your purse, luggage, and glove box.
11. Don't Forget a Map (Paper or Downloadable)
If you're headed to a location where cell service may be iffy (and you don't have a navigation system in your car), a map will really come in handy.
You can order maps online from AAA or download a mobile map that can be used offline from Maps.me.
12. Install a Car Trash Can with Lid
Keep all of that road trip trash contained and secured in a covered car trash can. The example pictured below attaches to the center console or hangs from a headrest for easy access. It comes with a vinyl leakproof lining to keep liquids from spilling onto the car floor.
Traveling with pets? Check out the Travel sections of
Puppy Supply List: Organizing For a New Pet
Ultimate Kitten Supply List
for pet travel essentials!
13. Plan for the Unknown
On any road trip, it's best to plan for the unknown— no matter where you're going. Rest stops and points of interest you planned to visit may be closed. Unexpected weather or events may divert or detain you.
I recommend bringing a few "extras" along that you might not normally pack, just in case:
Sheets, pillows and pillowcases
Reusable travel utensils and straws
Disposable toilet seat covers
Sunscreen and lip balm
Ear plugs and sleep mask
Body and hand wipes
Towels
Dry shampoo
Hand cream & body lotion
Blow dryer
Extra toothbrushes & toothpaste
Clorox wipes and Lysol spray for sanitizing surfaces in hotel rooms (don't forget the TV remotes!)
Mini hairbrush and hair ties
Hair gel and hairspray
Extra cash and change on hand for tolls, vending machines, roadside stands, etc.
Portable chargers for phones and tablets
Gum/mints
Lint roller
Swiss army knife with bottle opener, tweezers, scissors, screwdriver, etc.
Plastic grocery bags for extra trash, or to carry items to/from the car
14. Pack the Car Like a Pro
After the pre-trip inspection and packing list comes the actual packing of the car. Knowing how to pack a car efficiently is crucial! Check out this great video from AAA for travel organization tips that maximize your cargo space:
Travel safe!
RELATED ARTICLES:
Car Organization Ideas That Will Captivate
Clean & Organize Your Glove Box in 3 Steps
16 Clever Ways to Organize Your Garage on the Cheap
How to Declutter Your Garage Now
How to Get Organized For a Move