Garage clutter is a big challenge in home organization. The garage tends to be a dumping ground for sports equipment, gardening tools, old paint, holiday decorations, and all kinds of unnecessary things.
This is especially true if it's used more as a storage space and less as a place to park a car.
The good news: with just a few easy steps, you can declutter your garage and reclaim your space. It may take a day, it may take a weekend. But keep at it, and it'll get done!
This post contains affiliate links. As an Amazon Associate, I earn a small commission on qualified purchases, at absolutely no cost to you. Please see the Disclaimer for more information.

1. Take Out the Trash, Recycling and Donations
The first step in the decluttering process should be the easiest.
Grab a trash bag and work your way around the garage floor, picking up any garbage you find. Recycle empty cardboard boxes and plastic bottles. The goal is to open up some floor space that can use later to create piles of similar items.
How to Handle a Lot of Trash
A really messy garage may require more trash bags than will fit in your garbage can. You have a few options in this case:
Load up the car. Make a trip to your local landfill. My husband and I made several trips the last time we tackled our garage. Check with your city for locations and operating hours.
I highly recommend going early in the day, as the line gets long in the afternoon. You may be required to show a valid driver's license and recent waste utility bill.
Rent a dumpster. Look up dumpster rentals in your area. You can typically find a service that offers a choice of size and flexible pickup and delivery times. A dumpster in the driveway is a great way to throw away large items that are too big for the car, too.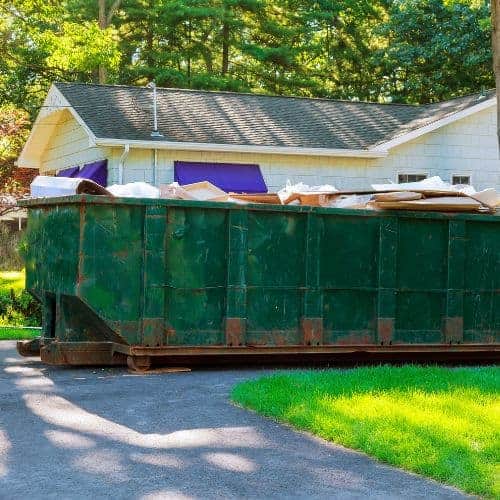 Hazardous Materials Disposal
Don't assume you can toss hazardous materials like paints, solvents and chemicals in the trash can. Check with your city for guidelines on hazardous waste disposal. The city I live in allows three home pickups per year for residents who pay for residential trash services.
Electronics Recycling
Check to see if there is an electronics recycling program in your area. My city holds free recycling events several times per year where residents can drop off computers, printers, phones, cameras, flat panel televisions/monitors and stereo equipment.
Donating or Selling Items
Deciding what to donate (or sell) is probably the biggest emotional challenge in garage organization. A lot of clutter comes from our inability to part with things.
But the honest truth is you'll never get organized if you have too much stuff and not enough space.
To truly declutter your garage, you must reduce the number of items in it and keep only what you need.
Look around the space. Do you see items that are not used at least once a year? It's a good time to let them go.
Pack up the car and take the items to a donation center or a shelter.
Set out large pieces of furniture for pickup by a charity like the Salvation Army.
Prefer to sell your items? List them on Facebook Marketplace or hold a yard sale and earn a little money to buy new garage storage solutions!
As a last resort, when it feels just too overwhelming to get rid of excess items, you can look into renting a storage unit to help you declutter your garage.
(I don't recommend this. It doesn't make financial sense to pay to store things you won't use. You'll end up paying more to rent space than the items are worth.)
2. Sort Items By Type
Now you're left with an entire garage-sized "keep pile." The next step to declutter your garage is to sort everything into smaller piles of similar items.
If you have too much stuff and not much space to work in, open the garage door and use the driveway or front yard. (Weather permitting, of course.)
You might feel like you're making a bigger mess at this point, but it's the best way to see what you have so you can organize it all later.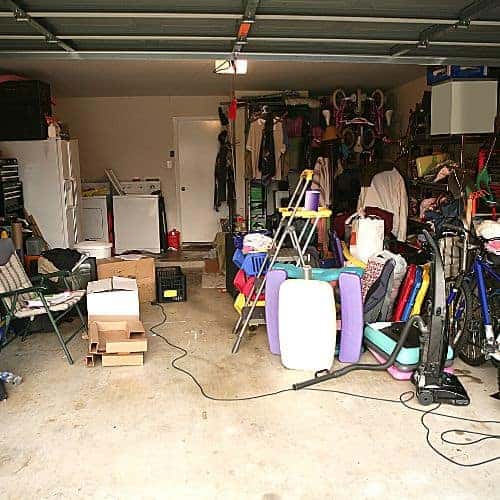 Here are the most common types of things you'll likely need to sort:
Sporting goods (bicycles, soccer balls, baseball bats, golf clubs, skis and snowboards, etc.)
Camping gear
Garden tools and equipment
Tools and hardware
Ladders
Seasonal/holiday decorations
If you're a DIY enthusiast, you may have special hand tools, lumber, painting supplies, plumbing and electrical supplies, paints and varnishes, etc.
My husband likes to build and race remote controlled cars, so we have a lot of spare parts and tools for his hobby in our garage.
3. Create Zones, Starting With the Big Items
An important part of organizing the garage is creating zones where categories of items will live. You want a clear vision of how your final space will look.
Start by deciding where the biggest items will go:
Refrigerators and chest freezers do well in a corner near an electrical outlet. If you park your car in the garage, make sure there's room to open the refrigerator without hitting the car. You'll want enough space to store excess water or beverages nearby if you buy them in bulk.
A workbench should be placed along a wall where there's room to work and space to store tools and hardware. It's a good idea to put it near an electrical outlet too.
Bicycles are best kept off the floor on wall hooks or suspended from the ceiling.
Next, plan your garage space for maximum efficiency:
Assign space for extra water bottles or beverages next to the refrigerator.
Plan to store tools and hardware above or next to your workbench.
Carve out wall space to hang ladders and gardening tools.
Measure for cabinets or open shelves for sports gear, camping equipment and holiday decorations.
Consider installing a garage loft for seasonal items like decor, clothing and winter gear.
Planning efficient zones ahead of time will make a huge difference when it comes to getting (and staying) organized.
RELATED ARTICLE:
Why Zones Are the Best Way to Organize Your Home
4. Measure and Choose Storage Solutions
The next step to declutter your garage is choosing the right storage solutions. Take a look at what you need to store as well as your available garage space. Time to measure!
Measure the length and height of empty wall space for shelves, cabinets or hanging systems.
Measure the height of your ceiling for bike hooks or a loft.
Don't forget to measure for a car (or cars), if your goal is to park in the space!
Choose storage solutions that work with your items, your space, and your budget. The goal is to make it easy for you to access what you need, when you need it.
My personal go-to garage storage solutions:
The Rubbermaid FastTrack Garage Storage System is a fantastic way to hang just about anything you can think of. I use it in my own garage.
It is easy to customize to fit your space. I have one rail for tall items on one wall and two stacked rails for shorter items on another wall. My husband and I hang a bike, ladders, power tools—even our folding card table and chairs—from our FastTrack rails with no problem at all.
Open metal shelving has been a lifesaver in our garage. We store a LOT of small items like tools, parts, hardware and holiday decorations in this space and couldn't keep it organized without these shelves.
Plastic storage bins (heavy duty) are another must for us. I created a really helpful labeling system with adhesive poly pockets so that everyone in my family knows exactly what's in each bin.
A pegboard above the workbench keeps our tools easy to find and access when we need them. I've never liked digging through a toolbox for the right screwdriver. Much better to see it all in one, organized space!
RELATED ARTICLE:
Popular Ways to Organize With Pegboards
Garage lofts are a great place for seasonal items. Use them to store winter clothes and sports equipment, holiday decor, pool toys, camping gear…anything you only use for a season. I recommend assigning a zone in each corner and labeling storage bins so you can easily find things.
PRO TIP: move seasonal decor to the inside of the loft after you use it. Shift decor for the next upcoming holiday to the outside. This will make finding the right holiday items much easier when it's time to decorate.
You may also want to consider:
A shoe organizer by the door to the house (great for keeping stinky soccer cleats outside):
A golf bag organizer for any golfers in the house:
Sports storage for footballs, basketballs, soccer balls, rackets and bats:
Once you've chosen and installed your storage solutions, it's time to organize. This is the fun part!
RELATED ARTICLES:
Clever Ways to Organize Your Garage
Game-Changing Ways to Organize Sports Gear
5. Organize (and Admire Your Clean Garage)
Let's get to it! You've already sorted your items into categories. This will make them much easier to organize using your chosen storage solutions.
I like to hang items first to get them off the garage floor. Hang your biggest items like bikes and ladders first. Then move on to the long or large gardening and power tools.
If you've chosen a pegboard for hand tools, get that organized next. Make sure the tools you use the most often are placed front and center.
Garage Storage Bin Tips
The last thing you organize should be items that go in labeled storage bins. As you place an item in a bin, write it on the label. I wrote all of my bin contents on sticky notes and then printed label cards so everything would look nice and neat.
Place your storage bins on shelves according to the zones you set. The heaviest bins should be placed on the lowest shelves. Seasonal items can be placed on higher shelves as you only access them once a year.
Finally, take a step back and admire your newly organized garage! You've worked hard, congratulations on a job well done.
MORE ORGANIZING ARTICLES:
Complete Declutter Checklist (PRINTABLE)
The Best Wrench Organization Ideas for Tidy Tools
How to Organize Tools on a Pegboard
Brilliant Backyard Organization Ideas
45 Winning Ways to Organize Your Car
How to Completely Clean and Organize Your Glove Box
17 Best Ball Storage Ideas to Try Now