If you're a member of an athletic household, chances are you're struggling to organize and store sports gear…am I right?
Help is here! I've got ten great ideas for storing gear and equipment in the garage, house and car that'll help every athlete in your house get to the game on time.
This post contains affiliate links. As an Amazon affiliate, I may earn a small commission on qualified purchases at no cost to you. Please see the Disclaimer for more information.
1. Store Sports Balls on the Walls
Digging through bins and bags for that one lucky soccer ball when you're already late for practice? Save yourself precious time by installing this simple rack system from Amazon:
What I love about this system is it can be installed as one tall, narrow 7-ball rack or split into sections as pictured above. It's perfect for skinny or small sections of garage wall that won't fit a standard shelf unit.
2. Hang Your Bikes
If you lack garage space (like I do), finding room for bikes is difficult! All three members of my family have adult-sized bikes, so the wall was our only option. Here's how we did it:
We had room on one wall for two horizontal bike mounts and one vertical mount. The vertical mount was part of the Rubbermaid FastTrack Garage Organization system (pictured on the right) which I highly recommend for hanging tools, ladders bikes and other outdoor equipment.
Before you mount hardware for something heavy like a bike, I suggest using heavy-duty drywall anchors. My husband and I prefer toggle anchors as they're easy to install.
3. DIY Shoe/Cleat/Boot Rack
Keep all of your family's cleats, boots and running shoes in one tidy place with a DIY garage shoe rack. All it takes is some lumber scraps, screws, saw and a drill. The DIY Nuts provide step-by-step instructions for this quick project:
4. Keep Winter Sports Gear Off the Ground
People who ski or snowboard invest a lot in their equipment. As Ottawa Mommy Club points out, it's important to clean, wax and store skis and snowboards off concrete floors that can damage or warp them. Hanging them on the wall is an efficient solution: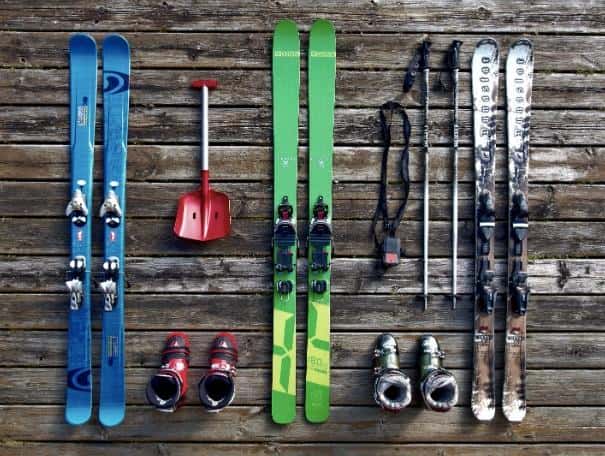 Try a ski wall rack like this one from Amazon:
5. Mount a Wall Rack for Rackets and Bats
Bats and rackets are easy to lose in a garage! Keep them secure and in sight with a mounted wall rack that holds tennis balls and baseballs, too:
6. Corral, Organize and Store Gear in the Car
My trunk was a mess of sports bags, cleats and loose soccer balls until I found this super-handy portable trunk organizer. (As you can see, it's been well used over the years!) The compartments make it easy to organize items and everything stays secure in one section of the trunk, leaving the rest free for chairs, wagons and everything else that game day requires.
Another great feature? it's collapsible so it takes up almost zero room in the garage when it's not needed in the trunk. I keep mine in the car 24/7 because it's also handy for stowing grocery and shopping bags while running errands.
7. Golf Gear Organizer
If there's a golfer in the family, keep the bags, balls and gear neatly stowed off the ground and in one place with a golf gadget garage organizer:
8. Super-Smart Athletic Uniform Storage for Grab 'n Go
This was my husband's brilliant idea, and I have to say it has saved us SO much time. Our son is on a travel soccer team and we used to be forever searching for all of the parts to his uniform kits the night before leaving for a trip.
Hubby's solution: use 2-gallon plastic bags to store each kit.
Jersey, shorts, socks, warmup shirt…all of it fits nicely in the bag and stacks in our son's dresser drawer like a dream. When it's time to pack for a trip, our son just grabs one of each color and we're good to go!
9. Build a Neat Cleat Wall
Our son has been playing soccer for 12 years, and over his career he's had several pairs of "lucky" or special cleats that he wanted to keep for sentimental reasons. We cleaned them up and installed a set of shelves in a corner of his room where he could display them:
This idea works great for not only cleats, but also special gloves, signed baseballs, trophies and other sports memorabilia you don't want to forget in a box.
10. Use Hanging Shelves for Sports Gear
No room in the garage for your kids' sports gear? No problem! Grab a set of hanging shelves for each athlete in the family and neatly store uniforms, shoes, gloves and balls in one compact area:
Related Articles
How to Organize a Teen's Bedroom
16 Cheap Ways to Organize Your Garage
How to Declutter Your Garage Now
15 Brilliant Backyard Organizing Ideas
17 Best Ball Storage Ideas to Try Now
Clever Colored Pencil Storage Ideas