If you've got kids, you've got school work. And art projects. Plus those holiday crafts. And they're all coming home on a daily basis, year after year.
It's a beautiful part of raising children, but it can also spiral into a mountain of clutter when we don't have a system to store it all.
I often see parents asking for ideas on how to organize, store and display all of those school memories. It's hard to know what to keep, what to toss (if you can bear to toss any of it) and how to keep it tidy!
I've researched and asked some of my fellow bloggers and parents for their favorite tips. Check them out below!
This post contains affiliate links. As an Amazon affiliate, I earn a small commission from qualified purchases at absolutely no cost to you. Please see the Disclaimer for more information.
1. Declutter the School Work: What to Keep, What to Toss (or Sort of Toss)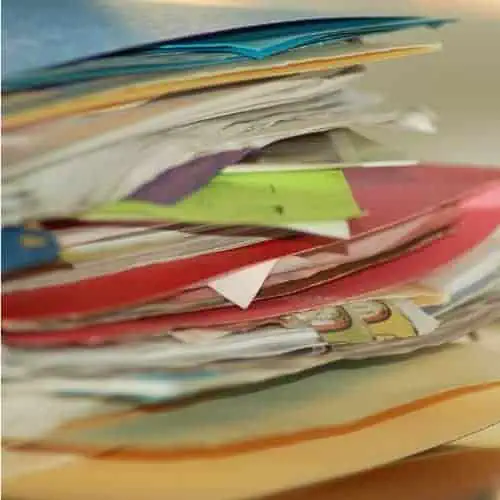 Decluttering is always the first step in any organizing project. When it comes to school work, it's a tough challenge. Nothing is quite as sentimental as the memories our children bring home.
The good news: you can keep it all if you really want to…without keeping it all physically in the house.
To declutter school work, first divide it into piles:
Items you intend to display (like their best art projects)
Items you intend to store and/or file (like a fabulous essay)
Items that you'll take a picture of (maybe) and then toss (like that math test they aced)
Let's be honest here: not everything the kids bring home needs to take up space in the house forever. Some school work deserves to be celebrated for a short period of time; other memories are keepers.
I personally have no problem tossing my son's tests and homework. We'll celebrate an A grade by hanging it on the refrigerator for a few days, then it's gone. I'll keep an essay to file away if it's particularly good. Same with the artwork; I only keep the best. The rest gets tossed immediately.
I realize some parents really struggle with throwing away anything their kid has touched. And sometimes, the kids really want to keep things. I get it! One great solution is to take a picture and store the image in a school work folder in the cloud. You can make memory books to view online (or even print). The goal is to reduce the paper clutter.
Once the school work is decluttered and sorted, there are some great ways to organize and store or display what you've chosen to keep— keep reading!
2. Use a Hanging File Folder Memory Box For Each Child
Erin from The DIY Nuts created this cute memory box system for filing her children's milestones, school work, and art projects:
She used a plastic filing bin and labeled hanging folders to organize by school year. This is a great solution! The plastic bin is much sturdier than a cardboard box and will last through the years.
You can also opt for a cute, colored linen storage bin with handles:
3. Take Photos of School Work & Create an Online Memory Book
I mentioned in Tip #1 that you don't have to physically keep all of the school work to "keep" it. You can take photos of art, tests, and essays and upload them to an online memory-sharing platform. The photos are stored online and you can view and share them with friends and family.
Check out Tinybeans.com for information on their online memories app.
4. Create a Slideshow of Each Year's Work on Your TV or Digital Photo Frame
Eliminate the paper clutter of your kids' school work and art…and display it larger than life on your TV or a digital photo frame.
Start with your smartphone and take a picture of each piece of work. You can organize the work in albums by child, school year, or event (like a holiday). It's helpful to store the photos on cloud storage (or a USB thumb drive) so they don't use up all of your phone's storage space.
Share the photos to a smart TV, or use a digital photo frame like this:
You'll always have access to your kids' school memories, without the mountain of paper.
5. Turn School Work into Printed Memory Books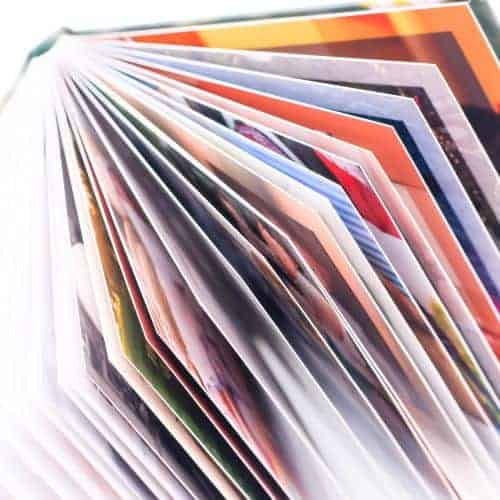 Kids' artwork and school papers are bulky. A year's worth of school memories can take up a LOT of space. When you want to keep the memories at home but don't have sufficient storage space, a printed memory book is a good solution.
Take a photo of each piece of school work or art and upload it to a platform like Shutterfly. At the end of the school year, you can print a photo book for each child's memories. Space-saver! These make nice gifts for grandparents and family members, too.
6. Scrapbook the School Work Memories
Scrapbooking is always a fun hands-on way to creatively organize and store those school memories. You can purchase a cute school-themed scrapbook like this:
It comes with ten 12×12 pages and can be expanded with sets of extra sheets. There are also cute school-themed decorative papers you can use to design each page:
7. Display Artwork With Twine & Clothespins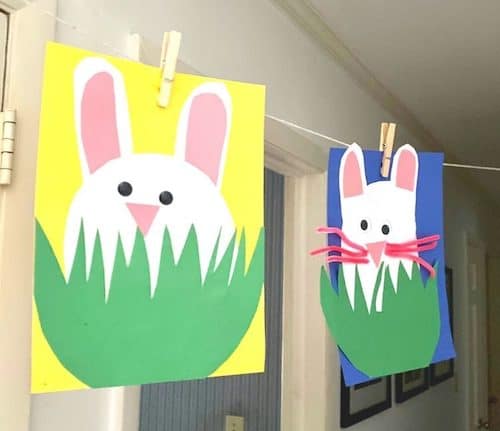 Got art that needs to be seen, not filed away? Display kids' artwork on a rotating basis with this simple hallway gallery idea from A Hundred Affections. All it takes is some twine and clothespins. This would be perfect in a playroom or kid's bedroom, too.
8. Create a Boho Art Wall With an Adjustable Hanging Kit
An empty wall becomes a memory art show with this cute magnetic display system. Great for photos, artwork, or a combination of the two. You can organize the pieces by year, by occasion (like holidays), or by child.
9. Recycle Kids' Artwork Into Fun Pinwheels
Here's an idea for recycling artwork that you can't bear to throw away (yet it doesn't meet the "keep forever" criteria). Make and Takes shows you step-by-step how to turn those art projects into pinwheels!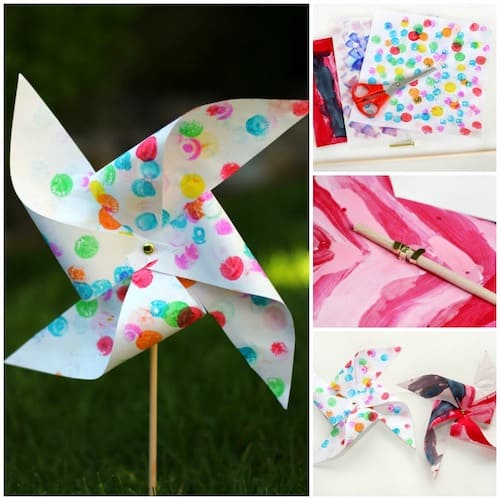 10. Store 50 Pieces of School Work or Art in a Single Wall Frame
This isn't just a picture frame, it's an art cabinet. These Li'l Davinci kids' frames hold up to 50 pieces of art (9″x12″). You can easily swap out which work is on display each day or week. This is a great way to save storage space and see your kids' art whenever you want.
11. Small Space School Work Storage: Turn Art into Magnets
This adorable idea from Tonya Staab takes "refrigerator art" to a whole new level. Check out her step-by-step instructions to turn school work and art projects into magnets using a phone, sticky photo paper, a photo printer, and magnet sheets.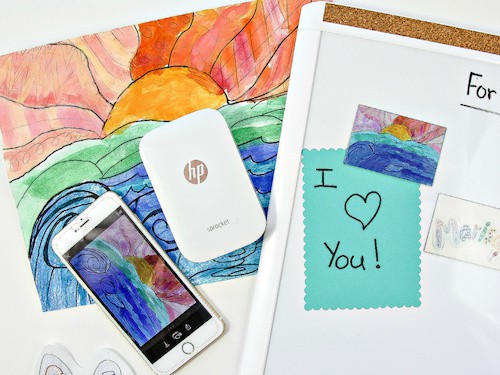 12. Create Coasters from Kids' School Work
Another cute and practical repurposing of kids' projects: make coasters using their artwork, wood slices and Mod Podge.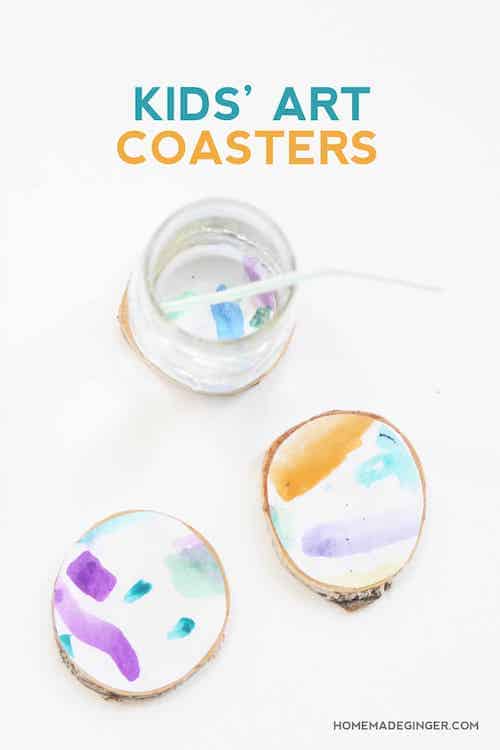 Check out the step-by-step instructions on Mod Podge Rocks.
13. Put Your Kids' Work in Lights
This beautiful storage solution for artwork puts your kids' memories in lights – literally. Check out these battery-operated LED photo fairy lights:
14. Try a 2D/3D Gallery Frame
A nice frame really sets off a piece of art. But sometimes, those art projects are 3D and won't sit nicely under a glass-front frame. This solution has no glass, so all of those three-dimensional elements can shine on their own! Simply slip the art into the slots and display both portrait and landscape pieces:
15. Frame Their Work on the Fridge
Make that refrigerator art look tidy (and colorful) with magnet frames. They really help tie everything together neatly and keep the edges of your kids' school papers from fraying or curling.
16. Create a Pretty DIY Photo Display for School Memories
This project from Sustain My Craft Habit would be such a cute way to display favorite school memories from your kids on a desk in your office, in a playroom, or in your child's bedroom. Check out how to create this pretty photo display: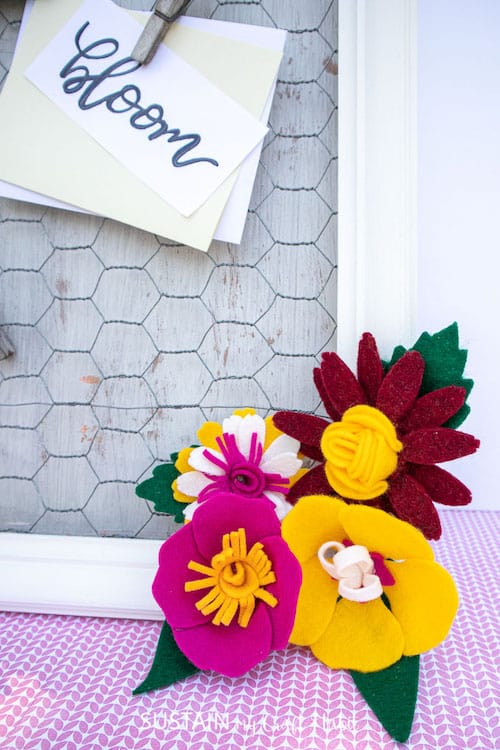 Feeling inspired? Now, go tackle those school papers and projects. Happy organizing!
RELATED ARTICLES:
Organize & Declutter Stuffed Animals, LEGOs, Dolls & More
Sensational Ways to Organize Sewing Supplies
Easy DIY Family Command Center Ideas to Organize Your Life
30 Ways to Teach Kids to be Organized at Home