Have art supplies run amok in your house? Tired of seeing a jumbled mess of pens, pencils, crayons and paint brushes? Check out these creative ideas for colored pencil storage (they can help organize your whole art space or craft room, too).
Many of these ideas feature fun DIY projects that you or your kids can try. There's bound to be a clever way below to organize supplies that works for you!
This post contains affiliate links. As an Amazon Affiliate, I earn a small commission on qualified purchases at absolutely no cost to you. Please see the Disclaimer for more information.
Before You Begin: Declutter Old Pencils (and Pens and Crayons)
Anyone who's read any of my organizing articles knows I'm a stickler for decluttering first thing. It just doesn't make sense to find space for items that should be thrown away.
Pencils and crayons can last a long time. Keep items that simply need a pencil sharpener in a separate pile from the rest. Then have a sharpening session in front of the TV!
Toss pencils and crayons that are broken, can't be sharpened, or have been worn down to a tiny nub.
Test all of the pens. Toss any that have dried out.
Now, it's time to organize!
1. Recycle Mason Jars for Colored Pencil Storage
Most of us have empty mason jars or old jam/jelly jars just waiting for a new purpose. Guess what? They're perfect for art supply storage!
Use one jar for colored pencils, one for markers, another for paint brushes, and a short one for crayons. Such a simple and effective way to organize.
Have a LOT of colored pencils to store? Sort by color and store each color in a jar. Arrange the jars like a color wheel or in rainbow order (ROYGBV).
Laura Kelly shows us how it's done. Check out how cute repurposed jars look with just a little decoration:
Don't have jars lying around, but like the look? You can buy an inexpensive set of mason jars on Amazon.
2. Try a DIY Dollar Store Caddy
This is an easy and effective coloring supplies project. Simply grab a plastic handled caddy and some cups from the Dollar Store or Amazon. Bam! You've got a mobile colored pencil storage system.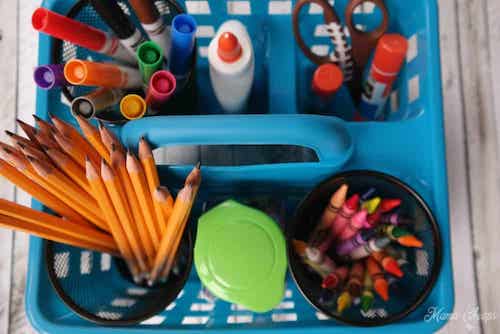 Check out MamaCheaps.com for the step-by-step instructions.
You can also purchase a caddy with pre-made compartments for pens, pencils, drawing tools, paint brushes and more:
3. Make a Unicorn Pencil Organizer
If this isn't one of the cutest colored pencil storage options I've seen, I don't know what is!
Start with a metal pencil cup, add some twine and felt with a hot glue gun, and you've got a magical organizer for kids' rooms. (Could make a great gift, too.)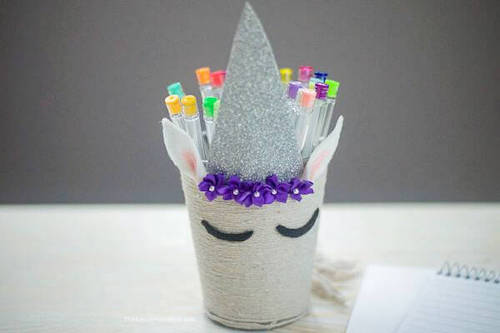 Check out TheSoccerMomBlog.com for step-by-step instructions.
4. Use a Lazy Susan Desktop Carousel
Here's a great idea for the desk: a Lazy Susan carousel. This version fits up to 850 pencils and has compartments that allow you to sort by color or type. I like that it's a clear bin so you can see everything inside.
P.S. Check out my post on other fabulous ways to organize with a Lazy Susan.
5. Store Your Pencil Collection in Upcycled Tin Cans
Got a Cricut and some tin cans? This project is for you!
SustainMyCraftHabit.com walks you through the step-by-step instructions to upcycle old cans into a new pen and pencil storage system with cute labels made on a Cricut.
6. Mount Pegboards with Pencil Cups
I'm a huge fan of using an empty wall when you're short on storage space. Mounting peg boards is probably one of the best ways to maximize space.
I love this set that comes with cups for colored pencils, pens and crafting supplies. It's a great choice for a bedroom, home office or craft room.
It's affordable, too. Each set comes with one board, six colorful cups and hooks, so you can add multiple sets if you have extra wall space. It's a great way to build an art studio wall.
7. Take Colored Pencils On the Go in a Multi-Layered Pencil Case
Pencil cases are the way to go when you need to bring your own supplies to school or on a trip.
A nice, multi-layered carrying case is a good way to safely transport a large number of pencils. No broken tips! The original packages pencils come in are typically demolished after a few days in a backpack.
8. Make a Pencil Holder Out of Paper Scraps
Here's a really creative way to make a storage container for colored pencils: with paper!
I find it hard to believe this beautiful project is made from paper, but it is. Head over to CraftsyHacks.com for the tutorial.
9. Sew a Chair Pocket to Hold School, Art & Drawing Supplies
This idea actually features two handmade pieces: a chair pocket made from recycled jeans and a chair organizer made from canvas. And they're both fabulous!
First, take a look at the recycled jeans chair pocket, courtesy of Laura Kelly:
I mean, how cute, right? With adorable patches and all. Laura has the full tutorial on her site.
Next, check out the modern streamlined look of this school organizer, made by SustainMyCraftHabit.com: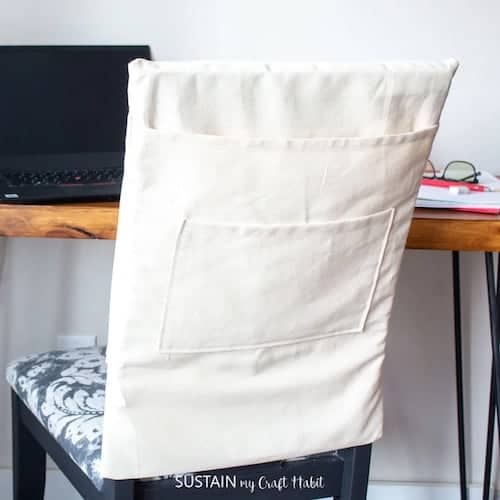 Full tutorial on the site as well.
10. Keep Pencils & Supplies in a Rolling Art Cart
I love the concept of a rolling art cart to store art supplies at home! A cart keep everything close at hand for easy access during a project and can be quickly wheeled into a closet or a corner when not in use.
Use an art cart to store:
colored pencils and crayons
coloring books and sketch pads
gel pens and Sharpies
paint brushes and paint
chalk
glue sticks, rulers and scissors
construction paper
Look for a cart that comes with handy cups for colored pencil storage like this:
Rolling carts are nice for homeschool organization, too. RockYourHomeschool.com offers some great ways to use carts to make homeschooling much easier for parents and kids.
11. Roll Pencils in a Canvas Wrap
This handmade pencil roll would be a beautiful gift for an art student. It comes in three sizes, fitting 36, 48 or 72 colored pencils, gel pens or markers. It's nice for travel, too.
12. Carve Out Closet Space With Labeled Bins
Lucky enough to have spare closet space for school and craft supplies? Here's a super efficient way to organize all of your colored pencils, pens, markers, etc. with colorfully labeled bins, courtesy of EverydayThrifty.com:
I love the use of metal shelving in this small hall closet. They make it easy to organize everything in a small space.
13. Create an Upcycled Cardboard Box Corral
Here's another fun project to do with kids. Take a cardboard box and cover it with a fun fabric and contact paper. Add a few empty cans (covered in matching contact paper) and you've got a custom colored pencil station:
Read more about making this project at TheBoondocksBlog.com.
14. Store Pencils in an Art Cabinet
Sometimes, the simplest way is the best way to organize. I made an art cabinet in my kitchen, as most art projects in my house happen there.
I bought some clear bins and chalkboard labels to house my colored pencils and Sharpies.
By the way, pull-out drawers are fantastic for larger, bulkier items like paint and Cricut vinyl. There are a wide variety available on Amazon.
15. Hide Colored Pencils in an Under-Desk Slide-Out Drawer
Some desks lack drawer space to store pens and pencils. Desktop organizers take up a lot of workspace, especially on a small desk.
A nice solution that keeps art supplies closet at hand but out of sight is a slide-out drawer that mounts under the desk or table. Check it out:
RELATED ARTICLE:
The Best Way to Organize Desk Drawers in a Home Office
16. Make a DIY Art Kit With Duck Tape®
Here's an adorable project for you and your kids! All it takes is an empty shoe box, a medicine box and empty toilet paper rolls…plus some glue, scrapbook paper and decorative tape. Head over to TheCraftingNook.com for the tutorial.
17. Store Art Supplies in a Portable Storage Box
Bring all of your art supplies wherever you roam in a handy, three-layered storage box. This baby will store pencils, pens, crayons, paint and brushes, stamps…everything a kid (or adult) needs to create art on the go.
I hope you're inspired to organize all of your colored pencils and art supplies with these fun and creative ideas!
Check out other great organizing ideas for kids & family below. Happy organizing!
RELATED ARTICLES:
Beautiful Ways to Store Kids' School Memories
Sensational Ways to Organize Sewing Supplies
Game-Changing Ways to Organize Sports Gear
Wonderful Ways to Organize Video Games, Controllers and Accessories