Home office drawers are sometimes a challenge to keep tidy. It's easy to shove random items in and just shut everything closed. (Out of sight, out of mind.) However, taking the time to truly organize desk drawers can offer a real boost to productivity and save precious time. Even better: it's pretty simple to do!
The best way to organize desk drawers can be broken down into four simple steps:
Declutter
Create zones or stations
Use drawer organizers and labels to keep things tidy
Arrange your items by frequency of use
It's really that easy! (Trust me, I'm all about finding the simplest, most efficient way to organize stuff.) I've outlined each step below and included a list of my favorite desk drawer organization tools.
This post contains affiliate links. I earn a commission from qualified purchases, at absolutely no cost to you. Please see the Disclaimer for more details.
Step One: Declutter First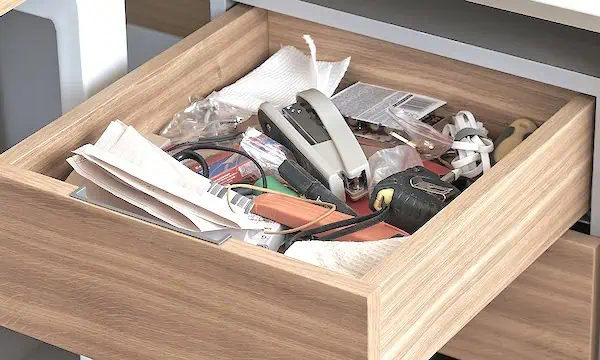 The first step in any organizing project is always decluttering. In fact, failing to declutter first is one of the biggest organizing mistakes people make!
Why? A few reasons. First, you can't properly organize a space when there's too much stuff to fit in the space. Second, you don't want to organize items that are broken, obsolete or belong somewhere else. That defeats the purpose.
How to Declutter Desk Drawers
First, remove everything from each drawer. As you do this, sort items into piles:
Trash/Recycling
Donations
Items that don't belong in your drawers
Everything else that will be going back in your drawers
Next, take out the trash and recycling. That's one pile down!
Donations should be packed up and placed in the trunk of your car (or, even better, the passenger seat) to make sure it gets done quickly.
Return all of the items that don't belong to their rightful places.
Now, all you have left are the items you'll keep in your desk. Great job!
Step Two: Create Zones or Stations
Sort the remaining contents of your desk drawers into groups of items that are used together. Common examples:
Postage stamps, return address labels, envelopes, thank-you cards, stationery, letter opener
Pens, pencils, highlighters, erasers, lead for mechanical pencils, Sharpies
Paper clips, staples and stapler, staple remover, binder clips
Pads of paper, sticky notes, notebooks, 3×5 cards
Scissors, glue, tape
Calculator, ruler
Printer paper, printer ink, photo paper, card stock
Phone and device chargers, charging cables
Now, look at the drawer space you have. Consider zones or stations you can create in your desk with the grouped items. You might have a mailing station, a printing supplies station, a station for writing utensils, and so on.
You may need to combine groups to fit everything into your drawers, like all stationery and mailing supplies with pads of paper and sticky notes. Aim for the most efficient groupings possible.
RELATED ARTICLE:
Why Zones Are the Best Way to Organize Your Home
Step Three: Use Drawer Organizers
Once you've identified the zones and have a plan for where you'll store your desk items, it's time to organize.
I highly recommend using drawer organizers to keep everything neat and tidy. You'll be able to find everything you need much faster, and things will be returned to the correct spot automatically.
To choose the right organizers, carefully measure the length, width and depth of your drawers. Then consider the sizes and shapes of the items you'll be storing.
The Best Desk Organizers for Shallow Drawers
Shallow drawers are great for storing small or flat items like pens, pencils, paperclips, scissors, rulers, etc.
For these drawers, my favorite organizers have adjustable or interlocking features. Since you won't be able to stack bins in these drawers, you'll want to use every inch as efficiently as possible.
Modular Interlocking Desk Drawer Organizers
This 7-piece set is a great option for organizing those little desk supplies like push pins, binder clips, sticky notes and pens and pencils. I love that it can be configured in any way I need. Each compartment measures 2″ high.
If you have multiple shallow drawers (or one particularly wide drawer), you can get more for your money with a 24-piece set. This option measures 1.8″ high.
Adjustable 6-Compartment Drawer Organizer
Because it expands, this option works well for larger flat items like envelopes and notepads. Perfect for a mailing station! It measures 2″ high and expands from 11.25″ to 20″ wide.
The Best Desk Organizers for Deep Drawers
Does your desk have deep drawers? Mine has one on the bottom of one side. Deep drawers are tough to keep organized! Mine was always getting jammed because I'd shove so much into it. And then I couldn't find anything.
The solution: clear handled bins that stack. I love clear bins because you can see exactly what's in them at a glance. Add labels to help everyone remember where everything goes, and you're golden.
Stackable Home Office Desk Organizers
These 10″ long, narrow bins stack nicely and the handles are perfect for grab n' go. Store items that are used together, and you've got portable zones that move from drawer to desktop (and back).
Mix and match narrow bins with wider ones to maximize space in the drawer and accommodate larger items like notepads and books:
Use a Desk Organizer for Cables and Chargers
An expandable desk organizer is also a fabulous solution for storing your device chargers and cables. I was able to finally wrangle our mess of a cable drawer using an expandable bamboo tray, some velcro cable ties and my Brother label maker:
RELATED ARTICLE:
Organize Cables and Chargers In an Expandable Cutlery Tray
Step Four: Arrange Items by Frequency of Use
So, you've decluttered, created zones and bought the perfect organizers for your desk drawers. What's next? Figuring out how to arrange everything as efficiently as possible.
Start with the items you use most often. Pens, pencils, notebooks, sticky notepads, etc. These are the items that should be stored front and center. Top drawer for sure.
Take it one step further: in that top drawer, arrange items in order of use. What do you need every day? Pens and sticky notes? Place them in front, less-used items in the back. This way, you're not hunting around for a pen in the back of the drawer. It'll always be the first thing you find when you open it.
Continue this process with the rest of your zones and drawers. In your deeper drawers, store extra supplies in the bottom stackable bins.
Congrats! You've Organized Your Desk Drawers. What's Next?
Now that you've tackled your drawers, you probably feel ready to take on the world! (Or another home office project, at least.) I've got some great ideas for you in the following office organization articles: