Raise your hand if you have a home office desk without desk drawers. I do!
You're probably wondering, how on Earth are we supposed to keep such a small space organized? Especially when (for those of us who work from home) it is pretty much the center of the universe.
I've got solutions to help! I'm the type of person who just isn't productive in a cluttered work environment. So, I've researched and done some of my own trial and error to find the best ways to have an organized desk without drawers.
Read on for some inspiration!
This post contains affiliate links. As an Amazon Associate, I earn a small commission from qualified purchases at absolutely no cost to you. Please see the Disclaimer for more information.
1. Cluttered Desk? Declutter
Before

You Organize!

Are you starting with a cluttered work space? You're probably keeping too much stuff on top of your desk. Step one of any organizing project is ALWAYS to declutter first.

Here's how:
Sort & purge the paper. Those piles of paper, junk mail and bills are taking up too much available space. Go through them and toss or shred the junk, file important papers and set up a mailing system for bills (if you don't have one). Check out my tips on organizing mail and bills here.
Toss or donate old technology. Some of us keep old tech around far longer than we should. You can reformat it and give it to a friend or family member, or you can donate it. Here's some helpful info on recycling and donating electronics.
Pare down the pens and pencils. Toss any that are out of ink or lead. (This is a great project for the kids – see who can find the most dried-out pens!) Only keep what you need on a daily basis that can fit in a pencil cup. Store extras with your office supplies in a cabinet or closet.
Remove everything that doesn't belong. A messy desk is often cluttered with unnecessary items that should be stored elsewhere. Make sure you're not cluttering yours with clothing items, dog leashes, empty food containers, etc.
When you remove the clutter from your limited desk space, you can then begin organizing your desk. You've given yourself a fresh start!
2. Create a Tension Rod Filing Space
When you lack a filing drawer, your desk can become overrun with file folders and papers needing to be filed (but no place to properly file them).
The good news: you don't necessarily need a filing cabinet! If you have a bookshelf or small closet shelf in your home office, you can create a space for filing important documents using just tension rods. Simply place hanging file holders on the rods and fill with your files.
Check out this simple solution below from The House on Hillbrook. In this photo, an old wooden trunk was turned into a filing cabinet. What a great idea!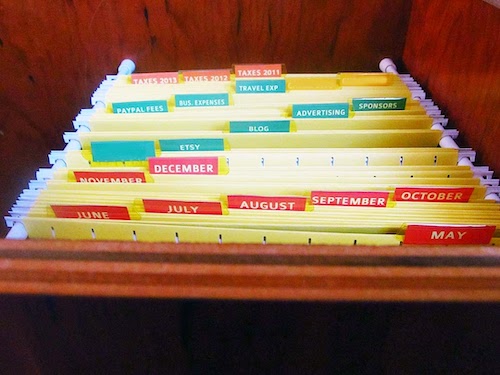 You could probably try this with a storage ottoman, too — anything that is deep enough and wide enough for files.
Amazon sells affordable packs of cupboard-length tension rods:
3. Install a Keyboard Tray Beneath the Desk
Do you use a desktop computer in your home office?
Your keyboard can take up a lot of space on the desk. A pullout keyboard tray is a great option for freeing up space while keeping the keyboard within easy reach. They come with hardware for mounting or with clamps if you don't want to drill holes:
4. Try a Monitor Stand With Built-In Storage
Another great way to create extra space on top of the desk: a monitor stand that comes with storage.
This option offers a shelf to stow your keyboard and mouse, plus an organizer tray for small items like pens, pencils and paper clips. It also comes with side caddies to hold necessities like scissors, sticky notes and staplers. There's a slot to hold a tablet or smartphone, too. (Available in multiple colors.)
Monitor stands can also be used as laptop stands for storage or to raise the height when needed.
5. Choose a Desk Organizer That Maximizes Vertical Space
When you need extra storage space for a small desk, I recommend looking UP. (As in, go vertical.)
Consider a stacked desk organizer like this one, with space on top for files, bills and mail, or notebooks, and a drawer with specific compartments for pens and small office supplies. (It comes in multiple colors.)
6. Try an Adjustable Desk Storage Rack
I love the ability to customize my organizers. Sometimes we only have "so much" space for a storage solution, and it's hard to find one that's just the right size.
This adjustable wooden desk storage rack is a great option. It's comprised of two parts that can slide together or apart to fit your available space, and it comes in several colors.
7. Use the Wall Space Above the Desk
Another great way to maximize vertical space: use the wall above (or next to) the desk for office essentials. There are a ton of wall-mounted storage solutions to try, from whiteboards with calendars:
to this adorable wire basket system:
You can also install a pegboard or slotted wall system. I love the versatility of pegboards, as they can be completely customized to your needs. The system below actually comes with shelves for office machines, books, and supplies.
P.S. I have an entire post dedicated to ways to use pegboards to organize your home. Check it out!
8. Add Under Desk Hanging Storage
Don't forget the empty space UNDER the desk as well. This can be a great place to add file storage, using a hanging organizer like this:
P.S. Check out my post on 20 under desk storage ideas for more inspiration.
9. Install Under Desk Trays or Drawers
Here's another very simple solution for desks without drawers: add some yourself, to the underside of your desk.
This product is a self-adhesive slide-out drawer (no screws or drilling required). It's just the right size for pens, pencils, and sticky notes, or other small office supplies. It comes in a set of 2.
LINK
10. Keep Cables and Power Strips Tidy With an Under Desk Mount
This solution worked very well in my home office. We mounted this cable storage tray under the desk, in the back, so that it would help us hide unsightly cables and power strips. Then we used adhesive Command hooks for cables down the back of the desk leg, and voila!
Need more cable storage ideas? Check out this post for ways to organize cables and cords throughout the home.
11. Try a Side of the Desk Organizer
If you have a table-style desk, you can use a clamp-on organizer to keep office items off the desktop. This is a nice way to have a clear desktop while retaining easy access to essentials.
There's also a hanging solution for the side of the desk, which allows for file storage as well:
12. Use a Rolling Cart for Office Supplies
A rolling cart can be a home office superstar when you've got a desk without drawers. Place drawer organizers and storage bins on the shelves, and store all of your office essentials inside. It keeps the desk clear of clutter!
I love that you can roll a cart into a corner, a closet, or beneath the desk when it's not in use.
Here's a highly-rated, three-tier option from Amazon. It features a hanging basket (great for pens, pencils, and highlighters), hooks for keys, small purses or water bottles, and it can hold up to 45 pounds.
13. Use Bookshelves to Store Office Supplies & Free Up Desk Space
If your goal is to keep our desks clear, look for other places for our office supplies. You can use alternative ways to store office essentials, like bookshelves.
PRO TIP: You don't need a lot of floor space to add shelves. Consider a set of floating shelves like this:
If you have a free corner in your office, here's a slim set of shelves that can store pens and pencils, notebooks and paper, tablet and phones and much more. Just use some pretty baskets or labeled bins to corral the smaller items.
14. Consider a Vertical Charging Station For Your Desk
If your home office desk is a charging hub for the family's tablets and phones, you can free up space with a vertical charging station. This option features six charging ports and can hold tablets, phones, Air Pods and even a smart watch.
You can also make your own. I made my family's charging station from a wooden farmhouse-style mail sorter (click the link for step-by-step instructions):
I hope you've been inspired to try one or more of these desk organization ideas. Check out more organizing tips for your home office and craft spaces below. Happy organizing!
MORE OFFICE AND CRAFT ORGANIZATION ARTICLES
How to Beautifully Organize Home Office Supplies
The Best Way to Organize Desk Drawers
Cord and Cable Storage and Organization Tips
Easy Office Cabinet Organizing Hack
DIY Family Charging Station Organizer
Sensational Ways to Organize Sewing Supplies
Popular Ways to Organize With Pegboards