Good under desk storage is a must in a small home office where storage space is limited. The goal is to free up valuable desktop space while maintaining easy access to important documents and essential supplies like sticky notes, paper clips, push pins, etc.
I've rounded up my favorite under desk storage ideas to help you beat the cluttered desk blues. They'll help clear your work space and keep your home office tidy and efficient. Read on!
This post contains affiliate links. As an Amazon Associate, I earn a small commission on qualified purchases at absolutely no cost to you. Please see the Disclaimer for more information.
1. Add an Adjustable Office Desk Drawer Organizer
The first way to tidy your office work space is by tackling your desk drawer organization.
It's a good idea to look for adjustable drawer organizers that will accommodate the items you wish to store. The option below comes with three adjustable drawer dividers, perfect for organizing small items. (Or that weirdly shaped binder clip.)
2. Create Custom Drawer Storage Space (With Labels)
Looking to fully customize your drawer storage? A set of dividers is your best option. Configure them into any shape you need. The option below comes with a set of labels! Labels are the best way to ensure everything gets put back correctly.
Psst: Are your drawers an unsightly mess? Declutter first! Check out my tips to declutter desk drawers and establish zones to get these spaces under control.
3. Mount an Under Desk Organizer Tray
Does your desk lack built-in drawers? Modern desks tend to have a more streamlined design and less storage. The good news is you can mount your own under desk storage.
The slide-out tray below stores small office supplies within easy reach but out of sight. It's a great alternative to a desktop organizer when you want to keep your desk space clear. It mounts in minutes.
Ensure your desk is at least one inch thick before installing.
4. Install a Slide-Out Keyboard Tray
Another good solution to keep the top of your desk clear: an under desk keyboard tray. Simply slide the tray under the desk when you're not using your keyboard or mouse. This option allows you to adjust the height and tilt angle:
5. Mount an Under Desk Cable Holder
Let's talk cord and cable management. Nothing has less visual appeal in a home office than a bunch of tangled cords under your work station. This is always a challenge for modern open desks. I have a couple of under desk options that will help tame the cable monster.
First, a cable storage tray that mounts beneath the desk. I use this in my home office to store a power strip. I plug my charging cables for smart phones and tablets, as well as my computer cable, into the power strip. Then I just have one cord running from the desk to the wall outlet.
6. No-Drill Cable Management Solution
Next, a no-drill solution that comes with strong adhesive tape and mounts on the back side of your desk:
RELATED ARTICLE:
Cable Storage & Organization Tips to Improve Your Life
7. Rolling Under Desk Filing Cabinet (and It's a Seat!)
This small filing cabinet is the best thing to happen to file cabinets…probably ever. This baby is on wheels, fits under the desk, and has a built-in cushion on top for extra seating. It's one of the more unique designs I've seen, and it works perfectly in small spaces.
8. Use a Bottom Drawer to Hide Your Modem, Router and Other Tech
I've always hated the look of modems and IT components in my home office. If you feel the same (and have a little extra space in a bottom drawer or filing cabinet), try this trick.
My husband and I drilled a hole in the back of a drawer big enough to run cables through. Then we stored our modem, router and smart home hubs in the drawer. No more unsightly mess!
9. Hide Modems and Routers in Plain Sight on a Bookshelf
No bottom desk drawer to hide the tech? There are other storage options that allow you to keep them hidden but accessible.
All you need is a small bookshelf under or next to your desk. Add a large lidded storage bin and cut a hole in the back to run cords and cables.
RELATED ARTICLE:
Ways to Beautifully Organize With Baskets
Amazon also has a wide variety of hidden storage boxes for modems and routers. Check them out!
10. Put Your Printer on Wheels
I love this under desk storage idea: a rolling cart printer station. Roll it out when you need quick access to the printer. Roll it back under for more free space in the home office.
Add a few storage containers for printer ink and paper to the bottom shelf and keep important files in the magazine holder on the side. Perfection!
11. Clamp a Hanging Organizer to a Desk Without Drawers
This hanging organizer clamps onto the side of your desk (no tools needed) and offers nice additional storage to a desk without drawers.
It features pockets for smaller items like pens, pencils, phones and portable chargers as well as books, magazines and tablets. Comes with a convenient cup holder, too, so you'll never have to worry about knocking your drink onto your laptop.
It would be a great solution for a student desk in a dorm or small bedroom.
12. Mount Magazine Holders to the Side of the Desk
Magazine holders make great mail or file organizers when hung on the side of a desk. Try clear Command hooks to attach them without drilling.
13. Hang Your Headphones Under the Desk
Use your computer for gaming as well as work? This simple little clamp offers a safe place for your headphones to live when they're not in use. (And it keeps them off the top of the desk, always a bonus.)
The clamp swivels in and out from under the desk and works for desks between 7mm and 37mm thick.
RELATED ARTICLE:
Wonderful Ways to Organize Video Games, Controllers and Accessories
14. Try a Trolley for Snacks & Supplies
Don't forget the snacks! This is a really cute idea for a kids' desk area or a home office that's far from the kitchen. Stock this puppy with snacks or office supplies (even craft supplies) and you're good to go. Store it under or next to the desk.
Find more fun ideas for storing arts and craft supplies here.
15. Store Supplies in Labeled Crates
Stack crates filled with excess office supplies under the desk for a charming rustic look. I like the chalkboard labels on the front, too!
16. Choose Functional Office Furniture With Built-In Storage
You don't always have to create your own under desk storage. You can opt for a modern desk that comes with it. This beautiful streamlined design features shelves for a printer, PC tower and other essentials plus a drawer for files. And it allows you to maintain a sleek office space, too.
17. Install a Desk With Open Shelving for Kids
A kids' bedroom or study room doesn't need a file cabinet or drawer for office essentials. It does usually need a place for books, school supplies and maybe some arts and crafts materials.
Consider an open-shelf desk concept. Use labeled bins and containers so kids can easily access everything they need to study or create.
18. Stow Your Laptop Under the Desk
Have a laptop that you don't want out on the desk all the time? This solution keeps it close at hand but out of sight. The set includes three racks that you can configure and install to fit the length and width of your laptop.
19. Store a Slim Trash Can Under the Desk
No need to keep your trash out in plain sight in your home office. A slim, sleek stainless steel trash slides neatly under the desk and stays within arm's reach.
20. Cool Drinks or Warm Food Under the Desk
You'll never want to leave your desk with this ultra-luxurious mini cooler AND warmer. Perfect for keeping drinks cold or keeping food warm until you're ready to eat. Easily sits on a shelf under the desk in a home office. Great for a dorm desk, too.
Tips For Making the Most of Under Desk Storage
Keeping your desktop clean and clear is the reason to add under desk storage to your home office. That said, there are some helpful tips to ensure you have an efficient setup that saves time and hassle. Otherwise, you'll struggle to keep everything organized.
Establish organizing zones for maximum efficiency.
Zones are categories of items that get stored together because of their similar function. In a home office, you may have a filing zone under your desk for important documents. Other zones include:
Office supplies like notepads, sticky pads, paperclips, pens and pencils.
Mail supplies like postage stamps, return address labels and envelopes.
Printing supplies including printer paper, ink and toner.
Each category (zone) should be organized in its own box, bin, drawer or container (with labels).
RELATED ARTICLE:
Why Zones Are the Best Way to Organize Your Home
Keep your most-used desk items close at hand.
Got desk drawers? Keep the items you use daily (pens, pencils, stapler, paperclips) in the top drawer.
Keep items you use weekly or monthly, like postage supplies, in the next drawer down. If you have just one desk drawer, store these items towards the back. Use drawer organizers to keep things sorted properly.
Store office supply overstock in your bottom drawer, bottom shelf, or bottom stacked basket. You'll access these items the least, so they don't need to be kept front and center.
Keep under desk storage on wheels or slide-outs whenever possible.
The only drawback to storing office essentials under the desk is they're…well…under the desk. The best way to avoid having to crawl under the desk? Use wheeled storage solutions and slide-out drawers as much as you can.
Wheeled storage can be achieved as easily as installing casters to the bottom of a bookshelf or filing cabinet, purchasing wheeled storage, or placing storage containers on a small moving dolly.
I placed heavy power tools on moving dollies in our garage and they're the best!
More Ways to Clear the Top of Your Desk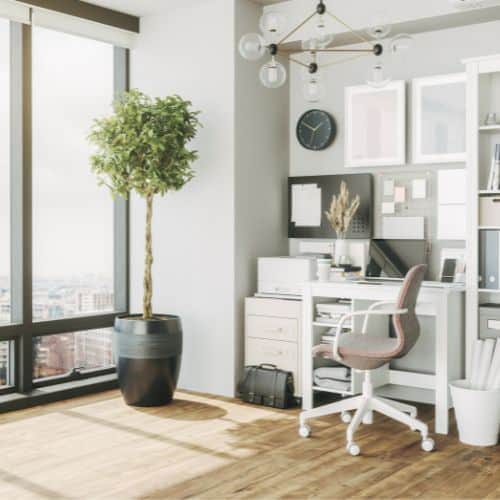 Under desk storage is great, but there's only so much space for office essentials. Here are a few more tips to keep the top of your desk clear:
Toss junk mail and sort bills immediately. This keeps the paper piles to a minimum.
Utilize desk organizers that maximize vertical space and can be kept at the back of your desktop.
Take advantage of empty wall space. Add shelves, corkboard, pegboard…whatever you need to keep your space tidy.
Declutter daily (or at least weekly). Toss old magazines, file receipts, and remove any random items that get dumped on the desk but belong elsewhere.
Check out more organizing tips for your home office and craft spaces below. Happy organizing!
How to Beautifully Organize Home Office Supplies
The Best Way to Organize Desk Drawers
Dreamy Ways to Organize a Desk Without Drawers
Cord and Cable Storage and Organization Tips
Easy Office Cabinet Organizing Hack
DIY Family Charging Station Organizer
Sensational Ways to Organize Sewing Supplies