If you've ever had the pleasure of trying to find and extract a particular cord from a tangled mess of a drawer…or struggled to keep cables tidy on your desk… you understand the need for effective, easy cable and cord organization.
As hard as it might seem, taming those tangles can be done once and for all. Here are the tips I'll be walking you through:
If you'd like to save these ideas for later, just enter your info below. I'll send the tips straight to your inbox!
Have cord & cable organization tips sent to email to save for later:
This post contains affiliate links. I earn a commission on qualified purchases at no cost to you. Please see the Disclaimer for more information.
Eliminate Cable and Cord Clutter
Cord and cable organization was once a source of frustration for me, as you can see in this "before" photo of our junk drawer:
When I'd finally had enough of this mess, I began organizing everything with a good decluttering session. If you've got a drawer like mine, I suggest you declutter first, too.
1. Easy Steps to Declutter Cables and Cords
First, gently separate each cord and cable. If they're in a tangle, take care not to pull too hard or you might damage them.
Next, examine each one. If any appear broken or frayed, set those aside. If any belong to equipment that's broken or no longer owned, set those aside too. Are there any you don't recognize? Ask the rest of your household; if no one knows, it's probably safe to part with them.
If you're not sure about the cables you don't recognize, store them in a bin and see if they're needed in the next twelve months. (Maybe you'll need them over the holidays.) If not, purge!
2. Decide How Many Cables and Cords You Really Need
How many cables and cords DO you need, really? Excellent question. According to CNET, there are certain types of cables you should keep and some you should toss.
For instance, keep all cables that work for devices you currently use. And it's fine to keep one mini-USB cable just in case you have an older hard drive or camera lying around that might need it.
But the old 30-pin Apple cables? Or the miles of coaxial cables left over from your college apartment days? Definitely toss.
3. How To (Safely) Get Rid of Old Cables and Cords
Your excess cords shouldn't just be tossed in the trash, as they contain materials that are harmful to the environment. Here are some better ways of purging them:
Donate them to Goodwill or a similar charity. If you have the original equipment to donate along with the cables, even better. But the cords themselves have value for people looking to replace lost or broken items.

You can also contact local schools to see if they might take a donation of old cables, or reach out to friends and family members.

Recycle. The best places to recycle old cables and chargers include electronics stores like Best Buy or metal recycling centers. Just call ahead to make sure they'll take what you're looking to get rid of.
How to Label Cables
4. Label Cords and Cables Before Moving Or Storing Devices
I learned the importance of labeling cables when we moved our enormously complicated home entertainment components from one house to another.
There's a really easy way to do it!
In order to avoid having to hire an electronics contractor to re-wire all of the components, I labeled each side like this: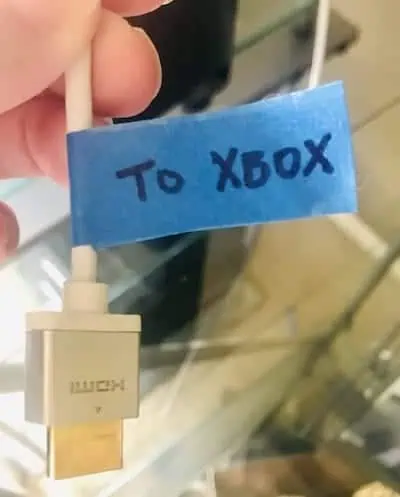 This is also useful when storing devices or cords for future use. You'll never again look into a drawer of jumbled cables and wonder which device they belong to!
PRO TIP: Be as specific as possible when labeling cables and cords before you move devices. For instance, "TV HDMI 2" is much better than "TV." Trust me on this one, you'll be thankful later!
It's also helpful to label the large power adapters that come with laptops, gaming consoles, etc. They tend to look alike, so pulling out the label maker and slapping a quick label on them makes things easier!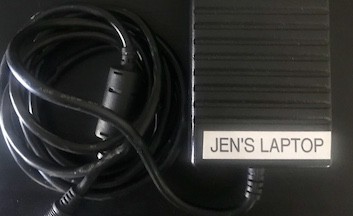 Another option: use washi tape in different colors and patterns. Put some washi tape on a cord or cable and the corresponding color/pattern on the component. You can label the tape, or just match up the colors. Easy!
RELATED ARTICLE:
How to Get Organized For a Move: 14 Fantastic Tips
5. Label Cables At The Outlet
Here's another tip I find helpful in my house. If you have multiple cables and cords plugged into an outlet or surge protector, you can save yourself a TON of time by labeling them like this: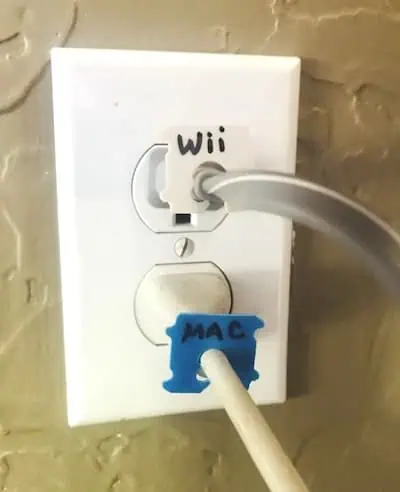 I re-purposed bread bag clips for my cords, but the downside is they can break easily. Amazon has a wide variety of cord labels for electronics if you'd like to try this tip.
The important thing is, you'll never accidentally unplug the wrong device or appliance again!
Looking for ways to tidy up your office? Check out my posts:
How to Keep Cords Organized While In Use
In a world where we all use multiple devices every day, we're also faced with disorganized cables and cords every day.
It drives me crazy when the charging cable for my phone falls behind my nightstand, or I've got cords and cables littering my desk.
To stop this from happening (and save my sanity), I researched as many cord and cable organization ideas as I could find and am sharing my favorites with you.
6. Use Cable Clips to Secure Electronic Cords to Surfaces
I received these Cable Clip Organizers from Blue Key World to try out and review. They are available in different sizes on Amazon, in single clip and double clip varieties. Each come in a package of six like this: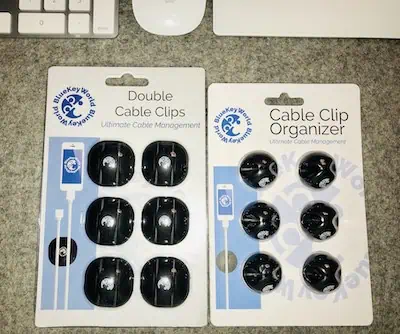 To use the clips, you just peel off the backing and stick them to a smooth surface. Easy, peasy!
I tried one first on my nightstand to keep my phone charging cable in place.
I really like that the clip is small and blends with my dark furniture. It's a great solution for me:
I also used a cable clip in the backseat of my car. My son has a charging cable plugged in to the back of the console, and it always bothered me that the cord just pooled on the floor like this:
So, I placed a cable clip just above the charging port and looped the cable around a few times. Now it's off the ground and safe from getting tangled or stepped on and damaged:
These clips would also work well on the back of a desk or entertainment center to keep cables neat and tidy.
7. Try Cord Wraps for Long Cables
Another common cord organization problem occurs when your cords and cables are longer than you need. They get tangled on the floor or behind the back of your desk. You can easily keep them tidy with zip ties.
Ellen at ConfessionsOfAnOver-WorkedMom solved this problem with a nifty AppleCore cord organizer:
Amazon has similar cord wrap organizers that work for ear buds, charging cables, clock or lamp cords and more:
8. Tidy Messy Cords With Cable Sleeves
Cable sleeves are a nice way to tidy up all of the cables behind the desk or TV. I personally detest the way loose cables look when they're all jumbled together.
Blue Key World sent me a set of four cable sleeves (available on Amazon) to try out and review. Here's what they look like out of the package:
I knew immediately where I would try them first: the mess of TV and set top box cables behind my bedroom dresser:
All I had to do was gather the cables, wrap the cable wrap around them and zip it up. In less than ten seconds, I had achieved maximum tidiness! It's the perfect solution, and it works for thicker cords, too.
9. Hide Plugs in a Cable Organizer Box
Another unsightly cord situation happens where all of the cables are plugged into the surge protector. Impossible to hide, right? Thankfully, there are some clever cable organizer boxes available on Amazon like this one:
The entire power strip sits inside the box and the mess of plugs is nicely hidden away.
10. Hide Power Strips in an Under-Desk Cable Storage Tray
This is probably my favorite solution for stand-up desks and tables! If you like desks with clean, minimal designs, it can be really tough to hide cables that run from the desktop to a power strip on the floor.
The solution: mount a storage tray beneath the desk and keep the power strip(s) there.
Doesn't that look fantastic? You can run the power strip cables down the back of a table/desk leg using the peel & stick cable clips, too! And the great thing is you don't have to crawl around on your hands and knees to plug or unplug something.
RELATED ARTICLE:
DIY Multi-Device Charging Station
Tying Cords and Cables
Tying and wrapping cables is art form, I've come to believe. My husband can make a cord look beautiful with just a few twists, but I feel like my efforts are clumsy and ineffective.
If you're like me, perhaps you'll find this video from Lifehacker on six ways to wrap cables like a pro as useful as I did!
11. Is There a Wrong Way to Tie Cords and Cables?
The short answer is, yes! Any method that causes kinks in the cable, or puts too much pressure on the section where the cable connects to a plug or power brick, can damage it.
(If you've ever seen a broken cable sleeve and exposed wires, you know what I'm talking about.)
There IS a way to protect your charging cables from bending and breaking at the connection to the plug: nifty cable protectors like these:
Finally, if your charging cables do become frayed, you can repair them with a heat shrink protector tube product like this:
The Best Cord Storage Ideas for Electronic Devices
So, now that we know how to properly tie them, what is the best way to store cables and cords? The answer really depends on a few things: how often you'll need to access and use them, and what type of space you have to store them (drawer, cabinet, storage bin in the garage, etc.). Here are some ideas that may inspire you:
12. Charging Cable Desk Drawer Storage: Cutlery Tray
Remember that photo of my messy, jumbled cable/junk drawer? This is how I ended up organizing everything: in a bamboo drawer organizer. (Sometimes the simplest way is the best way to store cables… or anything else you're looking to organize.)
You'll notice I labeled different sections of the drawer organizer for different types of cords: USB cords, charging cords, etc.
Learn how I did this here: Expandable cutlery tray for cable storage
13. Charging Cable Desk Drawer Storage: Honeycomb Drawer Organizer
Another idea for storing extra cables in a drawer is by using a honeycomb-style organizer. (It's also great in the bedroom for socks, belts and ties.)
14. Charging Cable Cabinet Storage: Takeout Food Containers
I love to repurpose things in my home. I was feeling guilty about all of the plastic takeout meal containers we've collected during quarantine, so I found ways to use them for organizing!
This is a great way to store cables when you don't have a spare drawer. Stackable meal containers fit very nicely on a shelf or in a storage bin. Use one container for each type of cable, and label accordingly: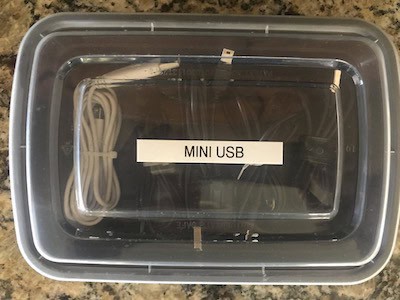 15. Creative Cable Storage Ideas
A few other creative options for storing cords:
Travel Cord Organization
Traveling with all of our cables and chargers and ear buds poses its own challenges, doesn't it?
Here are several options for keeping everything organized while on the road (or in the air):
16. Make a DIY Charging Cord Wrap for Tidy Traveling
Amy from DIY Candy came up with a really cute DIY cord wrap project that even the kids can make to keep cords tidy in backpacks, purses or suitcases:
17. Try a Travel Cable Organizer Bag
Here's a great travel cord organizer that holds a phone, charging cable, ear buds, laptop accessories and portable chargers in one waterproof bag. Super easy to stick in a purse, briefcase or carry-on bag and maintain easy access to your essentials:
18. Corral Cords With Cable Straps
For something a bit more posh, how about leather cable straps? This option comes in a set of 20 (10 long and 10 short):
19. Magnetic Organizers for Charging Cables & Power Cords
This is a versatile solution! This 5-pack of silicone, magnetic cable organizers can be used for cables and power cords as well as a magnetic clip for virtually anything you can think of!
I like the fun, bright colors (you can assign a color to each member of the household).
20. Untangle Ear Bud Cables With a Turtle Organizer Case
This is perfect for those ear bud cables that are constantly tangled. Twist open the turtle organizer case to wrap the cables, then close it for transport. They come in a variety of colors so you can assign one to each family member.
I hope you've been inspired to tackle some cord organization in your home. Happy organizing!