A tidy, functional home office is essential to staying productive, especially as more of us are working from home. If you're looking at your home office and wondering how to clean it up (and keep it clean), help is here! I've rounded up 20 beautiful and creative ideas to organize home office supplies and create a workspace you'll love.
This post contains affiliate links. As an Amazon affiliate, I earn from qualified purchases at no cost to you. Please see the Disclaimer for more information.
In this article:
How to Declutter & Purge Unneeded Supplies
Filing Systems to Organize Paperwork
How to Organize Mail and Bills
Home Office Printing Station Ideas
Use Wall Space For Home Office Storage
Labels to Organize Home Office Supplies
Home Command Center & Management Binder
First, PIN THIS IMAGE to save the article for future reference:
Tip 1: How to Declutter Your Office
The first step to organize office supplies: get rid of stuff you don't need. (It's the first step in every organizing project.) This is often the most overwhelming step, but take a deep breath and pick one area to start. I like to start with the top of my desk, because a clean desktop makes me happy and feel energized to tackle more!
Step One: Sort & Purge the Paper
Addressing the paper clutter is the first priority. Gather all of those loose papers up and sort them into piles like unpaid bills, paid bills, legal/important documents, work papers, etc. Then put everything in a bin to file later. I'll go through ways to create an effective filing system in another section of this article.
I recommend using a shredder to immediately and safely shred papers like old bills or anything with your personal information on it. Those random notepads and post-it notes from local businesses you've accumulated over the years can be recycled, too. (Trust me, you don't need them)
Be honest about excess paper you keep "just in case," like colored copy paper or photo paper for those pictures you keep on your phone but never get around to printing. If it's cluttering up your office, consider donating it to a local school. Teachers always need paper!
Step Two: Toss the Old Tech
If you've been keeping CD-ROMs for software you no longer use, it's time to toss it. The same goes for user manuals for technology you've replaced. Old electronic devices can be recycled or donated, along with the power cords, cables and chargers that go with them. (Just be sure to erase any personal data first.) Here's a helpful article from Consumer Reports on how to get rid of your old tech.
Step Three: Purge the Old Pens & Pencils
Next, it's time to go through all of those pens and pencils you've been hanging on to. Dried up? Broken? Toss! This is a project that the kids can help with, too. Once you've decluttered, you can sort and group by color or type (Sharpies, ball-point, fountain, etc.).
Step Four: Recycle Those Printer Cartridges!
Most of us are guilty of keeping an ever-growing pile of empty printer cartridges to take to the office supply store for recycling. Time to take action! Put them all in a bag or box and place it in the front seat of your car. The next time you run errands, take them in.
Step Five: Out With Old Books
Books are another big category of clutter in the home office. It's tempting to hang on to them, but if you haven't used them in the past few years, and they're not first edition collector's items, it's time to let them go. Just think of all of the storage space you'll have!
Some books can be sold to used book stores. Others can be donated. Here's a list of places that accept book donations.
Step Six: Anything Else That Doesn't Belong
Home offices often become a catch-all for things that really don't belong in the space. Take one last look around, and remove anything that should be stored elsewhere and place it in the appropriate space. Items that truly have no home should be put in a box and stored out of sight for 30 days. At the end of 30 days, if you haven't needed or used them, sell, donate or recycle.
Tip 2: Choose Functional Furniture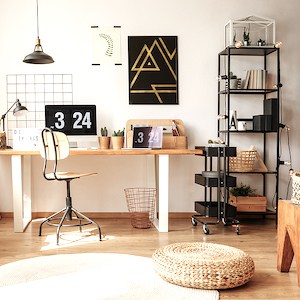 Choosing the right furniture will go a long way in helping you organize your home office & supplies. This is especially true if you have a small space, where every inch should be maximized for efficiency. And it doesn't have to cost a fortune! It just has to work for you.
When choosing home office furniture, ask yourself:
Will it fit nicely in my office space?
Does it provide adequate storage for my office equipment and supplies?
Is it comfortable?
Does it fit in my budget?
When you can answer "yes" to these questions, you've probably found the right piece!
Tip 3. Ideas for Desks that Add Storage
If you have the space, a corner desk with built-in storage is a nice option that keeps everything you need close at hand. The desk below offers ample surface space for a computer, printer and accessories, plus shelves you can use for supplies in containers or baskets.
Ample wall space in your home office? Consider an option with a built-in bookshelf like this one:
While particle board is lightweight and inexpensive, sometimes "real" is best. I love this solid reclaimed wooden desk, and it's sturdy enough to hold up to 400 lbs! It may lack built-instorage, but you can always purchase separate shelving, filing systems and other accessories to accommodate your needs.
Looking for an entire office furniture suite that won't break the bank? Consider this highly-rated set, available on Amazon:
Cubby Desk With Bins & DIY Labels
Check out these great cubicle desks with bins and DIY velcro labels on SavingTalents.com. They work well for either a home office or a homeschool setup, as pictured.
Tip 4. Organize the Desktop
An organized desktop is critical to an efficient workspace. You'll want to employ desk accessories and organizers that provide adequate storage and keep your most-used items easily accessible.
I love choosing my desk accessories! And because organizing is a passion of mine, I always look for items that are stylish, functional and efficient.
Tip 5. Try Adjustable Desktop Shelf Organizers
I like the versatility of an adjustable shelving unit like this. It comes in two pieces that can be rotated or widened/narrowed to suit your space.
If you're handy and enjoy DIY projects, click here to make your own adjustable desktop organizer, thanks to The Handyman's Daughter! The article includes free plans to make this super affordable project:
Tip 6. Efficient & Stylish Desktop Accessories Organizers
I love the look of wire basket organizers. Such a pretty way to organize home office supplies like magazines, books, paper and notebooks, mail and pens/pencils:
Prefer colors like rose gold or aqua? Amazon has really cute metal and wire desktop accessory options in a variety of colors. Check them out here.
If wood is more your style, here's an option with a rustic finish. It has room for pens, pencils, scissors, tape, mail, papers, notebooks and comes with an adorable set of calendar blocks:
(Love baskets? I have lots of basket organization ideas for the entire home!)
Tip 7. DIY Desktop Organizers
Are you a DIYer? If so, you'll love these creative solutions for desktop organizers — read on!
Organize pens, pencils, paperclips and more in these cute DIY rope organizers for your desktop, courtesy of CraftsyHacks.com.
Got a Cricut? Then you're in luck, because Sustain My Craft Habit has some fab Cricut projects to organize your desk, like this one:
Gotta say, I love DIY projects that use recycled materials. This creative idea from Modge Podge Rocks turns old cereal boxes and toilet paper/paper towel rolls into a truly adorable DIY desk organizer:
Another cute DIY desktop project, these device pillow stands that enable easy hands-free reading from HelloSewing.com:
Tip 8. Filing Systems to Organize Paperwork
Remember all of those papers you sorted in Tip #1? Now, it's time to create the proper filing system to keep those papers organized. Here's how:
First, collect important documents like passports, birth certificates, social security cards, property deeds, etc. into one pile and store them in a fireproof safe like this one:
Next, take your "household" papers, like warranty and maintenance information for your appliances and home systems, lists of important phone numbers, doctors, dentists, vets (you get the picture) and create a home management binder for them. Keep this binder in an easily accessible place in the office or kitchen, or create a family command center to house it.
Keep all tax information, including receipts, in a file folder labeled for each tax year. These folders can be stored in a banker's box or file cabinet for seven years. After that, they can be shredded. (Be sure to keep at least an electronic copy of your actual tax returns forever, just in case.) Check out this lovely little file box, pretty enough to store on a shelf in plain sight:
I recommend going paperless for any and all bank statements, bills, paystubs, etc. to reduce paper clutter. If you can't, keep these documents for one year (or longer if you need them for tax purposes; just transfer them to the tax file folder every April) and then shred.
Want to REALLY reduce paper clutter (or just have a digital backup of important papers)? Consider scanning and storing documents in the cloud. For more information, check out this article on thezhush.com.
Tip 9. Find Filing Cabinets That Suit Your Style and Needs
Since we're discussing how to organize home office supplies, you might want filing cabinet options that work with your personal style. (Rather than business-boring metal boxes.) Here are a few options that are as pretty as they are functional:
Farmhouse Lateral File Cabinet
Letter/Legal Wood Storage Cabinet
Rolling Seagrass File Cabinet
Tip 10. How to Organize Mail and Bills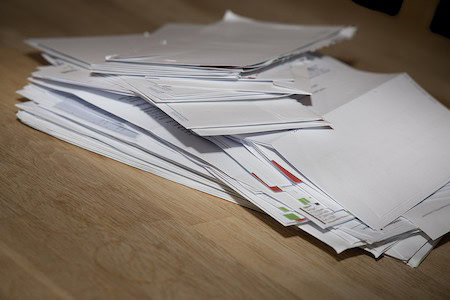 Step One: Reduce Paper Clutter
Mail clutter is a big issue in many households. The home office is a good place to set up an efficient mail system, but FIRST, see how you can reduce the amount of mail you receive. Cancel subscriptions to magazines you no longer read, switch from paper bills and statements to paperless, and opt out of junk mail like pre-approved credit offers. (Check out this info from the FTC on stopping unsolicited mail.)
Step Two: Create a Space For Mail
Next, let's create a mail system that works for you! Find a spot on your desk (or use free wall space) for incoming and outgoing mail, as well as bills/paperwork that need attention and items to file. Stock up on office supplies like stamps, return address labels, letter opener, etc. Keep a shredder, recycling bin and wastebasket nearby. Check out Organized31.com for an easy DIY Office Paper Recycling Bin project.
Here are some mail sorter solutions:
Distressed Wooden Mail Sorter
Basket Wall Rack
Tiered Desk Tray
Step Three: Use Labels
Labels are essential for a working system. Make one for each category of your mail sorter (incoming, bills to pay, outgoing, filing, etc.) For some fun ways to create your own labels, check out 16 Sensational Ways to Make Labels For Organizing Your Home.
Step Four: Use Your System Daily
Just like any organization project, a key aspect in keeping things tidy is daily practice. Mail, bills and paper clutter are no different. Every day, toss/shred the junk mail, pay bills as needed, take outgoing mail to the mailbox, and file any paperwork that needs to be filed. If you keep up with it, it'll never get out of hand again.
Tip 11. Home Office Printing Station Ideas
For extra efficiency in your home office, consider setting up a simple printing station. All it takes is a corner of your desk, a small cabinet or a rolling cart like the one pictured above.
Need something a little smaller? This industrial mobile stand can fit nearly anywhere:
Store extra printing paper within reach in a tray, extra printer ink in a lidded bin, and you're ready to go!
For a fun rustic DIY project, check out this Wine Crate Home Office Printer Stand & Storage from FrugElegance:
Tip 12. How to Organize Home Office Drawers
The desk drawer is often where office supplies get lost forever! For many of us, it becomes a catch-all for random junk. But with a little organizing effort, it can become a time-saving space that makes you smile (rather than wince).
Step One: Prioritize Drawer Supplies
You've already decluttered and sorted your items, so now you need to prioritize. If you're using desktop organizers, you should fill those with items you use pretty much every day…like pens, pencils, a stapler, paperclips, notepad, etc.
Your top desk drawer (if you have multiple drawers) should house items you use often but not every day. Scissors, rulers, rubber bands, stationery, push pins, extra pens & pencils, portable chargers for devices. Each subsequent drawer should be for items used less often, like thank-you cards, batteries, spare keys. You get the idea.
Step Two: Use Drawer Organizers
This is the fun part (for me, anyway). Measure the length, width and depth of your drawer(s) and find desk organizers or dividers that will maximize space and house your supplies. I highly recommend an adjustable organizer that will accommodate different sized drawers and supplies. Here are some options:
Mesh Drawer Organizer With Adjustable Dividers
Expandable Drawer Organizer Tray
Adjustable Drawer Divider
DIY Drawer Organizers
Drawer organization doesn't have to cost a fortune! I reached out to my fellow bloggers for some affordable ideas on DIY organizers, and they did not disappoint! Check out these fun projects:
AppleGreenCottage.com made these DIY drawer organizers from upcycled cereal and cardboard boxes:
DIYCandy.com made this DIY drawer organizer in half an hour using leftover wood:
RELATED ARTICLES:
The Best Way to Organize Desk Drawers in a Home Office
Under Desk Storage Ideas You'll Love
Dreamy Ways to Organize a Desk Without Drawers
Tip 13. Use Wall Space For Extra Office Storage
An often overlooked place to organize home office supplies: the walls! If your office lacks closet space for storage, simply use the space you have. Some ideas:
Bookshelves
An inexpensive bookshelf can store a lot of supplies, as seen in this image of a craft/office space from CreativeGreenLiving:
Depending on your space and personal style, you can try a tall, narrow bookshelf:
Or a modular design that you can adjust to fit a sloped or awkward space:
If you lack floor space for a standing bookshelf, consider floating shelf options:
Tip 14. Mount Your Monitor
Large flat-screen monitors take up precious desk space. Try a wall-mount instead, like this setup created by SmallStuffCounts.com:
Amazon has a wide selection of wall mounts for monitors and TV screens.
Tip 15. Use Labels to Organize Home Office Supplies
Don't forget a key element of organizing: labels! Labels will help you keep things in their proper place (and help other members of the family remember to put things away correctly). Unlabeled bins and containers tend to become catch-alls for junk. Let's avoid that!
In my kitchen office cabinets, I made storage containers from inexpensive photo boxes and labeled the contents of each using Word and my printer. I also love to label things with my Brother label maker!
If you'd like to make your own cute labels for the office (or any other space), check out my post 16 Sensational Ways to Make Labels for Organizing Your Home.
Tip 16. Make a Home Command Center & Management Binder
The home office is a great place to keep your command center and home management binder. The command center is a centralized area for family schedules, chore lists, important phone numbers, weekly menus, messages to one another and more.
Read about how to create a simple but effective DIY command center here.
A home management binder is the place to file all of your home maintenance info, model and serial numbers for appliances and systems, numbers for plumbers, repairmen, landscapers, window cleaners, etc. and other important documents for the house. Check out this great setup by OrganizingMoms.com: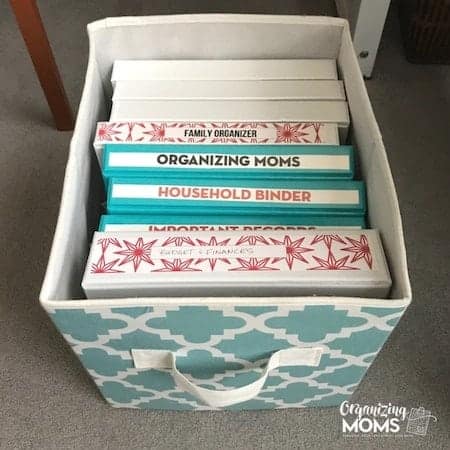 Tip 17. Charging Station Solutions
If you've got a home office, chances are you have multiple devices that require charging: laptops, mobile phones, tablets. A great way to keep every battery alive — and every device in one place — is with a charging station.
Depending on your needs, this can be as simple as installing a plug-and-play wall outlet like this:
Or a solution that holds and charges several devices on your desk:
This option even holds a laptop:
DIYer? I made my family's charging station from a wooden farmhouse-style mail sorter (click the link for article with step-by-step instructions):
Tip 18. Organize Computer and Media Cables
If there's one thing that drives me nuts, it's messy technology, cords and cables. The home office is typically one area that people struggle to conquer the cable beast; however, with the proper solutions, it's possible!
NOTE: This section includes some home office solutions for cords and cables.
You might also like my in-depth article on
cord and cable storage and organization for the home, office and travel.
Let's start with organizing the computer and peripheral cables behind your desk. If your desk has a full backing on it and you just need to keep the cables from getting tangled, I love these wrap-around cable sleeves:
I received a set of four from Blue Key World and they are perfect for keeping cords tidy behind the desk, media center, dresser, etc.!
To hide the surge protector on the ground, try a cable management box:
Some desks are more like open tables with no back. This makes cord and cable organization a little more challenging. I found this great solution that mounts to the underside of the desk and keeps everything from piling up on the ground:
Tip 19. Keep Charging Cables Tidy
I typically have my phone and tablet charging at my desk, and it's super frustrating to have the charging cables slip off the desktop or behind the furniture. My favorite solution is a cable clip that adheres to the side or top of the desk. I received these clips from Blue Key World, and I use them in the office, on my nightstand, and even in my car:
The cable clips come in a packaged set, and are available in single or double clips:
Tip 20. Hide Modems, Routers and Cable Boxes
Sometimes we don't want our home office to look so much like an office…with routers, modems and cable boxes sitting out in plain site with all of their blinking lights. With a little creativity, it's possible to hide them and maintain a stylish space. Here are some ways to do this:
Reclaimed Book Storage Box
Tuck your unsightly tech behind this clever book box, made from real books! Just place it on a bookshelf and no one will see your modem or router:
Seagrass Lidded Storage Basket
Another option is using a pretty storage basket to neatly hide a modem or router. I love the natural look of these seagrass lidded baskets. Place the boxes inside and run the cords and wires through the hole in the back, out of sight! Just be sure to measure before you buy to ensure everything will fit.
Use a Cabinet
Sometimes it's as easy as using part of a filing or wall cabinet. Simply drill a hole in the back large enough to fit wires and cables through, and set the technology inside. We did this with all of our smart home routers and hubs, using a nightstand in the guest room.
Organize Home Office Supplies: Final Thoughts
Hopefully these tips and ideas have provided inspiration for you to create a beautiful home office of your own! Just remember, there is no "right" or "wrong" way to organize. Whatever system works for you and your family is the one you should use. And if something doesn't work quite right, change it until it does! Organizing is a practice, something we all can work on every day.
Happy organizing!