Looking for an easy office cabinet organizing trick? Try cheap photo storage boxes!
I was recently looking for a way to organize a bunch of office supplies and household goods. I had some empty space in the cabinet above my kitchen desk. And I wanted to do it cheaply and efficiently. Photo boxes were the perfect solution! Check out how I did it below.
This post contains affiliate links. I may earn a small commission on qualified purchases, at absolutely no cost to you. Please see the Disclaimer for more information.
How to Use Photo Boxes for Organizing Office Cabinets
I started this organization project by measuring the width, depth and height of my shelves. This ensured that I purchased the right sized storage box.
After a little research, I determined that I could fit a large cardboard photo storage box sideways in each section of cabinet. These boxes are fairly inexpensive…much cheaper than your average organizing bin.
Group and Sort Office Items
Once I had the boxes in hand, I began grouping like items into piles: labels and photo paper, chargers and adapters, picture hanging hardware and hooks. Smaller supplies like binder clips and staples were corralled in these super-handy meal prep food containers.
They're also really inexpensive and durable. They easily organize any number of small household items, and I love the clear lids that enable me to see exactly what's inside. They are perfect for storing sewing supplies, craft materials, art supplies, small toys, etc.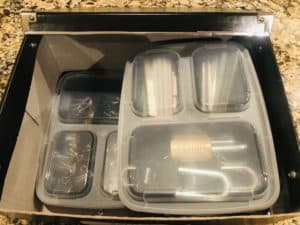 Once my meal prep organizers were assembled and stored inside the boxes, I created labels detailing the contents of each box and affixed them to the sides. Lighter boxes went up top to make it easier to retrieve them from overhead.
Where I used to see piles of random office supplies and household items all jammed together, I now see symmetry, balance and peace. It's now my goal to make every cabinet in my house elicit the same warm fuzzy feeling!
These storage boxes are useful for pantries and linen closets, too. They are large enough to store magazines, dozens of video games, DVDs, photographs, books, toys…the possibilities are endless.
More Inexpensive Office Organizing Ideas
Watch this video for more inexpensive and easy office organization ideas:
Additional Cabinet Organization Articles
Check out these posts for more great ideas on organizing cabinets in the office, kitchen and bathroom: