We're all spending a LOT of time at home now. If you're like me, you've probably looked around the house and realized it could use a little organizing!
There's just one problem. We can't exactly run out to our favorite home organization store and buy the tools and solutions we need during quarantine.
So, to help you in your projects, I've compiled a list of my 20 favorite great organizing products on Amazon and delivered straight to your porch. And, I'll show you how I use them in my own home!
I realize that organizing your home requires a bit of an investment. But the truth is, this investment will reap HUGE rewards, because being organized saves money in several ways.
It helps you reduce "over-buying" items you already have (but can't find) and helps you budget for future purchases because you know what you're running low on.
Equally important, it saves you precious time because you know where everything is!
Finally, it helps establish a sense of peace and balance in your home, which is priceless.
Also, if you're new to organizing and don't know where to start, I've boiled things down to some simple steps for beginners that will help.
For some extra help, here's Real Simple's take on what to get rid of and what to keep during quarantine.
Itemized List: Great Organizing Products on Amazon
As an Amazon Associate, I earn a commission from qualifying purchases, which costs you nothing. Please read the Disclaimer for more information.
Since this is a long post, I'll itemize my favorite organizing products here as well:
Kitchen/Pantry
Office/Living/Laundry Room
Bedroom/Bathroom
Stackable Can Rack Organizer
One of the greatest organizing products in my house is this can organizer. This was a game-changer in our pantry!
This puppy maximizes vertical space on a pantry shelf and stores up to 36 cans. It was easy to set up and has worked like a charm ever since I installed it during our pantry makeover. In fact, we have two!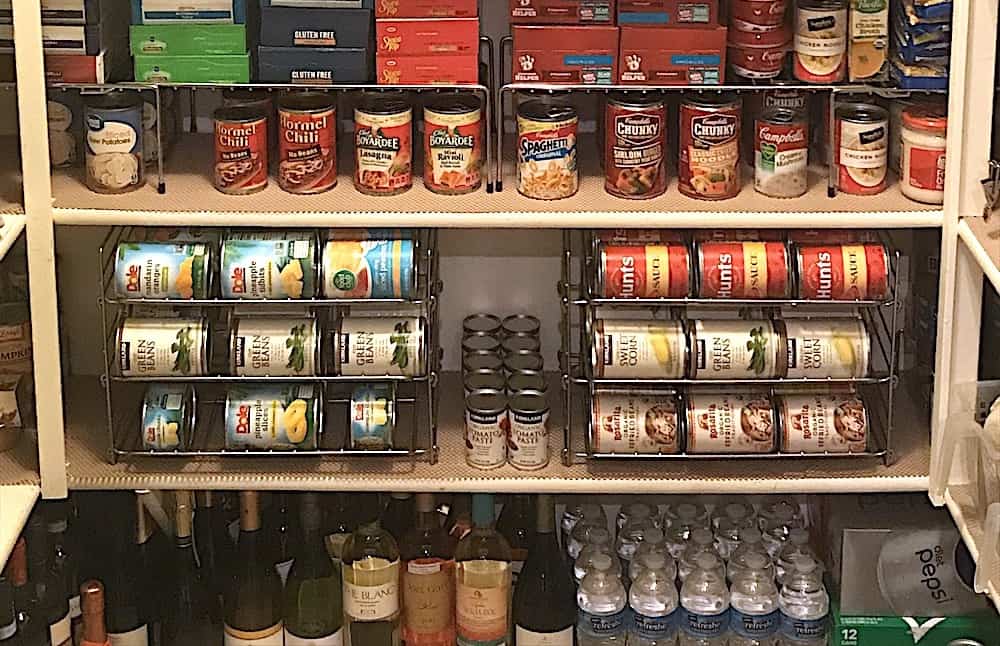 ---
Under Shelf Basket
Another space-maximizing product I love is this under shelf basket. The top prongs slide over a pantry or cabinet shelf, basically creating a secondary shelf underneath.
This is the perfect place for items that get squished or are slippery and difficult to stack. Bread, rolls, tortillas, plastic wrap and aluminum foil are easily stored here.
I also use mine to store instant oatmeal packets for easy retrieval at breakfast time.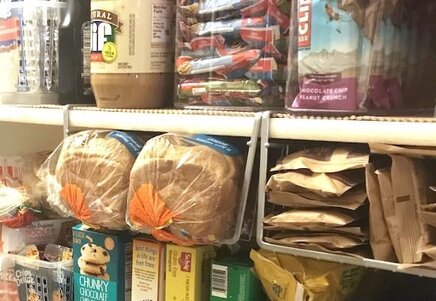 ---
Clear Handled Bins
Clear handled bins are a must in the pantry, refrigerator or cabinet.
First, they protect the shelves from spills and leaks and are easy to clean.
Second, it's easy to see the contents, saving time.
Third, they enable you to group like items together for instant retrieval.
I used clear handled bins in my pantry. One stores all of my popcorn needs: microwave popcorn, seasonings, scoop and cute little individual bags.
Another stores all of my cooking oils, and right next to that a third stores all of my vinegars. Perfect for days when I want to make a vinaigrette!
---
Acrylic Air-Tight Canisters
These BPA-free, acrylic air-tight canisters are essential organizing products for any items that go stale.
From nuts, grains and pastas to pet food and treats, I use them for virtually all bulk items.
Since they're clear, I know exactly where to find anything I need. And they're easy to wipe clean!
The smaller canisters stack nicely on shelves to maximize vertical space. Here are just a couple of ways they're being utilized in my pantry: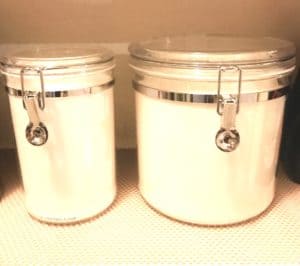 ---
Pull Down Spice Rack
We just bought one of these for our medicine cabinet, but haven't installed it yet. I'll add a photo when we do!
I love this pull down spice rack because my spices and vitamin bottles are constantly getting buried under and in back of each other.
I constantly find myself pulling out several items to find the one I want, and then have to replace everything. What a waste of time!
This solution will mount inside my cabinet and allow me to easily pull down the rack and choose the item I need. Easy, peasy.
---
Cabinet Pan Organizer
Ok, so I don't have this pan organizer in my house YET, but it's high on my wish list of great organizing products on Amazon!
We have several pans, including heavy cast iron, that we nest inside one another, and it's a huge hassle when we need the biggest ones on the bottom of the pile. This solution would really help.
---
Woven Storage Baskets
Storage baskets are a no-brainer when it comes to organizing any room in the house. I have several types of woven baskets currently in use in my pantry, laundry room and linen closet, and I highly recommend them.
NOTE: be sure to measure the length, depth and height of your shelves before you buy!
In my pantry, the space below my shelves is smaller than the space between shelves, so I had to utilize baskets of different sizes.
Amazon has a huge selection of woven baskets in different heights, depths, widths and colors. Here are some I've used in my house:
Nylon Woven Baskets
I've found these nylon woven baskets to be both affordable and durable. The square shape makes it easy to store bottles and cans vs. the trapezoid alternatives I've seen.
The larger sizes fit nicely on the pantry floor beneath my shelves: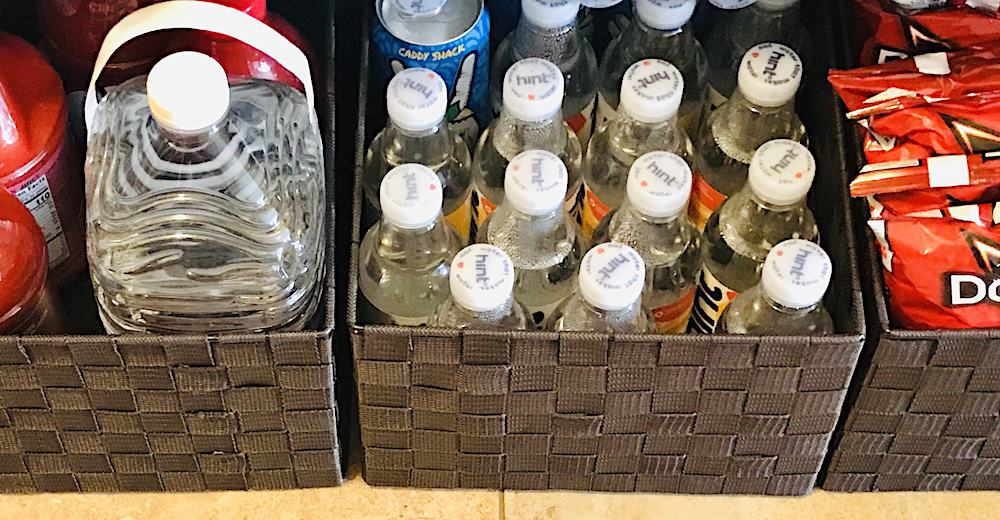 Smaller baskets can be used for media storage (DVDs or video games), hand towels, toys, baby clothes, office supplies, socks, toiletries and more.
Woven Cube Storage Baskets
I love the look of these natural woven storage baskets. They work with virtually any decor, adding a fresh visual element as they help keep items tidy and neat.
I use them in my laundry and media rooms, and I have a similar version in my linen closet:
---
Food Packet Organizer
These clear food packet organizers are perfect for dry soup mixes, seasoning packets, tea packets, hot chocolate pouches and single-drink mixes.
Basically, any of those little slippery items that don't stack well and are best stored upright. They even work well for K-Cups!
---
Expandable Drawer Organizer
It always bothered me when cutlery trays were too narrow for the drawer. What are we supposed to do with the extra space?
I found the perfect solution in this expandable bamboo drawer organizer. It's great for knives, forks and spoons, of course, as well as kitchen utensils, office supplies, bathroom toiletries, and sewing or craft room supplies.
In fact, my favorite use for this organizer is in our "junk drawer," which used to be a jumbled mess of wall chargers, charging cables, portable chargers and an odd assortment of keys and padlocks and ear buds.
You might like:
Organize Cables and Chargers in a Cutlery Tray
Here's what we did with it:
---
Photo Storage Boxes
These inexpensive photo storage boxes can be used for FAR more than photos, and they look great!
We used several of this black variety to organize items in the cabinets above our built-in kitchen desk.
With a quick search on Amazon, you'll find similar boxes of various sizes and colors to match any decor.
Our boxes store office supplies, craft supplies, batteries, light bulbs, printer ink…you name it!
You may like:
17 Ways to Make Labels for Organizing Your Home
---
Meal Prep Containers
Believe it or not, these SUPER cheap meal prep containers are amazing organizing containers, too!
We use them to store office supplies like pens, pencils, paper clips and staples. They can also organize sewing or small craft items, first aid supplies, small toys or travel-sized toiletries.
I love how easily they stack and the clear lids that make it so easy to see what's inside. That's a MUST for me!
---
Under Sink Sponge Holders
I love organizing products that help me maximize space and easily access items I use all of the time.
An under-sink sponge holder is a great example. Amazon has several variations, some that hook over the cabinet and some that can be affixed with Command tape.
I installed one on each of our kitchen cabinets, and they are perfect for hiding ugly sponges and brushes.
---
Under Sink Tip-Out Trays
I've always been annoyed by the false drawer fronts underneath the sink. They look nice, but they're completely useless.
Then, I discovered these Rev-a-Shelf tip out trays, and I was in love. Talk about great organizing products on Amazon!
They attach to the back of the drawer fronts and provide beautiful little pockets of hidden storage space. I installed two in my master bathroom, and we use them daily.
You may like:
Handy Bathroom Storage: 10 Ways to Use Tip-Out Trays
We currently use them for toothpaste and floss, but the possibilities are almost endless.
NOTE: it's important to measure your drawer fronts before you order the tip-out trays, as they come in different lengths.
---
HDMI Switch for Media Devices
If your family is like mine, you might have several devices that require HDMI cables running to your TV (video game consoles, cable box, Apple TV, etc.).
When you have more HDMI cables than your TV can accommodate, it becomes a hassle to manually reach behind the TV to switch them out every time you want to use a different device.
Who would have thought there are organizing products that solve this problem?
My family's solution: Kinivo HDMI switch. This awesome little device accepts up to four HDMI cables but only runs a single cable to your TV.
Using a IR wireless remote, you can switch to the device of your choice from the sofa — no more manual switching at the TV!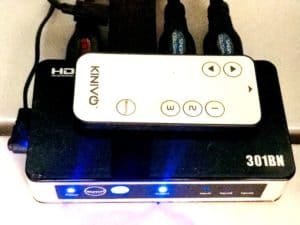 ---
Hanging Shelves Closet Organizer
This baby is a MUST! If you have lots of foldable clothes but not a lot of drawer or shelf space in your bedroom or closet, I highly recommend hanging shelves closet organizers.
I've had these for years, but only recently learned the best way to use them (read my post on easy closet organizing ideas).
I love these shelves!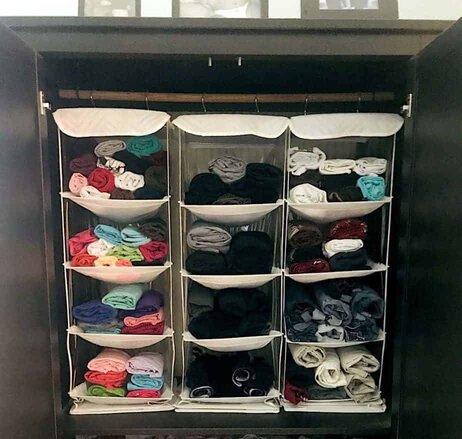 ---
Dresser Drawer Clothes Organizers
Dresser drawers are notoriously difficult to keep organized. These drawer organizers make things SO much easier.
Different sizes perfectly accommodate underwear and bras, t-shirts, socks, athletic apparel, belts, ties…you name it.
I use them in my son's dresser to organize his huge collection of t-shirts.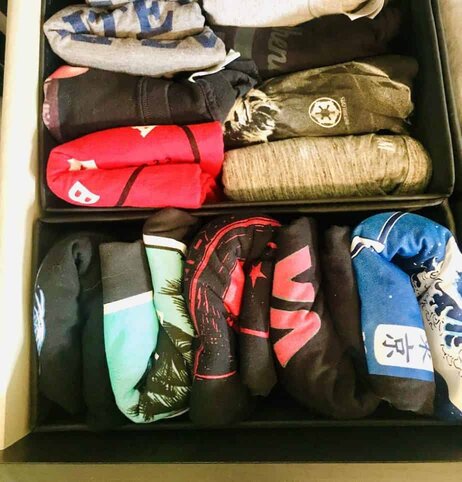 ---
Ironing Board Holder With Storage Basket
We have a pretty small laundry room, and with a side-by-side washer/dryer setup, there isn't much room for anything else.
I utilized empty wall space with a wall-mount ironing board holder that came with a handy storage basket for the iron and spray bottles. This has been a terrific solution for us!
Amazon has a wide selection of both wall-mount and over-the-door options. Here's how ours looks: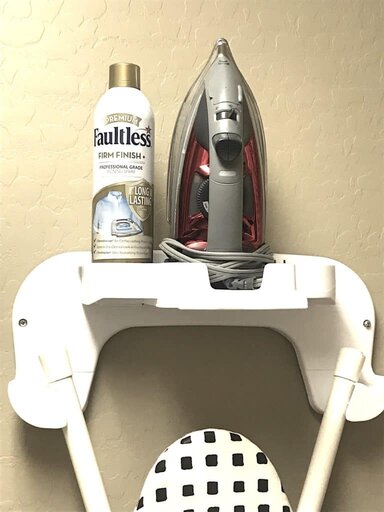 ---
Lazy Susan Cabinet Organizer
Perfect for awkward pantry corners or to maximize vertical space under the sink, the Lazy Susan is a great small-space solution.
If you have a decent amount of empty vertical space, you can fit tall bottles and containers on the top platform and shorter items beneath.
Have each item face outwards so that you can easily read the labels as you turn. I my bathroom Lazy Susan!
NOTE: be sure to measure your available space before you purchase; there are several sizes available on Amazon.
---
Three-Drawer Cabinet Organizer
Another nice way to organize the space beneath the sink or on a shelf is the Sterilite Clear Three-Drawer Unit.
It's stackable and can easily store office items like:
pens, pencils and paperclips
art and craft supplies like glue sticks, paintbrushes and stamps
bathroom items like toothbrushes, toothpaste, manicure tools, razor blades, contact lenses, and more
Your Great Organizing Products on Amazon
Have a favorite organizing product you've used?
Or, have you used any of these products in different ways? Leave me a comment below.
And, be sure to pin this image to save this list for future reference: