Walk-in pantry organization is a challenge I know a lot of people struggle with. While it's wonderful to have a big space for storing food and kitchen items, it's also very easy for that space to become cluttered and disorganized.
It's definitely possible to organize a walk-in pantry in a weekend, as you'll see from my own experience. You'll want to break it down into the following steps:
Step One: Find an inspiration photo of the pantry you want to use as a guide.
Step Two: Clear the entire space and measure everything.
Step Three: Acquire the containers you'll use.
Step Four: Group like items together in "zones" and label everything.
Step Five: Assess the space, and reorganize if needed until it's right!
(I'll explain exactly how I did this below, and provide a complete list of my favorite pantry organizing products at the bottom of the post!)
This past weekend, I found myself free of any social, youth sports or other commitments. Anyone who knows me knows that this is highly unusual for me! I decided to make the most of my time by organizing a walk-in pantry that badly needed it.
As an Amazon Associate, I earn from qualifying purchases, which costs you nothing. Please read the Disclaimer for more information.
My Walk-In Pantry: Before
My pantry has been a source of frustration and shame for years! I'm lucky enough to have a deep walk-in with shelves galore. However, it's been both a blessing and a curse.
The huge pantry was one of the big selling points when we bought our house 11 years ago. With little storage space elsewhere in the house, it ended up being the place we tossed everything that didn't have a place. Or anything we didn't feel like putting in the correct place.
When that happens for over a decade, you end up with a huge mess.
I cringe just looking at it! As you can see, there's not even a semblance of order at this point. Things are literally falling off the shelves.
With all of the stuff we had accumulated, it felt overwhelming to tackle a pantry makeover. So, I put it off. For a long time.
Until I realized that this space was bringing chaos into my house, the place I seek to evoke peace at all times.
To make matters worse, we have a teenage boy in the house who eats pretty much everything in sight. Every trip to Costco was causing me more anguish because I couldn't find adequate space to store his snacks. It was time to do something about it!
How to Organize A Walk-In Pantry: Step By Step
Step 1: Find Inspiration
Following the steps I laid out in my organization Beginner's Guide, I found some inspiring photos and ideas on Pinterest to both motivate and guide me as I tackled the pantry.
Step 2: Clear, Clean And Measure The Space
Then, with the help of my super-supportive husband, I removed everything from the shelves. And I mean everything!
The sheer amount of things we removed was staggering. Items from the pantry quickly filled all of our counter and floor space in the kitchen and sprawled into the adjacent dining and family rooms.
We found multiple packages of opened or expired food we had forgotten about. I think I counted five boxes of baking soda, each one purchased at some point because I couldn't find the others in the mess.
I had definitely wasted money by being so disorganized.
We found stuff that belonged in the garage and bathroom, which we promptly relocated. And we rediscovered small appliances, cookbooks, bakeware and other household goods we had forgotten about and not used in well over a year, so we made a pile for donation.
After the pantry was empty, I gave the shelves a good wipe down and then measured height, depth and width. Then, it was time to do a little shopping!
Step 3: Acquire The Containers And Tools
I knew I wanted to install a shelf liner, and with the number and lengths of my shelves I'd need a lot. We found large rolls of this taupe-colored grip liner at our local At Home. The price and ease of installation made it perfect for my project.
Another At Home find was this nylon basket, which at $8.99 was far less expensive than the wicker or woven variation. We bought several and used them to store bulk items, bottles and jars beneath the bottom shelves.
For the shelves, we purchased two space-saving under shelf baskets to store bread and similar items: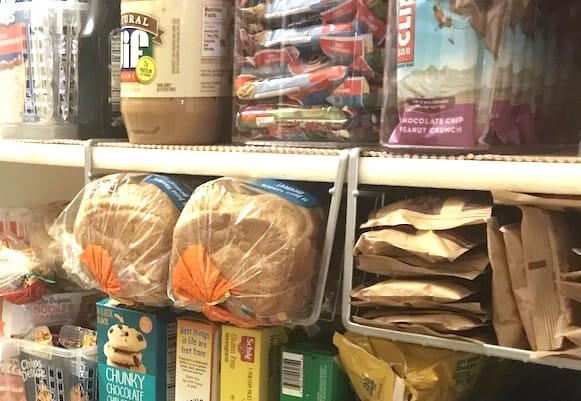 We also bought two gravity can feeders and several clear handled storage baskets.
I cannot rave enough about the can feeders! They save SO MUCH space and can store up to 72 cans combined.
The baskets are also particularly good finds because they're inexpensive, easy to move, easy to clean, and the full plastic bottoms protect shelves from drips and spills.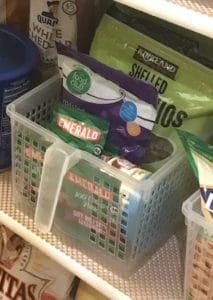 We also picked up several sets of clear plastic storage canisters for items like rice, pasta, sugar, flour, and grab-and-go snacks.
Step 4: Organize Like Items in Zones
For me, it makes sense to organize a walk-in pantry by grouping like-items together and placing them in "zones." Once the zones are set, label everything!
If you'd like to make your own pantry labels, I have an entire post devoted to just that: 16 Ways To Make Labels For Organizing Your Home.
I have breakfast foods in one zone; peanut butter, jelly and bread in another; oils next to vinegars and so on. This makes it much easier and more efficient to retrieve items I typically use together.
As an example, here's my popcorn storage basket, complete with microwave popcorn packages, seasonings, popcorn bags and a scoop. When it's time for popcorn, I can just grab the entire basket and bring it into the kitchen.
RELATED ARTICLE:
Why Zones are the Best Way to Organize Your Home
Step 5: Assess (And Enjoy) The Space
When I had everything just the way I wanted it, I took the most important step in any organization project: I stood in the doorway and basked in the glory of my newly decluttered, highly efficient pantry!
What a huge change and impact in a space my family uses every day. Now, every time I open up the pantry door, I feel nothing but joy and peace. Why did I wait so long?
The Best Walk-In Pantry Organization Solutions
Walk-in pantries are wonderful because they allow for so many organizing choices! Here is a list of the organizers I used, plus a few more that would work great as well.
Can Organizer
Under-Shelf Storage Basket
Clear Handled Bin
Round Airtight Clear Containers
Square Airtight Clear Containers
Lazy Susan Pantry Organizer
Nylon Woven Basket
Food Packet Organizer
Food Wrap Organizer Caddy
How To Organize a Walk-In Pantry: More Inspiration
For more inspiration on how to organize a pantry with stylish, functional tools and solutions, check out this video from Be My Guest With Denise:
Beautiful, right?! I welcome your thoughts and ideas on how you've created an inspiring pantry space.
P.S. Be sure to check out lots of great ideas for organizing your kitchen:
5 Steps to an Organized Side-by-Side Refrigerator
Organize Your Stand-Up Freezer Like a Boss
The EASIEST Way to Organize Under the Kitchen Sink
Simple Ways to Organize Kitchen Drawers for Maximum Efficiency
Gorgeous Ways to Organize Glassware, Cups and Bottles