Labels are a passion of mine! I love to make labels for organizing. To me, a space isn't truly organized until the labels are added. Why? Several reasons, actually:
Labels make it easy to find what you're looking for, especially in a closet or pantry.

They make it easy to arrange (or rearrange) your items for maximum efficiency. (I'm big on grouping like items together.)

Labels also help remind you and members of your household to put things away in their proper place.
With so many fun options available, labels can actually become part of the decor and add style to a space — along with function. I'll show you how…read on!
This post contains affiliate links. As an Amazon affiliate, I may earn a commission on qualified purchases made from these links, at no cost to you. Please see the Disclaimer for more information.
Try These 18 Ways to Make Labels For Organizing
When I create labels, I often use my Cricut, my trusty Brother label maker or I print labels from a simple Word template. However, I'm planning a linen closet makeover soon, and I'd like to try my hand at something new and stylish.
So, I gathered 18 sensational ideas on how to make labels for organizing from some fellow crafty bloggers. The hard part will be picking the perfect style for my closet!
Cricut & Silhouette Label Ideas
For those who are lucky enough to have Cricut or Silhouette cutting machines, this section is for you! No cutting machines? No problem — scroll a little further down to find other great DIY and printable label ideas!
1. Cricut Labels for Upcycled Tin Can Containers
Jane and Sonja from SUSTAIN My Craft Habit dreamed up these labels for upcycled tin can storage containers that work perfectly for craft room organization:
2. Cricut Heat Transfer Vinyl on Fabric Labels
Melissa from Polished Habitat used her Cricut cutting machine AND the Cricut Easy Press Mini to make labels for organizing woven baskets.
Since the woven basket material prevented typical vinyl labels from sticking, Melissa made fabric labels and applied heat transfer vinyl letters. As you can see, the results were outstanding!
3. Silhouette Cameo Drawer Labels for Gift Wrap Cart
Let's talk about gift wrap organization. It can be a challenge! I store gift wrap supplies in a dresser drawer in my guest room because I'm not lucky enough to have my own craft room. If I did, the first thing I'd do is buy this rolling gift wrap organizer cart – what an amazing concept! It comes with slots for gift wrap, drawers, shelves and dowels to hold spools of ribbon. I want!
Of course, drawers and shelves require labels, and Christine from Where the Smiles Have Been has us covered. She provides step-by-step instructions on these colorful DIY drawer labels using her Silhouette Cameo:
4. Silhouette Cameo Etched Glass Vinyl Decals
Another awesome Silhouette Cameo idea from Where the Smiles Have Been uses etched glass vinyl decals to label glass foaming soap dispensers. What a fab way to spruce up the kitchen or bathroom sink with some vintage-looking style!
5. Cricut Vinyl Labels for Media Center Woven Baskets
We recently renovated our family room with an open-shelf media center. My husband and son are BIG gamers, and we've collected a lot of video games over the years.
To organize them, I chose hyacinth woven baskets and made labels using balsa wood, chalkboard paint and white permanent vinyl with my Cricut. I manually punched small holes in the wood and attached the labels to the baskets with small gauge wire. I'm so happy with how it turned out!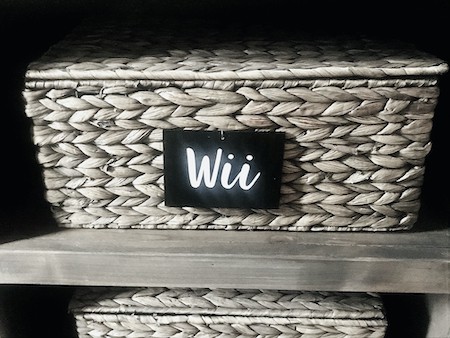 RELATED POST:
12 Wonderful Ways to Organize Video Games, Controllers & Accessories
Crafty DIY Label Ideas
For the handy, crafty DIY folks: this section includes some really fun ways to make labels for organizing that do not require any type of electric machine. Your hands and some crafting tools and supplies are all that you need!
6. DIY Removable Blackboard Labels
Erin from Practical Whimsy Designs came up with this ingenious DIY Removable Blackboard Label that can be used (and re-used) on glass or ceramic cups, glasses, jars, containers, etc. All it takes is some contact paper, chalkboard paint and chalk!
This is an adorable idea for labeling wine glasses and coffee cups at parties, or mason jars filled with craft supplies or office essentials.
7. DIY Balsa Wood Painted Chalkboard Labels
Sometimes our favorite organizing bins and baskets just won't let labels stick to them for very long (if at all). The same goes for that wire shelving many of us have in the pantry. Jess from Jessica Welling Interiors devised a clever hack using balsa wood, chalkboard paint and Crazy Glue for easy painted chalkboard labels:
As an alternative to Crazy Glue, you can also punch or drill a small hole in the wood and use wire, string or plastic ties to affix the labels.
8. DIY Chalkboard Spice Jar Tops
Do you make your own spices, seasonings and rubs? If so, what could be better (and easier to DIY) than customizable chalkboard spice jar tops? Chelsea from Making Manzanita shows you how it's done with some chalkboard paint and a chalk pen, and you can use (and re-use) these jars for any type of seasoning you can dream up.
9. Kraft Tags with Alphabet Stamps
Carrie from Lovely Etc. made these adorable labels for bins in her pantry makeover from plain kraft tags and alphabet stamps! I love the fun, rustic look they give to her white organizing bins.
10. Dry Erase Labeled Bins
Here's a novel idea: instead of making labels to put on bins, why not use the bin as a label? Mind. Blown. Susan from Organized 31 came up with the brilliantly simple concept of using dry erase bins in her craft room.
Now, any time she needs to change what's in a bin, she just wipes off the old writing and adds the new contents! Dry erase bins like these can be ordered here.
Printable Label Ideas
If you've got a printer, you're all set to create some beautiful labels thanks to these fab ideas!
11. Mason Jar Kraft Labels
Here's a great idea for a vintage-styled organizing project. Angie from The Country Chic Cottage produced these really cute, rustic-inspired Kraft labels for her mason jar hardware organizers using printable online labels:
12. Printable Vinyl Pantry Labels
When using labels for containers that need regular washing (like food canisters in the pantry), it's best to go with a label material that doesn't fall apart when wet.
Robin from A Home to Grow Old In created these super-cute pantry label templates that can be printed on your home printer using vinyl sticker paper. You can download the printable fleur-de-lis labels here.
13. Downloadable Pre-Written Pantry Labels
Save time on your next pantry organization project by downloading pre-written pantry label templates. Jaclyn from Crayons & Cravings has created both pre-written and blank printable templates in two sizes that can be used on smaller pantry containers as well as larger bins.
14. DIY Fancy Pantry Labels
Looking for a little elegance in your pantry? Shannon from Homemade Lovely created these beautiful DIY fancy pantry labels that can be printed on a printer using Silhouette clear printable sticker paper. Once printed, simply cut each label out with scissors and apply to your container.
15. Labels for Homemade Cleaning Products
Another great idea from Shannon at Homemade Lovely: these printable 3″ x 3″ labels for homemade cleaning products. There are a total of 10 for products ranging from window cleaner to laundry soap that can be downloaded from her site and printed on white sticker paper.
16. Printable Fridge Organization Labels
The only thing better than a neatly organized refrigerator is…a neatly organized refrigerator with labels! Anne from Pantry Escapades has created these downloadable, printable fridge organization labels for four food categories: fruits, vegetables, cheese and meat. Super cute!
17. Clear Sticker Labels: Laser Printer + Packing Tape
Let's say you want to make some clear labels but you don't have clear label sheets to print on. Not to worry! Use your laser printer to print out the labels on a plain white sheet of paper, and clear packing tape to transfer the ink! Pretty ingenious, no? Jasmine from Feeling Nifty lays out the steps on these DIY clear sticker labels here.
18. Printed Garage Storage Bin Labels
I have a LOT of storage bins in my garage, and I need to be able to find what I'm looking for quickly, whether it's sports equipment or tools or a tire gauge for my car.
My solution? I printed a detailed list of each bin's contents on a 4×6 index card and used clear adhesive pockets to attach the card to the front:
RELATED ARTICLE:
16 Clever Ways to Organize Your Garage on the Cheap
How to Organize Your Entire Home With Labels
In the video below, professional organizer Raveena at Home explains how she organizes any space and how she incorporates labels into her organization projects. Beautiful!
Liked These Ways to Make Labels For Organizing?
I hope you found some inspiration for organizing your own home with labels. If so, please share the article using the buttons below. Happy organizing!