A family command center (also referred to as a "home command center") is a great way to centralize schedules and important information for every member of the household.
Think of it as your "home hub," where everyone goes to check the dates for sports practices, doctors' appointments, mail, the name and number of the A/C repair company, babysitters…you name it!
A DIY family command center is the perfect way to organize your life.
Even better, it's not hard to make one!
This post contains affiliate links. I may earn a small commission from qualified purchases, at no cost to you. Please see the Disclaimer for more information.
In this article:
Pin this image to save for later:
Elements of a Family Command Center
Family command centers come in all shapes and sizes. Their complexity really depends on a family's particular needs.
They can include any or all of the following:
Calendar or place to write family schedules, doctors' appointments, after school activities, etc.
Grocery lists
Meal plans
Chore charts
To do lists
Important phone numbers
School permission slips
A place for family members to leave notes or messages
An inbox for mail and/or an outbox for bills
Hooks for keys, school IDs, even backpacks
Home management binder
Watch this video for some great ideas, then read more below:
What's important is that the command center makes life easier for everyone in the house.
My son is in competitive sports that require a LOT of driving. My husband and I are like ships passing in the night! He often comes home from work after my son and I have left for practice.
But he can check the schedule to see which field we're on at what time, and he'll often join us later. Here's how I made mine:
My DIY Command Center
I'm lucky enough to have a built-in desk in my kitchen, topped with a row of cupboards.
When I went about creating a command center for my family, I re-purposed one cupboard. (I needed shelves for my home management binders and tax paperwork.)
You might also like:
Easy Cabinet Organization
How to Beautifully Organize Home Office Supplies
Until now, this cupboard had been a cluttered mess of old magazines, random books, printer paper, old business cards and more: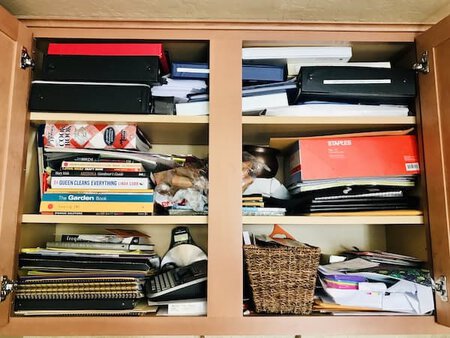 After a bit of decluttering and the addition of a hanging whiteboard/cork board, I created a very affordable, very efficient command center: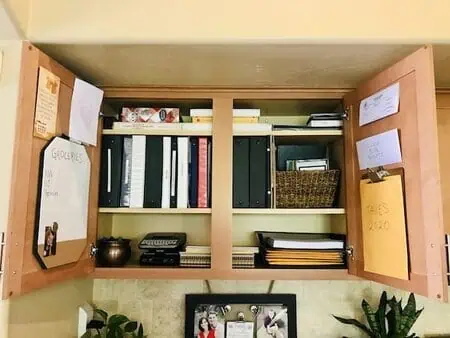 Now, I have a whiteboard to keep my weekly schedule and grocery list (I take a picture on my phone before I head to the store).
I also have a spot for notes for my husband and son, bills, tax receipts for the current year, important documents and my home management binder. Stay tuned: I'll discuss the binder in more detail below.
Since my command center is housed above my desk, I also keep my DIY device charger and storage center here. It's so nice to have a central place to charge iPads and iPhones!
RELATED:
DIY Charming, Multi-Device Charging Station
DIY Family Command Center Ideas
I realize not everyone has the luxury of a kitchen desk and cupboards to serve as a family command center. So, I've compiled some ideas on how to create your own.
All you need is some unused wall space, ideally in a central location for easy access.
Good locations include the kitchen, entryway, mudroom or near the door to the garage. Don't hide it in a back bedroom or office closet.
Chalkboard and Cork Board
Let's start with some simple options. If you have a smaller household like I do, you might be able to keep your life organized with a solution like this chalkboard and cork board rack from Amazon:
Calendar
Got a lot of schedules to juggle? Add a chalkboard calendar that gives you a month at a glance:
Bonus tip: use a different colored chalk for each family member or type of activity!
Another calendar idea: an undated monthly calendar with tear-off sheets. This is perfect if you prefer to keep each month's schedule filed for future reference.
File Folders for Each Member of the Family
Assign each member of the family their own file folder (or set of folders) that they can easily identify by color or pattern. They can keep permission slips, homework assignments, to-do lists and other important information in them. Look how cute these are!
Baskets for Folders
Next, the file folders are easily housed in a cute vintage basket like this one:
You might also like:
Back To School Organization: 6 Tips For Kids and Parents
Beautiful Ways to Organize Kids' Schoolwork Memories
Labels
Don't forget the labels! Baskets, file folders, bins and even shelves stay much more organized when they're labeled. Labels are like little reminders for everyone in the house to put things in their proper place. Check out my post on 16 Ways to Make Labels for Organizing for some inspiration.
Meal planning saves a ton of time when you have a busy household. Get everyone involved in planning and cooking meals by adding a weekly menu board to the command center:
Add Hooks for Backpacks and Sports Bags
If you have the wall space, you can add hooks for student backpacks and athletic sports bags. Check the weight limit first! These can hold 35 pounds:
Final Touch: Storage Bench
If your command center is in a mudroom or entryway, a stylish storage bench adds a beautiful touch to the area. It's a perfect place for the family to store shoes and boots, or set their backpacks and other items by the door for the morning.
All-In-One Family Command Center
A large family with school-aged children might require space for permission slips, a chore list, a home management binder, spare keys, etc.
1THRIVE.com creates beautiful all-in-one command centers in a variety of shapes and sizes. I personally love the option below. It has space for files, schedules and to-do lists and it will fit on a skinny wall:
Multiple school-aged children in the house? Each one can have their own personalized center…and learn how to help you keep it organized! Let them write in their schedules and pin important permission slips and papers. Get them in the habit of checking and updating their center regularly. They'll be organized for life!
Looking for more inspiring ideas? Good Housekeeping compiled a slideshow of fab family command centers that will keep you supremely organized all year long.
Home Management Binder
I highly recommend a home management binder for next-level life organization. This invaluable organization solution is where you house all of the important information you might need in a moment's notice. If there's a fire or emergency in the middle of the night, all you need to do is grab the binder and go!
This video provides a great explanation on how to create a home management binder. Below it, I've detailed what my home management binder includes, to give you some inspiration.
The binder should include the following information:
Important phone numbers (neighbors, relatives, babysitters)
Poison control
Doctors, dentists, veterinarians, pharmacies
Medical insurance information
Property insurance phone numbers (brokers and claim departments for home, auto, etc.)
Home services: A/C repair, plumber, painter, roofer, landscaper, house cleaner, pool cleaner, security company, etc.
Phone numbers for banks and credit card accounts
Pet documents (vaccinations, health records, microchip information, AKC papers)
RELATED:
Puppy Supply List: Organizing For a New Dog
Kitten Supply List: Prepare Your Home for a New Cat
It's also helpful to keep a list of model and serial numbers for your air conditioning unit, furnace, hot water heater and kitchen and laundry appliances. If they require regular maintenance (like flushing or filter replacement), you can keep track of when maintenance is performed.
I keep the owners manuals for all of my home systems and appliances in a separate binder, as they take up a lot of space. Many manufacturers provide downloadable manuals and documentation on their websites. It's helpful to keep the URLs for the manufacturer websites in the home management binder so you can download manuals if you're away from home but need them.
How Will You Organize Your Life With a Family Command Center?
Now that I've shown you how a family command center is a great way to keep a busy household running smoothly, think about ways you might incorporate some of these tips into your own home. And leave me a comment below on how you did it!