"Back to school organization" takes on a whole new meaning in 2020 for millions of families across the country! Whether you're planning to send your kids back in-person, keeping them home for distance learning or homeschooling this year, things are bound to be a bit different.
What WON'T be different, however, is the need to keep your kids (and yourself) organized. This is the key to success in any learning situation, and especially now with things as fluid as they are.
To make my life (and yours) a bit easier, I've researched and compiled some excellent tips on back to school organization for kids and parents. I'm excited to try them!
Psst: PIN THIS IMAGE to save the article for future reference:
This post contains affiliate links. I earn a commission on qualified purchases at no cost to you. Please see the Disclaimer for more information.
Tip 1: Create the Perfect Study Space
Back to school organization starts with a solid foundation: the study space. Every student needs a suitable space to read, write, research and study with limited distractions. It doesn't have to be fancy; it just has to be functional for that particular student. According to Edutopia, a good study space promotes good study habits.
If your home has room for a desk and chair setup, here's a great option. This set includes built-in drawers, slots for notebooks, reading books and papers, and a cork bulletin board. It's available in white or espresso.
For multiple students in a home who study at a communal table, a simple divider is all it takes to create personal study space:
When it comes to reading, it's important to have a space that's comfortable (but not too comfortable). Kids probably shouldn't read or study lying on their beds or the floor. It's too tempting to take a nap! A nice, cushioned chair is a better choice:
Or, how about a fun bean bag? The goal is to get the student excited about using the space…and what kid doesn't love lounging on a bean bag?
Next, let's not forget proper lighting. Straining to see words in a book can cause headaches and makes it difficult to maintain focus. Here are some nice options:
Finally, think about the sounds in the study space. Are they a distraction or do they help the student focus?
Consider that each student may have different needs. One child may require background music or white noise to focus, while another may need absolute quiet. Either way, noise canceling headphones or earbuds can help.
Tip 2: Organize the Study Space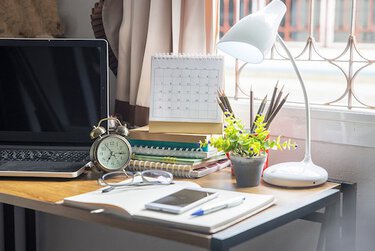 Once the study space is established, the next step is getting (and keeping) it organized!
Start by getting the kids actively engaged. If they help decide how to organize their space, they're more likely to keep it that way. Here are some ideas:
You may also like:
30 Fun Ways You Can Teach Kids To Be Organized
Sensational Toy Storage!
Good Housekeeping has additional DIY back to school organization ideas to make organizing school supplies fun.
After the space has been properly organized, get kids in the habit of putting items back in their place each day after their homework is done. It's much easier to study and do homework in a tidy environment.
Tip 3: Organize the Backpack
Backpacks are not to be overlooked! Messy backpacks lead to crumpled homework, lost permission slips, misplaced lunch money, and general sloppiness at school. And all of that leads to stress, both for kids and for parents. That's why my next back to school organization tip is all about the backpack.
Start Fresh
Start with a clean, empty backpack. If you're considering buying a new one, my family has always been happy with JanSport. They offer a lifetime warranty, a big plus! I sent them my son's backpack with jammed zippers and ripped pockets, and they fixed everything and sent it back free.
If you're re-using a backpack from last year, first check every nook and cranny for old papers and broken pencils. Then wipe it all out.
Gather and Group Items
Second, gather all of the items your student will need: binder and paper, notebooks, pens/pencils, etc. Group "like" items together in small piles.
For small items like pens and pencils, an organizing pouch is a great way to keep them all together and easily accessible.
For girls, it's nice to have a separate pouch for makeup and hygiene products:
These items, and anything else that your student will use every day, should go in the smaller pockets of the backpack.
After that, pack less-often needed items in the bottom of the pack and work your way up.
Bonus Backpack Tips
If your child hates filing papers properly in a binder throughout the school day (like my son does), I suggest keeping a simple folder in the front. Your student can stash random papers in the folder until he/she returns home, and can file them in the binder then. Just make sure this folder is cleaned out every night.
Keep a copy of your student's class schedule in a paper protector in a front pocket of the backpack. This will make it much easier to access during the hustle and bustle of the first week.
A lot of backpacks look the same, and it can be easy to mistakenly pick up the wrong one in a hurry. Have your child add accessories that make his/her backpack easy to spot in a pile and provide a little individual personality! Some ideas:
Caribiners (Great for Attaching Lunchboxes)
Emoji Backpack Clips
Iron On Patches
Sequin Keychains
Tip 4: Organize the Family
Back to school time is always hectic and full of adjustments. After a summer (or, in COVID times, longer) of relaxed schedules, we're all finding ourselves scurrying to school, from school, to sports practice and gymnastics…it never ends.
While there's not much to be done about the fast pace, we can make things less stressful with a family command center.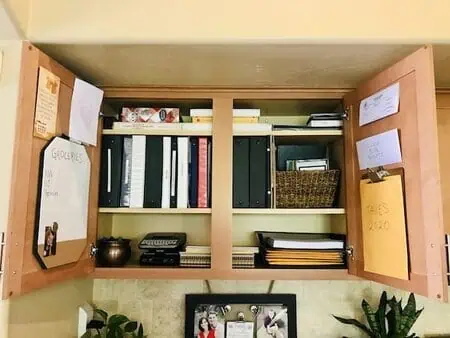 A family command center is a place in the home where we keep track of everything: schedules, assignments, meal plans, important phone numbers, etc.
It can be as simple as a bulletin board or dry erase board, or it can include a cabinet or shelf system with hooks for backpacks, a calendar, a home management binder, chore charts and more.
The only rule for a family command center is that it works for your family! For more information, ideas and tips on creating one, please read Organize Your Life With a Family Command Center.
Tip 5: Meal Planning
Back to school organization must include proper nutrition to fuel learning! With everyone scurrying around, it can be easy to miss meals or fill up on sugary snacks, which saps us of energy and makes it hard to focus. A little planning ahead is all it takes to keep everyone healthy and energized.
Pantry and Refrigerator Hacks
An organized pantry and refrigerator are the first step in back to school meal planning. (If your pantry is a "problem area" in your house, please read DIY Weekend Pantry Makeover for ideas and inspiration on getting it in order!)
Create a shelf or (section of shelf) for healthy snack and lunchbox options that the kids can grab on the go. Clear bins are perfect for grouping like items together: pouches of trail mix, packets of nuts and seeds, crackers and protein bars. With clear bins, you can easily see when you're running low on a particular item.
Same goes for the refrigerator. Fill clear bins with yogurt, string cheese, mandarin oranges, celery and carrot sticks that are easy to grab and pack in a lunch box.
Label the bins with the number of items each child can choose each day to encourage them to eat a variety of foods. Then engage the kids in packing their own lunches with items from the bins. This can be done either the night before or in the morning, depending on how busy things are in your home.
Stress-Free Dinners
Take the stress out of "What's for dinner, Mom?" with some meal planning! Create a weekly menu board (you can keep this in your Family Command Center). Have the kids each choose a favorite meal for one night, and then fill in the rest with quick and easy ideas.
Check out this list of 35 quick meal ideas from Real Simple for inspiration!
Shop ahead for all of the ingredients you'll need each week. You can even keep non-refrigerated ingredients together in a bin to make it easier to retrieve them when it's time to cook.
Tip 6: Organize the Car
My final back to school organization tip: get the car in order! You're going to be spending a lot more time in it, driving to and from school, to and from soccer practice and piano lessons. You know the drill.
Backseat Organizer
First, install a car organizer (or two) in the backseat and fill it the night before with all of those last-minute items your child is bound to need or forget: hairbrush and ties, snacks, breakfast bars, water bottle, travel toothbrush, etc.
Car Trash Can
If there's one thing that drives me crazy about driving all over town, it's the wrappers and spilled food that seem to multiply on the floor of my car. This year, I'm going to keep trash in the backseat to a minimum with a portable trash can that attaches to the center console:
Trunk Organizer
To keep the sports equipment under control, install a trunk organizer for each child and keep their backpacks, uniforms, and other necessities for the week in it. At the end of the week, take everything out, clean/wash/refill and then restock!
Bonus Tip: My son plays on a highly competitive soccer team and is penalized if he shows up to practice or games without the correct uniform or equipment.
To be safe (because even the most organized family forgets things), we keep an extra backpack with an extra set of uniforms, shin guards and ball in the trunk at all times. This has not only come in handy for us, but has helped other players when they've forgotten something.
Back to School Organization: Final Thoughts
My last bit of advice: it will be hectic for a few weeks, as always. Give yourself and your kids a little grace, and work in time for a fun treat at the end of the week. Celebrate the wins and roll with the punches. Before you know it, the holidays will be here…hang on tight!