My husband, son and I are all gamers to one degree or another, which means we need efficient ways to organize video games in our home. And headsets. And controllers. (It's been an ongoing issue.)
We have three rooms in the house where we play video games: the family room, my husband's office, and my son's bedroom. Each room obviously has different furniture layouts, so I've had to get creative with my organizing solutions!
In researching different ideas for video game organization, I've found several ways that work for us…and several more that might work in other households. Let's explore them all!
Try These 12 Ideas to Organize Video Games, Consoles and Controllers
1. Declutter Video Games
The first step: declutter! Go through all of your video games and declutter any that you or your kids have outgrown and don't play. Put those in a donate/sell pile, along with any games for which you no longer have a working console.
You may be surprised by how much space you free up just taking this step!
Check out Home Toys' list of the best places to sell video games for ideas on how to make a little cash from your decluttering. (Your kids might be more willing to part with a bunch of old games in exchange for money to buy a new one.)
Or, consider donating them to a local public library or Boys and Girls Club.
2. Try Woven Baskets with DIY Labels
We recently purchased a rustic open-shelf media console for our family room from Living Spaces. We love it!
However, we did not want to shove our video games and accessories directly on the shelves. So, I measured the shelf openings and went searching for the perfect bins.
I chose lidded hyacinth baskets. They were the right size and color to match our furniture, AND they neatly accommodated two stacks of video games.
FYI: Amazon has a similar selection of baskets HERE. Just measure your space before your order.
For the labels, I wanted something that matched the rustic vibe of the furniture. I decided to order some unfinished balsa wood and chalkboard paint from Amazon.
I then used my Cricut to cut white vinyl labels to adhere to the wood. Voila!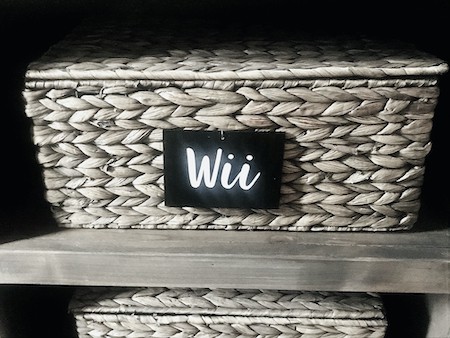 Obviously, you can use real chalk to label the bins…I just didn't trust my hand lettering skills. I'm SO happy with how this project turned out!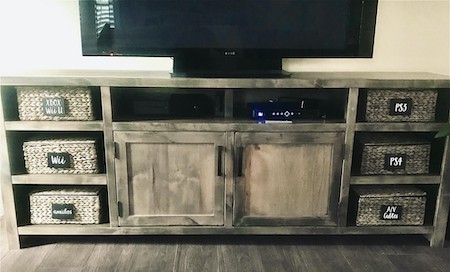 These bins and labels would also work for small toys in a play room, home office supplies, craft supplies…there are lots of possibilities.
RELATED:
3. Use Drawer Organizers in Media Cabinets
Drawer organizers provide a simple way to organize video games in a cabinet. We bought a set for our son and I whipped out my Brother label maker for some quick labeling.
Since the organizers came in a set of varying sizes, we corralled his little rock collections, soccer pins, sports cards, etc. in the smaller bins. Now, everything has a place!
RELATED:
4. Store Game Discs in a Zippered DVD Case
To really save space, you can remove the video game discs from their plastic cases and store them in these nifty zippered DVD wallets. We keep our old BluRay discs in them (we bought these WAY back before streaming was a thing) in alphabetical order:
If you choose this option, contact your local recycling center to see if they'll take the plastic cases. If not, public libraries sometimes need them to protect their CDs and DVDs.
5. Consider a Media Spinner Rack
If you lack cabinet or shelf space in your gaming area, or you prefer to see all of your games at once, this spinner rack might be a perfect solution for you.
At just under a foot wide and about three feet tall, it maximizes vertical space and spins a full 360 degrees for quick access.
6. Use a Storage Ottoman
A storage ottoman is a great place to hide video games, DVDs or toys in the family room if you don't have lots of cabinet or bookshelf space. (Place games in stackable bins to keep things tidy.) And the ottoman provides extra seating for parties and gatherings, too!
7. Try Decorative Trunks
Make video game storage part of your home's decor by storing games and accessories in pretty decorative trunks like these:
8. Install Floating Bookshelves
When space is tight, look UP and make use of empty wall space. Video games can be stored on sturdy floating bookshelves like these:
9. Add a Wall Mount for Controllers and Headphones
Tired of controllers and headphones strewn all over the floor? This wall mount could be a game-changer (pun intended). It features a no-hardware-needed adhesive that's strong enough to hold two controllers and one headset. Mount it inside a cabinet, under the desk, on the wall…wherever you need to keep things off the floor.
10. DIY Video Game Controllers Storage Rack
If you have serious gamers in your house, this fun DIY game controllers rack from Brothers Make adds a nice touch to the game room:
11. All-in-One Charging & Storage for Nintendo Switch
My son has a Nintendo Switch, and it's a lot of fun (especially on road trips). However, it comes with lots of small parts, accessories and games that require their own storage.
I like this all-in-one storage solution that charges and holds the Switch, controllers, games and accessories:
12. Travel Organization for the Nintendo Switch
Since it's portable, the Switch is the perfect road trip video game system. My family uses this travel case to keep the console, all of the (many) cords, the controller and games in order:
Ways to Organize Video Games: Final Thoughts
Remember, the best storage solution is the one that works for your household. It's ok to try organizing things a few different ways before you find the right one.
I hope you found some inspiration to organize all of the video games, controllers, headsets and accessories in your house. If you did, please share the post using the buttons below with someone else who might enjoy it as well! Happy organizing!