Media center organization might feel overwhelming and seem expensive. How do you organize all of those media cables, cords, video game systems and TV components? When you're short on funds and space, finding a solution that truly works can be a challenge!
My son's two favorite hobbies are video games and building with LEGOs, both of which can create endless headaches from an organization standpoint. My husband and I also enjoy the occasional video game session, and over the years we've ended up with a collection of gaming systems (and the endless cables that come with them) that all needed a home. The kicker: we have a very small wall to work with.
A trip to IKEA netted us this inexpensive open shelf unit that serves as a media console offering both a streamlined design (perfect for a small wall) and plenty of storage space.
The shelving unit has ample space for multiple game systems, two sets of rechargeable controllers, a wireless headset and two baskets filled with games…and still has room for one of my son's LEGO builds to add a little boyish decor.
To help with cord organization, my husband purchased a Kinivo HDMI switch that allows us to plug in up to three HDMI cables (our TV only has two ports, and we needed one for a DirecTV receiver) and an Amazon Fire Stick. The switch connects to the TV with a single HDMI cable. We can control the switch with a remote, so maneuvering among our various systems is pretty easy!
My husband and I both detest seeing cords and cables all over the place, so he used these stick-on clips to run the cables down the legs of the shelving unit.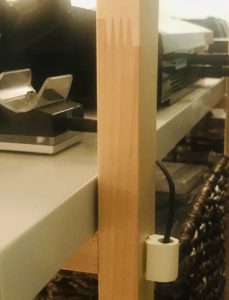 In the end, we're very happy with the result!