Calling all sewing enthusiasts! (And knitters, too!) I've been looking for the best creative ways to organize my sewing supplies that keep everything neat, tidy and easy to access. I reached out to fellow organizers and crafters for their great ideas, and have rounded up my favorites to share with you.
Read on for tips on storing sewing machine parts, thread (and yarn), pins, needles, patterns and fabric…and so much more. Great solutions for large craft/sewing rooms and small sewing spaces alike.
This post contains affiliate links. As an Amazon affiliate, I earn a small commission on qualified purchases at absolutely no cost to you. Please see the Disclaimer for more information.
1. Storage Ideas For Sewing Machine Parts
Let's start with the sewing machine and all of the many sewing tools we need to organize! Before I had a sewing machine, I had NO idea how much there was to it. So many tools and accessories.
Travel Sewing Machine Case With Storage
I have a standard Singer sewing machine. I don't use it as often as I'd like, and I've been thinking about taking sewing classes. When I found this carrying case with storage pockets I got very excited.
It has storage pouches for foot controls, presser feet, needles, bobbins, thread, scissors, buttons, seam rippers…everything I'd need to take with me to class.
Presser Foot Set & Carrying Case
A 32-piece presser foot set and carrying case? Perfect! This set is compatible with Singer, Brother and several other sewing machine brands. The slim case is perfect for storing in a small space while keeping your presser feet within easy reach. It comes with a manual and DVD, too.
2. Store Spools of Thread in an On-The-Go Case
Another great idea for people who like to sew on the go: an 80-spool storage box and carrying case. I love clear storage containers like these…clear bins always make it so easy to see everything all at once. This works for thread and embroidery floss.
NOTE: spools must be equal to or less than 2.2″H x 1.69″W.
3. Try a Table-Top Rotating Rack For Thread Spools
Got a small sewing area? Give this rotating thread rack a whirl. It stores 84 spools of thread or embroidery floss, and it can also be used in a small craft space to hold beads, rings and other jewelry-making supplies.
(P.S. Here are more ideas for organizing jewelry, if you're interested!)
4. Use a Peg Board for Sewing and Craft Supplies
When space is limited, the best way to store a lot of small items is on an empty wall. I love a good pegboard!
It's a great way to use wall space to store thread, yarn and ribbon spools as well as tools and supplies like rotary cutters, measuring tape, scissors, needles, bobbins…you name it. Use single hooks for spools and small containers for supplies.
My favorite thing about a pegboard is you can completely customize it to suit your needs. It's a great storage solution that can be mounted right above your craft or sewing table.
If you have a cutting table, consider mounting a pegboard on the wall above your cutting mat to keep all of your tools and supplies close at hand.
Check out more ways to organize your home with pegboards in my article devoted just to this topic! You'll be amazed at all of the creative ways they can be used in your home or garage.
5. Make Two-Tier DIY Pin Cushions
What a fun project from Intelligent Domestications! This 2-tier set of pin cushions requires just a couple of cans, a thrift store candlestick, fabric scraps, stuffing and some fun embellishments. Follow the easy step-by-step instructions in the article. This could make a fun and unique handmade gift to give to someone new to the sewing hobby, too.
6. Assemble a Mason Jar Sewing Kit
Sometimes, you don't need an entire room for a quick mending project. You just need easy access to your basic sewing supplies when a button pops or a seam rips. A mason jar is the perfect size and a great place to store them for sewing emergencies. Sometimes, it's all about simple ideas, am I right?
Check out the step-by-step instructions to make your own DIY mason jar sewing kit over at Hip Mama's Place.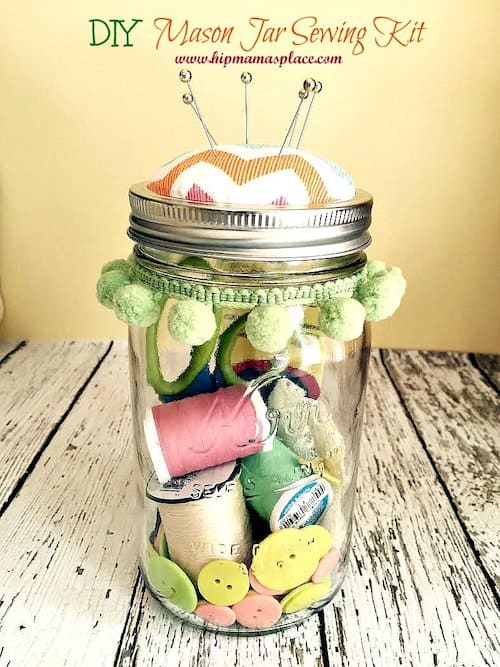 Betsy Fein, professional organizer and President of Clutterbusters!! also likes repurposing items like mason jars for organizing. She says a mason jar makes a great home for knitting needles and hooks…and you can even knit a cute little cozy to fit around the jar. (Love this idea!)
7. Simple Ideas for Storing Sewing Patterns
Here are a few sewing room organization hacks for storing patterns. The best solution for you will depend on how many you have. For a small collection, a banker box or file organizer box works well for those oddly-sized paper patterns.
You can sort by pattern type (adult, child, home, etc.) and use a label maker to quickly label each box.
Another idea is to store them in a comic book storage box. Comic books have similar dimensions to sewing patterns. The box will help keep patterns neat and reduce folding or creasing.
A third great option: store your patterns in cardboard magazine holders. They look nice and tidy lined up on a craft room shelf or sewing desk, and they're easy to label. Buy them in fun shades or patterns for a pop of color:
6. Keep Rolls of Fabric or Yarn Organized With DIY Shelves
Next on the list of creative ideas for an organized sewing room: Make & Do Crew made an entire wall of shelves with wooden crates. Such a good idea for storing bulky yarn or yards of fabric!
Check out their site for the step-by-step to make this amazing project: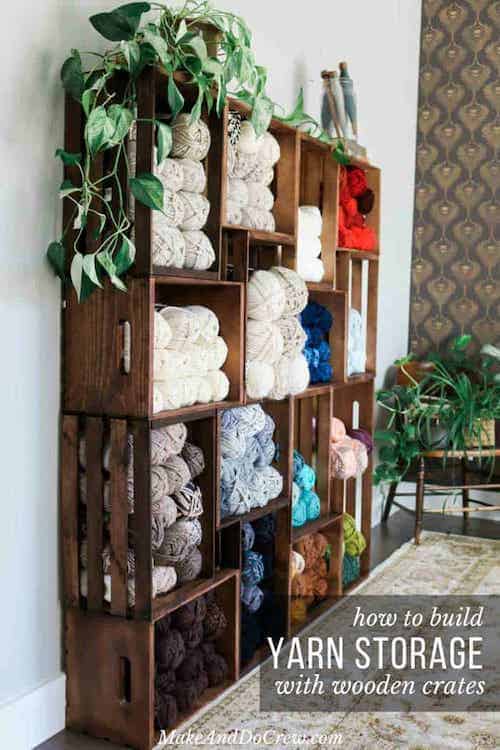 You can make fabric look tidier with this trick from DIY Danielle: wrap it around comic book storage boards before storing on the shelf. (Read more tips on her blog.)
7. Use Tackle Boxes to Store Smaller Items
You know that tackle box you use for fishing trips? It also works great as handy, portable storage space for small sewing supplies like buttons, pins, needles, safety pins, scissors and spools of thread.
8. Stow Your Collection of Sewing Supplies in a Vintage Suitcase
Love this creative idea! The Boondocks Blog converted an old suitcase into an adorable sewing station. Check out the story behind this adorable makeover on the blog.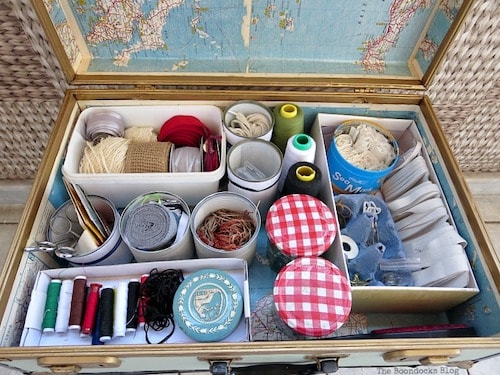 (Another great use for a vintage trunk: use it to store essential oils!)
9. Ironing Board Solutions for a Small Sewing Room
Wall-mounted ironing board storage
At some point in a sewing or quilting project, you'll need to use an iron. If you have a lot of space for a full-size ironing board, you can store it on the wall with a hanging rack like I did in my laundry room: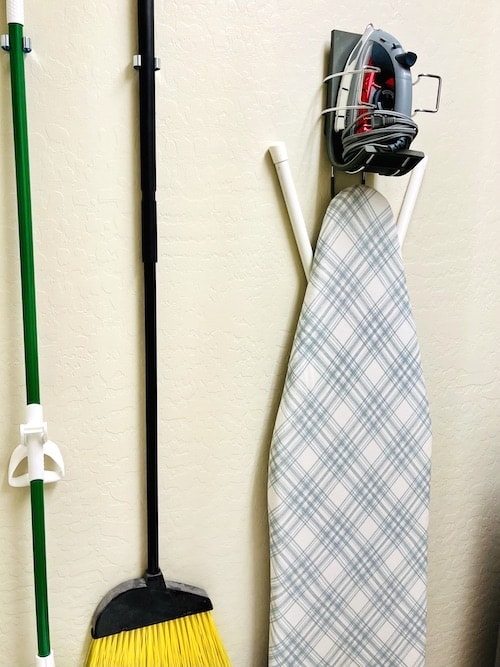 I love this mount; it works great to store the iron and board.
Door hanging ironing board
Smaller spaces might benefit from a back-of-the-door solution like this:
Tabletop ironing mat
Got a large counter you can use to iron your sewing projects? A tabletop ironing mat may be the easiest way to smooth out those wrinkles. Bonus: it's easy to pack up and travel with, too.
10. Try a Folding Sewing Table That Becomes a Side Table When Not in Use
Ok, this is one brilliant invention. Here's a sewing table – on wheels – that stores (and hides) all of your sewing supplies when not in use. It actually folds in half and becomes a pretty little side table!
Stow it in the living room or anywhere you might need a side table, then wheel it up to the kitchen table or dining table to work on sewing projects. I just love fresh ideas like these:
Check out more articles for tips on organizing craft supplies, office and school supplies, and much more below. Happy organizing!
Clever Colored Pencil Storage Ideas
Beautiful Ways to Store Kids' Art and School Work
Under Desk Storage Ideas You'll Love
How to Beautifully Organize Home Office Supplies
How to Organize Your Home With Baskets