My son is a high school upperclassman, which means he'll be a college freshman much sooner than I'd like.
This is the first time I'm facing college life as a parent. So, I thought it would be a good idea to create the ultimate college packing list to help myself (and everyone in my situation).
If you're a soon-to-be freshman or parent, scroll down for ideas on essentials for small dorm rooms, school supplies, and everything else students need for freshman year.
Plan your dorm shopping ahead of time, but know that if you forget anything you can always make a quick trip to a local store after you arrive. The typical college town has at least one or two big box stores near campus.
Good luck to you on college move-in day!
P.S. I've included a downloadable free printable college dorm checklist, too…you'll find the link at the bottom of this blog post.
This post contains affiliate links. As an Amazon Associate, I earn a small commission from qualified purchases at no extra cost to you. Please see the Disclaimer for more information.
1. Dorm Bed Essentials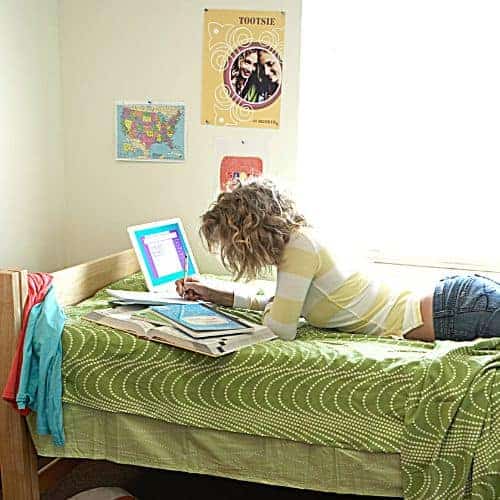 One of the first things to tackle on the college packing list is the dorm bed. Adequate sleep is very important for college students; let's make sure their beds are as comfortable as possible.
You'll notice these beds pretty much always feature Twin XL mattresses. (Confirm the size before buying bedding.)
Twin XL mattresses are five inches longer than standard twins. Here's what this means:
You WILL need to purchase a Twin XL mattress pad or cover and fitted sheet for the mattress. Standard sizes will not fit.
You do not necessarily need to buy an XL flat sheet or comforter. It depends on their dimensions and how much overhang you want on the end of the bed.
Dorm Bedding
There are countless options when it comes to dorm bedding. Let's start with the most important items first:
Pillows (I recommend at least two) and pillowcases (2-4 so there's an extra clean set)
Fitted sheet (Two)
Flat sheet (Two)
Washable comforter or duvet & duvet cover
A student's dorm room may get hot in the summer and cold in the winter, so a few extra blankets are always a good idea.
If you prefer a no-fuss all-in-one dorm bedding solution, here's a 24-piece college dorm room bundle that includes:
Comforter and two sets of sheets
Two pillows
Blanket
Two bath towel sets
Dorm laundry bag
Bedside storage caddy
Two underbed storage bags
Dorm Mattress Pads
Dorm room mattresses are not typically comfortable by themselves. I recommend a good mattress pad or topper that adds softness and support for a quality night's sleep. This option features 3 inches of gel-infused memory foam, ventilation to reduce trapped body heat, and a washable bamboo-rayon cover:
Underbed Storage
Underbed storage containers are definitely dorm essentials you don't want to overlook. Dorms are incredibly small spaces for one or two people to live in and there's never enough built-in storage.
Many students opt to stack large plastic tubs under the bed. This is a simple and easy solution.
It really comes down to how much space you have and the items you'll need to store. (Boots and winter gear? Extra bedding and towels? Food?)
Consider options with wheels to make retrieving and putting away the bins a little easier.
Or, simply add wheels to your plastic tubs to make them easier to access:
Optional Items For a College Bed
Loft beds. Converting a standard bed into a loft bed opens up a lot of space in a small dorm room. A lofted bed allows for a desk or small couch to fit underneath.
Many universities will offer to loft a bed for a fee at the beginning of the year or provide a loft kit to DIY. (Check ahead of time.)
Bed risers. An alternative to a lofted bed is putting the bed on risers. Risers add 6-8 inches of space beneath the bed for storage. You can order them online (some even come with power outlets and USB ports):
Bed storage shelf. An attachable shelf keeps an alarm clock, phone, tablet, headphones and other electronic devices close at hand. The BedShelfie has options for a bed with a rail or a flat base:
Bedside caddy. Lofted beds or top bunk beds are probably better suited to a hanging bed caddy. This solution has pockets to hold a tablet or phone, notebook, pens/pencils, snacks and drinks. And it comes in a huge variety of colors to match any student's dorm decor:
Laptop lap pillow. In college, a fair amount of school work and studying will be done from bed, a couch or the floor. A laptop lap pillow provides more comfort and stability:
Bed shaking alarm clock. Sometimes the alarm on your phone just isn't enough. I remember a few late nights when I slept right through my alarm the next morning. And some kids are just really heavy sleepers. This gadget ensures a student will get to that 8am class on time with an alarm that actually shakes the bed:
2. Dorm Desk Essentials
A college student will likely spend a lot of time at their desk (hopefully, anyway) during their first year. Here are the essentials they'll want on their packing list for maximum comfort, efficiency and productivity.
Lighting. Aim for solid task lighting and a lamp that takes up as little space as possible. A charging port is really helpful.
Small cork/dry erase board. In a tiny dorm room, use as much wall space as you can. A small combination cork board/dry erase board (hung with 3M Command Strips) makes it easy to post reminders about tests and appointments or leave that new roommate a quick message.
Multi-device charging station. The average college student has a smartphone and ear pods (and some have smart watches, too) that need regular charging. This compact solution takes care of them all. (Android and iOS compatible.)
Wall caddy for school supplies. Free up precious desktop space with a no-damage, adhesive wall caddy. This one can hold up to 4 pounds. That's a lot of pens, pencils and highlighters!
Power strip. Because there will never be enough outlets.
Spill-proof travel mug. Coffee is a huge part of college dorm life. Students need it to wake up and stay up studying, and a spill-proof insulated travel mug will serve them well.
Expandable drawer organizers. Desk drawers come in all shapes and sizes. Choose an adjustable tray or customizable set of organizers to keep all those school supplies and additional items you need to store nice and tidy.
Small trash can and trash bags. A dorm room may come with a wastebasket, but a second one under the desk never hurts…along with trash bags. You'd be surprised how much trash a college student can generate.
3. Dorm Bath Essentials
Large communal bathrooms are something most college students have to adjust to at the beginning of the school year. Add these essentials for dorm bathrooms to the college packing list to make the transition nice and easy.
Towels and hooks. Depending on how often laundry will be getting done (and how many times a student reuses towels), I recommend at least 3 large bath towels and washcloths. A few Command hooks on the dorm room wall keep towels fresh and dry between uses.
Bathrobe. Unless one enjoys sauntering down the dorm hallway in just a towel, a robe will really come in handy. Store it on a hook next to the bath towels.
Shower shoes. A must to avoid athlete's foot and walking barefoot on dorm carpet and bathroom floors. Yuck.
Shower caddy. I love this mesh caddy that stores and transports all of your bathing necessities, dries quickly when it gets wet, and folds down to almost nothing when empty.
Hair tool organizer caddy. Got hair tools? You'll need a place to store them and to transport them. Here's a great way to keep your hair dryer, curling/straightening irons, brushes/combs and haircare products corralled and easy to access.
Skincare & cosmetic storage. Keep your skin and cosmetic essentials in one place (and ready for travel) with a portable toiletry bag. Also nice for toothbrushes, toothpaste and dental floss.
4. Dorm Closet Essentials
If one thing's for sure, there's NEVER enough closet space in a dorm room. Make the most of what you've got with the help of some great organizational items.
Space-saving magic hangers. Fit more shirts in less space with a set or two of these magic hangers. They work best in a closet with a single tall rod, as the clothing will need more vertical space.
Multi-pant hangers. Again, using every inch of available space allows you to fit more in a small closet.
Add space for folded clothes or shoes. Need more shelf space? Try a set of hanging shelves for clothes you tend to fold vs. hang. Also works well for shoes.
Over-the-door storage. If you have a swinging closet door, an over-the-door shoe holder makes great use of empty space.
Storage cart with drawers. This can fit nicely in a dorm closet or any extra space in the dorm room for sweaters, sweatshirts and sweatpants, extra socks, etc.
5. Dorm Room Essentials
There are a few more things every dorm room can use (space allowing) for a more comfortable school year.
Rug. A large area rug warms up a bland dorm room and helps block sound from the neighbors below.
Small vacuum. Crumbs happen. A lot. A handheld vac is nice to have for quick cleanups.
Clorox wipes and cleaning supplies. Germs spread easily in college, especially in close quarters like dorms.
Small first aid kit. Always handy to have bandages and antibiotic ointment just in case, so no one has to knock on the R.A.'s door at 2 am for a stubbed toe.
Shelving for TV. I've seen a lot of pictures of dorm setups with a shelving unit like this at the end of the bed. A small flatscreen TV fits nicely on top, with storage for game consoles, microwave or refrigerator beneath.
Fridge & microwave. See if you can rent a mini fridge for the dorm room so you don't have to buy and haul one back and forth. A microwave is not essential per se, but nice for late-night popcorn or soups.
Umbrella. Hoodies are not practical every single day (at least for most people). Pack a travel-sized umbrella and store it on a Command hook near the door so it won't be forgotten on the way out.
Storage bins. Stow these wherever possible and use them to store cleaning supplies, laundry detergent, snacks, and all of those other necessary items (and fun but unnecessary items).
Full length mirror. An over-the-door mirror is helpful for that last-minute check to ensure presentability before leaving the dorm room.
6. Laundry Supplies & Essentials
No matter how many clothes you bring, laundry will need to be done at some point. Here are the most important laundry supplies to remember:
Portable laundry bag. Every college student needs a laundry bag with backpack straps to easily transport clothes to and from the laundromat. Throw detergent and fabric softener in the top and you're good to go.
BONUS: This bag can also be used to store and transport sports equipment like balls, cleats and gear.
Detergent and fabric softener. Pack the same brand you use at home so clothes smell familiar (helpful for homesick students) and there's no chance of skin irritation.
Wrinkle release spray. Most students aren't going to take time to iron their clothes, and there's precious little room for ironing boards and irons. I highly recommend wrinkle release spray — it really does work!
Optional: travel steamer. When you really need help with wrinkle removal (say for a performance or for professional attire), a travel steamer takes up very little space and gets the job done.
7. Important Documents
Here are the most important documents every student should have with them when they move in.
Driver's license, passport or other official photo ID. At least one of these is required for identification purposes, and possibly an ID card and passport if there are plans to travel or study abroad. Parents should keep a copy of each at home, too.
Social security card. This will be necessary to get a part-time or full-time job. At the very least, bring a copy and keep the original at home with parents.
Birth certificate. At least have a copy on the student's phone in case of a lost ID. Sometimes a birth certificate is required to register for classes.
Medical insurance cards for health, dental and/or vision. Necessary to seek medical care or pick up prescriptions off campus.
Immunization records. Some colleges require proof of vaccination due to the ease of spreading germs on campus and in dorms.
All official college documentation. It's always a good idea to bring a student's acceptance letter, parking permit info, standardized test scores and financial aid or scholarship information.
List of emergency contacts. In case of emergency, or if a phone gets lost or stolen, have a printout of all emergency contacts in the dorm room and/or backpack.
Banking information. Checkbooks or banking documentation with account and routing numbers are helpful to have in case a debit or credit card gets lost or stolen.
Car insurance and registration. Both are necessary if bringing a car to campus.
It's helpful to keep these documents in a locked, fireproof box in a desk drawer or storage bin to protect against theft.
8. On-Campus Essentials
A few more things that will help students while on campus:
Card case for phone. On many campuses, all you need is a student ID and maybe a debit card to get around. A card case for the back of a smartphone means no need to lug around a wallet or purse.
Backpack with laptop storage. A sturdy TSA-approved backpack with laptop storage is perfect for students on the go…whether on campus or traveling home for break. This option offers zippered access for a 17-inch laptop and a padded TabletSafe tablet pocket.
Printable College Packing List
Download and print my free college dorm room essentials checklist!
It has everything mentioned above, plus space to write in your own college packing list items.
Take a peek at more organizing articles that can help college students with moving, desk storage, bedrooms and clothing below. Happy organizing!
MORE ARTICLES TO HELP COLLEGE STUDENTS:
How to Get Organized for a Move
The Best Way to Organize Desk Drawers
Best Ways to Organize T-Shirts