College students who live in a dorm do not have enough storage space. That's just the plain truth. Dorm room storage is critical for all of your college essentials.
You need a great way (or a few great ways) to make the most of a small space. The good news: you don't need a professional organizer to organize a small dorm room!
I've collected the best dorm room storage ideas for maximum efficiency from college students who did it right. Read on!
(And be sure to download my super-handy FREE ultimate college packing checklist to help you get ready for move-in day!)
This post contains affiliate links. As an Amazon Associate, I earn a small commission on qualified purchases at absolutely no cost to you. Please see the Disclaimer for more information.
1. Use Bed Risers to Create More Dorm Storage Space
A key to small-space organizing is using every bit of space you can. You've got to get a lot of stuff to fit into a tiny dorm room, after all.
Your dorm bed is the largest piece of furniture in your room. Take advantage of the space beneath it! As you'll see in this article, you can store SO MANY things under the bed.
​
Bed risers are an easy way to lift your bed, and they come in different heights. The set below can be purchased with 3, 6 or 8 inches of height. To me, the higher the better.
EVEN BETTER…it comes with a USB port and power outlet, which is really convenient in a dorm. You can never have too many ports or outlets in my experience.
​2. Use a Storage Ottoman Step Stool
A multi-use piece of furniture like this is one of my favorite storage solutions. Once your bed is lifted, you may need a step stool to climb up. Use a storage ottoman like this one!
It's the perfect place to stash cleaning supplies or any small items you want to hide away. And it takes up very little floor space.
3. Add Cube Shelves for Under Bed Storage
This is one of the most beautiful ways to organize beneath a dorm bed! Cube organizers make lovely storage bins that hide your items but offer easy access. You can store clothing, extra bedding, towels, food, plates and cups…you name it.
I like these collapsible canvas storage bins for this space because they're easy to fold up when it's time to move at the end of the school year.
You can also use wicker basket storage bins.
PRO TIP: Carefully measure the space before purchasing the organizer to ensure it'll fit.
4. Hide Boxes and Luggage Behind Your Under Bed Storage
Another great dorm storage idea (at no extra cost): use the empty space behind your under bed storage bins for rarely used items like moving boxes and luggage. This way, it doesn't take up precious closet space AND it's out of sight until you need it.
5. Add Dorm Bed Storage for Your Water Bottle and Travel Cup
You'll spend lots of time on your bed: reading, watching movies, using FaceTime with your family, and hanging out with your roommate. Make it more comfortable by adding storage for bottles and cups — and avoid the hassle of spills in the middle of the night.
How cute is this cozy cushioned cup holder?
6. Use a Bedside Caddy to Charge Devices Overnight
College dorms don't usually provide a nightstand, so use a bedside caddy or bed shelf instead.
These come in many different styles to suit your color scheme and bed frame. Some hang over the frame while others tuck into your mattress. They hold phones, tablets, glasses, chapstick and lotion…all of those typical nightstand items.
7. Use Utility Carts for Mobile Storage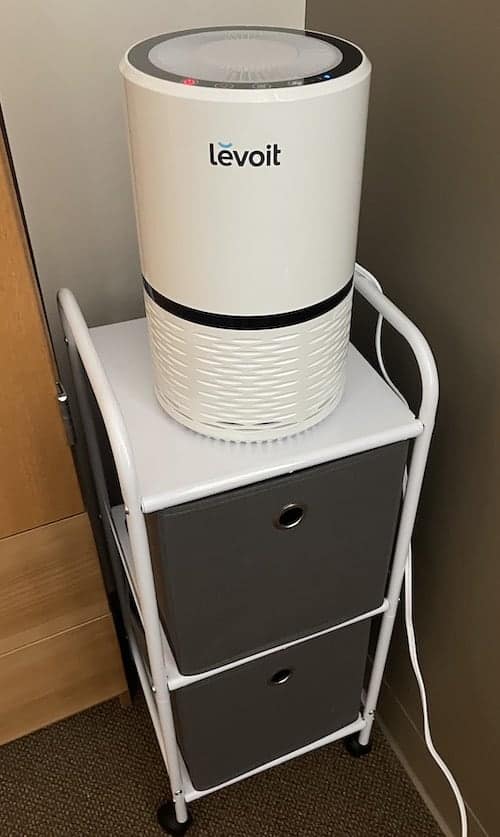 I love the versatility of a rolling cart. You can use one to store food items near your microwave, or school supplies near your desk, and move it next to your bed for snacking or studying in comfort. This option with cube organizers looks really clean:
8. Use More Wall Space with Command Hooks
Command hooks are your best friend in a college dorm room. When you're not allowed to drill or nail into the walls, but you need to use all of the wall space you can…removable hooks are the best way to go.
You can also use them on the back of your door, side of your desk, inside a cabinet door…get creative!
9. Store School Supplies in Drawer Organizers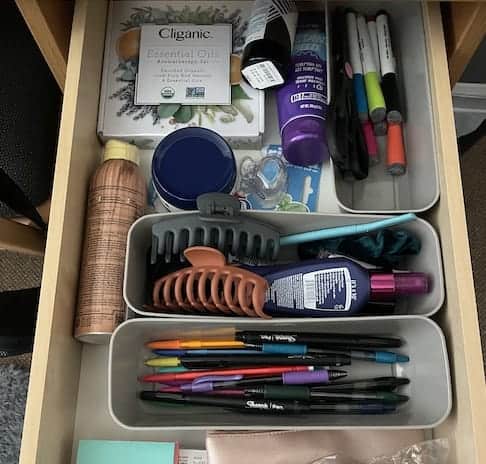 ​You will probably have a desk with drawers in your dorm room. Make the most of your drawer space with organizers. I like adjustable organizers or sets of small bins that you can configure in multiple ways.
P.S. Check out this post for great desk drawer organization ideas!
10. Store Like Items in Bins on Shelves
One of the simplest organization ideas is to simply group "like" items together in bins. Have one bin for school supplies, one for cosmetics, one for hair care, etc.
This will help you keep track of your things in a small space and keep that small space tidy.
11. Use Adjustable Wire Shelf Storage Around Your Mini Fridge
I love adjustable dorm storage solutions! This wire shelving rack can fit around your dorm fridge and will fit a microwave, coffee maker and/or small smart TV, too!
I've seen students place these at the end of their beds to watch movies or play video games. (I would secure it to the bed with zip ties if you go this route.) The shelves adjust to any height you need.
PRO TIP: Add your own hooks on the side for things like scarves, belts, jewelry and purses.
12. Add a Full-Length Mirror to the Back of a Door
Don't leave for class without double-checking your fit. Add an over-the-door mirror to your dorm or closet door.
13. Keep Dresser Drawers Tidy with Organizers
Add a few dresser drawer organizers to keep socks, bras, and underwear tidy. These can be great for file-folding t-shirts and athletic wear, too.
Check out more tips to organize a messy dresser!
14. Store Laundry Room Essentials in a Laundry Backpack
A laundry backpack — what a great idea! Use it as a hamper in your room, then easily carry it and your detergent to the laundry room at the end of the week. You can hang it on the end of your bed or store it in a laundry basket (and use the basket for folding clean clothes).
15. Hang Shower Stuff on the Back of Your Door
Another great use of Command Hooks! Hang your towel and a mesh shower caddy on the back of your door for quick access on the way to the bathroom.
16. Store Extra Blankets or Seasonal Clothes Above Your Armoire or Wardrobe Closet
If you have an armoire or wardrobe closet like this, add a large basket or two on top for blankets or seasonal clothes you don't need right away.
It might be hot in August when you move into your dorm, but some climates get COLD in the winter. The extra space above an armoire is a perfect solution for extra storage!
​P.S. I've got more armoire organization tips here.
17. Use Desk Organizers for a Tidy Study Space
Your desk will likely become a place to store more than just school supplies. Keep it as tidy as possible with lots of organizers. Here are some great ideas:
For more desk organizing tips, be sure to check out my articles on:
18. Jewelry Storage: Try a Travel Jewelry Organizer
Check out this perfect storage solution for all of your jewelry! It keeps everything safely organized and sits neatly on a shelf or in a drawer.
19. Keep Your Favorite Photos in a Neat Wall Display
Create a little wall of memories with neatly arranged photos of family and friends. This set of photo clip string lights keeps your loved ones close by without taking up drawer or shelf space.
20. Organize Makeup, Nail Polish and Toiletries in an Upright Storage Bin
A vertical storage organizer like this frees up valuable drawer space and allows you to store all of your cosmetics, nail polish, perfume, etc. upright to avoid spills.
P.S. I have more makeup organization tips for bedrooms and bathrooms!
21. Use Magazine Holders to Store Books and More
Magazine holders store much more than magazines. And a basket version like this can hold your textbooks, art supplies, games and other items you may need to move around:
22. Store Hair Accessories and Tools in a Countertop Organizer
If you do most of your hairstyling in your room (or you're lucky enough to have bathroom counter space for your things), this solution keeps everything in one place.
23. Use a Hanging Shoe Organizer
Love this idea! A hanging shoe organizer on the side of an armoire is perfect for a small dorm room. Your shoes are kept nice, neat and off the floor.
24. Try Stackable Shoe Organizers Under the Bed (or in the Closet)
​These stackable shoe boxes are great. They keep your shoes neatly organized and use available vertical space. They're perfect for under-bed storage or on the floor of your closet.
25. Hang Hats, Belts and Scarves Inside a Closet Door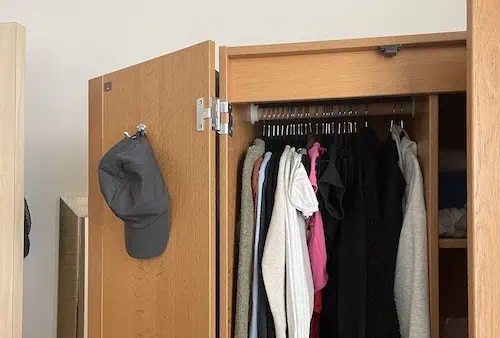 Never forget to use the inside of a door or cabinet! This is valuable space for hanging many items with Command hooks.
26. Use Magic Hangers to Store More in Your Closet
These hangers really maximize space in a small closet. Each hanger allows you to hang five items of clothing vertically and save 80% more space.
27. Add Stackable Storage Baskets Inside the Closet
Another way to maximize the space in a small closet: stackable storage baskets. These are great for folded items like sweaters, jeans, sweatshirts and sweatpants.
28. Create a Coffee Station on Your Mini Fridge
A small Keurig or Nespresso machine will fit right on top of a pod storage drawer, creating the perfect coffee station!
Set it on top of your mini fridge or desk (or even a small bookcase). Add a filtered water pitcher and you're set.
Check out more cozy coffee station ideas!
29. Set Up a Desk Lamp Charging Station
Multi-functional tech really helps you save space in a small dorm room. This light is an alarm clock, calendar, thermometer and charging station all in one. It offers wireless charging and a USB port. And it's dimmable when you just want some background light.
30. Don't Forget the Surge Protector with USB and USB-C Ports
You can't go wrong with this surge protector! It offers a 6-foot power cord, 8 outlets and 4 USB charging ports. It's perfect for all of your devices.
P.S. Check out this post for a ton of cord and cable storage ideas!
I hope these ideas have inspired you to organize your dorm room. It's possible to fit a LOT in a small space, if you get creative with storage solutions. Happy organizing!