When it comes to maximizing bathroom storage, learning how to organize bathroom drawers is at the top of the list. Because drawers have less available space than bathroom cabinets, it's crucial to make the most of the small space they offer.
I've compiled a list of my top tips and the easiest ways to organize bathroom drawers (of different sizes). They'll help you keep your space tidy. Read on and get inspired!
And if you'd like to save these tips for later, just enter your info below and I'll send them right to your inbox!
Have the tips sent to your email to save for later:
This post contains affiliate links. As an Amazon Associate, I earn a small commission from qualified purchases at absolutely no cost to you. Please see the Disclaimer for more information.
1. Store high-use everyday items in the top drawer
I have three drawers on my side of the master bathroom vanity. My husband has three drawers on his. When I organized our bathroom, I made sure that the top drawer contained only items that we used every day.
Why?
A major goal of organizing is to save time. By keeping only what's used every day in the top drawer, I don't have to hunt and dig through several drawers every morning when I get ready. I just open the top drawer, and voila!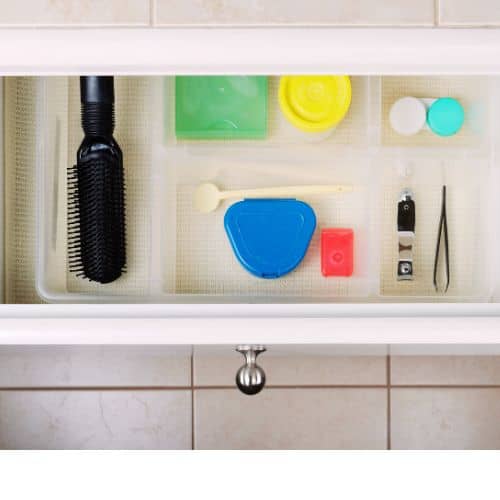 Easy access to exactly what I need, when I need it.
Also, the top drawer tends to be shallow. This forces you to pare down the items that can be stored there.
Here's a handy list of everyday small items that easily fit in a top shallow drawer:
Beauty products including cosmetics and makeup brushes, cotton swabs, cotton balls, etc.
Skincare products that come in small containers (eye cream, face cream, lip cream)
Hair tools and hair accessories that lay flat: combs, smaller hair brushes, hair elastics, bobby pins
Dental care: toothbrush, toothpaste, floss, mouthguard, retainer, etc.
Eyeglasses or contact lenses
Hair products that come in small jars like pomade and clay
2. Move taller or larger items out of bathroom drawers and into cabinets
Your bathroom vanity drawers are not the right place to store large hair appliances or bottles of hairspray on their sides. These items take up too much precious drawer space, and liquids stored on their sides will leak.
Save space by storing your hair dryer, curling iron, and flat iron on a rack or pull-out shelf inside the bathroom cabinet.
Any liquids that cannot be stored upright in a drawer should go under the sink (a Lazy Susan works great for this) or in a medicine cabinet.
Check out ways to organize larger items in the bathroom.
3. Use bathroom drawer organizers to keep similar items together
Bathroom drawers become a chaotic mess without the help of drawer organizers. The key is to keep similar items grouped together so you can quickly locate what you need. This requires compartments, which make drawer organizers the perfect solution.
There are a few options available to you:
Acrylic drawer organizers are the easiest solution because you just plop them right in the drawer. (Silverware organizers work well, too.) Just BE SURE to measure your drawer(s) before you run to the Container Store!
Plastic bins in a variety of shapes and sizes make it easy to keep combs and brushes in one section, hair pins or cotton swabs in another. I love configuring small bins to fit the items I need in a configuration that works for me.
Drawer dividers are another perfect way to keep like items together. Use them to create just the right space for the items you want to store.
4. Try an adjustable organizer for small or oddly sized drawers
Adjustable drawer organizers are my favorite products. Since bathroom drawers come in all different sizes and dimensions, an adjustable solution is a great way to maximize the space you have.
Here's one I used in my son's bathroom. As you can see, it made the space in this small bathroom drawer work perfectly for all of his oral care needs.
5. Create zones for each bathroom drawer
I'm a huge fan of zone organizing. It's a way of categorizing areas for certain types of items. Got a family member who fails to put things away? Zones (and labels) help everyone in the household remember where things belong.
In the bathroom, you might assign a zone to each vanity drawer:
Top drawer: everyday items like oral care, beauty products, hair brushes and accessories
Middle drawer: weekly or monthly items like feminine hygiene, bars of soap, razor blades, face masks, nail care
Bottom drawer: Less-used bathroom products, cleaning supplies, extra toilet paper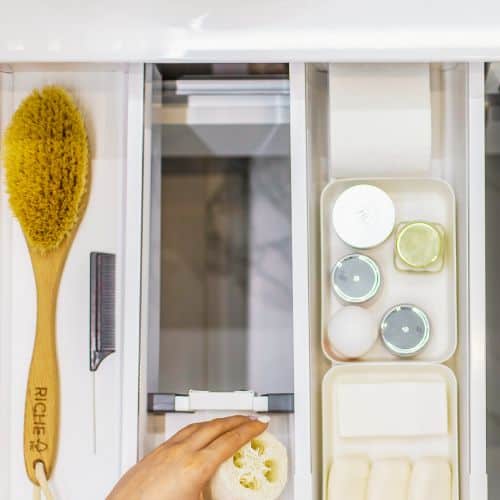 Learn more about zone organization for the entire house.
6. Use stackable organizers for deep drawers
Deep drawers can be a blessing and a curse. There's often a lot of unused space just sitting there, above your items. Stackable organizers make better use of the vertical space in a deep bathroom drawer.
PRO TIP: when using stackable solutions, keep the least-used items in the bottom and work your way up to the most-used items. This will save lots of time.
Got deep desk drawers? Check out my tips for desk drawer organization.
7. Add vanity "drawer" space with bathroom sink tip-out trays
You know those false drawer fronts screwed into the vanity beneath the sink? I hated the wasted space, so I installed tip-out trays and added hidden bathroom storage. It took about 30 minutes, and I'm not super handy.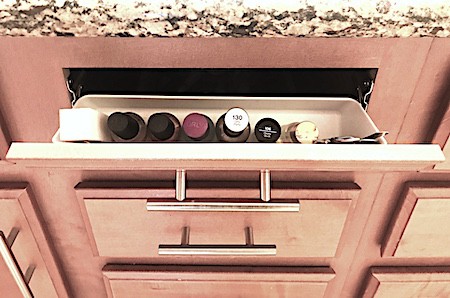 This solution is great for storing small or everyday items like:
Oral care
Contacts and glasses
Makeup brushes and sponges
Nail polish & tools
Hair pins & ties
Travel-sized items
Read more about my tip-out trays in the bathroom.
8. Add pull-out drawers beneath the sink
If you have a small bathroom, drawer space might be nonexistent or at a premium. Why not add drawers under the sink?
I added this simple two-tier solution under my sink and I absolutely LOVE it. It easily stores my hair tools and skin care bottles.
Pull-out drawers come in many different shapes and sizes. They are great for storing:
Bathroom cleaners, sponges and cloths
Extra bottles of shampoo, body wash
Bath oils, bubble bath, bath salt
Hair tools and accessories
Washcloths and hand towels
Honestly, the possibilities are endless. Just use bins to corral small items and label each drawer.
9. Install an organizer with drawers on the bathroom counter
The counter is another place you can add drawer space (and still keep things pretty). A tiered organizer with a drawer like the one below can hide away items like cotton swabs, cotton balls, toothpaste and floss, glasses and contacts and more.
10. Use drawer liners for stability & cleaning
I used this textured drawer liner in my drawers and I love it. It keeps my drawer organizers from sliding around, and it catches little bits of trash/hair. I just pull it out and wipe it down periodically.
Vinyl drawer liners are also useful for protecting drawer bottoms from leaks and spills.
11. Keep your bathroom drawers organized in 5 minutes a month
You read that right. Once your bathroom organization is complete, it should only take about five minutes each month to ensure the drawers stay tidy.
Here's the routine:
Once a month, take the organizer(s) out of each drawer.
Wipe out any dirty bins or compartments.
Return out-of-place items to their home.
Restock the organizers as needed.
Quickly wipe down each drawer.
Replace the replenished drawer organizers and bins.
That's it!
I hope you now feel ready to tackle your own bathroom drawers. Remember that organizing the home is a practice. We don't always get it "right" the first time.
It's ok to conduct a little trial and error until you get an organizing system that works for you and your household.
Happy organizing!
RELATED ARTICLES
Clever Ways to Organize a Small Bathroom
The Best Way to Organize Desk Drawers
Why Zones are the Best Way to Organize Your Home
Beginner's Guide to Organizing Your Home
How to Organize a Messy Dresser
Bedroom and Bathroom Makeup Storage Tips