I love essential oils. I use my favorite oils in fragrant potpourri, bubble baths and directly on my skin when I need some relaxation.
I've recently noticed that my essential oil bottles are starting to accumulate around the house…so now is the perfect time to gather some excellent ideas to organize and store them all!
Read on for the best ways to store oils (and how they should NOT be stored) and lots of ideas for organizing your essential oil collection throughout the house.
This post contains affiliate links. As an Amazon Associate, I earn a small commission on qualified purchases at absolutely no cost to you. Please see the Disclaimer for more information.
1. The Best Ways to Store Essential Oils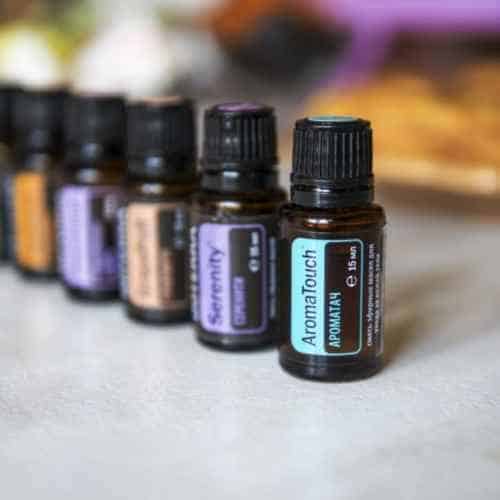 Before we get into organizing ideas, let's discuss some important simple tips for storing oils.
Do This:
According to the essential oil brand Young Living, oils are best stored in a cool, dark place.
Drawers, cabinets and pantries are great places for oil storage. Countertops work nicely too, as long as the oils are away from light and heat.
Although they do not require refrigeration, essential oils can be stored in the fridge for a very long time. This is a great way to ensure a dark and cool environment. (They can be frozen without any problem, too.)
Do NOT Do This:
Avoid placing them near a window where they'll be exposed to direct sunlight. Keep them away from heat sources — don't store them near the oven, in a car, or next to a radiator. Oils like a nice consistent temperature.
Also, the chemical composition of the oils can dissolve plastic over time. The last thing anyone wants is a leaky plastic container! Aim for glass bottles for essential oils storage.
2. Keep Oils in a Storage Box Organizer – Great for the Kitchen Counter
Keep your essential oils collection close at hand but out of sight in a pretty, rustic wooden display case. This option can hold 70 bottles of oils, including 5, 10 and 15 ml bottles as well as essential oil roller bottles.
As kitchen counters tend to get cluttered, a storage box that hides a large collection of bottles will keep your counter looking neat and tidy.
(P.S. Check out a bunch of great ideas for keeping kitchen counters decluttered!)
3. Use a Lazy Susan For Easy Access to Oils in a Cabinet
My favorite way to store bottles of essential oil: on a Lazy Susan in my kitchen cabinet. Anyone who knows me knows I LOVE a Lazy Susan for organizing. I use one in just about every space in my house!
I chose a Lazy Susan with clear bins to keep items visible and prevent them from sliding around.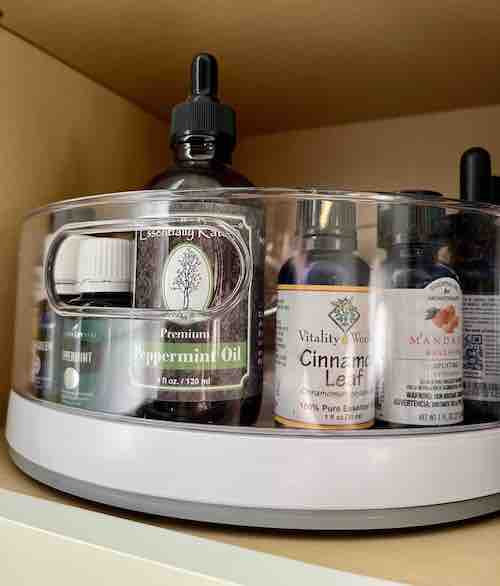 Learn about all the fabulous ways you can organize your home with a Lazy Susan here.
4. Try a 10-Slot Oil Organizer for a Small Bathroom Counter
For organizing a small space (or if you have a smaller collection), this round 10-slot organizer makes a cute storage container for oils. It holds bottles ranging in size from 5 ml to 30 ml and could also be used for nail polish or lipstick.
It's perfect for a small bathroom counter, the top of a dresser or a nightstand.
Looking for clever storage ideas for small bathrooms? Check out my post!
5. Install Open Shelves on a Bathroom Wall For a Simple Essential Oil Display
My sister-in-law came up with a cute and easy way to store and display her oils in the bathroom. A small open shelving unit (or even a couple of wooden boxes) is a great option when there's not a lot of counter space.
You can keep it vintage and rustic like the photo, or add a little whimsy with a mounted shelf like this:
6. Use Small Labeled Bins in a Medicine Cabinet
Another place I like to store essential oils is my medicine cabinet. I used some cute drawer organizers and added labels made on my Cricut:
P.S. I have more great bathroom and medicine cabinet organizing ideas here!
7. Use a Travel Carrying Case to Take Oils on the Go
Travel with your essential oils? Keep them safe and secure (and away from sunlight) in a handy travel case with foam inserts. The product below is the perfect solution for transporting up to 30 bottles (5, 10 and 15 ml).
Remember: don't leave them in the car; they need to be kept in cooler temps!
8. Hide Essential Oil Bottles in Plain Sight in Vintage Suitcases
These paperboard suitcases make a really stylish storage system in the living room when you want to hide your bottles (but keep them nearby). They're cute enough for a coffee table or end table.
(Amazon has a LOT of different options and styles to choose from, too!)
By the way, vintage trunks can be used for other organizing projects – check out this post for the cutest idea ever!
9. Neatly Store Oils in Small Drawers With a Rack Organizer
I love this essential oil organizer for small drawers! This would work perfectly in a bathroom vanity or bedside table drawer. The bottles are stored at an angle so they won't leak. This option comes in a set of five racks:
Looking for nightstand organization tips? I've got a bunch!
10. Organize Bottles of Different Sizes With Adjustable Dividers for Drawers
Sometimes we end up with a mix of smaller and larger bottles. A set of adjustable drawer dividers is a good solution for keeping them neatly organized in one place.
This solution from SpaceAid (one of my favorite brands) allows you to create customized compartments to accommodate different bottles. (I also love the labels.)
Check out more kitchen drawer organizing ideas!
11. Save Counter Space With a Tiered Storage Rack
When counter space is at a minimum, a tiered storage rack like this maximizes vertical space. (You could also use an old spice rack!)
Want more ways to save space in the kitchen?
Check out 30 more ideas for organizing a small kitchen here.
12. Sweetly Store Oils on a Decorative Tray
Sometimes, a simple tray is all you need to create a sweetly stylish display for essential oils. This would be lovely on a bathroom counter, a nightstand or an end table.
13. Find Your Bottles Quickly With Essential Oil Labels
When you're looking for that single oil out of your large collection, it really helps to have a label on top of the bottle. Amazon has a wide variety of labels for essential oil bottles; here's one specifically for Young Living:
Love labels like I do? You might enjoy this post on making labels to organize your home.
14. Store Your Bottles in Alphabetical Order
A quick tip I use for my spices, too: always store them in abc order. It'll make it SO much easier to find your lavender oil when you know where to look!
15. Keep Track of Essential Oil Recipes, Inventory & Gifts in a Journal Organizer
If you make your own oils or use oils to make gifts for an essential oil lover in your life, a journal and organizer is a perfect place to keep track of recipes and projects!
This recipe journal is a place to store your favorite blends and keep a running inventory of your oils. There's also a place for a wish list of new oils.
16. Try an Essential Oil Binder for Recipe Cards
This pretty binder comes with blank 4×6 cards to create and store your own essential oil recipes. Keep notes on your favorite blends and dilution ratios in one central place. I recommend arranging the recipes in alphabetical order.
This would make a beautiful gift for an essential oil enthusiast in your life, too.
17. Store Your Diffuser and Oils on a Carousel
Let's not forget storage solutions for your diffuser! Keep it and up to 11 of your favorite oils together in a handy storage carousel like this:
18. Transport Your Diffuser in a Travel Case
If you bring your diffuser with you on the go, ensure it travels safely in a case like the one below. This option offers storage for 10 bottles of oil and comes with a power adapter compartment, too:
More Popular Home Organization Articles
How to Organize Vitamins, Supplements and Medicines
How to Organize a Side-By-Side Refrigerator
A Beginner's Guide to Organizing
The Best Way to Organize a Messy Room