Organize with a Lazy Susan? Game-changing? Quite possibly, yes! If you haven't tried it, you seriously don't know what you're missing.
The Lazy Susan is an ingenious invention that many overlook when it comes to organizing their home. Some folks even say it's not for them. But as you'll see in the examples I've collected below, this little turntable of awesomeness can do amazing things in otherwise challenging spaces.
This post contains affiliate links. As an Amazon Affiliate, I may earn a commission on qualified purchases, at absolutely no cost to you. Please see the Disclaimer for more information.
1. Store Pots and Pans in a Lazy Susan Cabinet
Organizing pots and pans (and lids) in the kitchen is a big challenge for many people. It's a pain to bend down and wrestle that big sauce pan from the back of the cabinet, and then you've got to find the lid somewhere in the mess, too.
If your kitchen is equipped with a Lazy Susan cabinet, try storing pots and pans there instead. You can keep your larger, heavier pans on the bottom and smaller pots and a lid rack on top.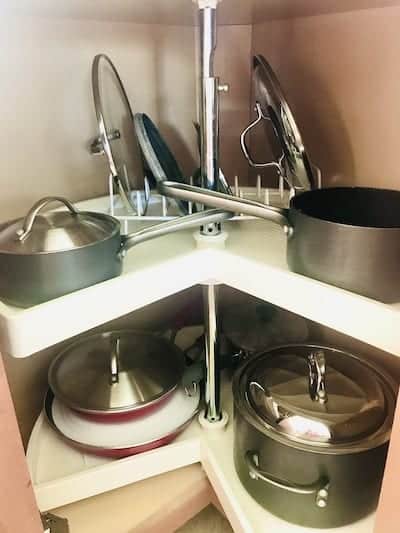 PRO TIP: If you stack your pans, use a paper plate or a pan protector to prevent scratches.
RELATED ARTICLE:
15 Ways to Organize Pots and Pans in the Kitchen
2. Small Appliance Storage
Another idea for a kitchen Lazy Susan cabinet: storing those small gadgets and appliances that take up too much valuable space on the counter. I keep my blender, hand mixer, breakfast sandwich maker and electric choppers and dicers in mine.
Since I keep my stand mixer on the counter above the Lazy Susan, I store its attachments and other baking tools like mixing bowls, sifters and large measuring cups in the cabinet too.
The counter space above my Lazy Susan tends to be where I prepare food the most, so it makes sense to have the tools and appliances I use regularly close at hand.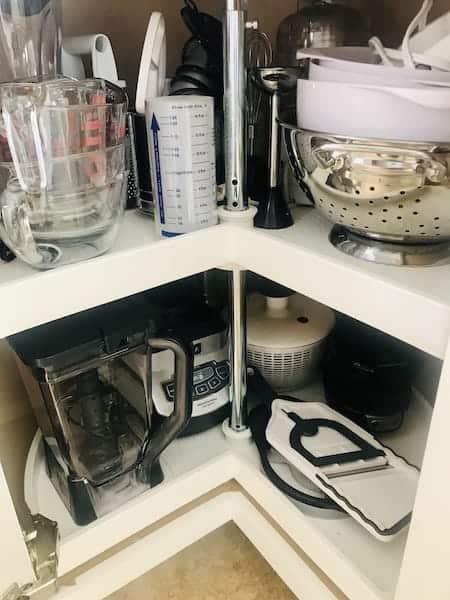 RELATED ARTICLE:
30 Thrilling Ways to Organize a Small Kitchen
3. Bathroom Vanity Organization
Bathroom vanity cabinets can be such a challenge to keep tidy! They're small and narrow and it's hard to navigate around the pipes. As a result, there's often a lot of empty vertical space that goes unused.
I solved this obstacle in my home by installing a double-tiered Lazy Susan in the cabinet under the bathroom sink. I can honestly say this changed my life when it came to getting ready in the morning! The time savings alone…not having to dig through piles of hair and skin products to find what I need is everything.
I even went so far as to organize my daily bathroom products in the order that I use them. Body lotion, hair mousse, hairspray, etc.
In fact, this storage solution was so successful that I started looking for other ways to organize with a Lazy Susan around my house.
RELATED ARTICLE:
25 Small Bathroom Organizing Hacks
4. Garage Workbench Organization
A Lazy Susan and some mason jars make perfect garage workbench organizers! Store screws, nails, fasteners, hooks and other small hardware or tools in the mason jars, situate them on the Lazy Susan and you're good to go. I used a Lazy Susan I had on hand, but I would recommend one with a non-slip surface.
5. Spice Storage
Spice storage is another common frustration for many. How do you keep all of your spices organized and easy to find? Many pro organizers swear by a Lazy Susan! There are several options that can work in a cabinet, on a pantry shelf or on a countertop:
If you cook or bake a lot and use many spices regularly, I recommend a sectioned Lazy Susan (or getting a second one) to group spices by usage. For instance, you can group baking spices like cinnamon, nutmeg and cloves; Italian seasonings like basil, oregano, Italian parsley; savory seasonings like sage, rosemary and thyme; and "everyday" spices like salts and peppers.
RELATED ARTICLE:
6. Refrigerator Organization
A Lazy Susan can make a HUGE difference in your refrigerator! There's nothing worse than forgetting items on the back of the fridge shelf and having them expire. By grouping items together on a Lazy Susan, you'll always have an immediate view and access to everything in your fridge.
This solution works well for condiments, sauces, snacks and drinks:
RELATED ARTICLE:
Organize a Side-by-Side Refrigerator In 5 Steps
7. Pantry Organization
There are a couple of ways to approach pantry organization with a Lazy Susan. First, if you store pantry items in a corner Lazy Susan cabinet, I recommend organizing them in clear, pie-shaped bins. They'll help you group like items together and keep cans and bottles from sliding around. The handles make them easy to remove for cleaning. (And they can be labeled, too.)
For walk-in pantries or deep cabinet shelves, Lazy Susans are PERFECT in those pesky corners where items tend to get lost or buried!
Depending on the height of your shelves, you can use a single or two-tiered Lazy Susan to corral jars and cans, snacks, oils and vinegars, baking items…the sky's the limit.
RELATED ARTICLE:
How to Organize a Walk-In Pantry
8. Storage for Vitamins and Medications
If you're always knocking over bottles of vitamins and medications trying to find the one you need, this solution might be perfect for you. Place your daily supplement and prescription bottles on a Lazy Susan for instant and easy access! This idea works great for a kitchen cabinet or countertop.
Vegan Dollhouse took this idea in a creative direction with a cute DIY Lazy Susan using a plate, Lazy Susan hardware and hot glue:
RELATED ARTICLE:
How to Organize Vitamins, Supplements and Medications
9. Corral Craft Supplies
You know all of those little bits and bobs of craft supplies that end up everywhere? (But, ironically, are nowhere to be found when you need them?) Organize them all with a Lazy Susan and cute little metal pails! I love this smart and simple solution from Angie Holden:
You can also label the pails to ensure things stay in their proper place. For a little DIY label inspiration, check out 17 Sensational Ways to Make Labels for Organizing Your Home.
10. Organize Under the Kitchen Sink
Like the bathroom sink, the kitchen sink can pose a serious organizing challenge. Installing a divided Lazy Susan is a great way to store items like dishwashing tablets, soaps, sponges and scrubbers and more. Check out this inspiring photo from How to Apartment:
RELATED ARTICLE:
The EASIEST Way to Organize Under the Kitchen Sink
11. Neatly Display Cosmetics and Beauty Products
Cosmetics storage can be both pretty and efficient with a decorative Lazy Susan on top of the vanity or dresser. Easily see and access perfume bottles, lotions and oils, makeup or skincare:
RELATED ARTICLE:
15 Bedroom and Bathroom Makeup Storage Tips
12. Sort Gardening Supplies and Gear
How adorable is this rustic Lazy Susan filled with gardening supplies? What a great way to keep seed packets, small pots and tools organized:
RELATED ARTICLES: