As the weather warms up and we begin the season of outdoor living, finding ways to keep the yard neat and tidy becomes my obsession. Thanks, Good Housekeeping!
So, I've rounded up my favorite backyard organization ideas to help everyone get the most out of their yard with the least amount of stress.
These clever tricks for storing toys, pool supplies, gardening tools, BBQ gear (and more!) will have you cleaning less and relaxing more…all summer long.
First, check out this video from HGTV, filled with inspiring backyard and garage organization ideas! Then scroll down for my list of 15 brilliant backyard hacks. Enjoy!
This post contains affiliate links. I may earn a commission on qualified purchases, at no cost to you. Please see disclaimer for details.
In This Article
Try These 15 Backyard Organization Ideas:
Outdoor Toy Storage Tips
1. Outdoor Toy Storage and Rotation
I love this idea from Take Them Outside! Toys and games get corralled in organizing buckets, and the concept of rotation allows kids to get excited by "new" activities every few days.
Start with a collection of buckets or stackable containers that can withstand the elements.
Next, find a place to store them. Metal shelving like this can work great on the patio, in a storage shed or in the garage:
Now, you've got instant fun every time a new bucket is brought out (and less overall clutter in the yard).
It's an ironic fact that the more toys the kids have out at one time, the more they complain that they're bored or have nothing to play with. Kids actually have a better time playing with fewer toys! It's like they're minimalists at heart.
Looking for some new toys and games to keep the kids busy in the backyard? Amazon has some great options — all priced under $25.
2. Patio Furniture With Storage
I'm all for multi-use, functional storage! This backyard organization solution works perfectly as both a small patio coffee table AND storage for outdoor toys and games.
Add a couple of patio chairs. I like this option that ALSO offers extra storage beneath the seat:
Next, find a nice outdoor rug:
Voila! You've created a beautiful space for the kids to play (and for you to relax!).
3. Rolling Sports Ball Storage Cart
How great is this ball storage cart? It can hold several full-size sports balls and is designed with elastic straps so kids can easily retrieve balls from the bottom. The wheels allow the cart to move quickly from the garage to the backyard and back.
RELATED:
Sensational Toy Storage! Declutter Stuffed Animals, Dolls, LEGOs and More
Pool Equipment Storage Ideas
4. DIY Upcycled Pool Storage Container
How clever is THIS?! Susan at Organized 31 upcycled a cat litter container into a fab pool storage bin! It's perfect for carrying towels, sunscreen, pool toys and more from the house or car to the pool or beach.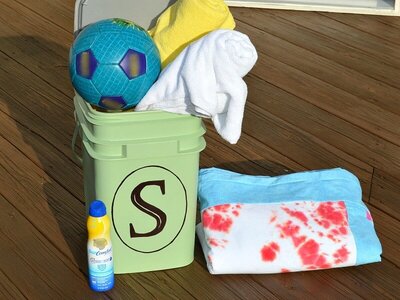 I love finding new ways to use containers we have lying around the house. And, I have a pool and two cats. This is a project I will definitely tackle this summer! Susan provides step-by-step instructions on how to paint and add the cute monogram in her post.
5. Pool Equipment Tool Organizer
Keep those pool cleaning tools off the ground and neatly stored with this all-weather, award-winning organizer. It comes with all of the hardware needed to mount to a wall or fence and holds up to 90 pounds of gear. And if you know me, you know how much I adore finding ways to maximize vertical space.
RELATED:
20 Great Organizing Products on Amazon
6. Rolling Pool Float Caddy
Sporting both function and style, this rolling pool float caddy conveniently stores floats as well as pool noodles and toys. UV and fade resistant and made of durable outdoor wicker.
Gardening Storage Solutions
7. Potting Bench DIY
For the handier folks, Holly at Pink Fortitude has an awesome DIY potting bench project that works perfectly to store gardening tools and supplies. I love the lattice work and hooks for hanging trowels, shears and a watering can. Super cute!
8. Super Duty Yard Cart
Avid gardeners: check out this yard cart! It's part dolly, part wheelbarrow, and all awesomeness.
This baby holds up to 18 garden tools and easily transports them from garage or garden shed to the yard. It's sturdy enough to hold up to 150 pounds, and the 10-inch tires never go flat. The bag on the front holds garden debris or additional gardening supplies.
9. Garden Sink with Hose Holder & Utility Storage
Another brilliant solution for backyard organization: a combo outdoor sink/hose holder with storage. This wall-mounted folding sink creates the perfect space to clean gardening tools, water newly potted plants and store gloves and trowels.
Barbecue Organization Ideas
10. Outdoor Grilling Prep Station
Keep all of your grilling tools, ingredients and sauces within arm's reach with a portable prep station. This sturdy, wheeled griller's dream comes with two drop leaf extensions two cabinets. There's plenty of room to store a serving tray, napkins, and cups, in addition to food and condiments.
11. Outdoor Spice Container Set
Every chef knows the secret to incredible flavor is the right balance of spices. Keep all of your favorite grilling seasonings in one portable container, ready for any outdoor eating adventure.
The set includes food-grade PET seasoning containers with aluminum covers. Perfect for storing pepper, sugar, salt, spice, chicken broth powder, corn starch, salad oil, vinegar…anything you can dream up!
12. Galvanized Drink & Utensil Caddy
Dining al fresco is SO much easier with a handled caddy that can hold napkins, utensils, drinks, condiments and more. Measuring 7″x11″x10″, this caddy makes a pretty table centerpiece AND can double as a whimsical garden planter.
Outdoor Pet Organization
13. Plush Craft Bag Holder – For Easy Doggy Doo Cleanup
This fun, whimsical craft project has a very useful (and necessary!) function in the yard: plastic bag dispenser for doggy doo (or garden trimmings). Renea from Inspire a Creation offers step-by-step instructions on her site.
14. Dog Toy Storage Container
When you're a dog lover, you've got dog toys. Lots of them. And tennis balls, collars, leashes…the list goes on. It's easy for them to end up all over the yard, unless you've got a handy (and cute) bone-shaped dog storage container.
This puppy measures 23.75" x 10.5" x 13" with plenty of room for all of Fido's favorite squeaky toys and a box of treats, too.
15. Dog Doo Scooper/Yard Rake Combo Tool
Keep your yard clean and clear of dog doo and garden trimmings with this handy combo tool! It includes hooks on both sides of bin to secure bags for easy pick-ups, and it's compatible with heavy duty waste bags. Both the bin and rake handles adjust for hanging storage when the poop scooper is not in use.
You might also like:
Puppy Supply List: Organizing For a New Pet
for more dog organizing essentials.
Share Your Brilliant Backyard Organization Ideas
Got a backyard hack that you love? Share it in the comments!
Related Articles:
45 Ways to Organize Your Car That Will Captivate
16 Clever Ways to Organize Your Garage on the Cheap
How to Declutter Your Garage Now
17 Best Ball Storage Ideas to Try Now