Looking for the best storage solutions for balls? You've come to the right place! We're a multi-sport family and I've spent years corralling soccer balls, footballs, basketballs, baseballs, golf balls, and even pickleball balls.
You might say I'm kind of an expert on sports ball storage.
I've rounded up my favorite ways to organize every type of sports ball in the garage, in the house and in the backyard.
Get ready to level up your ball storage with these game-changing ideas!
This post contains affiliate links. As an Amazon Associate, I earn a small commission on qualified purchases at absolutely no cost to you. Please see the Disclaimer for more information.
1. Use Bungee Cords to Store Balls Vertically on a Wall
Bungee cords are a great way to quickly and easily store balls against a garage wall. Simply nail some boards to the wall studs and drill holes to attach the bungee hooks.
Check out this post on Life.Hackaday for pictures and ideas for DIY ball storage using bungee cords.
As an alternative, you can use the Rubbermaid FastTrack wall system's vertical ball rack. This also features bungee cords to store balls vertically on the wall:
It's a great space-saving solution! And the Rubbermaid FastTrack system is my personal favorite garage rack system. I used it to hang bicycles, ladders and other equipment in my garage organization project.
2. Keep Soccer Balls, Basketballs and Footballs Off the Floor With Wall Mounts
This solution works for any large sports balls, and you don't need a ton of storage space. Just a few inches of wall space (like that awkward corner next to the garage door) will work!
I found this great wall mount system on Amazon for my son's collection of balls. It keeps them off the floor and provides easy access when he's ready to grab a ball and head out the door.
The best part is you can configure it to work with the space you have. Create one long vertical rack or several shorter ones, like I did.
RELATED ARTICLE:
Sports Equipment Storage Ideas
3. Pick Up and Store Tennis Balls or Pickleball balls in a Hopper Tube
The biggest issue with playing tennis or pickleball is that the balls end up all over the place!
I love the ball storage solution below. It's such an easy way to both pick up AND store balls.
This hopper tube will hold up to 15 tennis balls, pickleball balls, or a combination of both. No bending down is necessary! The shoulder strap makes it easy to carry and easy to hang in a garage or closet.
4. Store Golf Balls and Golf Bags Together in an All-In-One Organizer
Got avid golfers at home? I do! We have found that using a golf organizer really helps keep all of the equipment corralled in one place.
This sturdy organizer keeps two bags neatly stowed off the ground and offers pull-out drawer storage for golf balls, hats and other golfing accessories. It also features a shelf for golf shoes.
5. Mount Your Baseballs and Baseball Bats on a Wall Rack
This super-handy wall rack keeps your baseballs, softballs, bats and gloves safely off the ground and conveniently within reach. It holds five bats and five balls and comes with screws for wall or fence mounting. Four hooks make it easy to hang gloves or hats, too. Your garage will thank you!
6. Store Excess or Seasonal Balls in Storage Bins
Depending on where you live, you may not need to access balls year-round. (Ice and snow can make street ball a little tough.) One idea that works for our family is to deflate the balls we don't need right now and store them in labeled bins on shelves in the garage.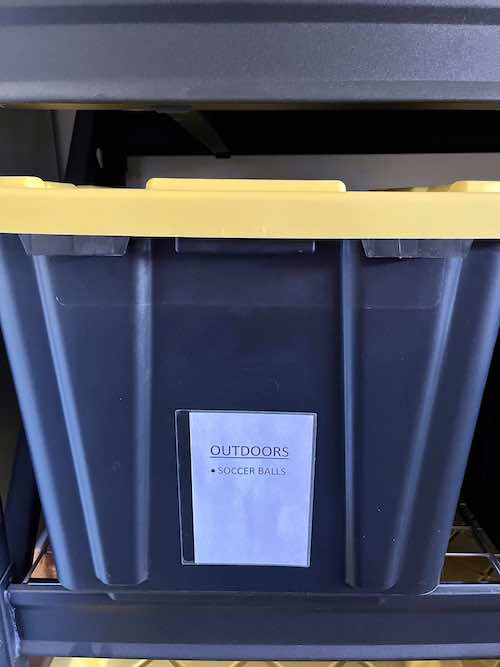 This is also a good idea for small balls and smaller items like cones, tees, gloves, etc.
Psst: Check out this post on garage storage ideas to see my system for labeling storage bins!
7. Keep Balls in a Portable Nylon Bag for Easy Transport
My son plays competitive soccer, so we're often driving to a park for shooting practice. To save time, we store a dozen or so soccer balls in a nylon sports ball bag with drawstring closures that we can easily throw in the trunk whenever we need.
It comes with a shoulder strap, making it a really comfortable carry bag.
8. Use a Rolling Cart for the Garage or Backyard
If you've got athletes playing with balls in the backyard, probably the best option for collecting and storing balls is a rolling storage cart. They can wheel the cart from the garage or side of the house to their sport court, use the balls, then wheel everything back when they're done.
It's a perfect way to keep balls from lying about on the garage floor or corners of the yard!
9. Store Balls and Sporting Equipment in a Closet on Hanging Shelves
Not everyone has a garage to store balls and equipment. A closet can work, too! A set of hanging shelves can easily store soccer balls, basketballs and footballs. It also creates a nice space for uniforms, cleats and other gear.
RELATED ARTICLE:
FUNctional Ways to Organize a Teen's Bedroom
10. Use a Duffle Bag With Shoulder Straps For Balls, Shoes and Equipment
Duffle bags are great ideas for storing balls, gear and other sporting equipment in a closet or under a bed. I love this particular product for dorm life because it also doubles as a hamper. Who has space for laundry baskets in college dorms? And it has a lovely separate shoe compartment.
RELATED ARTICLE:
Ultimate Printable College Packing List
11. Employ a Basketball Butler Ball Storage Rack
The basketball butler is a great storage option that doesn't require much space. Mount this vertically on a spare wall in the garage or yard and you have instant storage for up to four basketballs.
12. Hang a Hammock in a Corner of the Garage or Playroom
I like this option for indoor ball storage because it's soft and fits perfectly in a corner. It's a relatively cheap solution, too. I love affordable ways to keep things neat and tidy!
13. Mount Your Exercise Ball on the Wall
Let's not forget the exercise balls! They take up a lot of space in a living room or home gym. Consider mounting yours on a wall instead. Use a sleek industrial pipe rack to keep the ball off the floor when not in use. The product below comes in a set of two.
14. Shag and Store Up to 80 Golf Balls (and Tees)
Got a lot of balls to shag? Hate bending down to pick them up? This golf ball retriever and bag is the perfect solution. The aluminum tube quickly picks up balls and detaches for easy storage.
The nylon bag holds an impressive 80 balls, plus four slots for golf tees and a pocket for keys or a wallet. The handle makes it easy to hang from large cup hooks or a golf equipment organizer.
15. Store All of Your Balls and Equipment on a Rolling Rack
This is a great solution for multi-sport families! It comes with three rows of storage for basketballs, volleyballs, soccer balls and large bouncy balls. It also features a top mesh basket for small items like baseballs, softballs, footballs and gloves.
One side has a rack to hang baseball bats, tennis rackets and similar gear. The other side has hooks for hats, helmets and backpacks.
Roll it from the garage to the driveway or backyard for convenience.
16. Hide Balls and Toys in a Deck Box (and Keep Your Patio Pretty)
Not everyone wants balls and sports equipment visible on the patio. My family uses a deck box like this one to store our yard and pool toys out of sight but within easy reach. These plastic containers are heavy-duty enough to take our harsh desert sun and they're maintenance-free, which is a nice thing.
17. Store Indoor Balls in a Cotton Toy Bin
When my son was a toddler, he had a lot of small balls he would play with in his bedroom. I would have loved cotton toy bins like these — they come with pictures that can be used to teach kids how to sort their toys! There's one with balls, one with dinosaurs and one with trucks that would be perfect for organizing those types of toys.
Kids are never too young to learn how to be organized. This is a nice way to get them started.
RELATED ORGANIZATION ARTICLES:
Game-Changing Ways to Organize and Store Sports Gear
Clever Ways to Organize Your Garage (Cheap)
How to Declutter Your Garage Now
Brilliant Ways to Organize Tools on a Pegboard
The Best Wrench Organization Ideas for Tidy Tools
Brilliant Backyard Organization Ideas
30 Ways to Teach Kids to Be Organized at Home