A cluttered space feels chaotic, unbalanced and overwhelming. It's easy to feel paralyzed by the daunting task of cleaning and organizing a messy room.
It may seem hard to believe, but it's possible to calm the chaos and clean it up. Take a deep breath and visualize how you'd like the space to look. Imagine a peaceful oasis where everything is neatly stored and easily accessible.
If you dream it, you can do it. Follow these helpful tips to organize a messy room, one step at a time. Before you know it, your space will be transformed.
This post contains affiliate links. As an Amazon affiliate, I earn a commission on qualified purchases at absolutely no cost to you. Please see the Disclaimer for more information.
Step One: Sort and Declutter
Decluttering is always the first step in any organizing project. It's honestly the most important thing to do—much more important than buying bins and baskets! The plain truth is it's impossible to have an organized home when you have too much stuff to fit neatly in your available space.
The decluttering process is challenging when you (or a family member) have a hard time letting go of things. However, less clutter is the key to a clean house. And a clean, organized house helps us feel at peace. It's good for our mental health!
If you're working with a large messy space, prepare for a big declutter session.
(You don't have to do it all at once. It's ok to do a little bit at a time, take a break and come back. Just don't add anything back to the mess or you'll end up in an endless cycle.)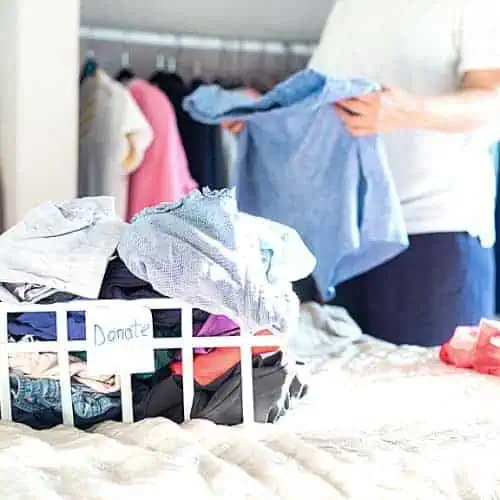 What to Sort
The first thing you'll need to do is to go through the entire room and sort everything into piles:
Items to throw away
Items to sell or donate
Items that don't belong in the space
Items to keep in the space
What to Toss
Next, grab a couple of trash bags. The first pile in the list is the easiest. Put all those discarded food wrappers, broken children's toys, dried-up pens, old magazines, etc. in a garbage bag and toss them.
What to Donate or Sell
After that, gather all of the items you plan to donate to charity in a bag:
Clothes that no longer fit or haven't been worn in years
Toys your children have outgrown
Books you've read and won't read again
Small appliances you never use
Place the bag in the trunk of your car and set a reminder on your phone to drop it off within a few days.
You can also opt to sell items that are in good condition. Have a garage sale, list things on eBay, Facebook Marketplace or thredUP. The goal is to make quick decisions and take action to remove these unused or unneeded items from your home as soon as possible.
What Belongs in a Different Area
Sometimes a room becomes a drop zone for all kinds of random items. This is common in the kitchen, or at least it's common in my house. I feel like the flat surfaces in my kitchen are magnets for backpacks, Amazon boxes, mail and other "stuff" that doesn't belong there.
When you organize a messy room, it's a good idea to decide right away what belongs in that room and what doesn't. (And stick to it.) Consider the purpose of the space. A corner of the bedroom is not a place to stash office supplies, craft projects or bills. These items belong in their designated place.
Gather up everything that belongs in a different area and put it away.
You've done a lot of work. Congratulations on completing this first big step! It's all downhill from here. The most difficult process (for many people) is behind you.
Step Two: Group Similar Items
Look around the room. All you should see now are items that belong there. (And maybe some newly open floor space after all the decluttering you did.) The next step is to group "like" items together. For example, in a messy bedroom, you might group dirty clothes, clean clothes, shoes, jewelry and accessories, books, and bedding.
Step Three: Create Zones
My favorite organizational system is zone organizing. This is a great way to ensure everything has a proper place in your home. A zone is a specific area for a category of items. Zones can be used throughout the entire house. When done correctly, zones are the easiest way for family members to remember where everything goes.
For example, your home office could have a zone for mail and bills, one for printing paper and supplies, one for filing and important documents, and so on.
If this is your first time reading about zone organizing, check out my post Why Zones Are the Best Way to Organize Your Home for great tips for the whole house.
Step Four: Choose Storage Solutions That Maximize Space
You've decluttered, grouped similar items and chosen zones. The next step to organize a messy room is to choose storage containers that maximize your storage space. Consider drawer organizers, wall shelves, furniture with built-in storage, hooks, over-the-door storage, Lazy Susans, pull-out drawers and more.
Don't forget that extra space under the bed, behind the door, or between the washer and dryer in the laundry room. All space is usable space!
Pro tip: always measure your space and the items you want to store before you buy containers, bins and baskets. This will save you time and frustration!
Step Five: Start Organizing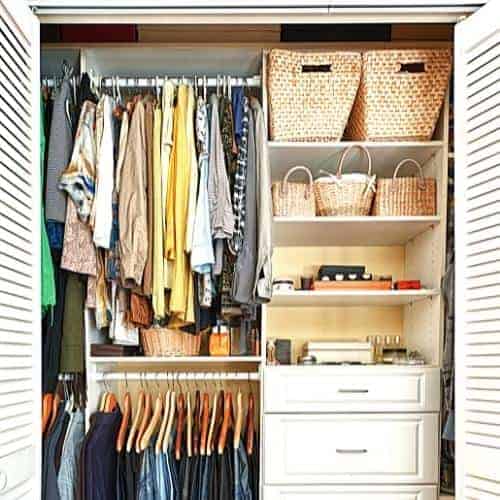 Now it's time for the fun part. Fill your bins and baskets with "like" items and place them in the zones you established. For inspiration, read about beautiful ways to organize your entire home with baskets.
I HIGHLY recommend using labels anywhere and everywhere you can. Labeling your storage bins will help you and the members of your household remember to put things back where they belong. For some fun ideas, check out my post Sensational Ways to Make Labels to Organize Your Home.
Read on for some of my favorite containers for different rooms in the house and tips on how to use them for maximum space and efficiency.
Kitchen Storage Containers
The kitchen is the heart of the home. It's where everything gets done…and, sadly, where everything gets dumped!
Kitchen countertops, cabinets and drawers require a variety of storage solutions to stay tidy.
Countertops are notorious clutter magnets. It's the clutter that makes a kitchen look messy. Reduce countertop clutter with solutions like corner organizers:
Add a magnetic knife strip to your backsplash or kitchen wall and keep knives and utensils off the countertop:
I've got a list of 20 Easy Ideas to Declutter Kitchen Counters for more inspiration!
Jumbled kitchen cabinets can be a major source of frustration. Cup hooks can double your space like this:
Check out more ideas for storing glassware, cups and water bottles.
An expandable shelf organizer is another great way to use all of your cabinet space:
Anyone who has had to wrangle pans and lids out from a cabinet knows how much of a hassle it can be. I love this stacked pan organizer:
Need more inspiration? Read my post on space-saving ways to organize pots, pans and lids.
The space under the kitchen sink gets cluttered easily. Slide-out drawers like these make it easy to organize and access soaps, sponges, cleaners (and more), while accommodating space for your garbage disposal:
Get more ideas and inspiration in my post on how to organize under the kitchen sink in 3 steps.
Kitchen drawers are another challenge for many people. My go-to is an expandable bamboo drawer organizer. I use them for cutlery and utensils, coffee k-cups, and that kitchen "junk drawer" where I corral all of my family's electronic cables and chargers.
RELATED ARTICLE:
Space-Saving Ways to Organize a Small Kitchen
Bedroom Storage Solutions
The bedroom is another room that gets cluttered quite easily. Here are some key storage solutions for this space.
Keep clothes drawers tidy with drawer organizers for socks, underwear, shirts, and other clothing:
(Rooms aren't the only messy spaces in the house. Dressers and armoires are too! Check out my easy tips to organize a bedroom dresser and organize a bedroom armoire, and the best ways to organize sweaters and t-shirts.)
Bedroom furniture with built-in storage comes in handy as well. A storage ottoman at the end of the bed can store blankets, sheets and even seasonal clothing and shoes.
Bedside tables with shelves, drawers and charging stations make it easy to declutter a messy bedroom:
By the way, I've got some great tips for organizing a nightstand, too.
Use empty wall space to mount jewelry organizers or hooks for hats. Add under-bed storage for shoes, seasonal clothing and extra bedding. Get creative! And check out my post on Easy DIY Bedroom Organization Tips for more ideas.
Bathroom Storage Containers
Another typically messy space is the bathroom, where storage is at a premium. The good news is there are plenty of creative storage options to tidy this area. Here are some of my favorites.
Pull-out storage drawer organizers are a must under the sink. They come in a range of sizes to accommodate plumbing. Some varieties are stand-alone while others mount to the bottom of the cabinet for more stability. I like this option that comes with hanging cups for small items like nail files, tweezers or combs.
Tall items like hairspray, mouthwash and lotion bottles work well on a Lazy Susan under the sink. Here's how I use my Lazy Susan:
Some bathrooms lack storage space under the sink. In this case, countertop storage is key. A pretty tiered organizer helps corral bathroom items for a less cluttered look.
Keep vanity drawers neat as a pin with drawer organizers. I like an expandable organizer that fits varying drawer widths:
Transform false drawer fronts into handy storage for oral care, cosmetics, nail care and more with DIY tip-out trays. Read about how to add tip-out trays to your bathroom and get more ideas on what to store in them!
Don't forget to organize the medicine cabinet! I used labeled trays to keep my shelves neat:
I also added magnetic office organizers to the inside of the door to store my nail tools. These would work great for makeup brushes, too.
These are just a few ideas…I've got loads more from fellow organizers, too! Read my tips on bathroom organizing here.
Prevent a Messy Home With a Simple Daily Routine & Seasonal Decluttering
After you successfully organize a messy room, you'll want to keep it that way. Remember, organizing is a process. It takes consistent effort to keep a space tidy. I recommend a simple daily routine of picking up clutter. Here are some tips to prevent your newly organized home from falling back into cluttered chaos:
Spend 10 minutes each night picking up any areas that became cluttered during the day. I like to set a timer and challenge myself to get as much done as possible!
Put things away (not in piles). Establish the habit of putting something away as soon as you're done using it. Get the rest of the family to do the same.
Handle mail immediately. Don't let it pile on the countertop. I stand over my trash can and toss the junk and bill envelopes.
Assign a laundry basket to each member of the family. When they drop things around the house, have them use the laundry basket to pick it all up and put it away.
Establish a drop zone for bags, coats and shoes. If your home lacks a mudroom, consider a rack or hooks in the garage.
A deep decluttering session is helpful at the end of each season, I find. It's a natural time for a home refresh and regular decluttering keeps the messes from piling up.
Go through and donate all of the clothes and shoes your kids have outgrown.
Purge any of your own clothes that you no longer wear.
Gather books, toys and games that are collecting dust and give them to a local shelter.
Make sure that "junk drawer" gets a refresh.
Toss old/expired skincare and cosmetics
Check the expiration dates on food items like salad dressings, condiments, jams and jellies, etc. Toss anything past its prime.
If you find yourself in the middle of another messy room, it's ok. Messes happen to the best of us. It could be that the organizational system you've been using isn't working for you or your household. I've organized and reorganized my pantry and closet MANY times in the quest to find the perfect system. You'll get there!
I have a lot of ideas for home organizing that are meant to inspire and motivate. Check out these helpful articles for more tips, and just keep working!
A Beginner's Guide to Organizing Your Home
Small House Storage: Super-Sneaky Solutions
Easy Ideas to Declutter Kitchen Counters Now
The Biggest Organizing Mistakes (and How to Fix Them)
Easy Organizing Projects – 15 Minutes or Less
How to Organize Clothes Without a Dresser
Happy organizing!