For those who want to easily see and access their tools, gadgets and supplies in one place (while keeping things tidy), a popular option is to organize with pegboards.
Pegboards are typically inexpensive, easy to install on a wall, and completely customizable. And nowadays they come in many pre-made shapes, sizes and colors to fit any space or decor.
I've rounded up some fabulous ways to organize with pegboards from myself and fellow organizers — check them out below!
If you'd like to save these tips for later, simply enter your info below. I'll send them straight to your inbox!
Have tips sent to email to save for later:
This post contains affiliate links. As an Amazon affiliate, I earn a small commission from qualified purchases at absolutely no cost to you. Please see the Disclaimer for more information.
How to Make a Pegboard Organizer
To organize with pegboards, you need the following:
Pegboard. A pegboard is a flat material with pre-drilled holes for pegs or hooks. Pegboards can be made from wood, plastic or metal. Wood is easier to cut to size if you need specific dimensions. It's also easy to paint to match your decor.
Furring strips. These are usually pieces of wood that attach to the back of the pegboard and anchor to the wall. The strips provide the space you need between the wall and the peg board for hooks and pegs.
Pegboard hooks, pegs and bins. Depending on what you plan to store on the pegboard, you'll need an assortment of these. Amazon or your local hardware store are a good place to look for pegboard accessories.
Check out this very helpful article from Home Depot on how to hang a pegboard.
Now, we'll explore some amazing ways to use pegboards in your home!
1. Organize Tools Above a Workbench
My husband and I have a lot of tools for DIY projects. Rather than dig through multiple toolboxes to find a particular pair of pliers, we opted for a large pegboard over our workbench to hang ALL of our most-used tools.
To achieve this simple solution, we first anchored 2x4s to the wall studs and then screwed wood pegboard panels to the 2x4s. We opted for 48in x 24in panels and cut them to fit the width and height we wanted.
Next, we purchased an assortment of hooks and bins to hold a variety of tools. Here's an example from Amazon:
Finally, the fun part: putting it all together, like a puzzle. I recommend laying everything out on the ground so you can see exactly how it will look before you hang it all up. Have fun playing around with different combinations until you get it just right!
Check out more garage organization ideas here.
2. Homework/Study Zone
If you've got kids at home, setting up a homework or study zone with pegboards is both fun and functional! Use baskets for pens, pencils, rulers, highlighters, scissors, glue sticks…all of those items they'll need to complete projects and assignments.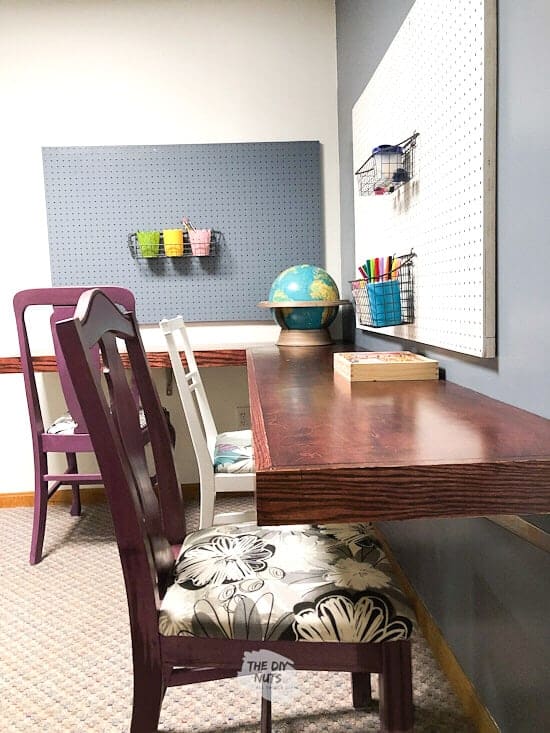 The DIY Nuts walks you through their cute step-by-step pegboard project here. And check out my post on back-to-school organization for more tips for kids.
3. Mops, Brooms & Cleaning Supplies
One of the reasons I love to organize with pegboards is they help maximize vertical space, allowing you to store lots of items in a small area. Take this cleaning supply pegboard, for instance: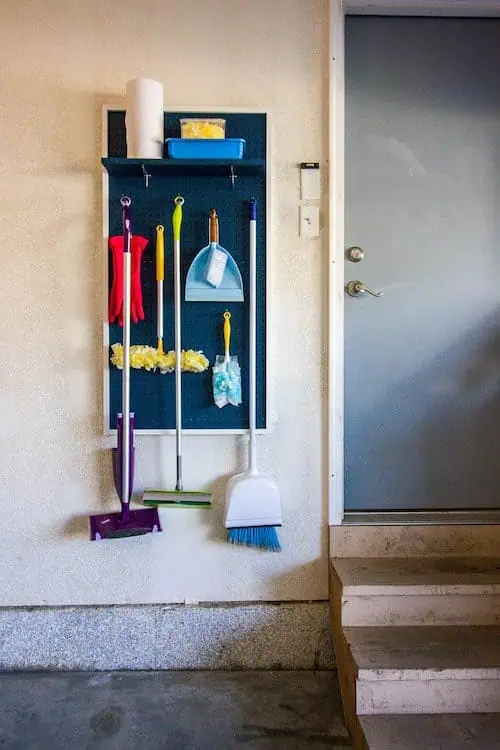 I love the shelf for paper towels! This would be easy to hang in a garage as shown, inside a small pantry or even on the back of a door.
Check out the step-by-step project at Small Stuff Counts.
4. Craft Supply Organization
A fourth popular way to organize with pegboards is in the craft room. It's so nice to have all of your supplies right at your fingertips when working on a project. Look how adorable this pegboard from Craving Some Creativity turned out: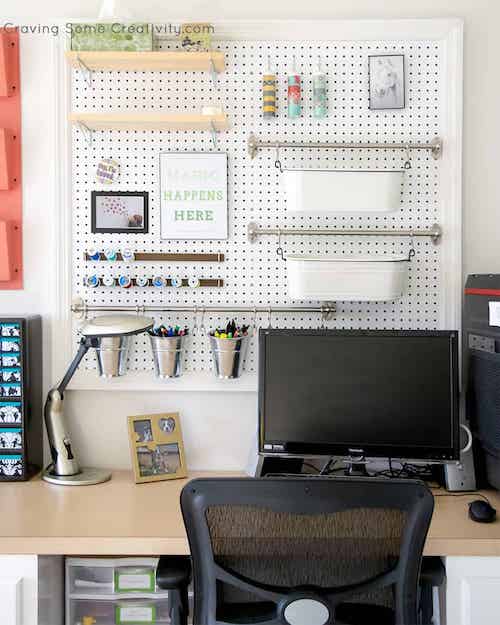 As you can see, you don't need a lot of wall space to store a lot of supplies. Read how you can create a craft supply pegboard here.
Here's another great craft supply pegboard project (featuring a framed design) from My Pinterventures:
RELATED ARTICLE:
Sensational Ways to Organize Sewing Supplies
5. Home Gym Essentials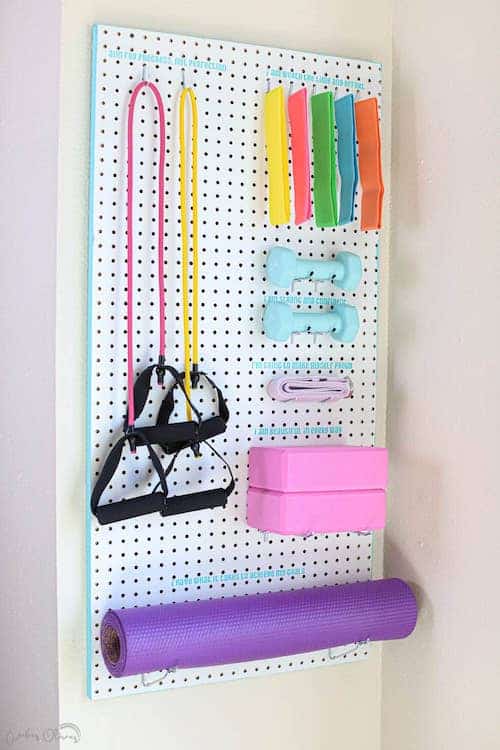 Practice self-care at home with this perfect home gym pegboard setup. Amber Oliver shows you how to maximize a small space to hang strength-training bands, yoga blocks, weights and mats so you'll be ready for your workout at all times.
6. Kitchen Organizer
We're not all blessed with limitless drawer or cabinet space in the kitchen. A little pegboard organizer on the wall is a great solution for a small space. Hang spatulas, utensils, knives, even bowls and plates with an all-in-one system like this:
Looking for more kitchen inspiration? Check out all of my kitchen organization posts.
7. Jewelry Storage
Hang necklaces, bracelets, earrings and rings on a simple pegboard anywhere you have a little wall space. I personally love being able to see all of my accessories in one place when I'm putting together the perfect outfit.
8. Entryway Organizer
A pegboard makes entryway organizing so much easier! Customize the hooks to hang keys, purses, hats, etc. so you never forget them when you walk out the door.
9. Bath Accessories
Lacking vanity space for those jars and bottles of bath necessities? Try a wall-mounted pegboard with shelves that can be adapted to fit all of your toiletries.
Check out more clever bath storage ideas here.
10. Keep Toys Tidy
Pegboards can be used in playrooms or kids' bedrooms to store small plush toys, toy cars, action heroes and dolls…anything small that you'd like contained and off the floor.
Find more fun and creative toy storage ideas here.
11. Make Makeup More Manageable
Keep makeup brushes, applicators, wands and sponges nice and neat with a wall pegboard system. Great solution for a dorm, small bedroom or bathroom where counter space is limited.
Check out this list of makeup storage ideas for more inspiration.
12. Office Supply Organizer
Keep office supplies off your desk (but still in plain view) using a customizable pegboard system like this:
As you can see in the example above, this system has hooks, shelves and baskets to hold pens and pencils, scissors and tape, and a tablet or phone. The clips can hold bills, mail, and postage supplies.
Find more office storage ideas here.
13. Wreath Storage
My sister-in-law is very crafty, and she makes gorgeous wreaths for every season/holiday as well as gifts. She uses a pegboard to store them, which I think is pure genius!
As you can see, the pegboard possibilities are pretty much endless. Happy organizing!
MORE HOME ORGANIZATION ARTICLES:
The Best Way to Organize a Messy Room